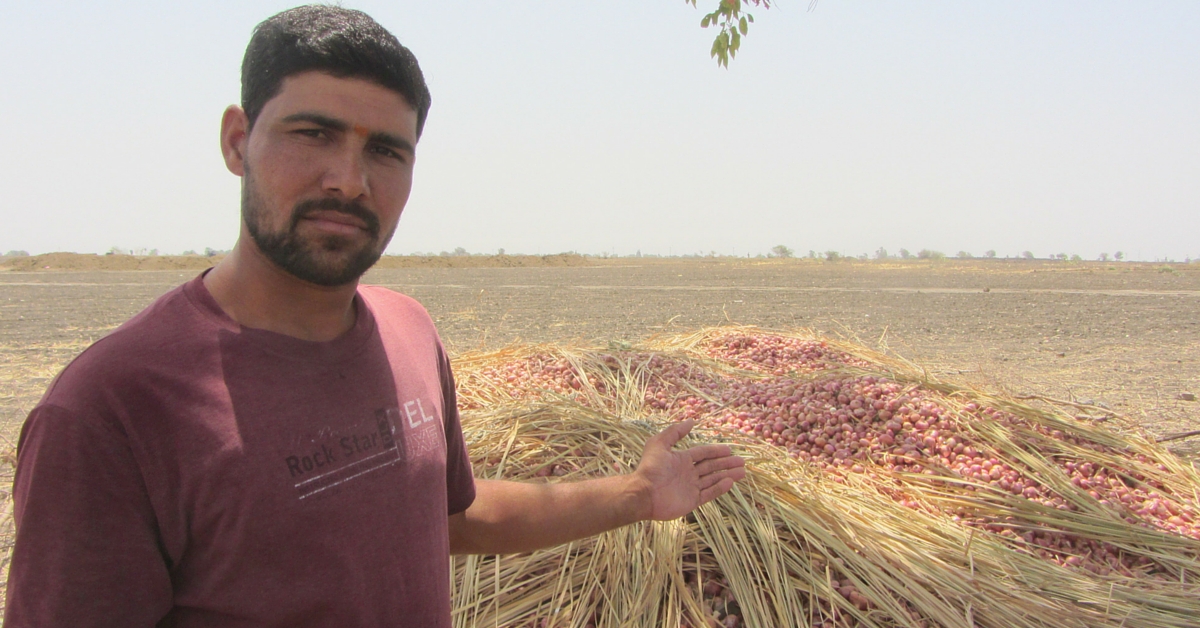 5,000 and more farm ponds have been built, to catch rain where it falls has stood in good stead when half of India is reeling under drought.
5,000 and more farm ponds have been built, to catch rain where it falls has stood in good stead when half of India is reeling under drought.
Nipania is a small village, 30 kms northeast of Dewas town. It is a village of 80-odd houses, some kutcha, some pucca. The drive down from Dewas town cuts across parched fields with small and big clusters of villages on both sides of the two-lane highway with arid fields roasted by the sizzling May sun. Temperature is almost touching 45 degrees Celsius.
Every few kilometres one can see a farm pond being dug or deepened. Farmer Mahesh Patel is busy monitoring deepening of his existing farm pond, barely a stone's throw away from the village. Patel and his two brothers together own about 50 bigha (one bigha equals approximately 0.16 Ha) land and were among the first lot of farmers from Dewas district to dig a farm pond in their land in 2005-06.
The farm pond or talaab as they call in Hindi is 2 bigha, about 15 feet deep then. Prior to it, farmers were distressed due to lack of assured irrigation clubbed with consistently bad monsoon. The only rain fed crop that most farmers grew back then too would not yield much.
"With the availability of water thanks to the farm pond, which meant assured irrigation, we started getting winter crop too. And now, after 10 years, it is not just the additional crop that we are able to grow due to the pond, but assured water has improved the quality too. Now I am able to harvest almost 500 kgs per bigha crop as against earlier 50 kgs per bigha," Patel said standing in front of a heap of onions waiting to be ferried to the market.
Confident of water availability, this youngest of the brothers went for two crops in winter – chana (chick pea) and onions (60 quintal in one bigha).
Very small portion of Dewas district has irrigation facility and hence for rest of the farmers, it has traditionally been only one crop a year, that too dependent on erratic monsoon.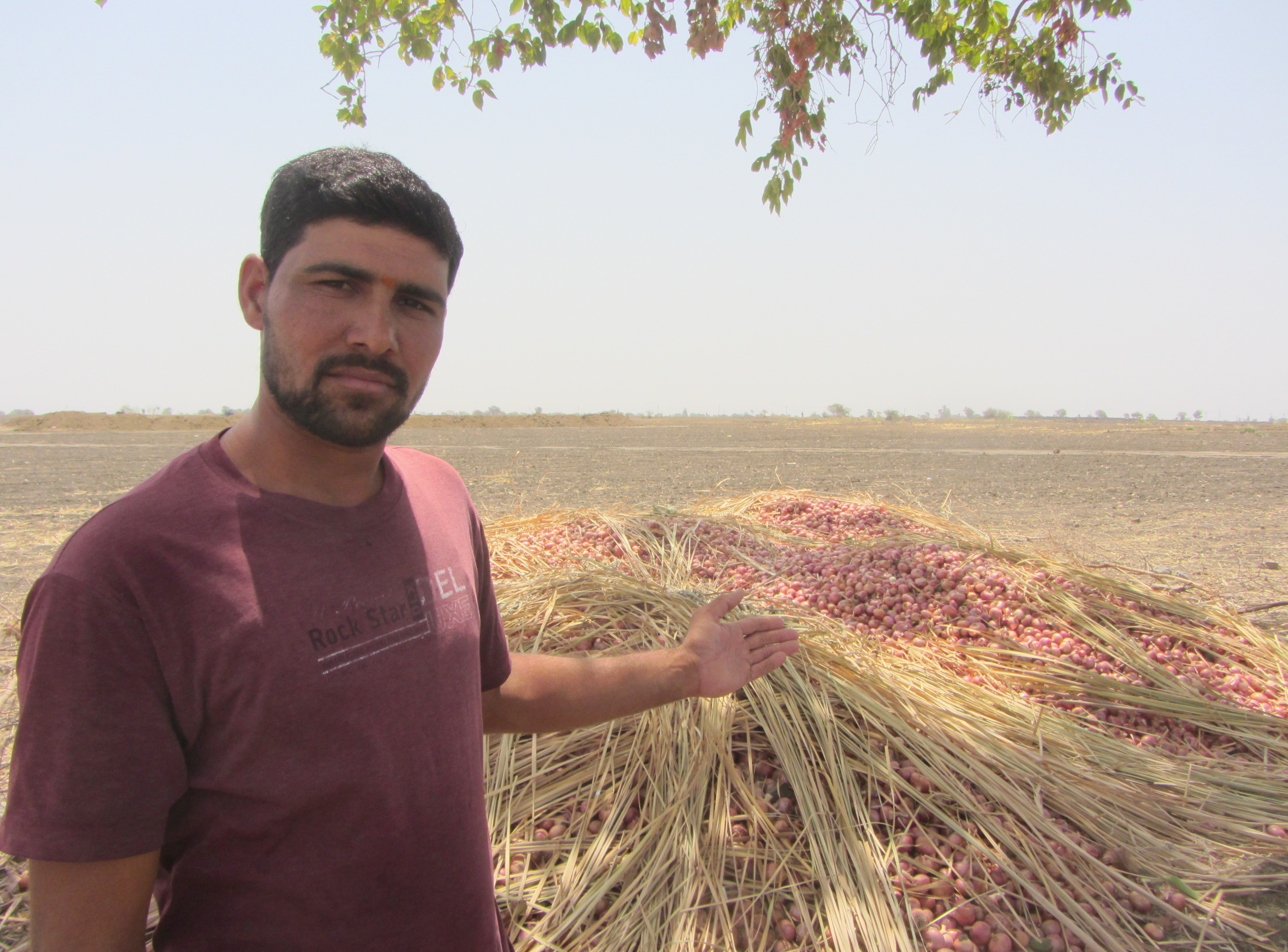 Patel is not alone. Scores of farmers in Dewas district have benefitted from such farm ponds that store rainwater for them lasting through the season till next rain in most years.
Some distance away, on another side of the village, amid dry and empty farmland with an occasional babhool tree here or there, is an emerald green patch, almost two bigha. This is part of land parcel owned by Dilip Singh Panwar and Bharat Singh Panwar. In 2008, the family had dug a pond 2 ½ bigha in size. Ever since then, the family has been sowing wheat in winters as against only a single crop soya bean in monsoon.
The broad top of the surrounding boundary of the pond, almost 20 feet wide, is also used to sow arhar daal (lentil).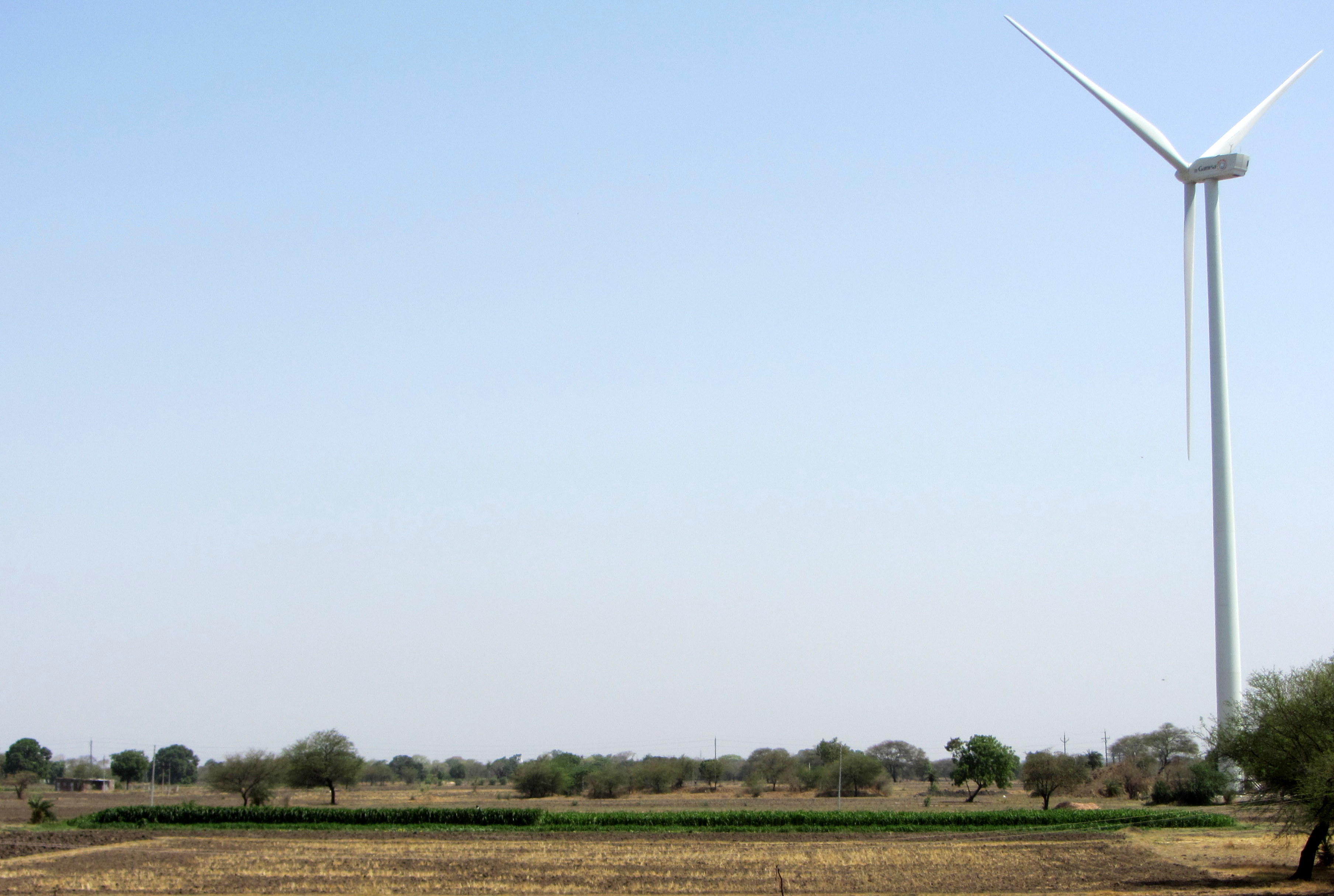 "We now always have second crop in winter. This year, now (in summer), we have sown animal fodder in that patch," said Bharat Singh Panwar referring to the green patch seen in his land. The pond is now deepened to almost 25 feet.
Vision of then District Collector: The Dewas pattern
But things were not always so easy. Advent of deep bore wells in the early 1970s changed the ground water scenario across India and Dewas was no exception. Excess withdrawal of ground water plus erratic monsoon meant that Dewas district faced stark condition way back since 1990s. The condition was so bad, just as a water train was sent from Sangli to Latur in Maharashtra this year, it was in 1990 that a similar train was sent from Indore to Dewas. With little rain, things improved a bit but soon it was back to square one with 2005 being one of the worst hit years.
It was in 2006, the then District Collector Umakant Umrao along with agriculture department officials and those from NGOs working in the sector convinced almost 40 big land holding farmers to dig a farm pond. Reason: in case of a remote possibility of failure, these farmers should be able to withstand loss of crop for that piece of land turned into pond. Also, these were the only farmers who could afford to invest into digging on their own.
Depending on availability of land, the size ranged from ½ acre to four acres, generally all minimum 10-12 feet deep. Direct rainfall is, of course, captured and also all water falling in that particular plot of land is diverted to this pond, which fills the ponds faster. Umakant Umrao personally took interest in conducting meetings to convince farmers, training them and facilitating them to dig ponds without external aid.
"It was important for the farmers to understand – one, for irrigation, their dependence should be on subsurface water rather than ground water and second, just as they save a portion of produce as next year's seed, they also need to save rain water for winter crop," said Dr Sunil Chaturvedi of NGO Vibhawari, with expertise in soil and water management.
Dewas has black cotton soil which runs up to 10 feet deep; followed by a 15-20 feet layer of yellow soil (pili ghumat in Hindi) and then sandy loam. This allows almost nil percolation of water, best to harvest and retain rain water. The very first year, farmers witnessed how from single rain fed crop, they could go in for second, winter crop using the water that was harvested in these ponds. Soon, more and more farmers were inspired to replicate success of farm ponds as witnessed by large land holding farmers.
More crop per saved drop:
Similar to Patel and Ponwar, scores of farmers who have built farm ponds have started taking two crops a year: monsoons, soya bean and in winters, wheat, chana (chick peak) and onions.
Farmers across villages claimed that the water accumulated during rains lasts till the next rains for average to good monsoon. It was for the first time in last 7-8 years that there was very little rain in 2015 and hence almost all farm ponds went dry showing cracked bottoms by April.
"I also tried onions on ½ bigha for the first time along with chana. But my pond went dry early, the onions could not survive," said Khuman Singh, who had wrapped his ears and head to protect from the torturous heat, and his son Mukesh Singh, metres away from their dried up pond of 2 bigha at Harnawada.
The dried pond is now being deepened further.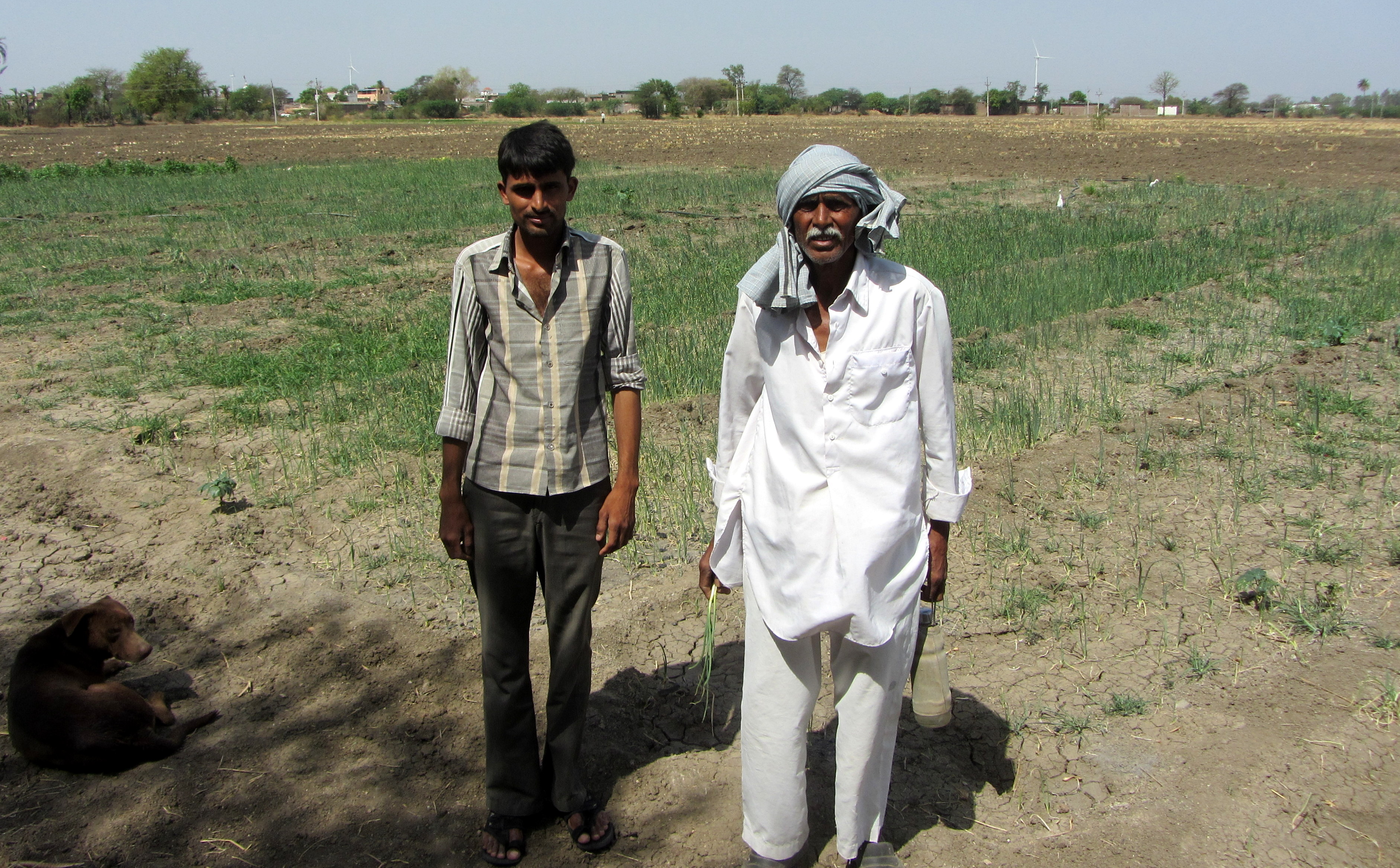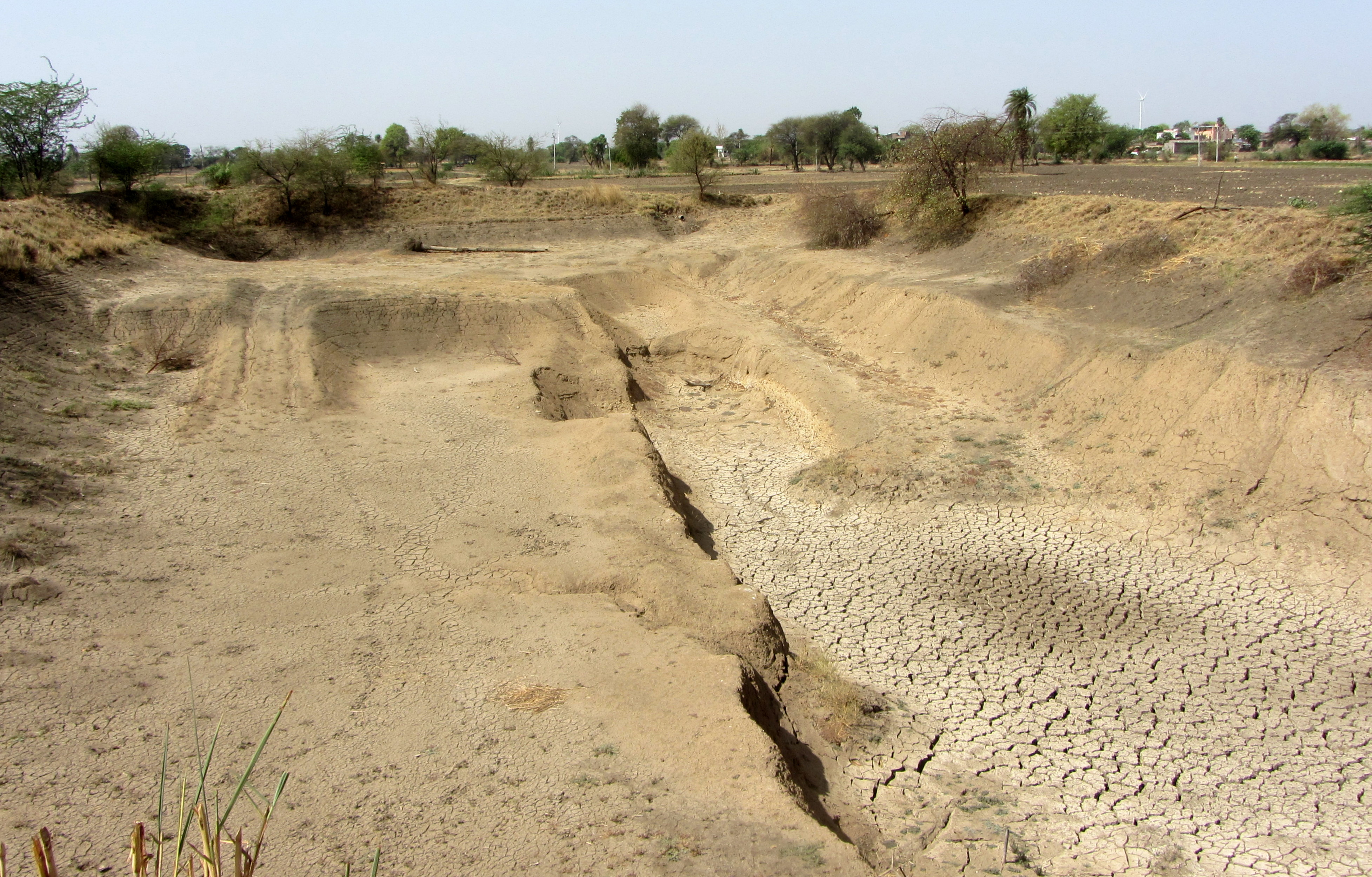 Wherever one went, Tonk Khurd, Nipania, Amona, Gorwa, Harnawada … one can see a farm pond either being constructed or deepened every few kilometres.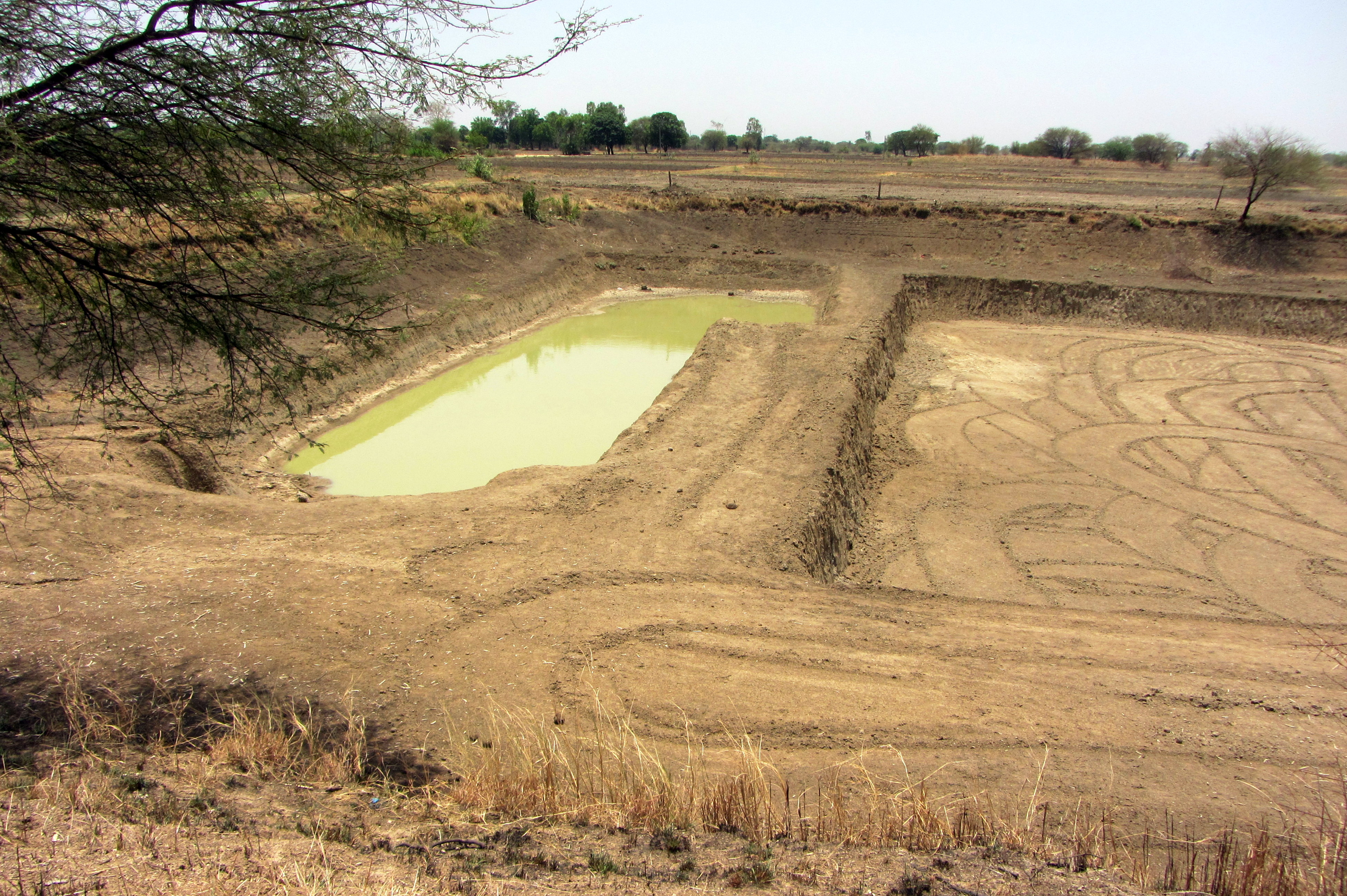 Gorwa, another village in the vicinity, had a long running nullah and vast tracts of undulating unirrigated land. No irrigation meant the land was actually being wasted, turning infertile. In 2006-07, in all 18 farmers joined hands together to form a cascade of as many as 18 ponds those would be filled with this nullah overflow one after the other. The soil dug out during the pond building was spread over to level their respective farms.
"This cascade arrangement ensured that 326 Ha out of 384 Ha of this village land is irrigated. This is one village which has seen a whopping 196 such farm ponds of varying size being built between 2006 and 2015," said Mohd Abbas, Assistant Director, Agriculture Department, Dewas.
Bhagirath Krishi Abhiyan: Rewa Sagar, Balram Sagar
The very first year was a huge success prompting more farmers to build more farm ponds. Agriculture department provided training and facilitated other technical help but it was farmers' own finance. The campaign was hence named 'Bhagirath Krishi Abhiyaan' and the farmer who dug a pond would be called 'Bhagirath Krishak' (named after the mythological water hero Bhagirath who brought down the Ganges to the earth) while their ponds were called 'Rewa Sagar' (another name of Narmada river, lifeline of Madhya Pradesh). Digging for smallest of the pond (minimum half a bigha) takes about Rs 1.5 lakh or Rs 2 lakh.
"The remuneration they got for Dollar chana (a variety of chick pea) in first winter recovered their cost," said Chaturvedi.
Two years later, government started a subsidy scheme. For 'Khet Talab (farm pond), subsidy amount was Rs 16,350 with a requirement of minimum depth of 12 feet. The amount was later increased to Rs 80,000 to Rs 1 lakh and then the scheme was called 'Balram Talab'. 'Rewa Sagar' is when farmers put in 100 % of their own money.Ten years later, the tally has crossed 5,000.
---
Table 1: The table indicating the number of ponds constructed from the year 2006 in various district.
| | | | | | | | | |
| --- | --- | --- | --- | --- | --- | --- | --- | --- |
| Year | Type | Dewas | Tonk Khurd | Sonkatch | Bagli | Kannod | Khategaon | Total |
| 2006-07 | K | 28 | 70 | 19 | 14 | 34 | 42 | 207 |
| 2007-08 | K | 35 | 126 | 60 | 40 | 53 | 46 | 360 |
| 2006-07 | R | 81 | 124 | 113 | 101 | 61 | 177 | 657 |
| 2007-08 | B | 16 | 74 | 02 | 00 | 31 | 55 | 178 |
| 2008-09 | K | 03 | 32 | 04 | 02 | 00 | 10 | 51 |
| 2008-09 | B | 42 | 290 | 14 | 11 | 40 | 111 | 508 |
| 2009-10 | K | 31 | 102 | 06 | 08 | 20 | 83 | 250 |
| 2010-11 | B | 66 | 477 | 07 | 15 | 03 | 109 | 677 |
| 2011-12 | B | 34 | 319 | 17 | 28 | 19 | 113 | 530 |
| 2012-13 | B | 49 | 306 | 19 | 132 | 42 | 126 | 674 |
| 2013-14 | B | 37 | 218 | 16 | 198 | 32 | 104 | 605 |
| 2014-15 | B | 09 | 84 | 06 | 70 | 35 | 88 | 292 |
| 2015-16 | B | 04 | 15 | 01 | 15 | 16 | 23 | 74 |
| | | | | | | | | |
| Total | | 435 | 2237 | 284 | 634 | 386 | 1087 | 5063 |
** Number of ponds dug over the years since 2006
** K – Khet Talab R – Rewa Sagar B – Balram Talab RAD
(Blocks of Dewas districts: Dewas, Tonk Khurd, Sonkatch, Bagli, Kannod, Khategaon)
---
Different blocks of the district for various reasons ranging from availability of canal irrigation to hilly terrain to murum type of soil have built ponds in varied reasons.
Farmers turn businessmen: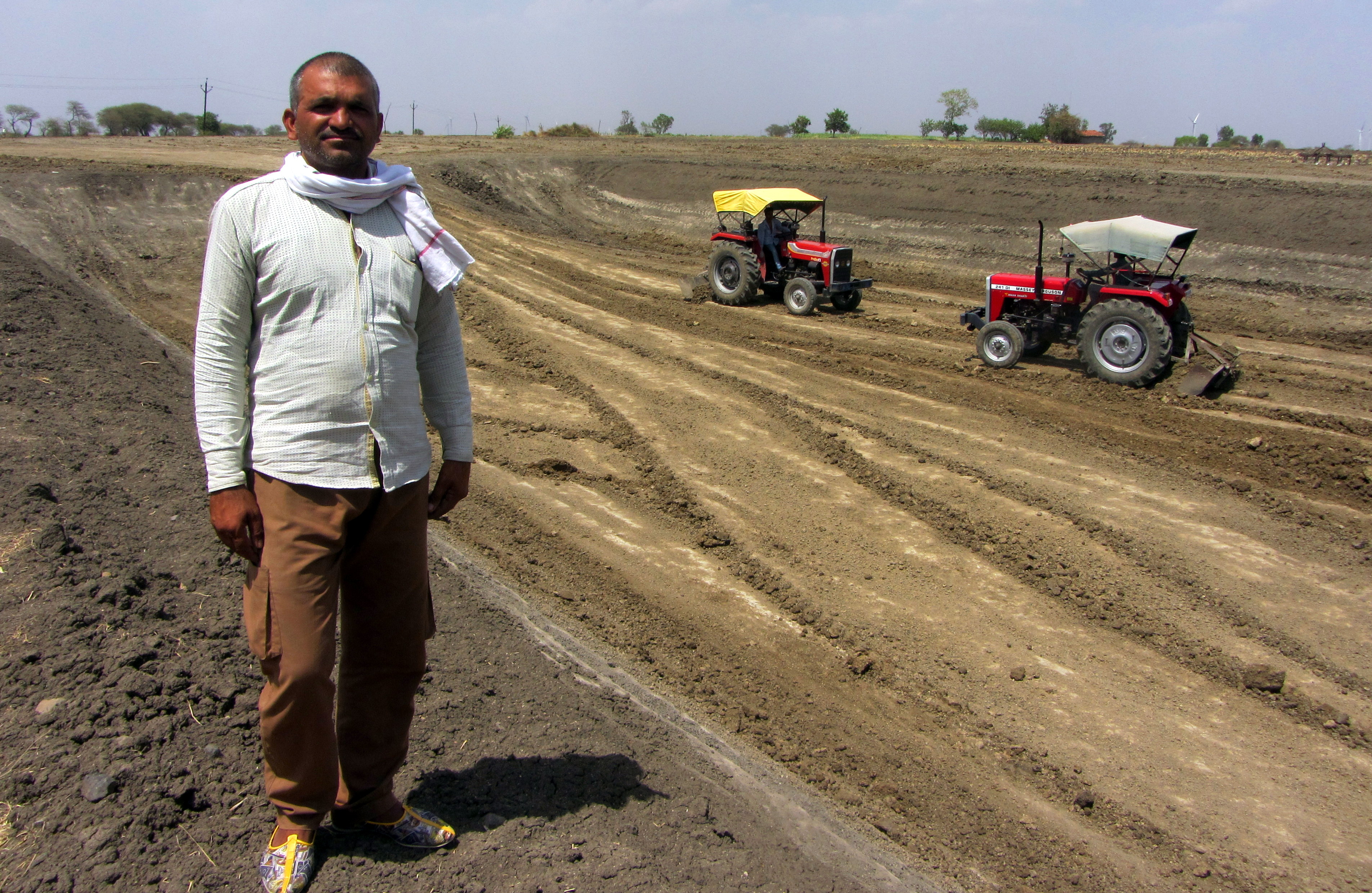 Surendra Singh Tomar from Harnawada had dug a 12-feet deep 70X40 metres in size pond in 2012.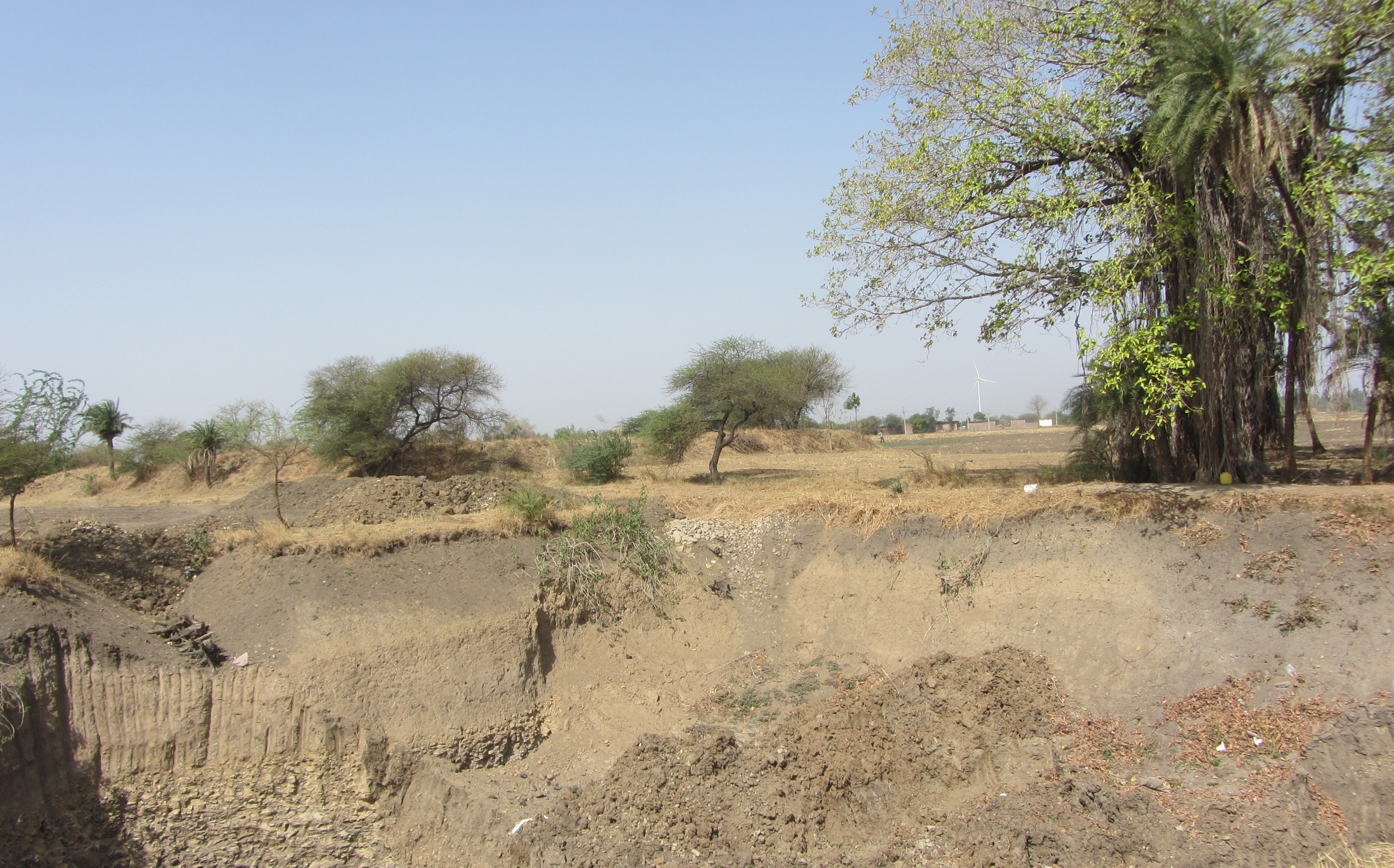 The intangible benefits:
Thanks to the farm ponds, the total irrigated area of the district has increased. Abbas informs that the cropping intensity (ratio of number of crops harvested in a given land each year) for Dewas district has gone up from 118 % to 180 % from 2006 onwards till date.
But more than these kind of obvious natural outcomes, there are scores of other intangible benefits that the farm ponds gave Dewas farmers. For instance, earlier, farmers would need to stay awake till late at night as the state government provides electricity to farmers/villagers only at night when the four big cities of Madhya Pradesh go to sleep. Farmers are able to irrigate their fields using power to pull water up the bore wells. This would mean unnecessary late nights for the farmer and his family.
"Stress would play out havoc in their lives. Now, because water is theirs to use, they no longer are dependent on power. Using the diesel pump during the day time, the farmers are able to irrigate their fields," said Chaturvedi.
As the ponds retain water for majority part of the year, as soil moisture helped maintain ecological balance, Dewas has seen increase in biodiversity – rather it is all coming back, especially the agriculture friendly insects and birds.
"The house sparrow had gone missing from our side. Bullbul had gone. Now we see them in ample numbers," he added.
Farmers from Mahoba in Bundelkhand, severely drought hit area, visited the district in 2013 and immediately went on to dig similar farm ponds. Farmers from Latur in Marathwada, another drought hit region, visited the district earlier this year and hope to replicate the success.
So can more farmers from other parts of India, whether or not facing drought!!
All Photos credit: Nivedita Khandekar
Like this story? Or have something to share? Write to us: contact@thebetterindia.com, or connect with us on Facebook and Twitter (@thebetterindia).
About the author:
Nivedita Khandekar is a Delhi-based independent journalist. She writes on environmental, social and climate change related issues. She can be reached at
nivedita_him@rediffmail.com
or follow her on twitter @nivedita_Him.
We bring stories straight from the heart of India, to inspire millions and create a wave of impact. Our positive movement is growing bigger everyday, and we would love for you to join it.
Please contribute whatever you can, every little penny helps our team in bringing you more stories that support dreams and spread hope.