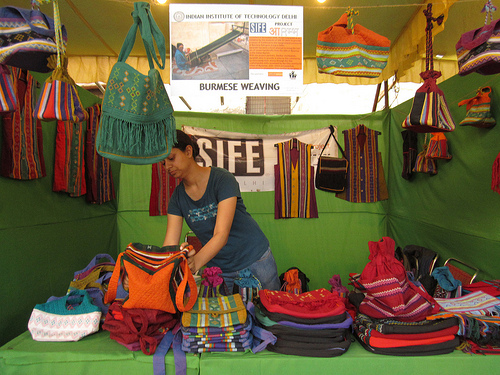 A group of students at IIT Delhi are showing us all the right way to treat guests, especially neighbours who are now homeless and in dire straits. They have done
A group of students at IIT Delhi are showing us all the right way to treat guests, especially neighbours who are now homeless and in dire straits. They have done us proud by upholding the cultural values of our nation, and their dedication to the cause is admirable, as Palak Bhatia finds out on meeting them.
India is decidedly a country that is known for its hospitality all around the globe. 'Atithi devoh bhavah' (the guest is God) is a concept deeply rooted within our culture and for generations, we have strived to consider our guests as divine. This exquisite feeling shines through the efforts of the members of SIFE IIT Delhi, a student arm of the international organization SIFE, which is working towards creating sustainable economic opportunities for the needy.
Burma has been facing political and armed conflict between the military regime, political opponents, and ethnic groups that has resulted in the displacement of over 3.5 million people. Being an immediate neighbor, India has become home to a large portion of this displaced population. In fact, nearly 10,000 refugees reside in West Delhi today, something that a major portion of the citizens are unaware of. The uncountable challenges plaguing these people every day are quite overwhelming. Lack of legal protection, lack of work permits, discrimination, lack of education, abject living conditions, poor health conditions – unite this with the discomfort of being away from their homelands and familiar landscapes.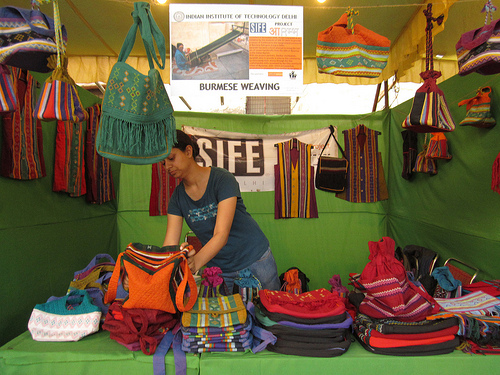 SIFE IIT Delhi, a student body of 26 members at IIT Delhi, has dedicated itself to the upliftment of these refugees and is helping them to gain a foothold in society. Their association with these people since November 2010 has enabled the students to appreciate the constant struggles they face and to develop a heartfelt relationship with them. Meeting a SIFE member is quite an eye-opener; their true commitment to the Burmese refugees' cause is apparent immediately. They have brought forth Project Aarambh, a venture to initiate the refugees in the economic sphere and enable them to develop sustainable means of income using their current skills.
Weaving Hope is a venture that promotes the handicraft and weaving talents of the community. Due to a lack of knowledge of market scenarios, consumer demand, language barrier and societal exclusion, their skills have been unrecognized until now and SIFE IITD is striving hard to bring their talents to public light and create a market for the products. These goods, which boast of original Burmese culture, are created by women units within their community and marketed by the students. They organize corporate stalls to facilitate the sales of these handbags, laptop bags, purses, woolens, coats, and shawls. They have even sought professional support for improving skills, operations and scalability by collaborating with DASTKAR, a national organization, for the same.
Placement Cell is another arm that works towards providing a platform for the people looking for a job. The cell works as a two-way forum, an interface between the people and the factories and shops which have job vacancies. It ensures that the refugees get a just and sustainable pay for their services, while the employers get sincerity and hard work in return. They also conduct training sessions and workshops for them to improve their skills, find the right job and blend into the new work culture of today.
Food Project is yet another effort to provide them with a means of employment. Burmese dishes are unique in flavor and creation. Realizing that their only customers were the community members, SIFE realized that bringing their local cuisine into the open had a huge potential for creating sustainable enterprises. Through their food project, SIFE IITD has been organizing Burmese food stalls and catering opportunities in order to impart the essential exposure to their culinary skills, along with the much needed income to the cooks.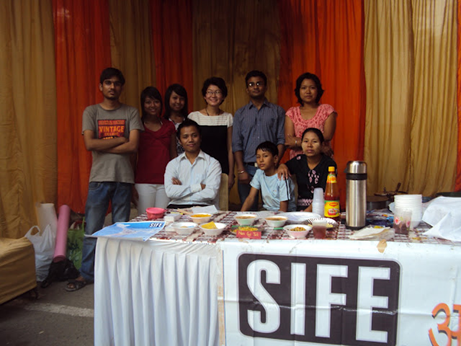 SIFE IITD also tries to forward their cause during Rendezvous, their annual college fest, when thousands of IITians and visitors get a chance to try out the Burmese dishes and handicrafts in an exclusive stall. Having tested some of their delicacies myself during the last year's fest and witnessing the enormous success of their efforts, I could not help remarking upon the toils of the enthusiastic members, who happily invite visitors and treat the refugees with respect and love. Many college outreach programs such as the one in St. Stephen's College and community initiatives such as Health Camps have also been organized.
But the most important objective of all is to enable the refugees to blend into the Indian society and sensitize the Indian community to welcome them with open arms. They are aware of the political, social and cultural dilemmas in helping a foreign refugee community – and their efforts are only meant to make the lives of these refugees a little more humane and meaningful. I salute the spirit of the SIFE IITD members, as well as the Burmese refugees, who are working hard to make their place in the world.
Palak Bhatia is a freelance writer with several mainstream publications and an online shopping website. She also acts as a travel guide for an online travel information website. An inclination to report positive news got her interested in writing for The Better India, and here we are!
We bring stories straight from the heart of India, to inspire millions and create a wave of impact. Our positive movement is growing bigger everyday, and we would love for you to join it.
Please contribute whatever you can, every little penny helps our team in bringing you more stories that support dreams and spread hope.