Shubhranshu Choudhary, the founder of CGNet Swara, was in Barwani district of Madhya Pradesh to take a class on citizen journalism with some tribal school students. One winter morning, he saw a group of kids standing together and looking at their mobile phones. "We are doing Bultoo sir," one of them said when he asked what was going on. It was only after a while that Shubhranshu understood that the kids were transferring pictures and videos using Bluetooth on their phones. And this gave him the idea of starting Bultoo Radio – a radio programme that people receive on their phones via Bluetooth.
CGNet Swara is a voice-based news portal that allows anyone in the remotest parts of the country, to report and listen to stories on local issues a using mobile phone.
When Shubhranshu realised, to his surprise, that 80% of the students in Barwani had Bluetooth on their phones and were using it actively to share files, he came up with this idea – one which turned out to be something spectacular for many people in the region.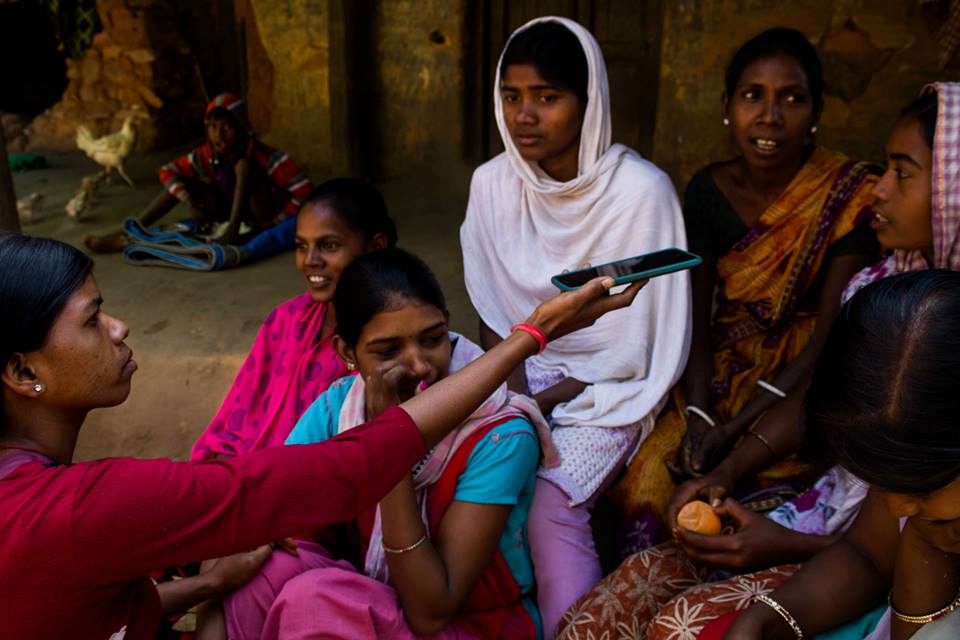 "CGNet Swara has been working to democratize and decentralise the medium of communication in the most remote villages of India for over 10 years now. While many places have a sparse network and no internet connection, people still have their mobile phones to make calls whenever they can access the network. Additionally, they use Bluetooth to transfer pictures, videos, songs, etc. So we wanted to use this fact in a way that Bluetooth can be beneficial for people to help them listen to programmes in their own dialect and language," says Rachit Sharma, a member of the CGNet team at Bijapur, Chhattisgarh.
---
You May Also Like: This Man Grew up Among the Adivasis. Today, He Is Changing Their World with Mobile Phones.
---
Bultoo Radio is basically a radio program that is shareable through Bluetooth, which is available on the most basic mobile sets – thus bringing an end to the need for internet and mobile signals.
When using CGNet, any user who calls the number 8050068000, gets connected to the internet. An interactive voice response (IVR) system gives the callers two options – record a message or listen to the reports. As soon as the recording is completed, a team of moderators gets a notification. They listen to the message, check the facts, verify the report, and publish the story. Most of the reports are in Gondi language – spoken by around two million people of the Gond tribe, living in Madhya Pradesh, Gujarat, Telangana, Maharashtra, Chhattisgarh and so on. They are also translated into Hindi and English, and published on the website where journalists, NGOs, and other organisations can listen to them and help resolve the issues that people talk about.
The team also compiles the received reports in the form of a radio programme and publishes it on the website. The programme then reaches each gram panchayat office in the districts where the radio is currently being used. "One person from each village comes to the gram panchayat office every day and downloads the daily programme of "Bultoo radio" on his mobile phone and shares it with all villagers upon return," writes Shubhranshu in this article. Thus, the radio helps in those districts where most of the gram panchayats have internet access.
Bultoo Radio has been initiated in the form of an experiment to give hope to people who wish to raise their voices but cannot find any medium.
"We are trying to make a network of people to share the programme with one another. The radio programmes cover local issues, agriculture related problems, grievances, songs, folklore, poems, etc.," says Rachit.
Bultoo radio was started in Balrampur, Chhattisgarh and the team is now trying to replicate the model in Bijapur and Malkangiri in Odisha.
Like this story? Or have something to share? Write to us: contact@thebetterindia.com, or connect with us on Facebook and Twitter (@thebetterindia).