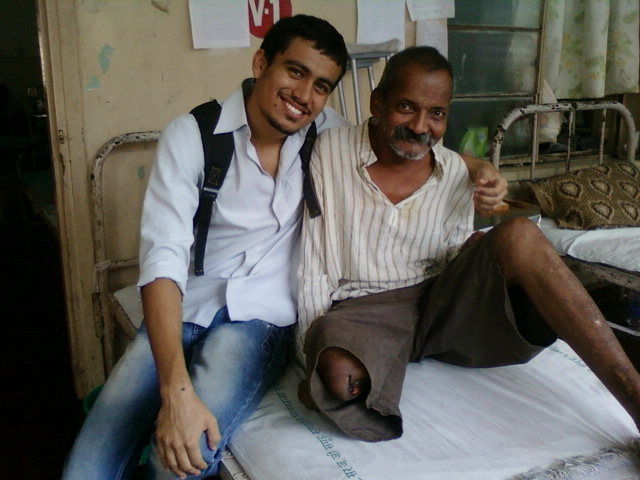 When we see homeless people, most of us feel sadness, pity and helplessness. Helplessness because we do not know how we can assist them in improving their lives. But there
When we see homeless people, most of us feel sadness, pity and helplessness. Helplessness because we do not know how we can assist them in improving their lives. But there is one among us, Richard D'Silva, who has overcome this feeling of helplessness and found ways to aid destitute people in getting them what they need – medical aid, rehabilitation or suitable employment. We hope many more will join in his brave efforts.
It is a regular monsoon afternoon in Mumbai and Ajit is lying down under one of the flyovers of Eastern Express Highway. A 20-something guy walks past him, just like every other person. Few minutes later, he comes back to Ajit, talks to him for a while and detects a bad odour. He then notices his foot and sees the bones. He realizes that Ajit's foot is infected and the infection is eating away his flesh. He inspects the legs further to see worms in action. He calls up one of the NGOs (Intermission) working for destitute people. In few days, with the help of the NGO and one of his close friends, Ajit is picked up from his place and is taken to J J Hospital where he is currently receiving treatment with his leg amputated to prevent infection from spreading into the rest of the body.
Few weeks later, that 20-something guy meets me in one of the cafés in Powai, explaining his fight against destitution in the country. For the next one and half hours, he walks me through his one and half years of journey with the destitutes in Mumbai, mainly eastern suburban Mumbai. Meet Richard D'Silva. Ajit, one of the 78 million homeless in India, is one among the many homeless in Mumbai who have been fortunate enough to find a helping hand in Richard, been picked up from the footpath and moved to their rightful place – a hospital or an old age home or somewhere where they could find work and earn their bread. As he explains why he is doing what he is doing, ideas are presented, questions are asked, concerns are raised and hope is expressed.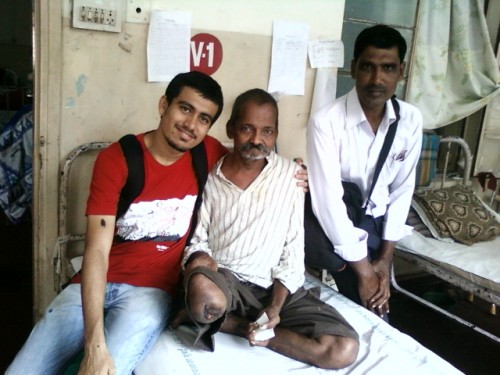 Currently studying Civil Engineering, Richard takes his inspiration from Jesus Christ. His battle against homelessness began in early 2011 when he saw a very old man lying on the streets of Goadbundar road, Thane, disowned by his family. While he had seen many homeless before, this time the inspiration to do something for them overpowered societal fear. With the help of police, an NGO and his close friend Tushar James, who has helped Richard many times in his initiative, Richard arranged rehabilitation for the old man. However, as destiny would have decided, the homeless man withdrew at the last moment. Even after a lot of persuasion he refused, to which Richard had to heed. However, an unsuccessful experience on the first attempt itself did not deter Richard from his desire to do something for the destitute, whom he had been seeing since his childhood.
Over the last one and half years, Richard has been working to rehabilitate several impoverished persons and has, in fact, improved the lives of many. Poverty, illiteracy, unemployment, illness, drug addiction, alcoholism, family disownment and many such reasons are leading to an increase in the number of homeless in this country every year. Lack of political will to do something for them is resulting in many of them losing their lives due to various reasons, particularly climate extremities in winters, summers and monsoons.
While the government attitude is certainly not encouraging, a greater concern is the public mind-set for the homeless.
People do not go out to help them but instead, frown upon them even when these destitute have done no harm to anybody. Station masters (at suburban railways stations) themselves tell that commuters call them to throw these people away from stations. They have to do that as well.
says Richard. This, in spite of the fact that an average commuter does not spend more than 5 minutes in a day in a station. These homeless are either thrown outside or put in any train and destiny takes care of the rest. Though very inhuman, this is a reality.
These are also the realities that have kept Richard motivated in his mission. His small team identifies the homeless who are in need of immediate attention – either rehabilitation or medical treatment. In case of medical treatment, the needy person is shifted to the nearest government hospital as government hospitals are obliged to treat homeless free of cost. Although not all government hospitals follow these guidelines religiously, there are certain exceptions like J J Hospital and Nair Hospital where Richard has been able to get maximum number of homeless treated. In case of rehabilitation, the person is sent to a suitable location – an old age home or a place where he/she can find work.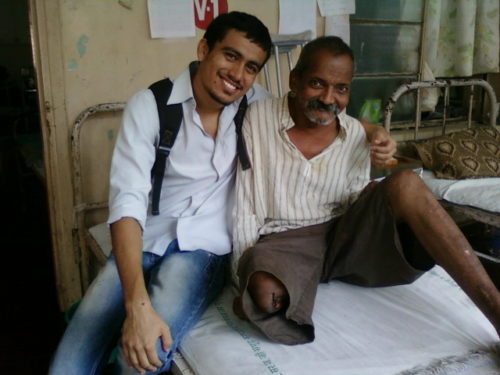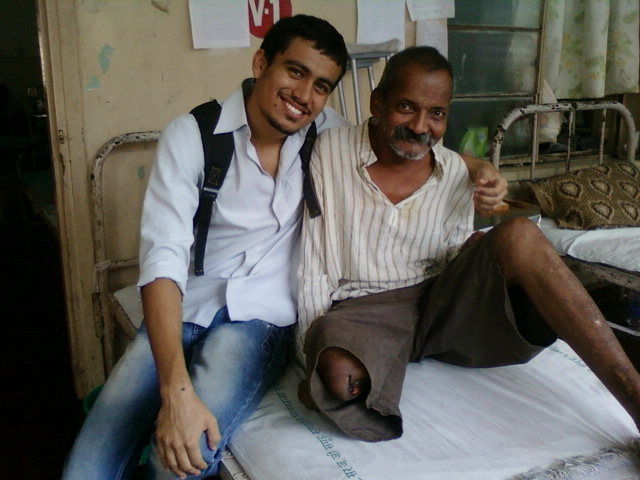 However, sometimes, the homeless person refuses to co-operate. The problem becomes specifically acute with drug addicts. From adults to kids (as young as 8-10 years old), addiction of alcohol, smoking and even whiteners (which is fatal as well) lead these people to have no apparent interest in life but to beg, earn money and spend it on drugs. In addition, there are also the destitute who have lost complete interest in life so much so that they willfully try to kill themselves even while receiving treatment in hospital.
Professional Help
While Richard and his small group of friends have been active in rehabilitating the destitute for some time now, lack of professional guidance has been one of the major obstacle in achieving the desired results. The Police does help in providing some necessary support, but if anything happens to the homeless then the person who brought the homeless is supposed to take care of everything that happens after that! NGOs that have helped till date are focused towards other social evils because of which the extent of help is restricted.
Richard believes,
Guidance and active help from NGOs who specialize in rehabilitating the homeless would solve multiple problems. While providing better rehabilitation to these homeless, it will also help deal with the police and hospital authorities in a better manner. Today, many hospital authorities refuse to accept our requests since we neither have any valid social ID card nor we are related to the homeless in any manner.
Infrastructure and Resources
In addition to lack of professional help, lack of proper infrastructure and resources is another concern that prevents rehabilitation of the homeless. With no apparent guidelines, lack of proper shelter homes especially during climatic extremities, lack of will in government hospital staff to treat the destitute and many other issues, a lot needs to be done. Also, creating more employment opportunities in rural areas will reduce the burden on cities to provide these people with employment. A majority of homeless in cities are the villagers who come to cities with hopes of getting a job and sending money back home so that their financial situation improves. With less education and employability, they do not find jobs but they also cannot go back to village due to societal pressures.
Scaling Up
With social and academic responsibilities, it becomes difficult, at times, to devote adequate time to the initiative. Going ahead, Richard expects to rope in more people into the initiative. Till date, help from Tushar has been significant as he has accompanied Richard many times and has even filled the void for Richard when he is not available due to other commitments. Increase in the number of people joining the initiative will increase the number of homeless they are able to rehabilitate. For this, people will need to invest some time in knowing these homeless and understanding their concerns. This is necessary to change the mind set and public attitude towards destitutes.
Jay Mehta is an industry analyst, freelance writer and active blogger. Inspired by the concept of The Better India, his passion for writing and a desire to contribute his little to improve the society, he expressed his interest to author articles for us. Before his stint with the corporate sector, Jay completed his management education from Management Development Institute, Gurgaon. He blogs at
http://mehtaworld.wordpress.com/
We bring stories straight from the heart of India, to inspire millions and create a wave of impact. Our positive movement is growing bigger everyday, and we would love for you to join it.
Please contribute whatever you can, every little penny helps our team in bringing you more stories that support dreams and spread hope.