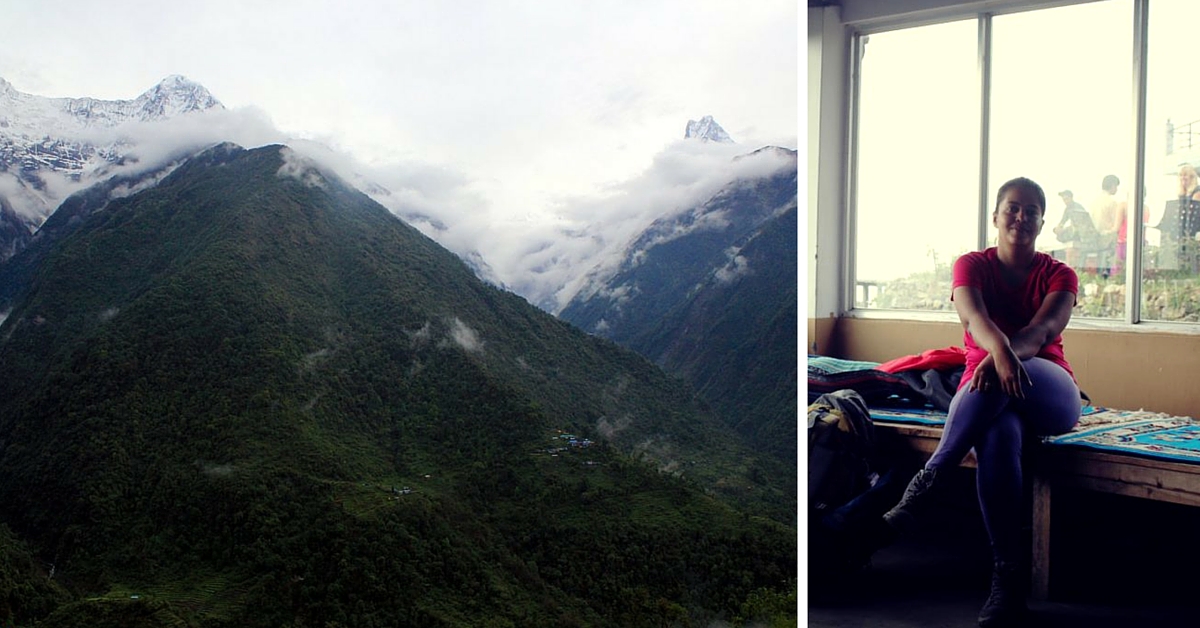 Tanya Roy's love for the mountains inspired her trek to the beautiful Annapurna Base Camp. Here are the glimpses from her amazing journey.
---
In the MY STORY section, we present some of the most compelling and pertinent stories and experiences shared with us by our readers. Do you have something to share? Write to us: contact@thebetterindia.com with "MY STORY" in the subject line.
---
Tanya Roy's love for the mountains inspired her trek to the beautiful Annapurna Base Camp. Here are the glimpses from her amazing journey.
I am not a mountaineer – I have not done any course in mountaineering, neither do I belong to the mountains. I am a city girl with no extra ordinary fitness. In fact, I suffered from asthma when I was a kid and there's no cartilage between my spine and tailbone. But I love the mountains and that's all I know – it is a kind of love that I have never felt before and will never feel again.
Mountains drive me to be me, every time!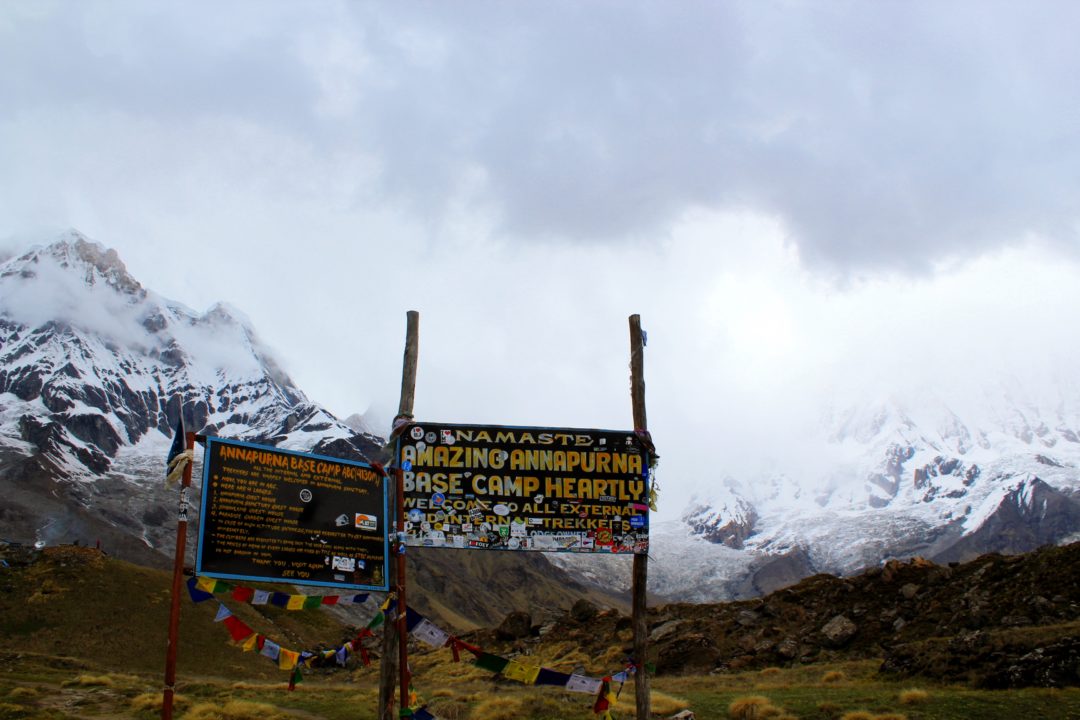 My life is not a bed of roses. I have worked hard for my happiness and I have had dark times – like we all do. But the mountains taught me to keep going, no matter what. So when I started my dream project, a travel company of my own, I knew that I can't fail – even when everything started going wrong and people who I thought would stand by me were the first one's to back off.
The Annapurna Base Camp Trek was on my mind for a long time and I wanted to go solo. After arriving in Kathmandu, I spent a day there and prepared for the trek – leaving for Pokhara the next day.
On reaching Pokhara, I decided to start the trek the same day.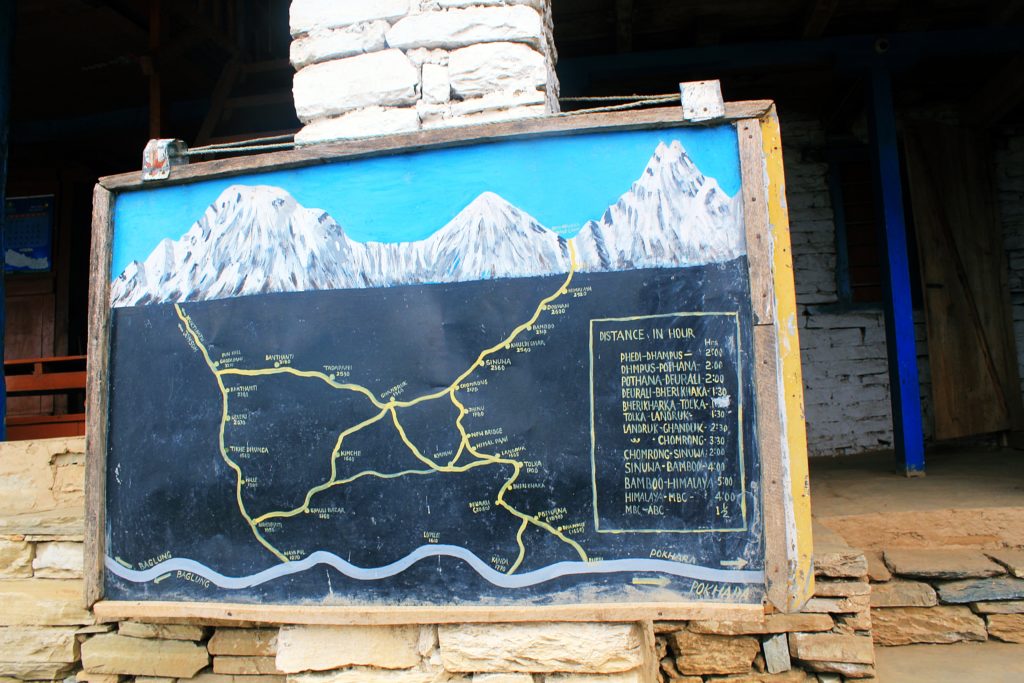 Day 1: Australian Base Camp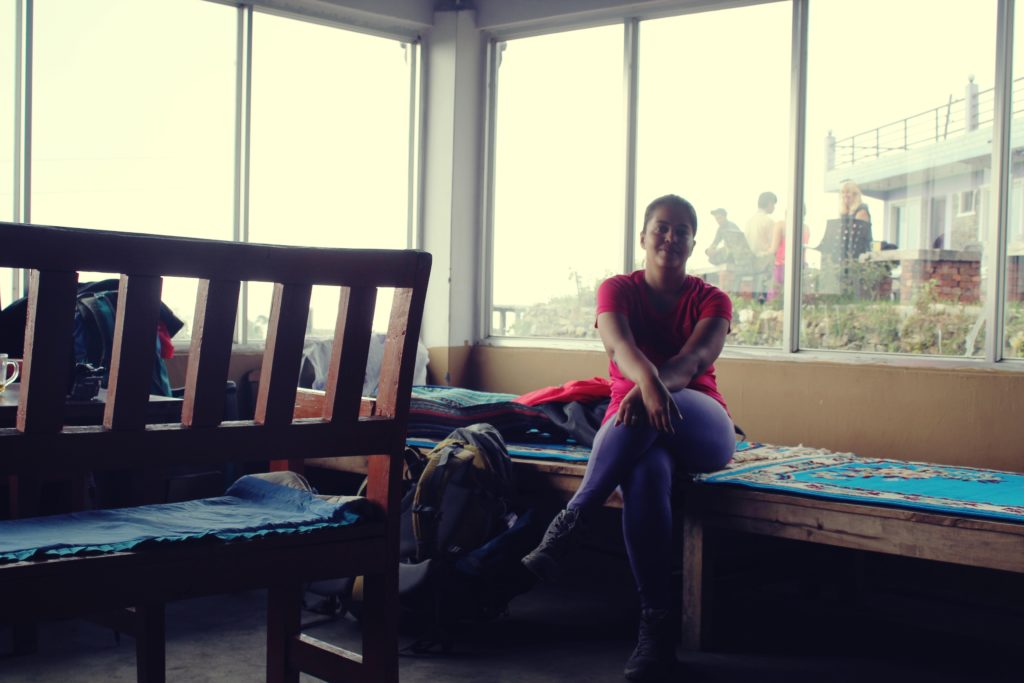 This was the beginning of the much awaited trek and the first time that I would trek in the dark – but surprisingly, I wasn't feeling scared at all. As the trek began from a low altitude, it seemed more like a tropical rain forest. I reached the Australian Base Camp in an hour and a half. It was my first pit-stop and I found a pretty nice lodge with good food.
Day 2: Landruk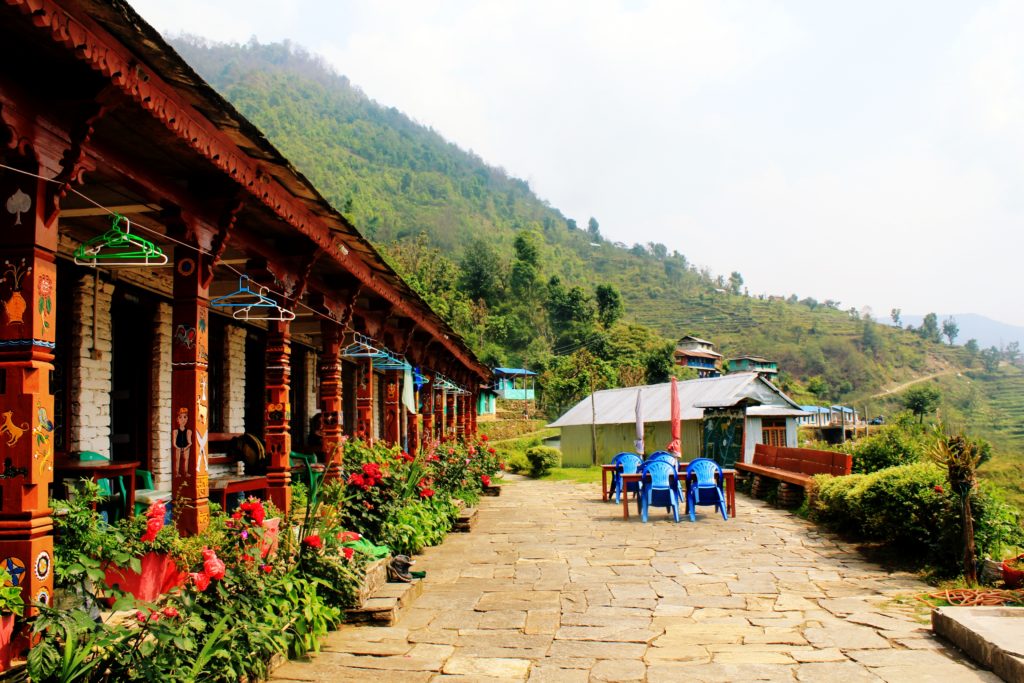 The walk from the Australian Base Camp was a mix of ups and downs at a comparatively low altitude. It started raining when I was just an hour short of Landruk. By the time I reached there, everything, including the clothes in my backpack were drenched.
Day 3: Chhomrong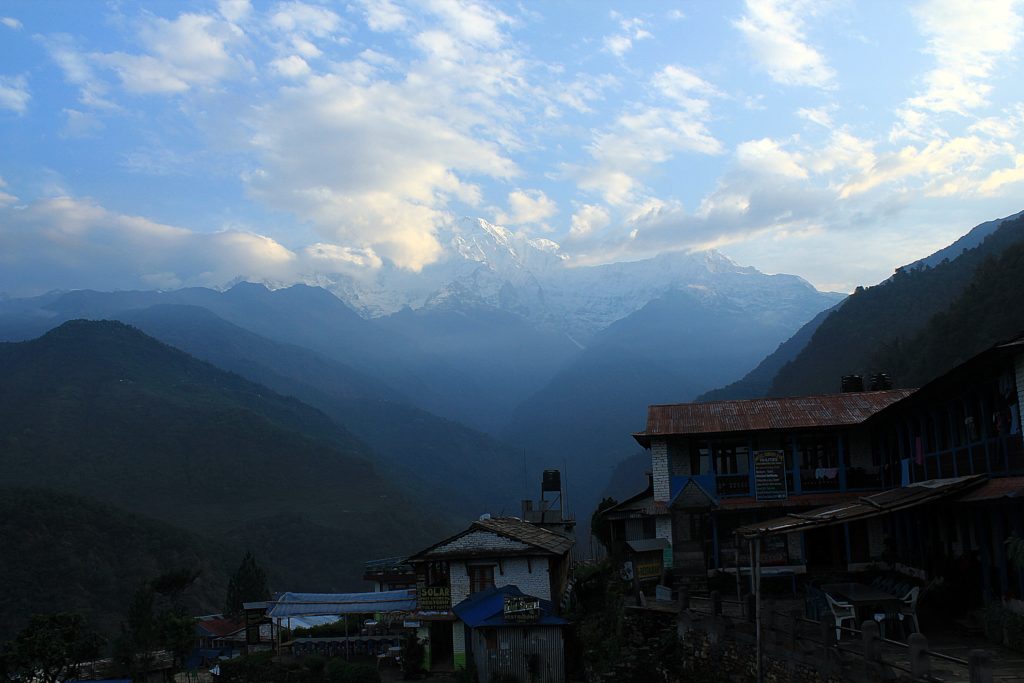 I woke up at 5:30 am and saw the first view of Annapurna Main. I couldn't have been happier. This was a longer and harder day, but I was in good spirits. With my shoes still wet, I decided to hike in my floaters. From Jhinu, where I reached by lunchtime, it was a clear uphill climb to Chhomrong. I was scared of it in the beginning, but completed the climb like a cake walk. This gave my confidence a real boost and I started believing that I am going to make it.
Day 4: Himalaya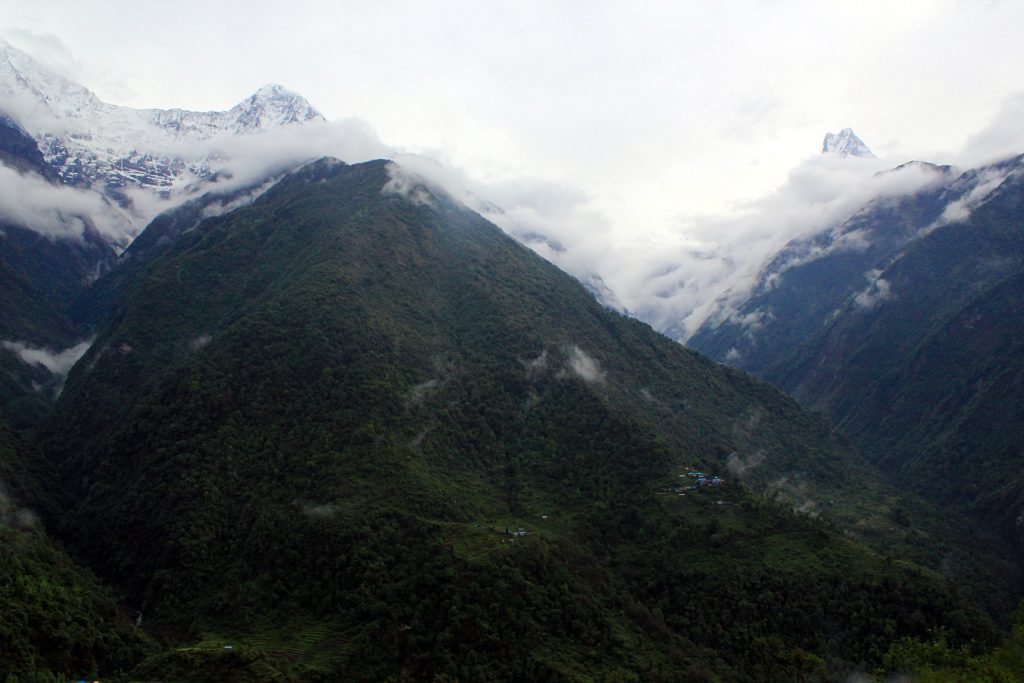 I woke up to a cloud day and it rained throughout, making the trail slippery. It was a constant climb and I was not in my best shape. The altitude kept increase, it was cold and damp, the moisture levels were high, my shoes were still wet – I was breaking down. But I knew that I had to keep going, so I did, and made it to Himalaya.
The next day was the day I had to reach ABC – the Annapurna Base Camp. I was hoping for good weather and a stronger me.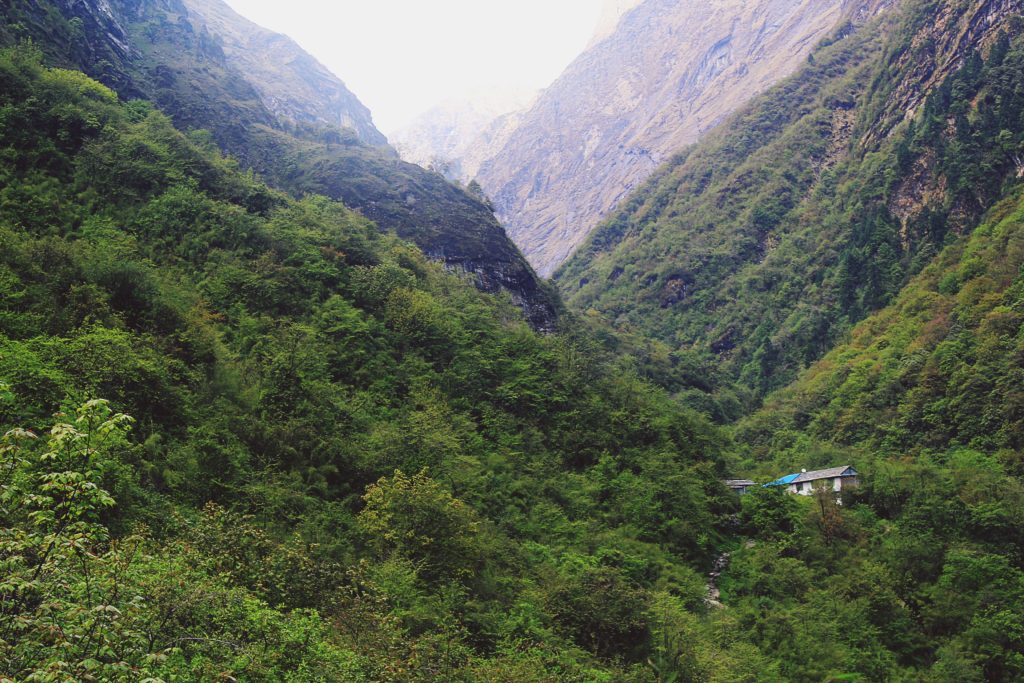 Day 5: Annapurna Base Camp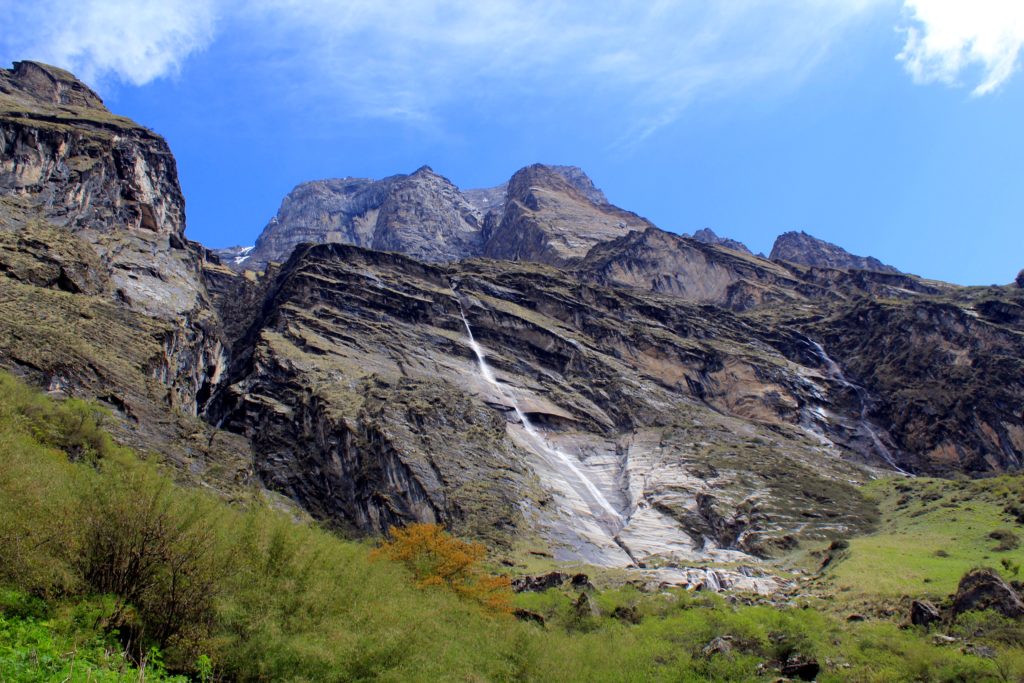 Waking up to a bright, sunny day, I began walking quite early and made it to Deurali in two hours.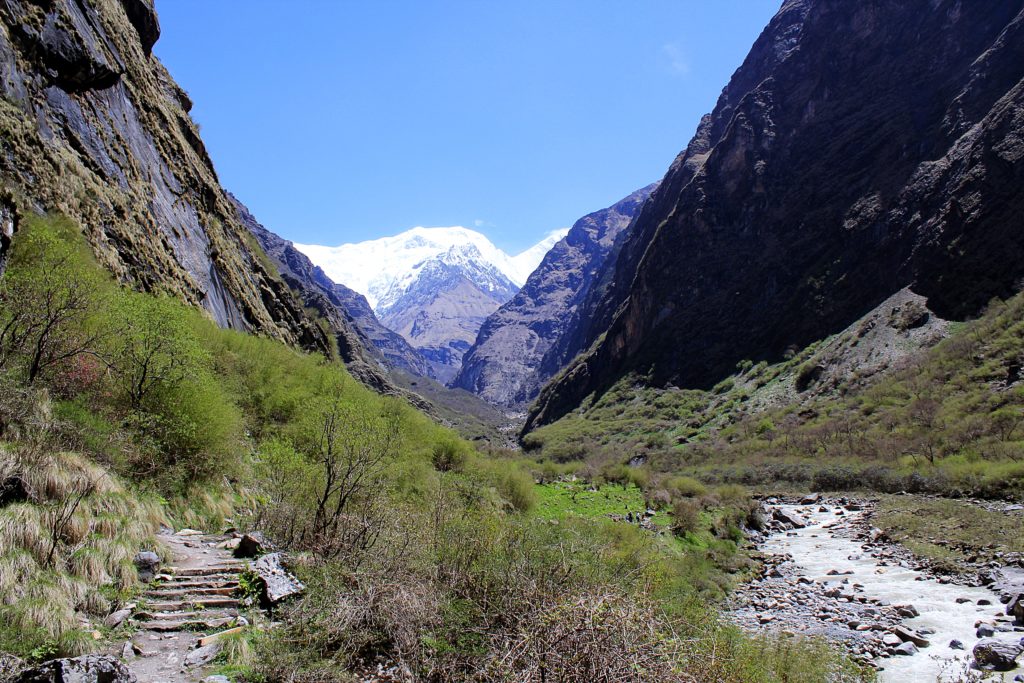 The next stop was MBC (Machcha Pucchre Base Camp). The view was so breath taking at this point that it completely distracted from everything else. It didn't matter any more if my body was hurting. I was coming closer to my love – the mountains, and that was all that mattered. I started my trek to ABC after lunch and was there in less than two hours. I had tears in my eyes. I had made it in one piece – in spite of all odds.
It was magic! The night sky was clear and I saw the moon rise. It was a miracle.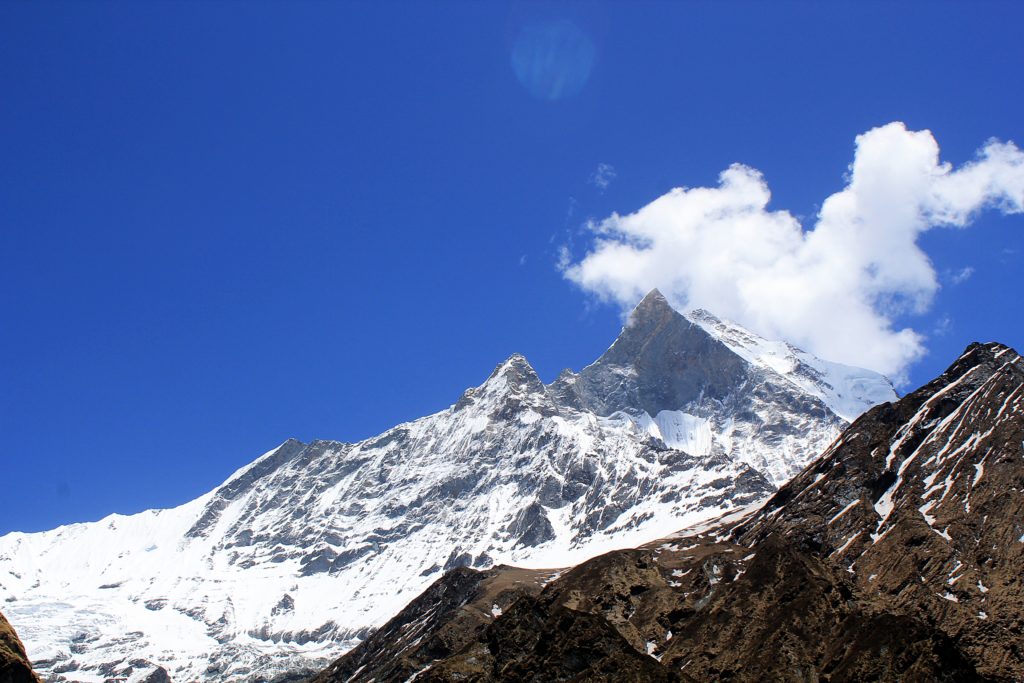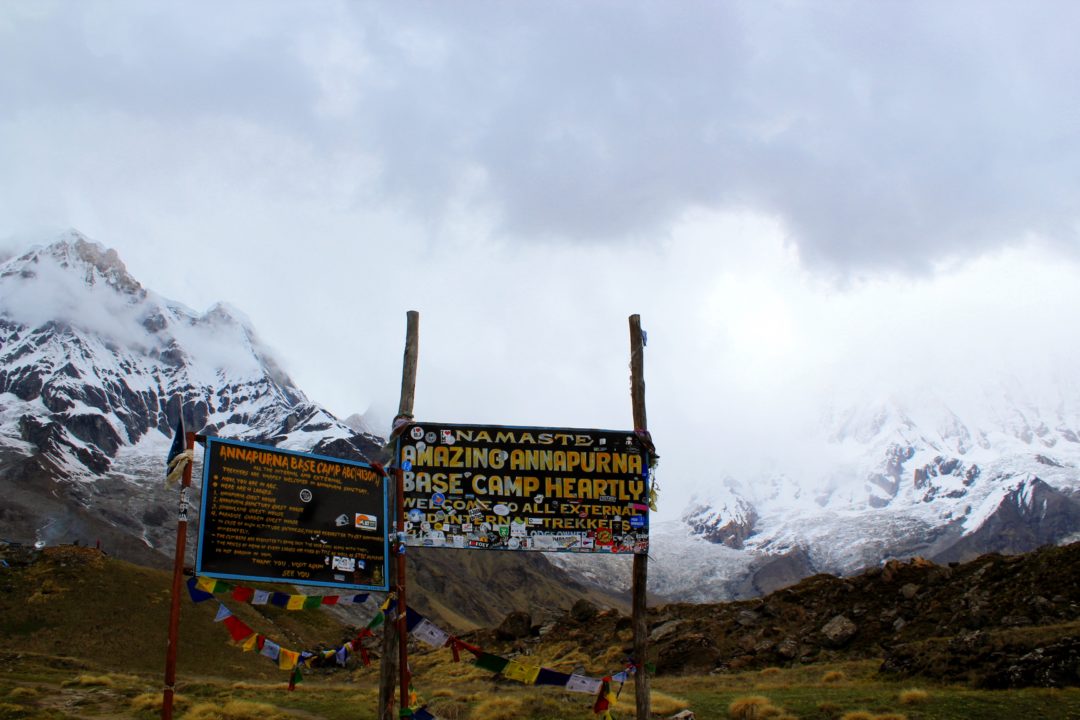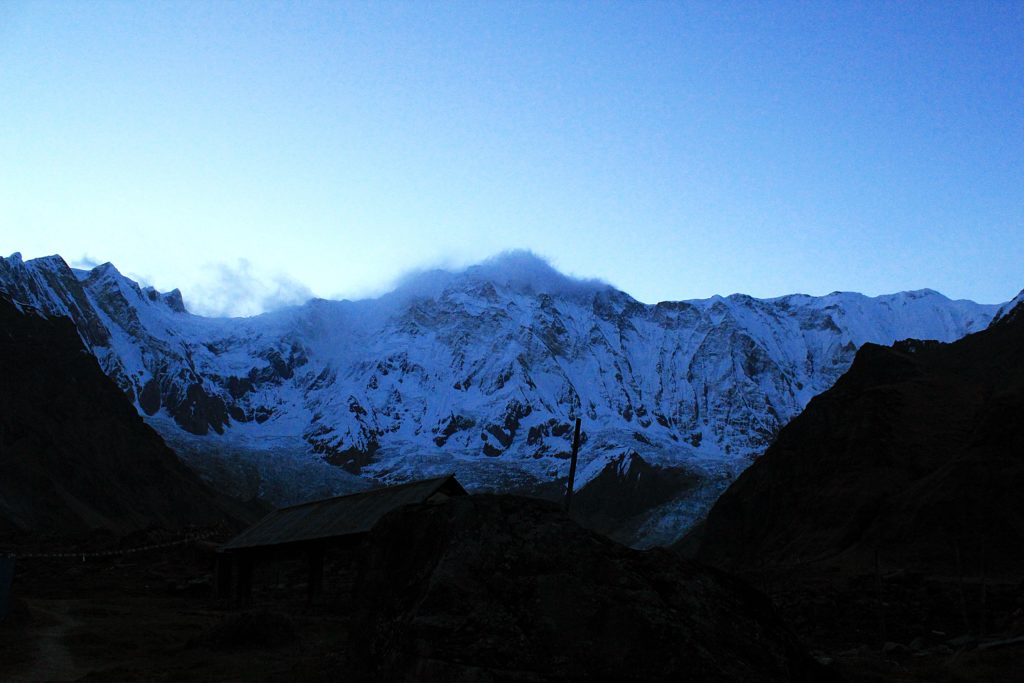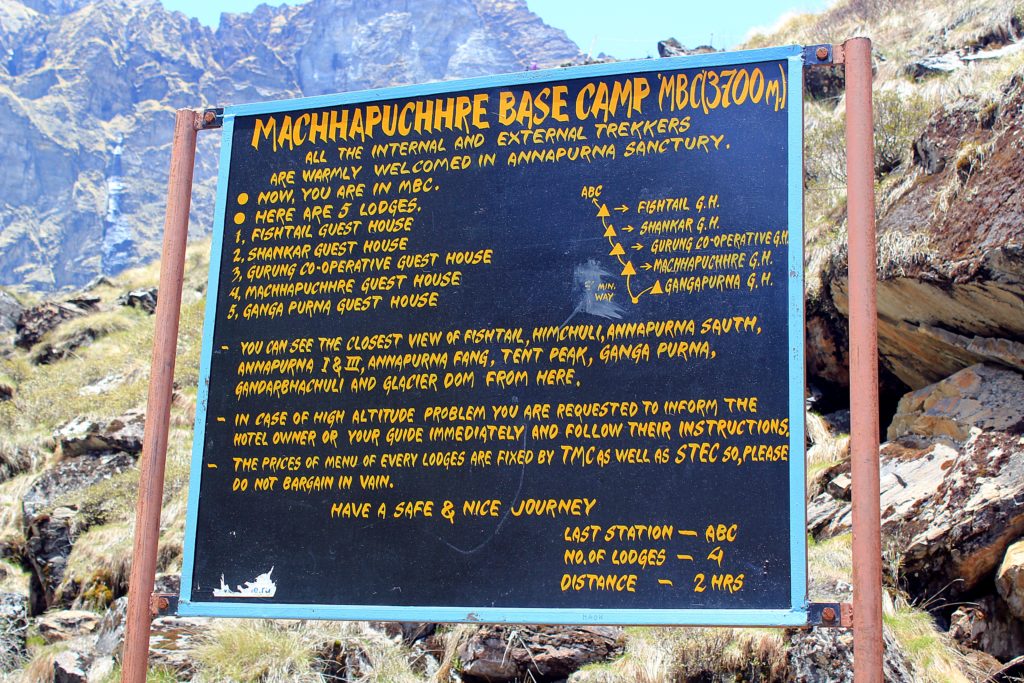 Day 6: Dovan
Sadly, I had to leave the base camp next morning. I was happy that I survived the night there as many others couldn't. The morning was bright and sunny but it started raining again as we crossed Deurali. Taking a stop was a good idea and I also decided to get some much needed rest.
Day 7: Jhinu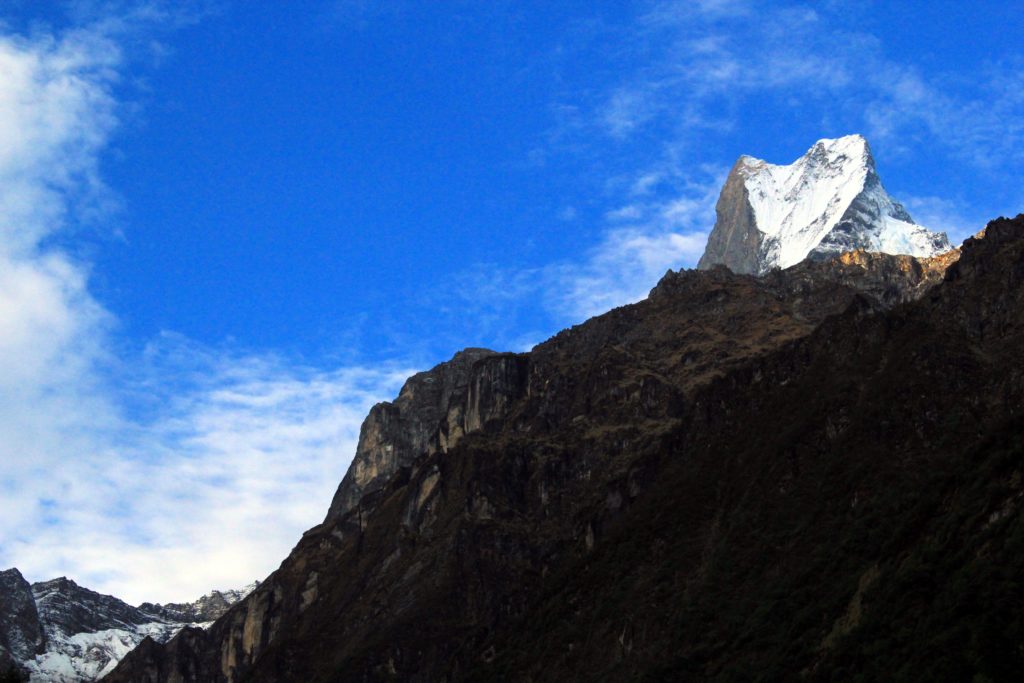 Since walking back is not so much fun, I decided to break some trekking rules and plug in my ear phones. It was also a walk to talk with myself, reflecting upon my personal and professional goals and decisions. We all want friendship and love – but trust me, no relationship is as important as your relationship with yourself, because no one is ever going to respect you the way you do. So love yourself enough to be happy, and choose happiness, every day! With that thought, I had happily made it to Chhomrong. Jhinu was an hour away and so were the hot water springs.
Day 8: Siwai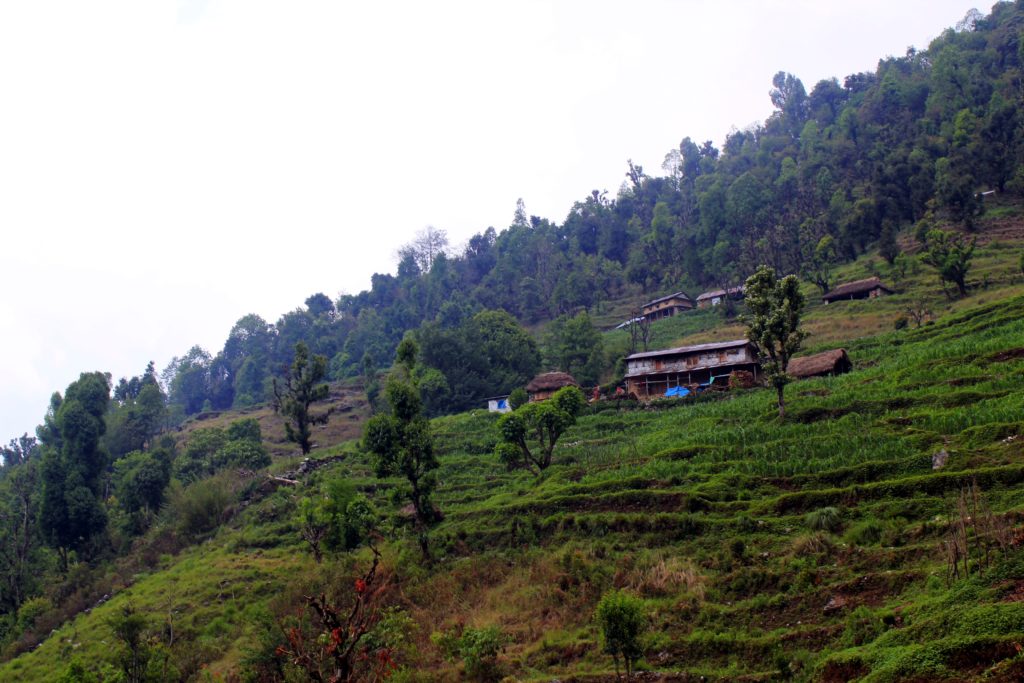 It was the last leg, and it was harder than I thought it would be. But I had done it. I made it to the ABC and was back in one piece.
We live in a country where women have to face many societal pressures, but I don't want to be bonded, ever. I always have a choice and I am all that I have – that's why I trekked solo.
– Tanya Roy
Like this story? Have something to share? Email: contact@thebetterindia.com, or join us on Facebook and Twitter (@thebetterindia). To get positive news on WhatsApp, just send 'Start' to 090 2900 3600 via WhatsApp.
About the author: Tanya runs a travel social enterprise called Ecotraveler, which is working towards creating a responsible tourism culture. She also writes travel and inspirational stories on her blog Hopelesswanderer.org. She started this after a main stream corporate career in telecom and other sectors for six years.