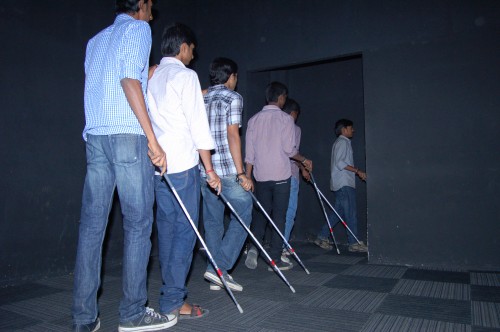 A unique initiative, Dialogue in the Dark, aims at educating people. But this learning does not get you a lucrative job. Instead, it equips you with sensitivity and understanding towards
A unique initiative, Dialogue in the Dark, aims at educating people. But this learning does not get you a lucrative job. Instead, it equips you with sensitivity and understanding towards the visually impaired. In an entertaining way, it immerses you in the world of the unseen, and lets you explore your feelings and thoughts.
Have you ever wondered what it is like to be blind? How do the visually impaired perform their daily chores, how do they find their way around, what do they think and feel about their surroundings? Well, now you can find out for yourself! An innovative and novel initiative – Dialogue in the Dark – aims at creating awareness about the world of the blind by immersing sighted people in it and letting them experience it first-hand, with help from a guide who is visually impaired. DiD traces its origin to Germany back in 1988, and has so far reached out to 7 million visitors through 160 contact centres worldwide, while also providing employment to more than 7,000 visually impaired candidates.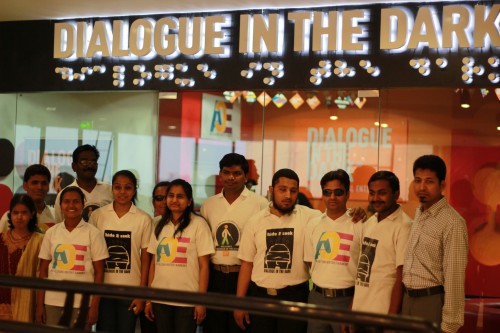 When SV Krishnan stumbled into one such exhibit, thanks to a delayed flight in Atlanta, GA, it left a lasting and profound impression on him. He realised what an important and compensating role the other senses played for the blind, and he was amazed to see them come alive when he was placed in that situation. More importantly, he learnt a lot about the blind that he did not know before, and he felt greater empathy and respect for them. Says Krishnan,
During the exhibit, I was inspired by the reality of living without traditional sight, as "Dialogue", by taking me through a series of ordinary events, such as visiting a park, buying candy, and taking a boat ride in complete darkness, revealed to me how the other 4 senses activate and function more keenly when vision is impaired. What I discovered to my great surprise was that the "blind," so to speak, are not disabled. No, instead, they are specially abled.
Deeply moved and determined to introduce Indian audiences to such an experience, he began to think of how such education and entertainment can be combined to create a beautiful and meaningful enterprise. He felt Indians were ready to receive and appreciate such edutainment and take away valuable insights from it, while also being exposed to something new and thought-provoking. And was he right! He, along with co-founder Sudha, started an exhibit centre of DiD in Hyderabad in 2011, and in 16 months of existence, the centre has received more than 45,000 visitors!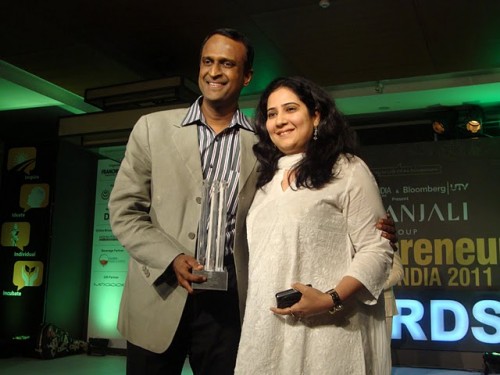 Another important aspect of DiD is the sustainable social impact it aims to create. Besides building empathy and awareness among individuals for the disabled, it also creates meaningful employment opportunities for the visually impaired by hiring them as guides and trainers. These employees feel a special sense of empowerment, as here they are guiding the sighted in a world that, for a change, they are familiar and comfortable with. With this unique reversal of roles, the visually impaired feel in control and responsible for their sighted wards.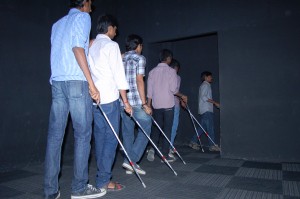 The exhibition itself consists of a range of different experiences, designed with a lot of thought behind them, in order to simulate the world of the blind. Visitors are handed canes to feel their way around and led into an area that is enveloped in pitch darkness. Their initial feelings of disconcertedness and fear are calmed by the gentle voice of their guide, who leads the group into different environs, such as a park, a supermarket, a boat-ride, a walk in the old city, ending with refreshments at the Taste of Darkness cafe. In all these situations, the visitors slowly adjust to the darkness that in effect annuls their sense of sight, and they learn to rely on the other sensory organs available to them – namely those of hearing, touch, smell and taste. They are made keenly aware of their heightened senses and realise that it is not that the blind cannot see, they just 'see' with different faculties.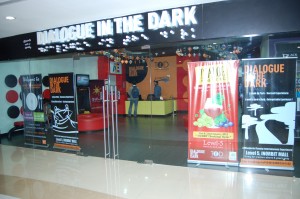 Perhaps the most important 'insight' people can take away from such experiences, besides understanding, connecting with and empathising with the differently abled, is that losing one ability is not as devastating as they think it would be. We are all so afraid of losing what we have, that we think we cannot do without it. But going through such an exposure makes one realise that the problems we face in life are not insurmountable, and there is nothing that cannot be overcome. We do after all have many other senses or abilities to make up for what we have lost, and we can, in fact, put them to better use now.
For the Dialogue in the Dark experience, visit their first centre in India at Inorbit Mall, Hyderabad. Or you could visit their website to know more.
Tell Us More
We bring stories straight from the heart of India, to inspire millions and create a wave of impact. Our positive movement is growing bigger everyday, and we would love for you to join it.
Please contribute whatever you can, every little penny helps our team in bringing you more stories that support dreams and spread hope.