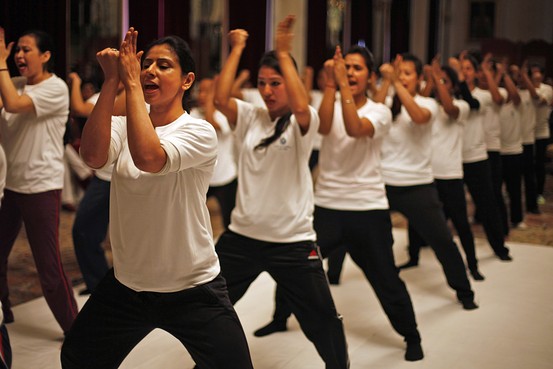 Take a few minutes to learn some handy self-defence tricks now, and walk confidently, knowing you're prepared for pretty much any situation.
Take a few minutes to learn some handy self-defence tricks and walk confidently, knowing you're prepared to handle pretty much any situation.
Since the world is full of the unexpected and it's easy to be caught off-guard anywhere you go, self-defence is something that everyone, male and female, should know. There's no dearth of self-defence equipment out there for you to add to your arsenal, but you might not always be walking around with a defence key chain or a can of pepper spray. So, knowing a few handy moves could definitely help you out in a tough situation.
While these tips are not meant to be a replacement for professional self defence courses or help from the authorities should you need it, they could help you defend yourself and your loved ones in some common real-world situations that turn violent. The good thing is that anyone can learn these effective self-defence techniques – regardless of strength, size, or previous training. You may never use them but having the knowledge will definitely allow you to be more confident in your own powers.
1. Escaping a Wrist Hold
2. Breaking Out of a Zip Tie Handcuff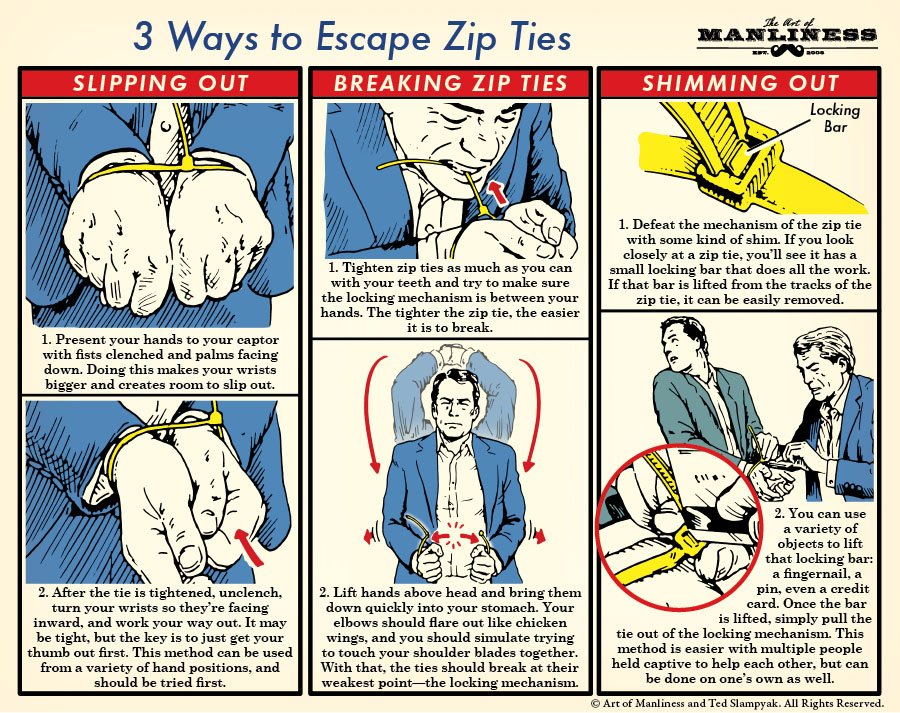 To break the locking mechanism of the zip tie, you raise your hands above your head (assuming they are tied in front of you), and then bring them down with force and speed against the upper part of your abdomen, while simultaneously pulling your elbows back and apart as much as possible. The downside is that it often takes multiple attempts.
You can also pick the lock of the zip tie using a hairpin, clip or any thin material to press the locking mechanism up. If you prevent the locking mechanism from coming into contact with the teeth, it's possible to pull the zip tie out.
3. Defending a Hair Grab
4. A Palm-Heel Strike That Counts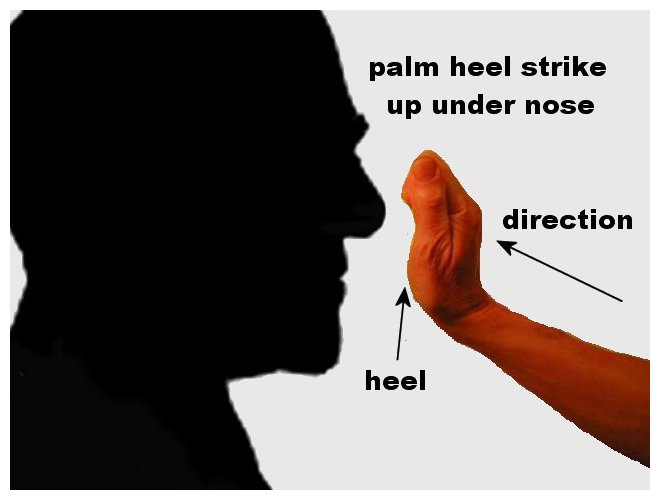 Experts say that the heel of your palm can be a more effective weapon than a closed fist, especially if you don't have experience throwing punches. To use the palm-heel strike, raise your arm with your palm facing your target. Bend your hand back and curl your fingers in to protect them. Strike the nose or chin with an upward motion, keeping your arm straight and using your body weight.
5. Escaping an Uncomfortable Hug
6. Elbow to the Rescue
When executed with precision, elbow strikes can be painful and damaging enough to end a fight without much effort. This move is particularly useful for close-range self-defence and can be used in a number of positions.
a) When someone is attacking from behind – Arm close to the body, palm up (facing forward), elbow pointing toward the ground, move your elbow straight back into your attacker.
b) When someone is attacking your front – Arm close to your body, palm up (facing forward), elbow pointing toward the ground, move your elbow up into your attacker.
c) When someone is attacking from your side–Arm close to your body, forearm touching your mid stomach, palm down (facing towards the ground), move your elbow sideways into your attacker's ribs or move your elbow upwards into his face.
7. Knees Can Be Powerful Weapons
8. A Hard Stomp Goes a Long Way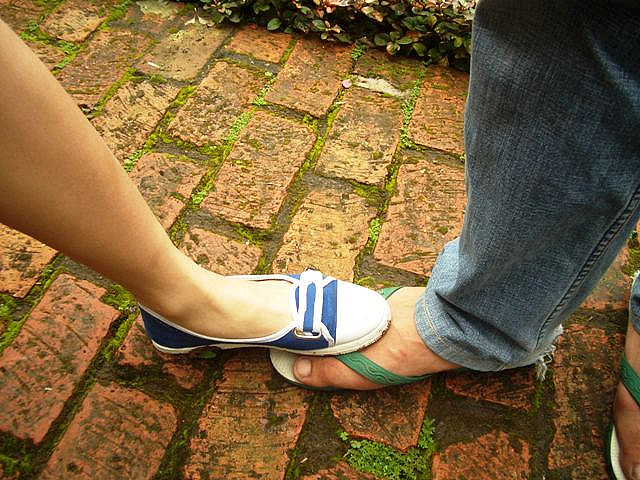 Kick your opponent hard in the kneecap and then stomp with all your might on the top of their foot. Since everyone's feet are tender spots, this could break several of the attacker's foot bones. No matter what size you are, a good hard stomp will make it difficult for your attacker to pursue you.
9. Breaking the Front Choke
10. A Ringing Ear Slap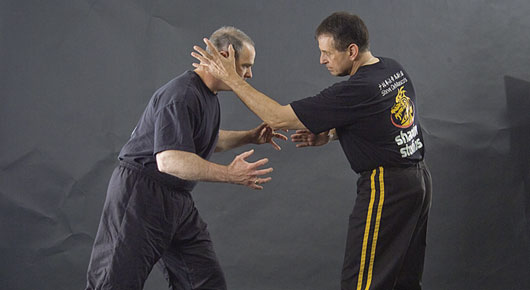 The key to a successful ear slap is to use surprise. You have to strike the opponent before he has the time to raise his fists. When confronted, open the palms next to your waist, asking "What did I do?" to distract your target. Cup your hands and slam your palms into the opponent's ears to send a blast of air into his ear canal.  A well-placed ear slap is  sufficient to knock out or disorient the attacker, giving you time to choose between fight or flight.
Equip yourself with these moves with some do-at-home practice sessions. You don't need to become a sword-wielding ninja warrior or a brick-busting karate master. All you need is to learn a few simple moves that can catch an attacker off guard, giving you the opportunity to get away and save your own life.
Like this story? Or have something to share? Write to us: contact@thebetterindia.com, or connect with us on Facebook and Twitter (@thebetterindia).
We bring stories straight from the heart of India, to inspire millions and create a wave of impact. Our positive movement is growing bigger everyday, and we would love for you to join it.
Please contribute whatever you can, every little penny helps our team in bringing you more stories that support dreams and spread hope.
Tell Us More