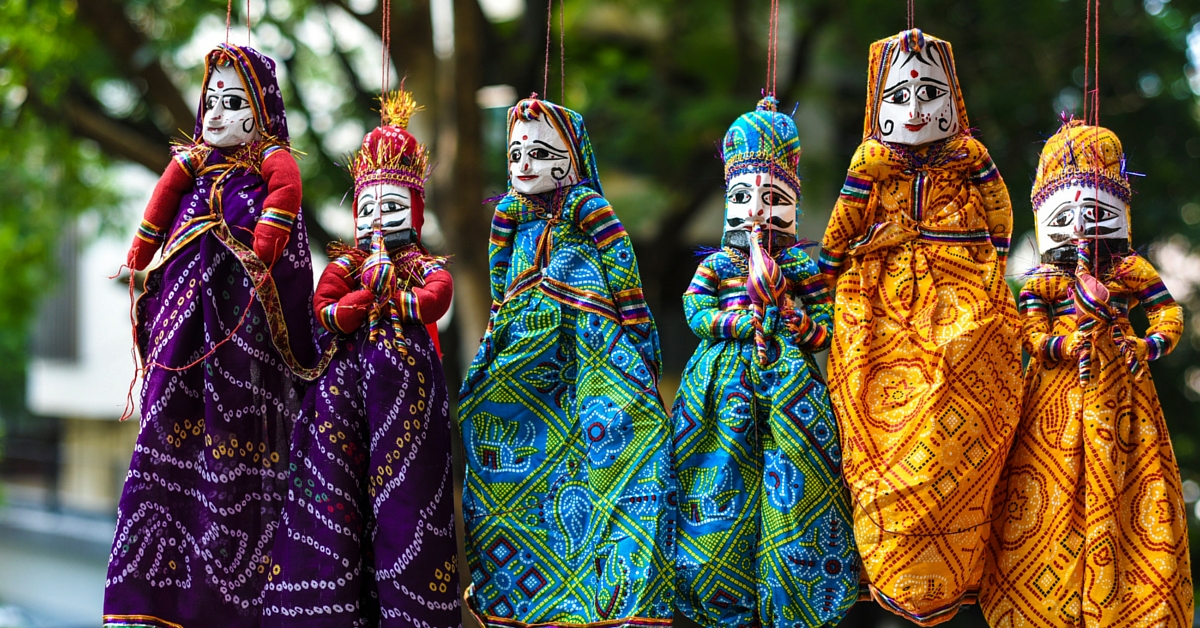 Trace the rich and fascinating history of Indian handicrafts across states and borders.
Trace the rich and fascinating history of Indian handicrafts as it makes its way across states and borders. 
If the Indian map was depicted by its craft clusters, it would be a vibrant diamond, housing pockets of handicrafts along its length and breadth. The map would feature deep zaffre Jaipur pottery in Rajasthan, burnished Bastar metal art in Chhattisgarh and russet wooden toys in Sawantwadi, Maharashtra. Tinkling Kutch metal bells would form the rivers of Gujarat and ivory marble would sit atop the mountains in Uttar Pradesh.
As you traverse the craft-dotted landscape that enriches the country, you'll witness a grand spectacle of vivid colours and magnificent designs. Rajasthan, for instance, has nurtured and celebrated centuries-old crafts within its folds; Kathputli is one such craft.
Originating from the words kath meaning 'wood' and putli meaning 'lifeless doll,' Kathputli is the art of storytelling with handmade puppets.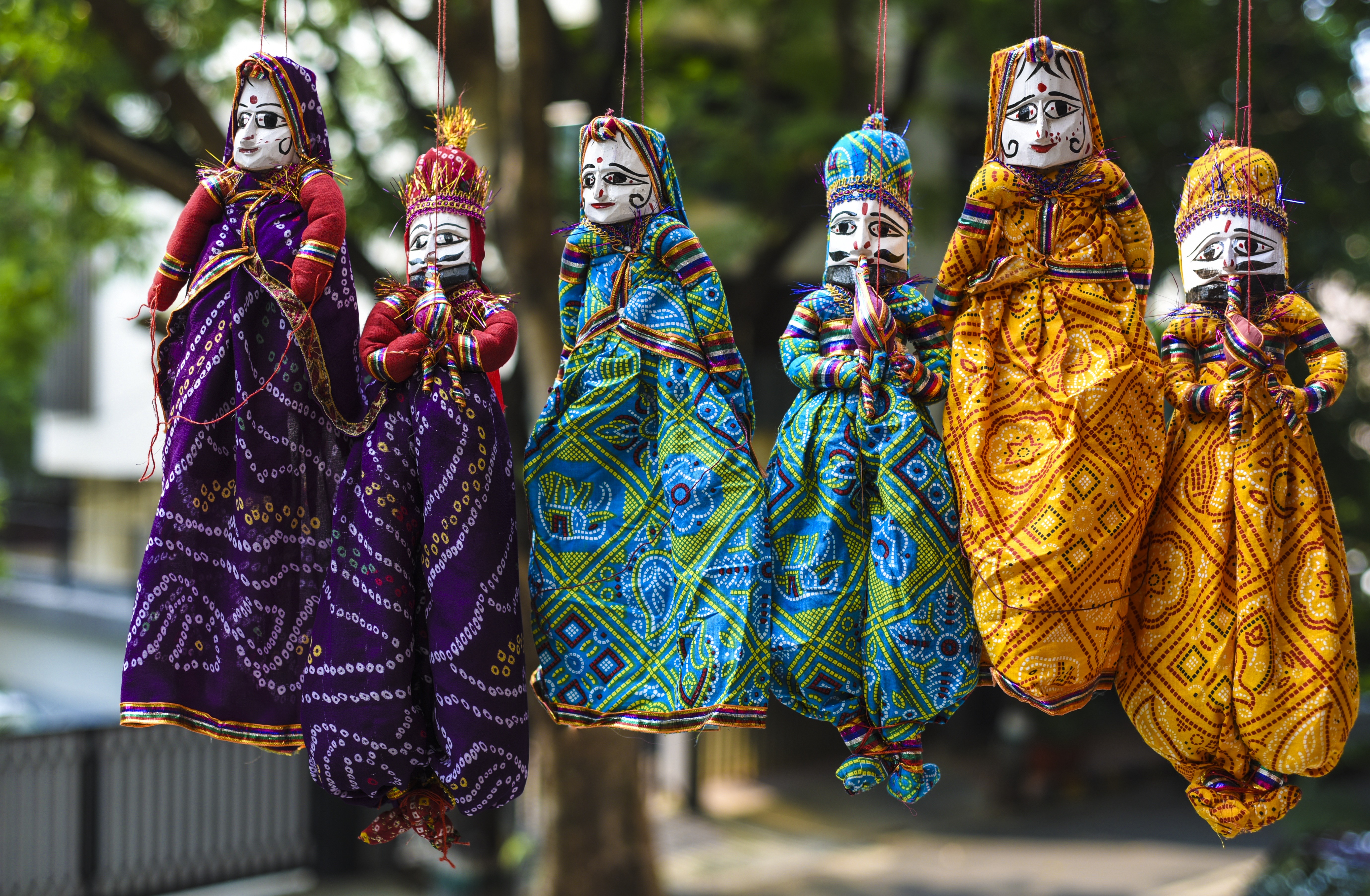 As one of the oldest puppetry forms in the world, Kathputli has placed India on the world map of handicrafts. The art was started by the Putli Bhat community more than a thousand years ago and has been used in Rajasthani ballads, folk dances and village fairs ever since.
Forty years ago, as the craft spread north, a slum commune was erected in the deep, dark bowels of Shadipur Depot, Delhi, and aptly named 'Kathputli Colony.' Street performers, magicians, folk dancers and singers gathered here to entertain audiences. For the length of their performances, these entertainers would forget about their hardships and living conditions; instead they would slip into the happy world of Kathputli where they could be whoever they wanted to be. In 2010, the Delhi government declared that it would help improve the facilities and infrastructure in Kathputli Colony; the project is currently underway.
Today, there are various organisations, like Rupayan Sansthan and Bharatiya Lok Kala Mandal, working to protect and promote the beautiful craft of Kathputli. The museum by Bharatiya Lok Kala Mandal dedicated to the craft is a must visit the next time you are in Udaipur!
Rajasthan is also known for the exquisite craft of Meenakari, an ancient form of metal ornamentation. Coloured minerals in an array of dazzling shades are fused to metal carved in intricate designs. Originally a technique devised by the Iranians, Indian craftsmen acquired the skill from the Mongols who spread the craft to the Indian subcontinent.
Meenakari is derived from the Persian word mina meaning azure. Its products include lampshades, jars, mats, tiles and flower pots.
Jaipur Miniatures also hail from the same region. This exquisite art form dates back to the tenth century. The earliest forms of miniature paintings were found as illustrations in the Buddhist text Prajnaparamita.
During the reign of the Chalukyas, which lasted till the thirteenth century, artists captured Hindu and Jain manuscripts through miniatures. During the Mughal era, these paintings became a synthesis of Indian and Persian styles.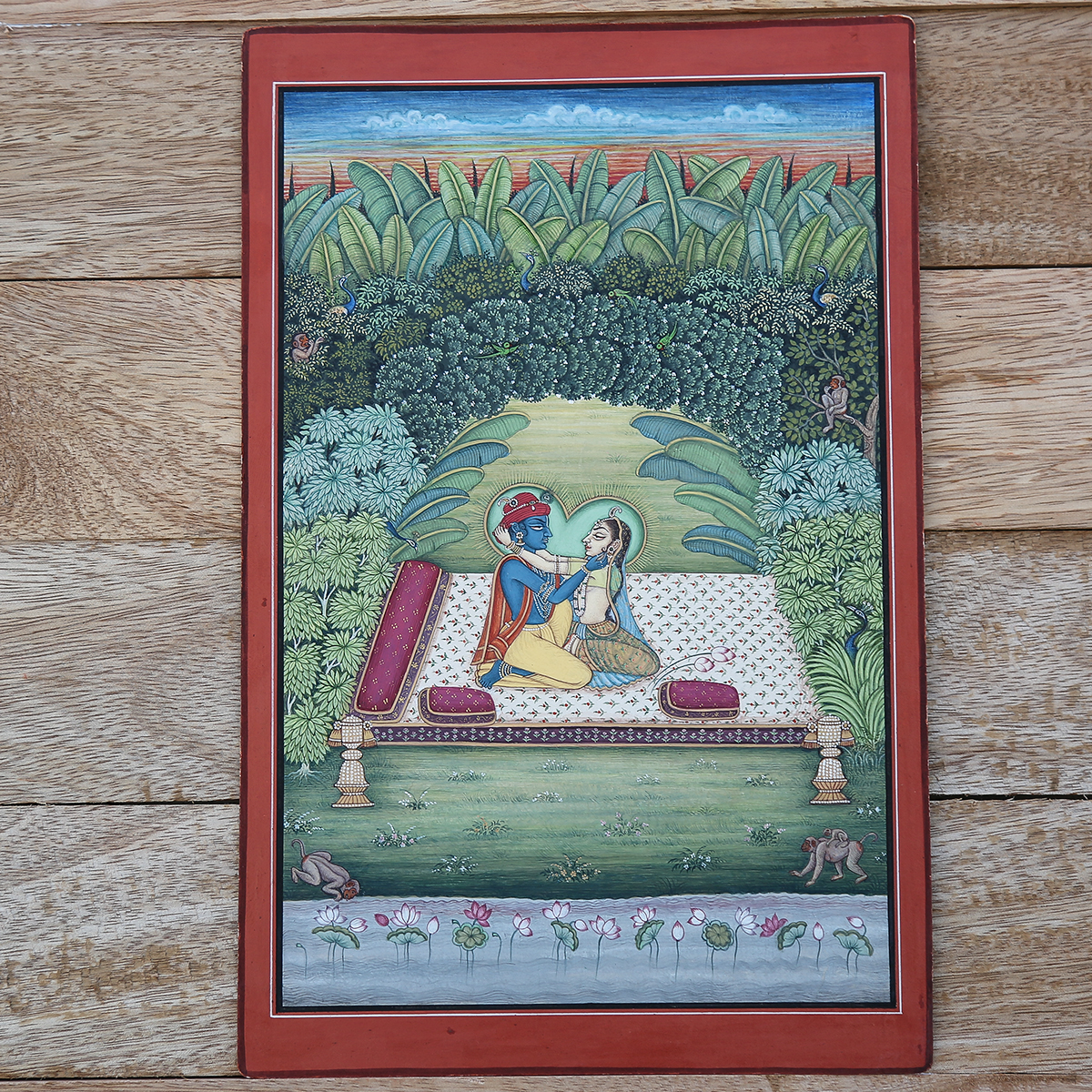 Yet, if we had to colour Jaipur on the map, it would be an iridescent blue, for its brilliant Blue Pottery, a traditional glazing style that uses bright blue dyes to adorn pottery. Contrary to popular opinion, Blue Pottery did not originate in Jaipur. In fact, it did not even originate in India. It was invented by Mongol artisans, whose techniques traveled to India in the fourteenth century, and were further developed by the Mughals.
There is no doubt that the Indian craft map would sparkle especially bright around Chhattisgarh. After all, it is home to the Bastar metal art form, a style that transforms hot molten iron to stunning shapes, using a process called lost wax casting.
Hot liquid metal is poured into meticulously created moulds of clay and beeswax. After cooling, the metal takes the shape of its clay shell. Bastar gets its name from the Bastar district where the art was started.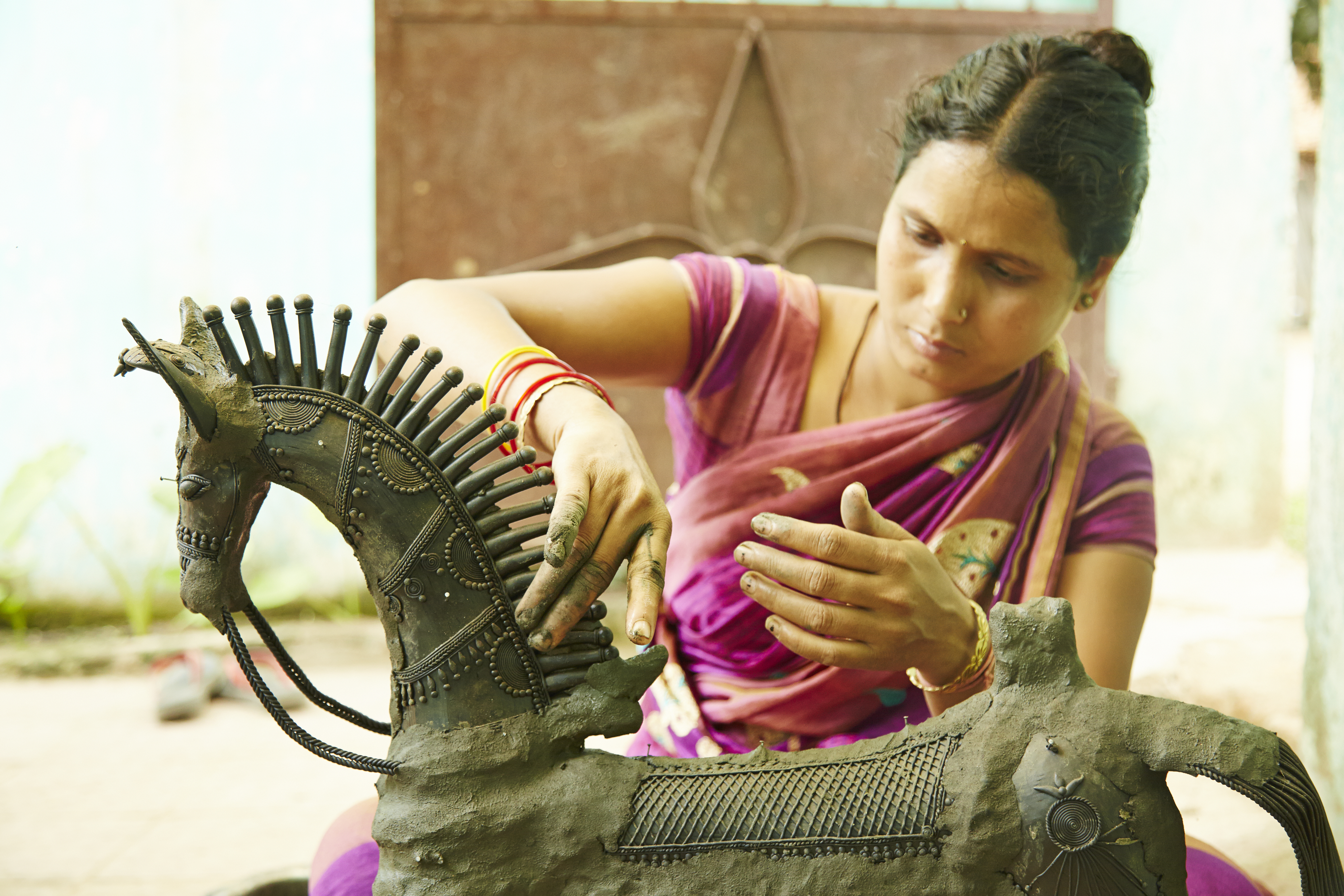 One art form that has gained visibility over the years is Warli. There is evidence that the Warli tribe, which resides in the coastal belt straddling Maharashtra and Gujarat, began practising this art around 3000 BCE. This earthy, folksy art form uses triangles, squares and circles to create elaborate and symbolic drawings; the triangle is used to represent mountains and treetops, the circle stands for the planets in the sky and the square speaks of human contributions to the universe.
Warli is protected under Geographical Indication, a measure used to assign a technique to a particular region. It is also being resolutely promoted by the Adivasi Yuva Seva Sangh in an effort to protect the intellectual property rights of the Warli tribe. India Kala works with over 30 artisans with expertise in Warli art. Efforts are also being made to promote the art form both, domestically as well as internationally.
If you journey further north, you'll reach Uttar Pradesh – home to several clusters that produce captivating products of Tarkashi. The word tarkashi implies the careful inlay of brass, copper or silver wire in wood, forming a soft filigree. The core word is taar, or wire. The districts of Saharanpur, Nagina, Bijnor and Mainpuri form the cornerstone of Tarkashi in the country. The artisans there will tell you that the craft originated in the late nineteenth century, as a tool to carve khadauns, or wooden footwear, for pious Hindu priests who considered leather unholy. Now, however, Tarkashi techniques are used to create home décor items like tabletops, trays and coasters.
As you near the end of your journey, folding your map and tucking it away into your memories, you'll realise that you've covered about an eighth of the Indian handicraft landscape. The sameness of modern globalisation may lead some to believe that handicrafts are a lost art, but there are others who continue to back these promising cottage industries. India Kala endeavours to help preserve and promote traditional art forms by connecting artisans to the larger community. The same crafts that have formed the landscape of India's handcrafted heritage are relentlessly reinventing themselves to fit into modern homes and it is time we embraced them. Let's invite them in; let's bring a little more India, home.
Like this story? Or have something to share? Write to us: contact@thebetterindia.com, or connect with us on Facebook and Twitter (@thebetterindia).
Tell Us More
We bring stories straight from the heart of India, to inspire millions and create a wave of impact. Our positive movement is growing bigger everyday, and we would love for you to join it.
Please contribute whatever you can, every little penny helps our team in bringing you more stories that support dreams and spread hope.