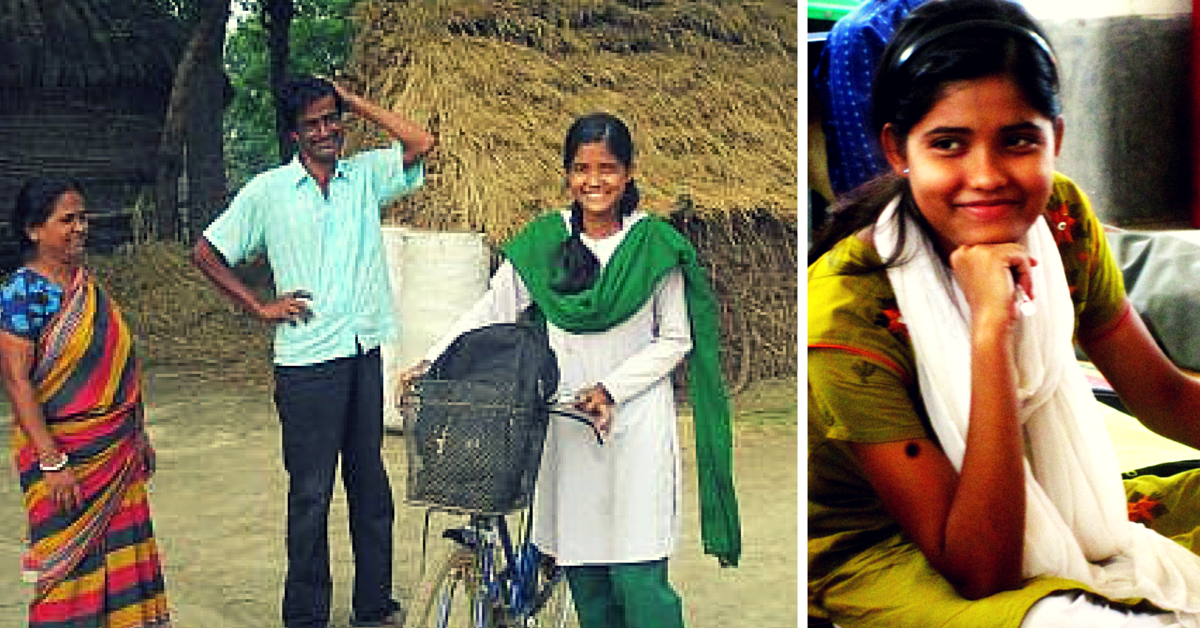 In a small town in West Bengal, Ananya Ghosh is defying tradition and the pressures of society and poverty to become a role model for girls.
In a small town in West Bengal, Ananya Ghosh is defying tradition and the pressures of society and poverty to become a role model for girls.
While congratulatory messages pour in from all corners of the village of Dhenua (Monteswar Block, Bardhaman, West Bengal) for Ananya Ghosh's exemplary performance in her Secondary Examinations, the sixteen-year-old doesn't sound too ecstatic about the results herself. Ananya, who scored a whopping 82%, says "I had scored above 80% in English for my selections before the Board Examinations. In the finals, I only managed a meagre 73%. My marks could have been much better." You hear a tinge of disappointment in her voice and can't help but wonder how one can remain so unaffected about creating history at such a young age.
Yes, Ananya is not just another bright student. She is the first girl in the village of Dhenua to have secured such high marks in Madhyamik Pariksha (Secondary Examination of West Bengal Board).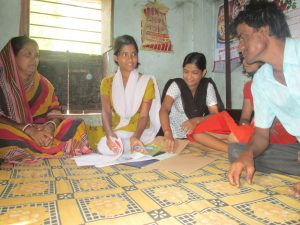 For her neighbours who had only read about toppers in newspapers and seen them on television, it is hard to believe that their next-door-neighbour is now one of the same inspiring club.
Ananya's story is more remarkable in light of the dismal state of girls education in West Bengal.
Recent data by the U-DISE (Unified District Information System for Education) for 2014-2015 reveals that there has been a steep decline in the Net Enrolment Ratio (NER) for girls in the state. The NER is an indicator of students who have enrolled in classes according to their age. At present, a mere 50.6% of girls are enrolled at the secondary level, meaning that only half of the girls in the state are enrolled age-appropriately. The numbers gets worse the higher we go, dropping to a worrying 32.7% at the Higher Secondary Level. This implies that less than a third of the girls in the state are enrolled at standard XI & Standard XII.
The last few years have seen a significant improvement in enrollment at primary and upper-primary classes. The net enrollment ratio for girls stands at 91.3% for primary and 82.6% for upper-primary. However, the enrollment figures for the next two levels continue to be abysmal.
According to experts, one big reason behind this disturbing trend in net enrollment is the age-limit mentioned in the RTE Act of 2009. Explains Komal Ganotra, Director of Policy Research & Advocacy at CRY (Child Rights and You):
"The Act covers children between the ages of 6 to 14 years. This enables free and compulsory education at the primary and upper primary levels. However, in the absence of any legislation for children above the age of 14, the scenario at the secondary and higher secondary level remains dismal. At the national level, the average annual dropout rate for girls rises from 4.14% at primary level to 17.8% at secondary level. In West Bengal, the situation is almost the same, as the average annual dropout rate for girls rises from 2.37% at primary level to 19.8% at secondary level."
When viewed against this bleak backdrop, Ananya's achievements are truly noteworthy.
Born to Pronab Kumar Ghosh and Manashi Ghosh, Ananya is the second of three daughters. Hers is a typical rural family whose mainstay is agriculture. Her life could just as easily have been like those of the many girls around her; girls who have been forced to give up their education because of poverty, girls who have been forced into child marriage, girls who were pushed into earning a living and girls who had to drop out of school because they were, well, girls. But thanks to the combined efforts of her family, Ananya and her sisters have been given free reign to pursue their dreams.
"I wake up at 5 in the morning every day to go to Krishnadi, one of my teachers from school, who coaches me in English and Bengali. By the time I come back home, my mother is busy with daily household chores and looking after the one cow we have. But my father has already prepared a meal of rice and boiled potatoes for the three of us sisters to eat. We have our food and leave for school. My elder sister has appeared for her Higher Secondary examinations this year, and my younger sister is studying in 8th standard at Ghurkunda BM Institution, the same school I went to. I cycle to school and back. Shyamal Uncle (Shyamal Ghosh, a friend of her father) teaches me the subjects from the Science group every evening after school," says Ananya.
"I am back home by 9 PM and study till midnight to prepare for my exams. I want to become a nurse because my village is in dire need of a good one," she says.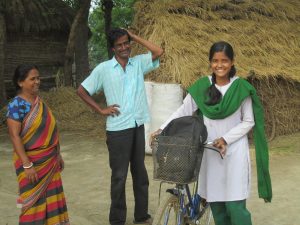 She has scored an 86 in Maths, 91 in Physical Sciences and 95 in Life Sciences but has opted to study Humanities at the Higher Secondary level. "Monteswar Sagarbala High School, where I've taken admission for my Higher Secondary education, doesn't have good teachers for the science subjects. I will have to study in a residential school if I choose to study science, and see, my father cannot afford it. Also, I have realised that a Nursing Degree doesn't require me to study science in my Higher Secondary. I am quite strong in Life Sciences and will prepare myself alongside my regular studies. I know I will achieve my dreams," says the confident young girl.
While the village was still in the midst of celebrating Ananya's success, her elder sister gave them all yet another reason to celebrate by scoring an impressive 75% in her Higher Secondary Exams. A perfect double whammy for the family indeed!
Looking at the sisters, you cannot help but wonder where they get their resilience from. Their parents, who have stood by them through thick and thin, have surely had a role to play in this. It was no easy task for her father, a small farmer, to stand tall against the pressures of society and poverty, yet he did so, giving the girls an opportunity to write their own destiny.
The sisters, for their part, have never been bogged down by their problems, viewing their poverty as a motivator, and not a hurdle.
Ananya's parents have categorically refused every marriage proposal that has come their way:
"We did get proposals but we've decided not to get them married until they are through with their education. For us, it's their education that's important, not their marriages," says the visibly happy and proud father.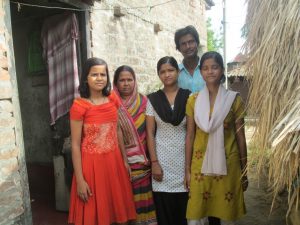 Ananya has always been a vocal advocate of child rights, speaking against child marriage and child labour. She even counsels her peers who face similar problems.
"It is the sessions with the Children's Resource Group that has helped build my confidence and made me believe more in myself. It has not only built my knowledge about child rights issues, but also exposed me to a world much much bigger than my little village," says an animated Ananya, referring to the group created by Vikramshila Education Resource Society and CRY.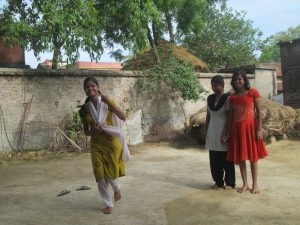 Attitudes towards educating the girl child are slowly changing in India. Even in the remotest of villages, many parents want to send their daughters to school. As a country, we need to reciprocate this desire to educate their children by drastically increasing our resources and making access to secondary and higher level education affordable and easy.
Progressive state-schemes and the government's recent decision to increase the number of government schools are much-needed steps to ensure that every village and every home has an Ananya Ghosh of their own.
To follow similar stories of hope and change and how you can be a part, visit: www.cry.org
Like this story? Or have something to share? Write to us: contact@thebetterindia.com, or connect with us on Facebook and Twitter (@thebetterindia).
We bring stories straight from the heart of India, to inspire millions and create a wave of impact. Our positive movement is growing bigger everyday, and we would love for you to join it.
Please contribute whatever you can, every little penny helps our team in bringing you more stories that support dreams and spread hope.