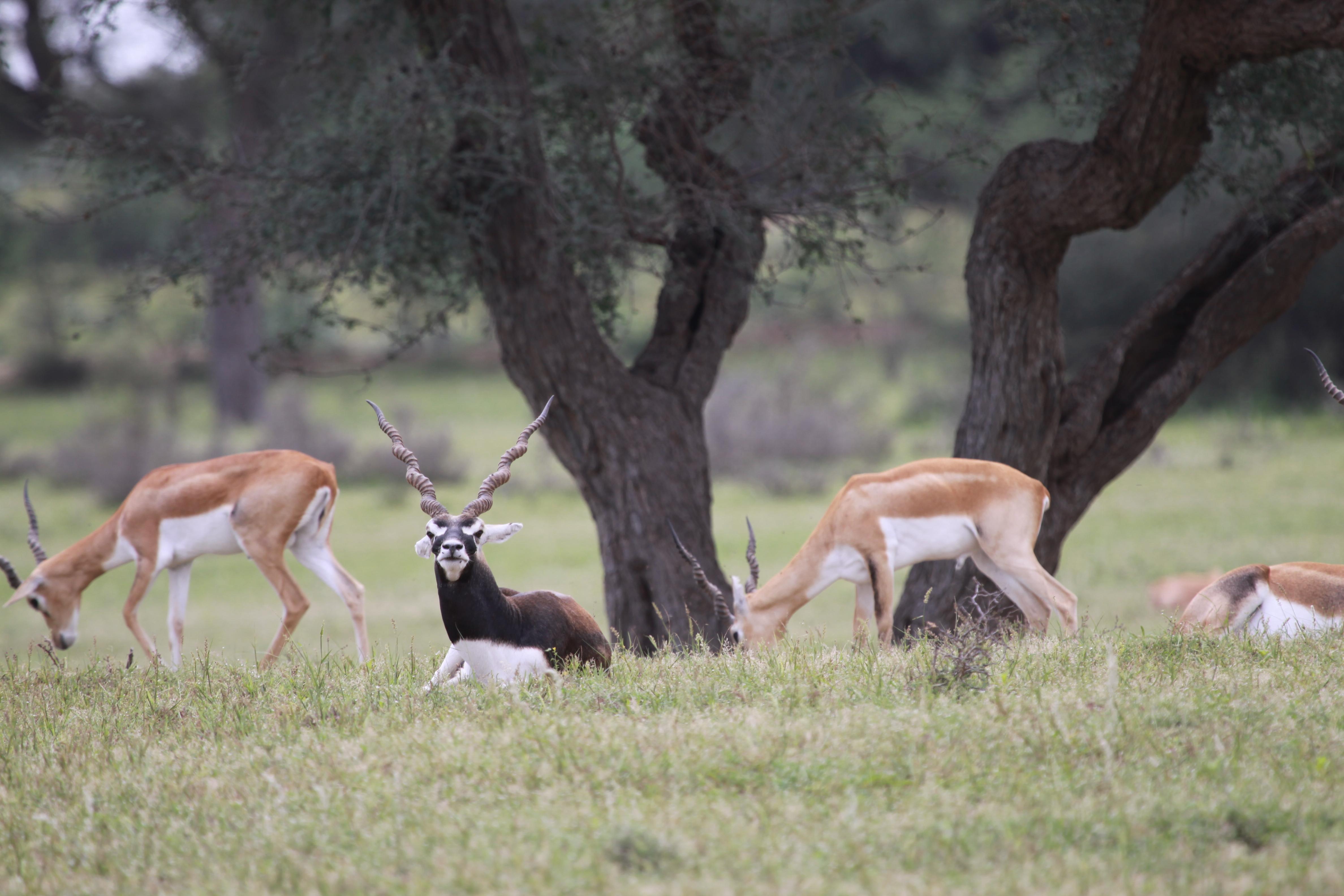 Travel with Gangadharan Menon to Rajasthan and meet with a people who have nurtured and protected the living species found around them for over five centuries, and who have successfully
Travel with Gangadharan Menon to Rajasthan and meet with a people who have nurtured and protected the living species found around them for over five centuries, and who have successfully deterred, chased and also apprehended several poachers – including famous ones!
There's probably only one religion in the world that's founded solely on the principle of conserving Nature. That's the living religion of the Bishnois of Rajasthan.
This religion is over 500 years old, and the followers are over 10 lakh. Imagine 10 lakh people for whom protection of all living things is a Way of Life. In fact, the only Way of Life. Why imagine? Take the first available conveyance to Jodhpur and you will find them.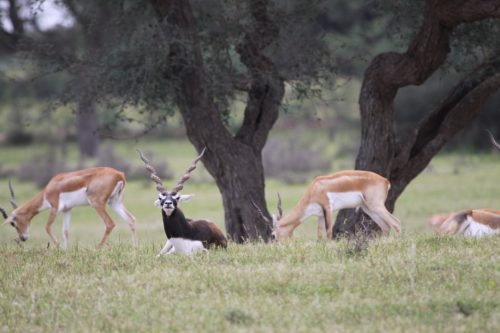 This religion was founded by Lord Jambheshwar who is believed to be an incarnation of Lord Vishnu, the preserver of all that's created on earth.
Legend has it that till the age of seven, Jambheshwar never uttered a word. Concerned by this strange behaviour, his parents called in a priest. The priest suggested that a pooja be performed after lighting 64 lamps. The idea was to enlighten the boy.
In spite of their desperate efforts, not one of the oil-filled lamps could be lit. In the midst of all the commotion, little Jambheshwar picked up an earthen pot, tied it to a slender sewing thread and lowered it into the well. And quietly pulled out a pot full of water. Then he removed the oil from all the lamps and poured water in its place. And lo and behold, one by one all the 64 lamps lit up on their own.
Maybe even as a kid, he was enlightened enough to know that water is the very source of all life!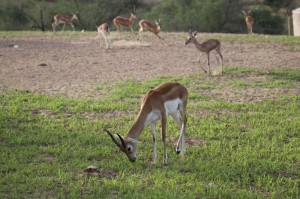 From the age of 8 to 34, Jambheshwar led the life of a cow-herd. Though he was born into the warrior clan of Rajputs, he chose to be different. Instead of developing hunting skills like the rest of his ilk, he developed communication skills with all living things. For hours on end he used to converse with plants and animals.
At the age of 34, Lord Jambheshwar sat on the shifting sand dunes of a place called Samrathal, and meditated on the transient nature of life itself. When he turned inwards he realised that he has to chart a course of his own. And sitting in that barren brown landscape he saw visions of a green paradise.
He then summoned his innumerable followers and told them that they need to follow a new belief system on which their entire life will be based. As their lives would be governed by these 29 principles, they would be called Bishnois; derived from the words "bees" that's twenty, and "noi" that's nine.
Though there are 29 tenets in this belief system, the most important of them all is 'praan daya' or compassion for all living things. For close to 525 years, every Bishnoi, young and old, has lived and even died for this spirit of compassion.
The Bishnois consider trees as sacred, but their empathy extends to every living being on earth. So they protect the entire ecosystem that exists in their villages. Animals like blackbucks and chinkaras, and birds like vultures, partridges, peacocks and even the endangered Great Indian Bustard, find the Bishnoi village a safe haven. Not only do the Bishnois protect them from poachers, they also actively participate in helping them lead a life of plenty. By allowing them to graze freely in their farmlands; by keeping stone vessels near their home that are always filled with water; and even hanging water-filled pots from the branches of trees for the birds to drink from.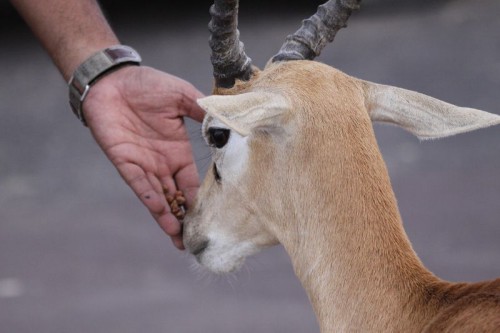 Some Bishnoi temples also double up as rescue shelters, like the one in Jajiwal. Here the priest takes care of the injured nilgais, blackbucks and chinkaras, and even feeds them twice a day. Some of them go back into the wild, while the others prefer to stay in the temple compound, roaming free.
Even the Bishnoi women take maternal care of the rescued calves, sometimes breast feeding them if they are newly born. When they are able to walk and fend for themselves, they are released back into the wild.
A major change that's happened in the 500-year psyche of the Bishnois is their shift from passive conservation to active conservation. Once upon a time they were content laying down their lives. Today they actively pursue armed poachers with a mere lathi and tonnes of courage, capture them and hand them over to the forest authorities. In the last twenty years alone, around 14 Bishnois have died defending these animals. The reflection of their new found aggression is an organisation called the Tiger Force. It's a 1000-strong brigade of young, fearless warriors of wildlife protection. Spread across hundreds of villages across Jodhpur, they are now active even in other parts of Rajasthan.
Being nature lovers to the core, they bemoan the fact that, under the Indian Wildlife Act, animals are accorded various levels of importance. But to a Bishnoi, killing a monitor lizard is as hideous a crime as killing a tiger. To them, every life has the same value.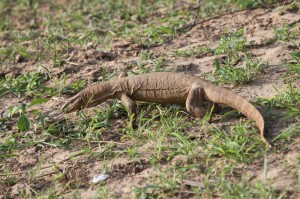 Though they protect every living organism in Nature, they shot into international prominence when they caught an Indian Superstar and his Supergang. The valiant Tiger Force had chased them and caught them red-handed with the blackbucks they had poached and killed.
The media coverage about the uncompromising spirit of the Bishnois sent shivers down the spines of poachers, and today these mercenaries think thrice before shooting down a helpless animal. So much so, that the die-hard poachers have even changed their modus operandi. Instead of shooting down the animal, they now lay booby traps or sometimes dig pits and cover them with thorns to catch unsuspecting animals. But seldom do these new methods escape the ever-vigilant eyes of a 1-million strong taskforce.
The spirit of conservation has been deeply ingrained in every Bishnoi for over five centuries. It arises from the belief that every living organism on this earth has an equal right to live. This intense love for animals brings a curious problem to the fore: feral dogs. Since a Bishnoi doesn't harm even these vicious dogs, they have become the new predators of blackbucks and chinkaras. Conscious of the repercussions, the Bishnois in their own non-violent way get these dogs caught and sterilized so that the damage is limited.
When brutal attacks do happen, the Tiger Force swings into action and takes the injured animal to the rescue centre in Jodhpur. Here qualified veterinarians treat these animals with love and compassion; and if they recover well, release them back to where they belong: the wild.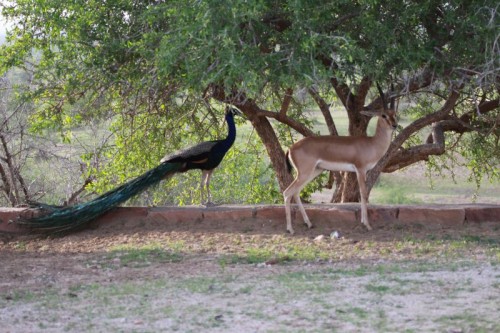 An interesting aspect of wild animals living in close proximity to humans is that their behaviour has undergone some changes. They start believing that every human being is as compassionate as a Bishnoi. And this puts them at tremendous risk, especially with poachers.
Another change that has been observed by experts is in the mating rituals. Compared to the elaborate rituals that happen in the real wild, here in the villages they are short and curtailed.
But these are insignificant details when compared with the yeoman's service this community has provided to itself and to mankind in terms of conserving an entire eco-system. It's a well-known fact among conservationists that the total number of blackbucks and chinkaras in the Bishnoi villages is more than their number in all the sanctuaries of Rajasthan put together.
When you look into the eyes of a Bishnoi, you see a deep seated love for the forest and all that dwells in it. And you wonder why every single forest in India is not handed over to them for conserving its tremendous natural heritage.
The paradox of this community is that there are just a handful of them occupying influential positions in the forest department. And these passionate, upright and courageous officers point out the tragic reason behind this anomaly: widespread illiteracy that's the bane of the Bishnois.
But one must admit that this compassion of the Bishnois is contagious. It's catching on even in communities that are traditionally aggressive and consider hunting an adventurous sport: the Rajputs and the Jats. They have had a change of heart, and are now contributing in a big way towards conservation of nature and wildlife.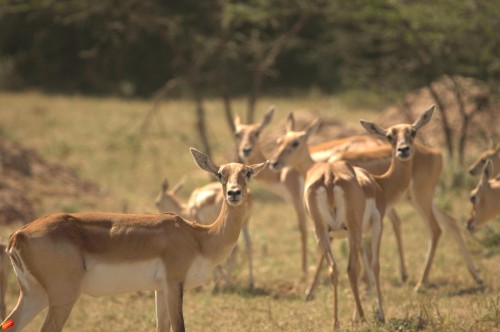 Five centuries ago, Lord Jambheshwar had dreamt of sand dunes turning into a green paradise – where every living organism has an equal right to the land. And where man and animal exist in perfect harmony.
The Bishnois of Rajasthan have been living out his dream. Every single day. For over 500 years. Isn't there a lesson in this for the rest of us?
All Photos: Gangadharan Menon
After 28 years in advertising as a writer and creative director, Gangadharan Menon quit the profession to take up his first and second love: teaching and travel. He has over 60 published articles that recount the joy of travelling in this amazing country. A member of Bombay Natural History Society, he is an avid wildlife photographer too. He can be contacted on wildganges[at]gmail.com
We bring stories straight from the heart of India, to inspire millions and create a wave of impact. Our positive movement is growing bigger everyday, and we would love for you to join it.
Please contribute whatever you can, every little penny helps our team in bringing you more stories that support dreams and spread hope.
Tell Us More