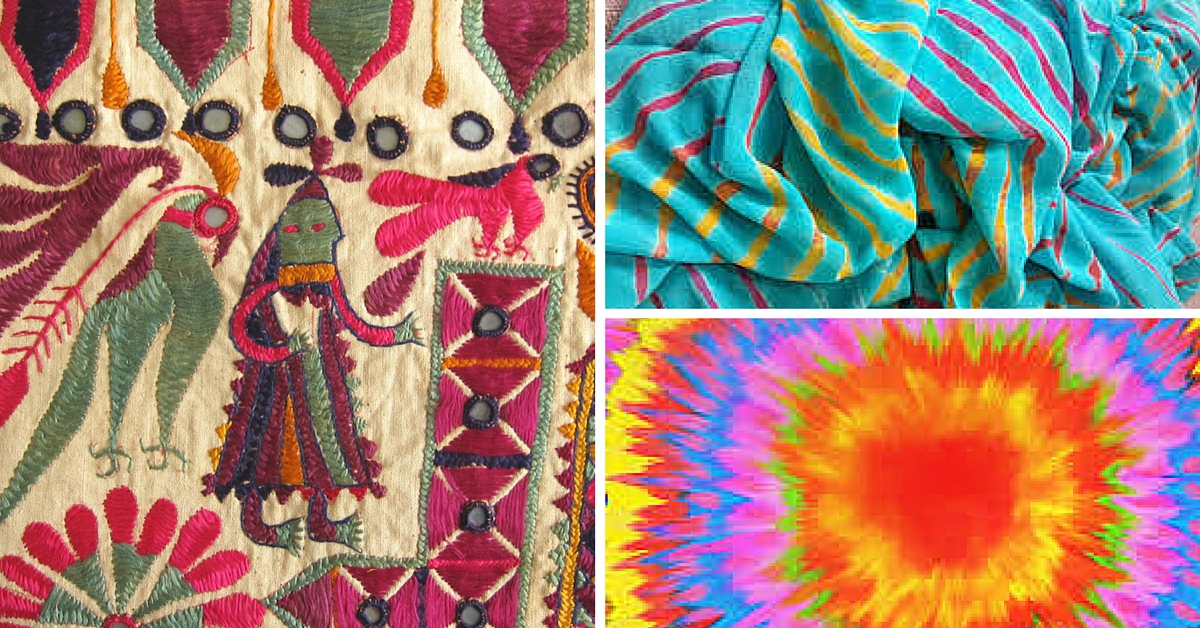 What is the origin of the Ajrakh? Where does the Leheriya get its name from? Explore the most interesting stories from the history of India's textiles.
From Bagru to Bandhani and Ajrakh to Suf  – the story of the incredible origins of India's handcrafted textiles.
Textiles have been a part of India's legacy since the Indus Valley Civilisation. The first ever traces of Indian hand crafted textiles appeared in the form of cotton saris draped around Sumerian statuettes, dating back to 3000 BC.
Indian textiles have held a special place in India's heritage through the millennia – there are notable mentions in the Mahabharat, depictions in the ancient murals in the Ajanta caves, and numerous references in Sanskrit literature. Through the ages, as the various kingdoms of India changed hands from one ruler to another, changes occurred in the way textiles were made, materials they were made of and the ways in which they were embellished.
India became home to a variety of unique textiles, paving the way for the birth of a flourishing industry.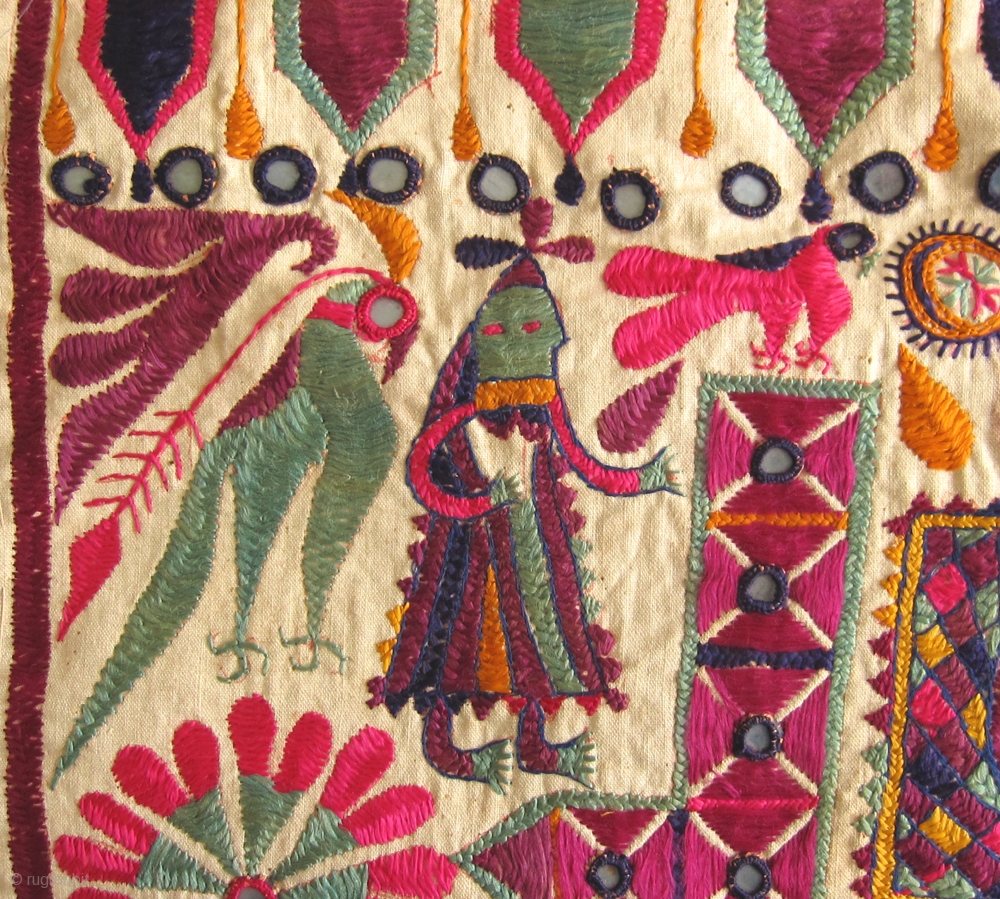 Interestingly, the name of each textile hub in India reflects the story of its craft or the place of its origin. Block printing, for instance, is a popular style in several states lining the western coast of the country, as well as in West Bengal in the east, Punjab in the North and Andhra Pradesh in the South. Yet, in each textile hub, the craft has its own individual style and goes by a different name. Essentially a technique in which motifs are stamped on to cloth with ink to produce colourful patterns, block printing has acquired local flavours depending on the region.
In Rajasthan, Dabu printing involves applying earth in delicate patterns to cloth, and then dipping the cloth in dye. Once removed and dried, the earth peels off and the vibrant cloth is left with pretty white patterns that had once been masked by the earth, preventing the ink from blotting. This method is also called resist-printing because the mud resists the ink. Locally, however, it is known as Dabu – a name derived from the Hindi word dabaana, meaning 'to press'. Another textile craft from the same region is Bagru; it is a method in which block prints are used to stamp patterns on to cloth repeatedly. Bagru printing, unlike its regional counterpart, takes its name from the town of Bagru, where it was born.
The districts of Kutch and Mandvi in Gujarat and Shantiniketan in West Bengal, today, are the heartlands of Batik culture in India. Batik is a wax-resist handloom style that has permeated Indian households for its fresh and striking appeal. The fabric is first lined in exquisite wax designs, after which it is swathed in dye. Once it is dry and the wax has cracked, the magnificent patterns that are left behind make for vibrant clothes, wall accents and teapoy covers. The word Batik stems from the Indonesian word ambatik, which is loosely translated to 'wax writing', and since the craft originated in Indonesia, the name continues to be used in other parts of the world today, including in India.
Like Batik, there is another style of printing whose name represents its resplendent history. Ajrakh is a brilliant handloom style that speaks of piercing indigo skies and deep blue darkness, and is practised in Kutch, Gujarat.
Ajrakh means blue in Arabic, and its geometric patterns adorn cloth like starry galaxies in indigo, madder, black and ivory.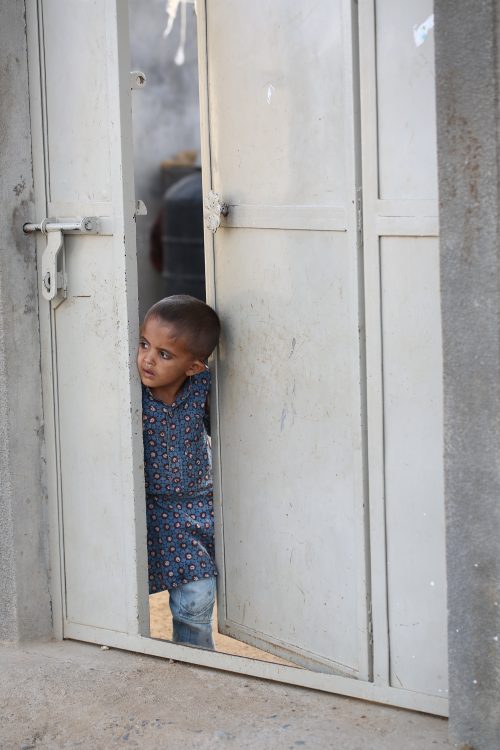 Pic: India Kala
There is also a theory that the name stems from the Hindi phrase aaj rakh, meaning 'keep it for today'. Legend has it that Ajrakh printers are descendants of Lord Ram's sons, Luv and Kush, who were invited by the king of Kutch to fill his land with the majesty of their craft. Over the years, they converted to Islam and settled by the banks of the Dhamadka river, whose waters they would use in the Ajrakh dyeing process.
The waters of the Dhamadka have dried over time, and the local artisans face a daily struggle to procure quality water to aid their production.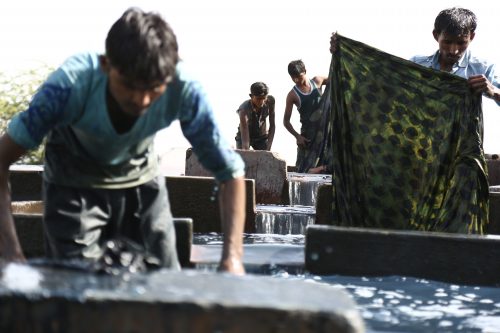 Pic: India Kala
Not only that, with synthetic materials and an increasingly urban marketplace for their goods, the community ties that they once shared with their customers are slowly fading.
Not far from the Ajrakh belt of Kutch is the craft cluster of Bhujodi, home to 200 weavers that are known locally as vankars. Inside the confines of their modest huts, they work their handloom amidst the soft, rhythmic hum of clattering wood, transforming brittle threads into shining sheaths of cloth. Interestingly, these vankars are not originally from the area; in fact, their forefathers migrated from Rajasthan to Gujarat and were part of the Meghwal clan. Yet, so well were they known by the local Kutchi community upon arrival, that there were claims that a single turban woven by a vankar could last up to 50 years.
Today, there are 1,200 weavers scattered across 210 villages in Kutch, and the weaving technique they use has been christened 'Kutch Weaving', taking its name from its birthplace.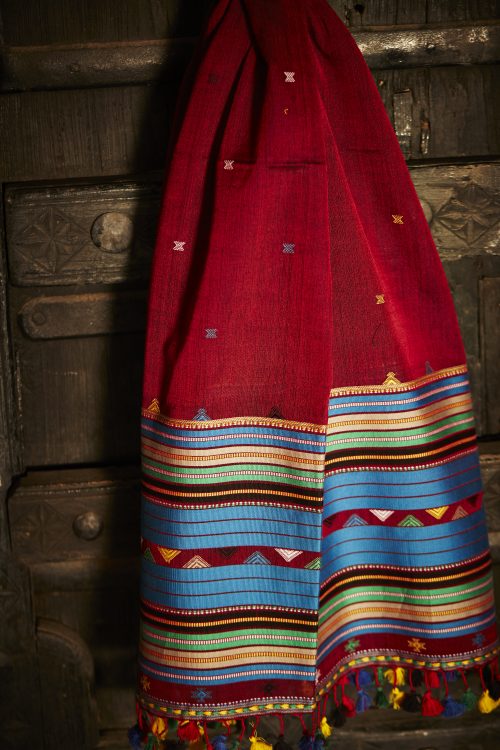 Pic: India Kala
Likewise, Bandhni and Leheriya are popular garment ornamentation techniques in Gujarat and Rajasthan. By tying fabrics tightly at certain points and then dipping them in dye, beautiful, distinctive patterns are produced.
Bandhani is a variation of the Sanskrit word banda, which means 'to tie', whereas Leheriya is named after the wave-like pattern that its garments bear as a result of the tie-dye process.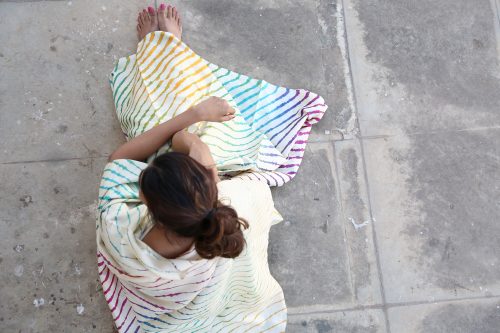 Pic: India Kala
Around the same geographic area as the Bandhani district is another one, the home of Suf embroidery. Suf is a type of embroidery that employs economy stitches to produce triangles or sufs. These sufs are clustered to form dainty motifs, which are used to decorate saris, shawls and other fabrics.
As much as these crafts have done in contributing aesthetically, economically and socially to the country, there is all but one problem: the changing face of demand. Once upon a time, these crafts were targeted at and purchased by village dwellers, to adorn their homes and to provide utility.
Today, though, as local villagers gravitate towards mass-produced goods, artisans are forced to find alternate markets.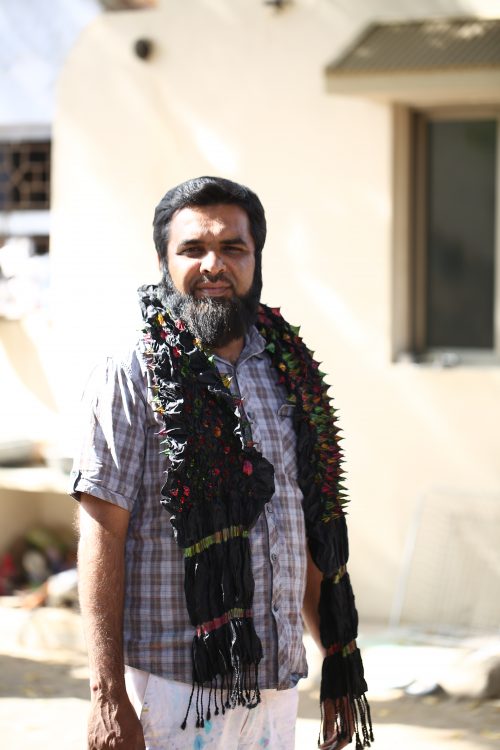 Pic: India Kala
The good news is that urban denizens are accepting of Indian handcrafted textiles in their homes, and over the years it has become something of a trend to own handmade products over cookie-cutter, factory-made ones. There are organisations in India that are working to provide equality to artisans. For instance, Kala Raksha and Somaiya Kala Vidyalay, based in Kutch, Gujarat, safeguards the interests of artisans in the Kutch area, in order to ensure that the gap between genuine demand and supply can be bridged. They work with these crafts-men and -women to ensure they understand the latest trends and designs, and to increase their earning potential.
As urban demand and artisan-produced products work to reach an equilibrium, the path is paved for a revival in the Indian handicraft landscape. And with that, India's rich handcrafted heritage will be restored.
Like this story? Or have something to share? Write to us: contact@thebetterindia.com, or connect with us on Facebook and Twitter (@thebetterindia).
We bring stories straight from the heart of India, to inspire millions and create a wave of impact. Our positive movement is growing bigger everyday, and we would love for you to join it.
Please contribute whatever you can, every little penny helps our team in bringing you more stories that support dreams and spread hope.