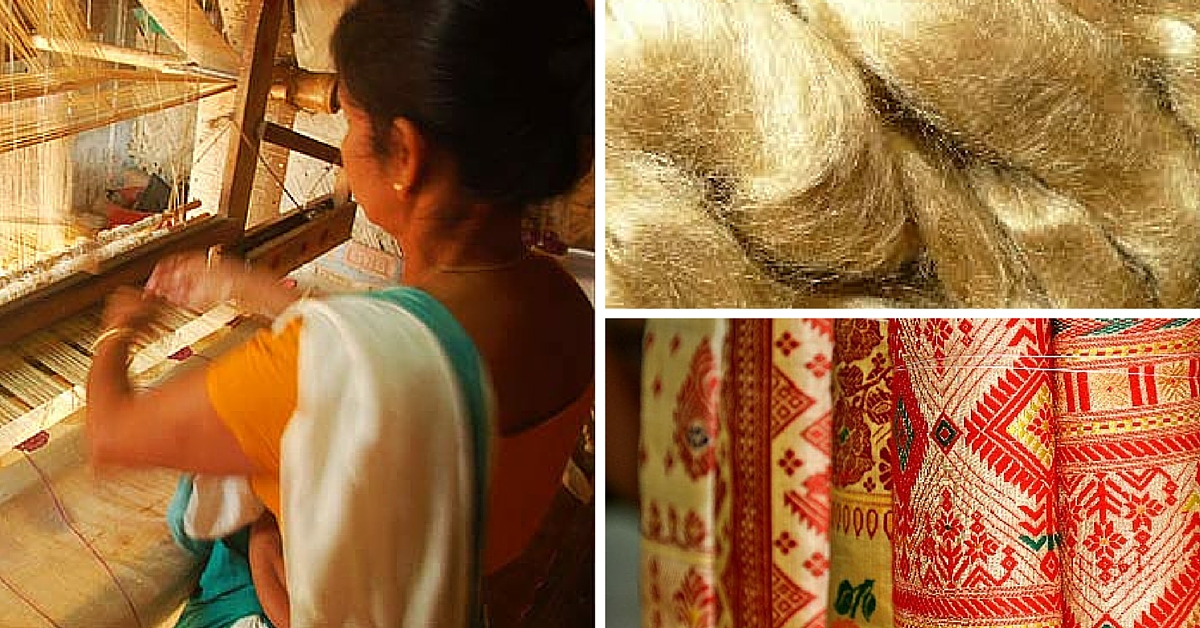 Sualkuchi is the home of expert Assamese weavers. Renu, a muga and eri silk weaver, is extremely passionate about this indigenous art.
Sualkuchi is the home of expert Assamese weavers. Many families can trace their weaving tradition back to thousands of years. Even today, almost every household has a loom working. These weavers are highly-skilled and extremely passionate about their indigenous art.
I left for the silk city Sualkuchi from Guwahati, sitting pillion on an impressive Royal Enfield and enjoying the cool early morning weather. It would take us three hours to reach and I was anticipating learning more about the nuances of weaving the beautiful Mekhla, the traditional drape of Assam.
Renu is a weaver, who has been weaving for more than 60 years. She is 85 and a repository of knowledge of the types of silk produced in Sualkuchi.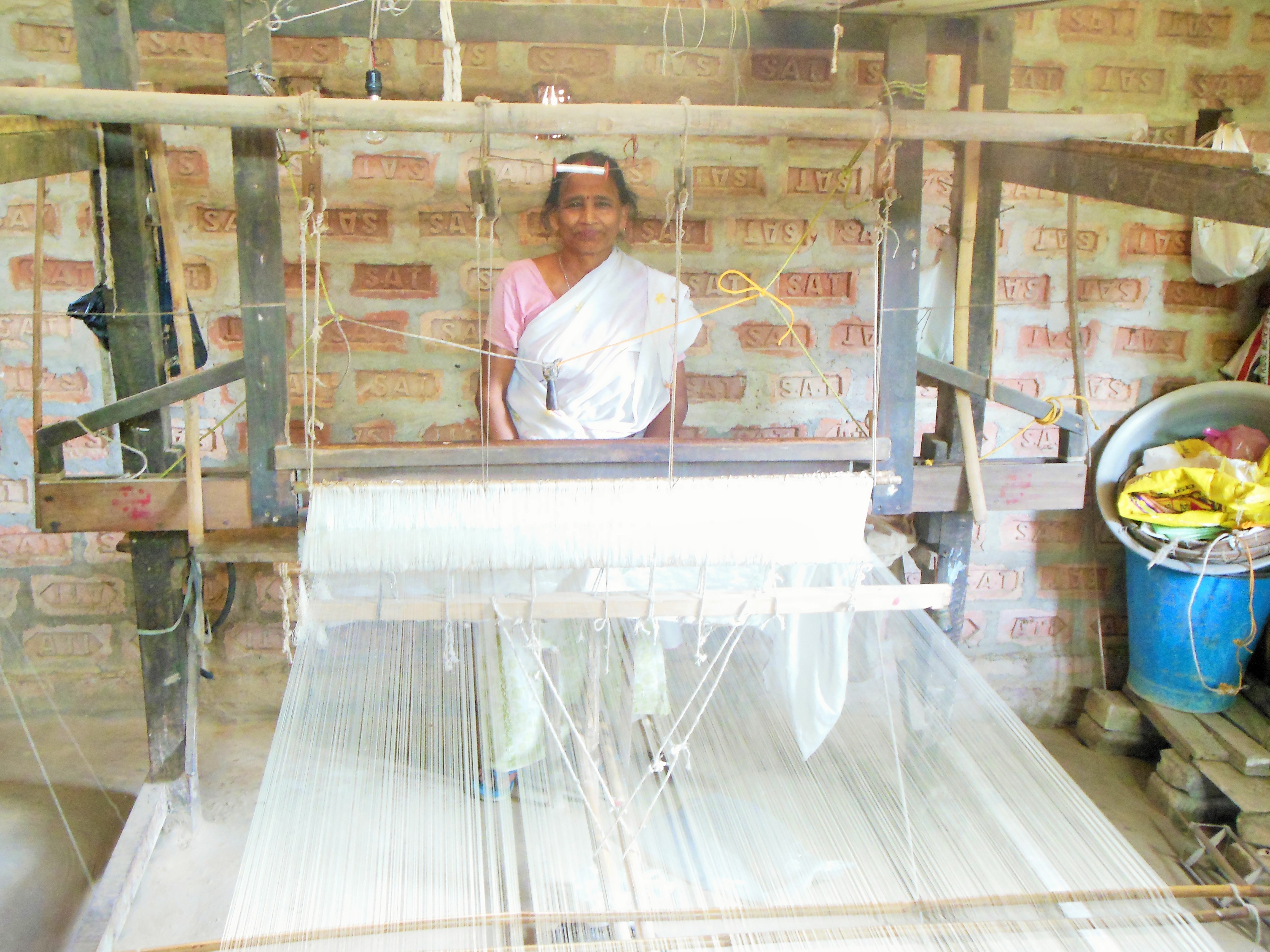 "Ma, Baba, and their parents before them, everyone in the family is an expert in weaving, especially in making eri silk," she says.
The 85-year-old makes eri and muga silk materials and sells them in the local shop. Her children know to make eri and muga silk threads.
Renu has three machines, one to make threads, the other two to make cloth materials.
In its earliest form, the naturally gold muga silk was plain. During the Second World War, the global demand for fabric skyrocketed, and the enterprising weavers of Sualkuchi started producing in bulk. As early as 1939, designs were added to the weave, to give the fabric universal appeal.
"Muga silk is the oldest and most famous type of silk. The traditional saree of Assam, mekhla, is made of muga silk," Renu tells me.
Over the years the mekhla is being manufactured using a variety of silks like eri, mulberry, tassar, and pat. But the most expensive and authentic mekhla is the one made of muga silk.
"Muga is expensive because of its quality. It is special," Renu explains. Unlike the others, muga silk has a lustre that becomes richer with every wash. It looks more luminous as it ages, often outliving its owner. The silkworm is highly sensitive to chemicals and is therefore completely organic, never causing any skin allergies. To make one saree, cocoons need to be harvested from 2.5 acres of pristine land!
But what make muga and eri really special is that they are made from silkworms found only in Assam. And muga is the crown jewel in the Assam's treasures. For the most important Assamese harvest festival Bihu, the dancers wear mekhlas of muga silk. Clothes stitched with muga silk are highly prized.
I asked Renu how much a muga mekhla would cost. "In Sualkuchi, it is priced from Rs 22,000-30,000. In the city you will not get it for less than Rs 40,000," she replies, her eyes twinkling. Muga is indeed as expensive as gold! But I am amazed at the difference in prices.
Renu explains, "Baido, shopkeepers buy mekhlas in bulk here and sell them at higher prices in the city. They do branding and repackaging which adds to the costs."
Weavers make less than the retailer and that's quite well known. So why does she not go and sell it in the city herself? This would give her a larger profit and help improve the quality of her cloth.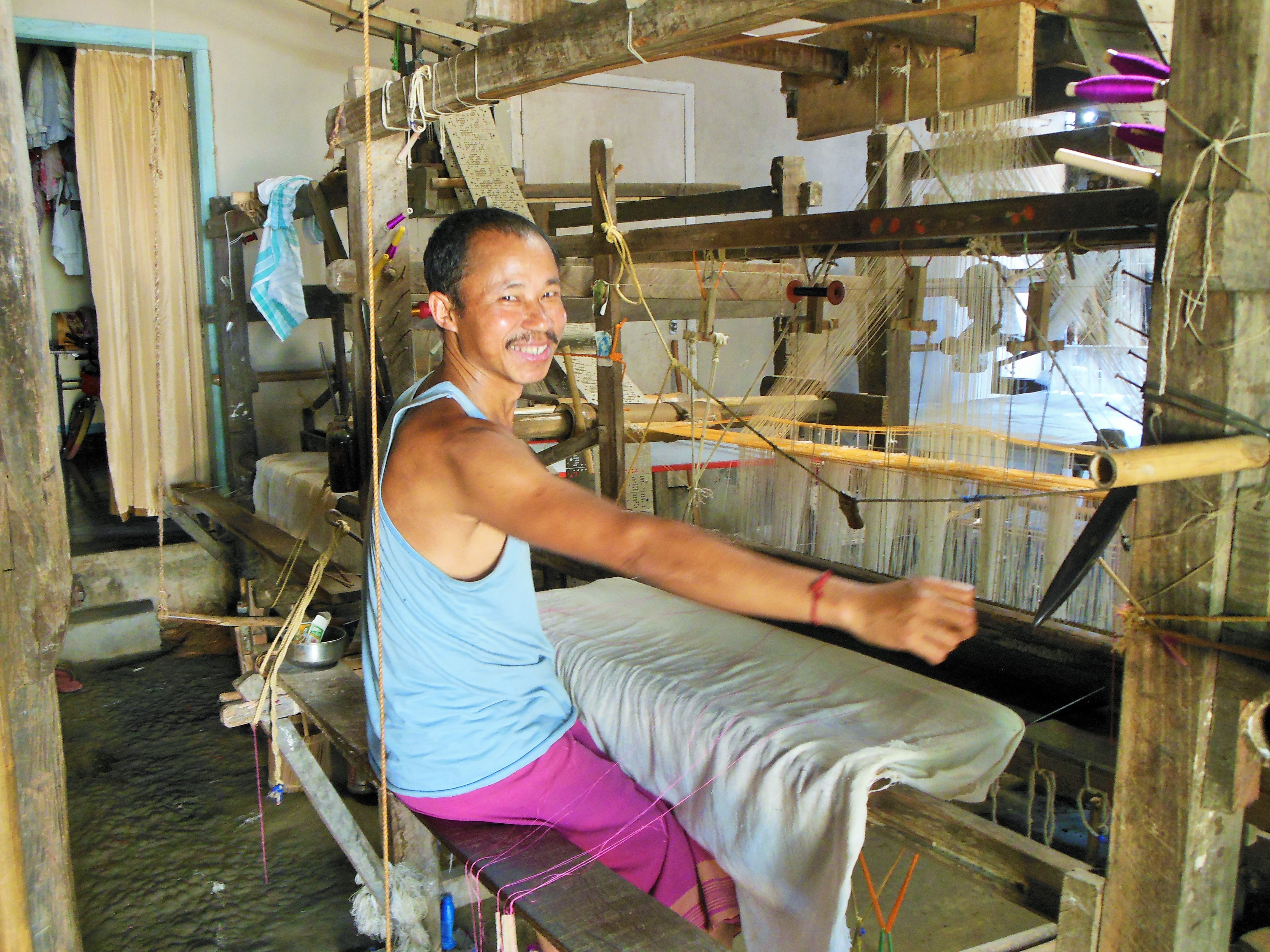 Renu has some assistance with production
Renu says she does not want to get into the logistics of transporting, which would require her to take on many more responsibilities and hire and manage more workers. This would also increase her expenses.
"There are other reasons too but…" and she hesitated. At my urging, she says, "Baido, what my family makes is original muga silk and not mixed with any other kind of silk threads."
She decided to enlighten me and fetched two rolls of threads from her workshop.
"Tell me which one is pure silk?" she asked. I took a second and pointed at the one that looked glossy. She laughed, "No no! This is not real silk." She handed me the original one. It was softer and less glossy. "This is another reason why muga silk mekhlas are costlier in the cities," she told me.
People cannot afford to buy original muga silk mekhlas because they are very expensive. They are labour intensive and one saree requires 10,000 cocoons. The cocoons are used to make thread which then takes about ten days to weave. Most people in the city end up buying mekhlas made up of mixed materials that are cost effective.
"This affects our cost of production and sales," she says.
"Won't people know the difference?" I ask.
It turns out that it is next to impossible for even the locals to differentiate unless a person has intimate knowledge of silk threads. The power looms make a more perfect cloth, but the handloom threads are less strained and therefore more durable.
The other silk endemic to this region is the eri silk, the silk that is the speciality of Renu's family.
"It is known as ahimsa or non-violent silk because the silk worm is not stifled or killed while in the cocoon. We wait until the moth leaves the cocoon. It takes one week," she says.
The cocoons are then harvested and spun into threads. The many Buddhist monks in this region prefer eri silk for this particular characteristic.
Overall, mulberry silk sells best, followed by the muga, tassar and eri. Muga silk is the softest but most expensive. Mulberry silk is fine and sold at a reasonable price. Tussar is the most textured, but has a glossy sheen.
"Eri is more or less similar to tussar but the demand is not very shrill. Not many know about it or appreciate its unique qualities," says Renu.
Renu and her family make ties, wallets, bags, clips and many other knick-knacks with leftover muga and eri cloth. Examples of their exceptional skill and talent are strewn all over her home.
The visit gave me a deep insight into how much soul is invested by the weaver in each item he or she weaves. For all the effort, the returns are uncertain, forcing them to give away their cloth at a pittance to the wholesalers, just so they are able to clear their bills every month.
"Wait for a few years, things will be in our favour," Renu says to her son, who is beginning to question this way of life.
Her pride in her work is immense and her hope for the future is encouraging. Help is arriving for Renu and weavers like her in the form of a platform called Mazankari that directly connects weavers to buyers of silk. This way, the buyers don't need to bear the costs of middlemen either. Help Mazankari reach out to many more weavers in Sualkuchi and save the traditional arts of India by donating here.
Do you also want to cover inspiring stories of change and make some substantial difference in the social sphere? Then click here to join the Milaap Fellowship Program.  
Like this story? Or have something to share? Write to us: contact@thebetterindia.com, or connect with us on Facebook and Twitter (@thebetterindia).
About the author:
Deepabali is a Fellow with
Milaap
, working with
Milaap
's partners and borrowers, bringing back true stories of hope, resilience, and change from Assam.
Tell Us More
We bring stories straight from the heart of India, to inspire millions and create a wave of impact. Our positive movement is growing bigger everyday, and we would love for you to join it.
Please contribute whatever you can, every little penny helps our team in bringing you more stories that support dreams and spread hope.