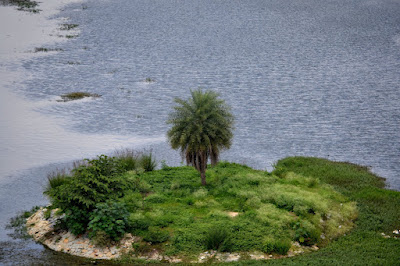 This is a tale of two lakes. It is also a tale of inspiration, of dogged perseverance, of citizen initiative and of civil society working in tandem with government agencies
This is a tale of two lakes. It is also a tale of inspiration, of dogged perseverance, of citizen initiative and of civil society working in tandem with government agencies to effect change. Members of these lake restoration bodies in Bangalore must be proud, for the beautiful outcome of their (ongoing) efforts is plain for all to see and appreciate.
Sarakki Lake, also known as Jagaranahalli Lake, located in South Bangalore is one of the oldest lakes in Bangalore, and once upon a time one of the most glorious. It has now become a reservoir for untreated sewage and a dumping yard for the surrounding neighbourhoods. This lake was a source of water for four villages until just a few years ago. Now, due to the urbanisation in and around the lake, approximately ten lakh litres of sewage enters Sarakki Lake every single day, resulting in a foul odour. The lake is completely covered in weeds which are destroying its flora and fauna. The groundwater of the surrounding area is highly contaminated and has become non-potable. Even construction debris is being dumped in tons every day and the lake is being encroached upon to pave unplanned roads. Many tents and huts have recently come up on the embankment surrounding the lake. Because of encroachments, the lake's total area has reduced from 86 acres to less than 60 acres, according to a recent survey.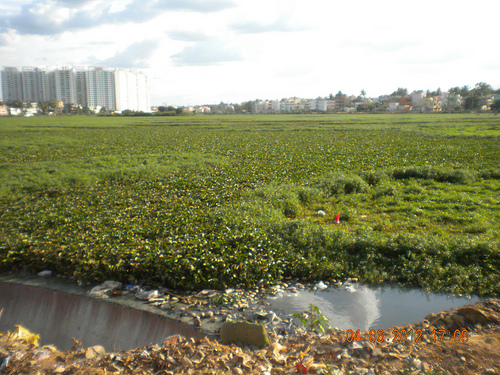 Five years ago, the State Government spent a few crores to erect a fence around the lake. Now this fence is almost non-existent and the lake has become a big dumping yard for sewage and garbage. Residents can only breathe the polluted air.
By looking at the present situation of this lake, it is very difficult to believe that it is a water body, or even that it once was. But the truth is that though Sarakki lake may be dying, it isn't dead yet. It needs quick action to be restored and rejuvenated.
The importance of lakes
Lakes are widely recognised and respected for their historical and ecological significance. Proper lake ecosystems can ease the impact of floods and droughts by storing large amounts of water and releasing it during shortages. Lakes also work to replenish groundwater, positively influence water quality of downstream water courses, provide opportunities for recreation, and preserve the biodiversity and habitat of the area.
Healthy lakes and their shores not only provide us with a number of environmental benefits but they influence our quality of life and strengthen our economy.
Sarakki Lake Area Improvement Trust
The Sarakki Lake Area Improvement Trust (SLAIT) is a newly formed nonprofit charitable trust which comprises of ten socially conscious and experienced professionals from diverse fields. It acts as a 'neighbourhood watchdog' and aims to take effective measures to restore Sarakki Lake.
An active member of SLAIT, Professor K.S. Bhat sadly expresses that Sarakki Lake has been encroached upon indiscriminately by big builders and others in the recent past. They are letting sewage directly into the lake, dumping construction debris and garbage which is polluting the area. Watch him talk about Sarakki Lake in the video below (if you are unable to view the video, click here)

The Forerunner – Putenahalli Lake Improvement Trust (PNLIT)
SLAIT derives its inspiration from another Lake Restoration movement in South Bangalore, the Puttenahalli Neighbourhood Lake Improvement Trust (PNLIT). Residents of L&T South City and Brigade Millenium in JP Nagar, Bangalore formed a citizen initiative to save the neighbouring Puttenahalli Lake from becoming a dumping ground for construction debris and waste. Led by Usha Rajagopalan, Arathi Manay and a few other concerned home owners, PNLIT was set up to oversee the restoration of Puttenahalli Lake. Below is a video of Usha and Arathi talking about their efforts and results when they qualified as finalists of Mahindra Spark the Rise Contest (if you cannot view the video here, click here to watch it on YouTube).
The residents worked closely with the Bruhat Bengaluru Mahanagara Palike (BBMP) to restore Puttenahalli Lake. In fact, the BBMP took over the restoration of the lake as part of their initiative to save Bangalore's lakes, spending approximately Rs. 1.8 lakhs to get it to what it is today.
PNLIT has its own website that provides comprehensive updates on the progress of the lake's restoration, as well as other initiatives they have spearheaded such as composting, recycling, raising funds and even organising a nature club with other residents of L&T South City and Brigade Millennium.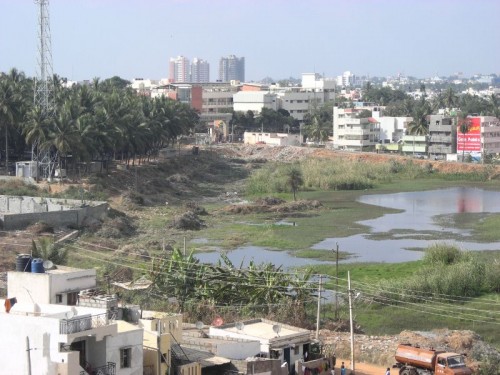 Now, Puttenahalli Lake has flourished into a beautiful ecosystem with many different kinds of birds. PNLIT organises weekend activities for children from the two residential complexes that border the lake, in an effort to increase awareness among young children on the importance preserving and protecting nature. They have set a true example of what citizens can do by working together with the local administration. This is a model that can easily be replicated in urban settings like Puttenahalli, and this is where Sarakki Lake Area Improvement Trust derives its inspiration and guidance.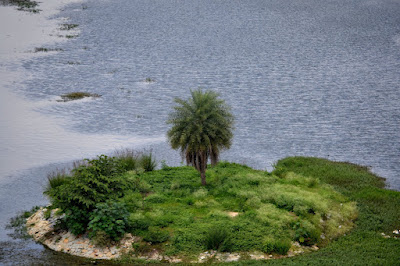 SLAIT has the following agenda:
• Stop inflow of untreated sewage from the surrounding buildings.
• Stop dumping garbage and debris.
• Stop encroachments by roads and other sheds and secure the lake with proper fencing.
Now, it is everyone's responsibility to voice their views and come forward to support Sarakki Lake Area Improvement Trust, which has already sent a memorandum to the concerned Government officials to take action on restoring the Sarakki Lake by utilizing the budget provisions for lakes rejuvenation. Let's join hands and help to save Bangalore's lakes one at a time.
To Get Involved in SLAIT's efforts:
Sarakki Lake Area Improvement Trust (SLAIT)
No. 63, Bharadwaj,
4 Cross, Eshwara Layout,
Bangalore 560062
Email: nimmasarakkilake2012@gmail.com or Sudarshan Ganapathi (SLAIT member): sudarshang2009@gmail.com
For More Details on Puttenahalli Lake Improvement Trust:
Usha Rajagopalan: puttenahalli.lake@gmail.com
Arathi Manay Yajaman: arathimy@gmail.com
https://www.facebook.com/PNLIT
The Sarakki Lake article is written by Sucheta Ramprakash and Puttenahalli Lake inputs are reported by Priya Desai and Reena Pinto for
India Water Portal
(IWP) and republished here in arrangement with IWP.
We bring stories straight from the heart of India, to inspire millions and create a wave of impact. Our positive movement is growing bigger everyday, and we would love for you to join it.
Please contribute whatever you can, every little penny helps our team in bringing you more stories that support dreams and spread hope.