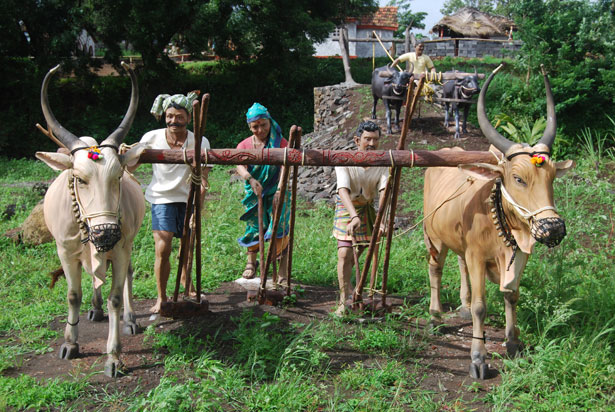 Located at Shri Kshetra Siddhagiri Math near Kolhapur city on the Bangalore-Pune highway, Siddhagiri Museum is indeed a unique project. Spanning over 7 acres with almost 80 main scenes and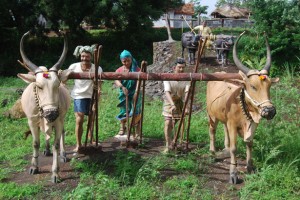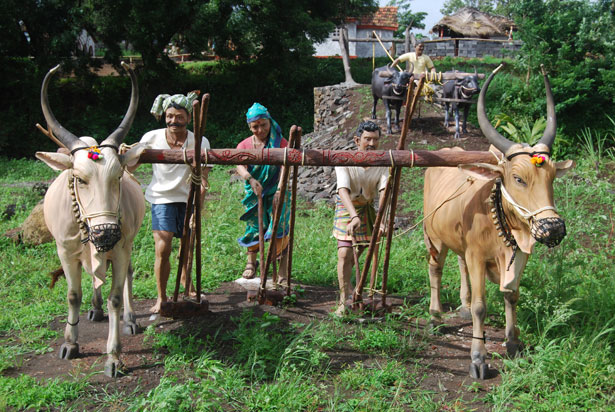 Located at Shri Kshetra Siddhagiri Math near Kolhapur city on the Bangalore-Pune highway, Siddhagiri Museum is indeed a unique project. Spanning over 7 acres with almost 80 main scenes and 300 statues, the Museum does a wonderful job of depicting a self-sufficient Indian village of the pre-Mughal era. Painstakingly carved with exquisite attention to detail, the museum is a must-see for its artistic beauty as well as the message it holds for one and all – a call to return to nature and restore equilibrium in our lives and environment.
The write-up on the website better surmises the purpose:
Each sculpture has a multi dimensional effect and lifestyle theme which Swamiji very keenly arranged each and every scene to make a proper visual story. In the total cluster the village demonstrate a self sufficient machinery within village. Barter economy, Interpersonal healthy happy relationship among villagers is reflected. The Museum projects the entire village as a single family, and as single family members in a joint family. No adulteration, no cut thought practice, no mad Rat Race, No pollution, but Caring, and delightful atmosphere, no bitter feeling, but fertile land, clean water, clean air, quality food, maximum use of natural resources, cattle field, livestock, job satisfaction. All these things are reflecting the beauty, Joy, satisfaction of human race and oneness with nature. It advises us to get back to nature, without disturbing the equilibrium of nature and many other things which are beyond our imagination.
Set in pristine surroundings, with an abundance of flora and fauna in its vicinity, the museum truly inspires simple living. Here you see the benefits of an unspoiled and clean atmosphere, the bonding between the people of a village who live as a single large family, and the joys of an uncomplicated family life. The scenes in fact seem so far from our ordinary lives that we might find it difficult to believe that people, including many of our forefathers, once lived in such conditions.
Even if you cannot make it to the physical site of the museum at present, they have made available an online tour on their website, which transports you and gives you a feel of the actual place. Here, they describe in detail the various aspects and characters of a typical model village in the days gone by. For example, the following picture depicts the abode of the 'Joshi' or village priest, along with a passage describing his functions and duties.
On your right, the first house is of the village priest. Being a highly educated person in the entire village, he performs the following duties, rites and rituals like weddings, thread ceremony, to find out auspicious day and moments for house building and house warming activities, digging of new wells, sowing seeds, punching of noses and ears etc. He meets his livelihood on 'Dakshina' (money offered to him by the villagers). He consults and then refers to the 'Panchaang' (almanac) for finding auspicious occasions. The priest also suggests instant remedies for ordinary ailments. He studies and also teaches the spiritual literature and books, inculcates culture in the people and acts as such etc. These persons are good councilors, preceptors and philosophers.
Lastly, the priest performs all rites and rituals from cradle to grave. They serve like a lighthouse for the villagers in evolution and preservation of rural culture.
Do visit this amazing village, and tell everyone about it. You never know how it might change your life!
Take their online tour at their website: http://www.siddhagirimuseum.org/
Link Courtesy: Pramod. Thanks a ton for this gem!
We bring stories straight from the heart of India, to inspire millions and create a wave of impact. Our positive movement is growing bigger everyday, and we would love for you to join it.
Please contribute whatever you can, every little penny helps our team in bringing you more stories that support dreams and spread hope.