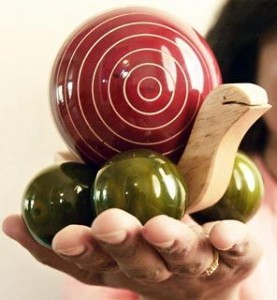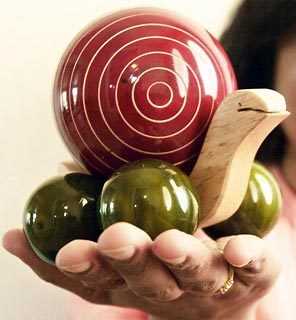 Channapatna. It is the name of a small town between Bangalore and Mysore. But more often than not, the name evokes images of beautiful, colourful toys that had us enthralled as children and still make us remark at their exquisite craftsmanship. If ever toys made a town, this would be it, as the Geographical Indicator tag on Channapatna also confers. Savitha Karthik writes in Deccan Herald of her journey through the town, the changes she witnessed bit had not expected, and the work of Maya Organic – an NGO that helps the toy makers earn a decent living from a dying art.
Expecting to see an old craftsman sitting in a quiet corner and chipping away on a piece of wood that would eventually turn into one of those dolls, Savitha was surprised to find the factory of Maya Organic where workers of varying ages chipped away on power lathes and crafting those toys.
Girish, who has been working on toys for the last 18 years, explains, "We are a family of toymakers. My father, now, 74 years old, my brother, all of us, have been working on making toys." So, how have things changed over the years? I ask. "Things have changed. Earlier, people would work on hand lathes in their homes, or hire lathes, and then we would go to the toy emporiums and sell our toys. Life was difficult because we had to make ends meet on a daily basis. Now, with the factory, things are more streamlined, and it is no longer a daily wages thing. Also, back then, we would make saada bombe (plain toys)."
Once believed to have been the art of Persian toymakers, who were brought in by the Mysore ruler Tipu Sultan, the skill has undergone a host of changes to cater to the changing environment. With exports being the mainstay of the industry, the toys have also evolved to hold greater appeal to the western markets. The use of vegetable dyes is one such innovation, which makes these toys score over their more controversial lead-containing Chinese counterparts.
However, the picture still isn't that rosy for these artisans:
An enquiry at a Handicrafts Emporium within the town brought a new perspective to the toy story.

The owner explains that while there are huge export orders, there is always the fear that such bulk orders get rejected even if there is a slight fault in one of the toys. And in the non-tourist season, on ordinary weekdays, there are not many people who actually buy toys from such shops in the town. And so, there is diversification, from the traditional toys to metalware, to incense sticks to sarees.
The Channapatna toys have been more than playthings for the many girls growing up in the town, offering them a means of livelihood and empowerment at the factory. Their story is intricately linked to the toy story of Channapatna.
Read the complete article here.
Image Courtesy: Seattle Times