Palak Bhatia revisits the Commonwealth Games 2010 to see if there were any positive takeaways at all. And you will be pleasantly surprised with what she found. There is so
Palak Bhatia revisits the Commonwealth Games 2010 to see if there were any positive takeaways at all. And you will be pleasantly surprised with what she found. There is so much that gets buried under the trash that you really have to sift through to find the little treasures of good deeds! 
I have noticed that whenever a conversation steers towards the direction of Commonwealth Games 2010, that were held in New Delhi, people seem to have nothing but negative sentiments about the event. An international event turned into a playground for corruption. Constructions late and incomplete. Environment damaged ruthlessly. Where are the dustbins now? Who stole the flower pots adorning the city? Though these complaints are all genuine and yes, it did not go all that well, Commonwealth Games was responsible for a series of positive changes in the capital city of India that would have never happened otherwise. Some of these include the full-fledged infrastructural development of sports complexes, the speedy opening of Delhi Metro lines, etc.

Apart from these huge encompassing changes, there were many people working at the grassroot level in order to make a difference. One such effort belonged to the Delhi-based NGO Conserve India. An enormous amount of waste was created during the event, something inevitable and problematic. Though the government came up with their own management system, this NGO innovated a new idea for getting rid of the wastes and utilize them as well. The result was a very successful 'upcycling' drive, through which, they launched a handbag and accessory line in the market.
The idea originated at a lecture by the Australian sustainability professional, Liz Franzmann, at IIT Delhi, wherein she spoke about the necessity of sustainable events. The founders of Conserve India, Anita and Shalabh Ahuja, discussed with her the possibility of applying her ideas on CWG 2010, and she guided them through the process of initiating upcycling in India. Upcycling is a relatively new concept. And it is different from recycling. Recycling is the processing of used materials so as to convert them into a condition fit for reuse. A material essentially loses its inherent value in the process. Upcycling however, works towards maintaining its quality and value while we reuse it multiple times. It is easy to appreciate that upcycling is a much more desirable and useful concept.

Thus, CWG Delhi became the very first international event to make use of upcycling. Conserve India also made an effort to ensure that the products created by the poorest communities were put as front-runners in the market, so that their condition could be improved. The initiative was also successful in creating a lot of public awareness, so that Indians could grasp the importance of waste management and the new technologies being introduced in the field.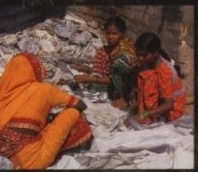 But the chief achievement of the NGO was the fact that they effectively turned the waste generated during the events into useful products and sold them in Indian and international markets at a price higher than their initial values. Nearly 25 tonnes of banner waste was collected and put in the upcycling drive. It was a successful endeavor to reduce the environmental impact of major sporting events and to inflict minimum damage upon Mother Earth. Also, the venture was able to help the poverty-stricken and unskilled groups and provide them with this alternative means of earning their bread. The rag-pickers employed by the NGO for collecting the wastes were paid higher wages as compared to their normal meager earnings. The stationary items produced were widely distributed among disadvantaged students to cut down their educational costs. Thus, the NGO also had social upliftment to their credit as an indirect outcome of their innovation.

Conserve India had originally predicted that the products they created would be better suited for European, American, and Australasian markets than in India. The simple and logical explanations behind this calculation was that there were better prices to be fetched in international markets, and the assumption that Indians would probably resist fashion created from 'waste'. But they were soon proved wrong, as to their delight they found that Indians are now changing their attitudes for the better, are becoming more progressive in their thinking and are willing to accommodate newer products in their lifestyle. As a result, the handbag and accessories lines were a success even in the domestic market and the NGO expanded its horizons by establishing a purpose built factory of its own in India.

It is indeed amazing that the thinking and prompt initiatives of one NGO can make such a huge difference. It shows that efforts even at the individual level are never wasted. Each of us, in our own way can work towards making a Better India. The most important thing is that we try. We are the future, and acting in a responsible manner can prove fruitful for generations to come. No doubt that the coming years will be thankful for this upcycling innovation. The pressures on the environment can no longer be ignored and sustainable development is the only answer.
Palak Bhatia is a freelance writer with several mainstream publications and an online shopping website. She also acts as a travel guide for an online travel information website. An inclination to report positive news got her interested in writing for The Better India, and here we are!
We bring stories straight from the heart of India, to inspire millions and create a wave of impact. Our positive movement is growing bigger everyday, and we would love for you to join it.
Please contribute whatever you can, every little penny helps our team in bringing you more stories that support dreams and spread hope.