These 5 young women from rural India have seen their families go through financial difficulties and fight for daily survival. Cathy Pin-Chun Chen recently toured the country and documented how their lives have changed following digital interventions.
A foreign national working in India, Cathy Pin-Chun Chen recently toured rural parts of the country to document stories of women whose lives have changed following digital interventions. She shares their stories and their aspirations here.
During a recent trip to rural parts of Madhya Pradesh and Rajasthan, I met several women who gave me a glimpse into their culture, lifestyles, relationships, perspectives and values. They all came from socially backward and financially weak households but they held big dreams in their eyes.
Neha
Neha sleeps for only two to three hours a night because she feels 24 hours are not sufficient for her to finish all her household chores, tutoring classes and centre coordinator responsibilities. As a trainer and coordinator of a community information resource centre (CIRC) in Hoshangabad district of Madhya Pradesh, Neha provides digital literacy skills to children and adults in villages; helps community members in filling forms for ID proof, government schemes and entitlements, assists villagers in submitting Right to Information requests; manages the reports and accounts of the centre; recharges people's mobile phones; assists help seekers in Internet banking; and provides citizen services like photocopying, scanning, printing and passport-size photographs, among others. At home, she tutors her elder sibling and teaches her mother to write.
Neha aspires to bag a job in the railway sector and earn enough money to provide a comfortable lifestyle to her parents who have spent a lot of energy and finances for her education and upbringing.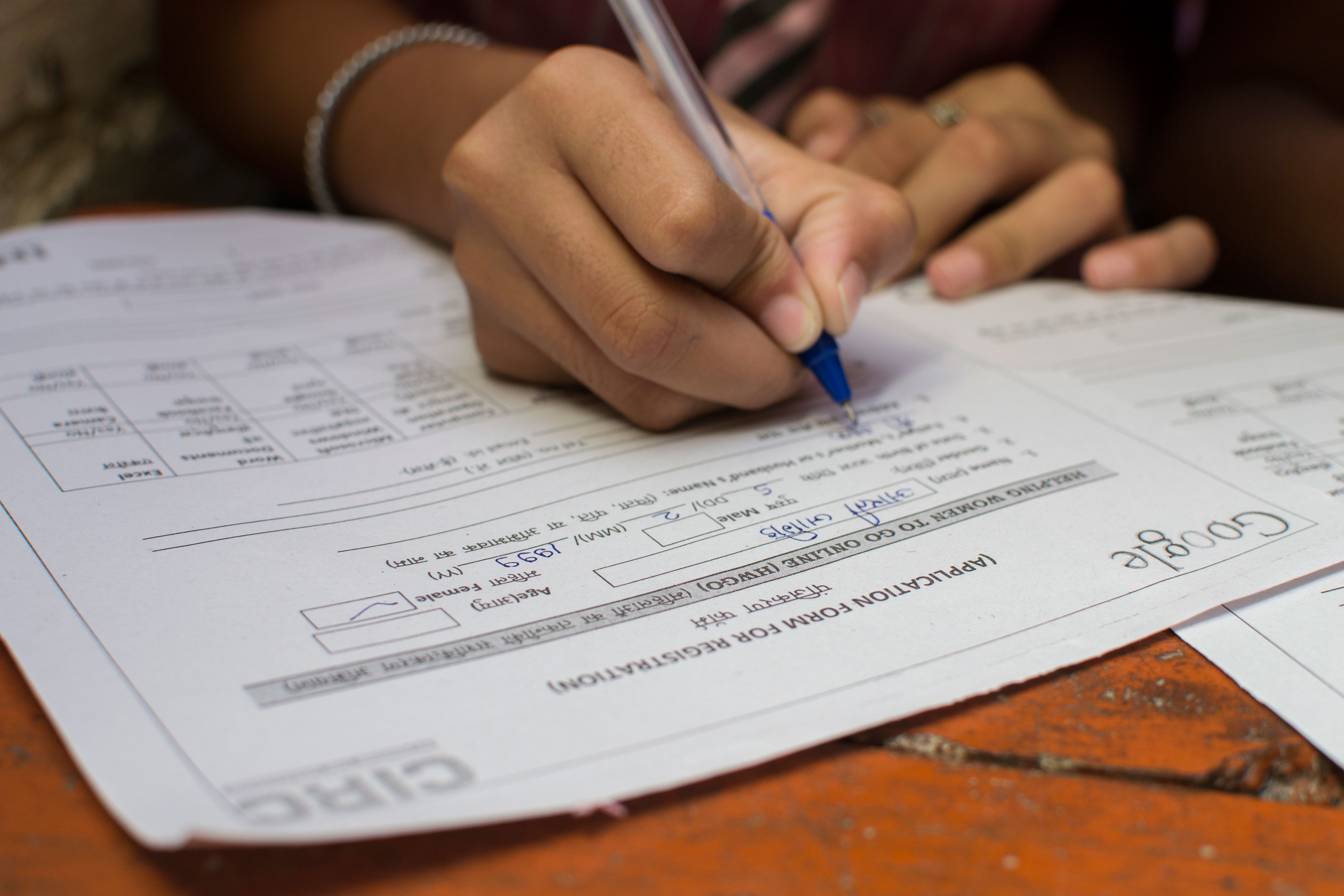 Photo: Mubeen Siddiqui
Somti Gathiya
As a young girl, Somti Gathiya was forced to marry her sister's brother-in-law in an effort to provide her elder sick sister with a helping hand with the household chores. While she couldn't oppose the marriage, the marriage could not curb her desire to learn either, which only grew stronger after marriage. And so, she saw an opportunity in joining a self-help group (SHG) in her village. Her husband, however, was opposed to the idea of Somti stepping out the house. He wanted her to concentrate on household chores and the family's agricultural field but her sister understood Somti's aspirations and helped her convince her husband to allow her to join the SHG. It was through the SHG that Somti heard about a nearby CIRC and enrolled herself for digital literacy training. Today, Somti is a trainer at the centre, and her husband, who drops her off at work every morning, has also expressed an interest in learning digital skills – although not from her, not yet. But he now also understands that household chores are not the responsibility of women alone.
Somti's desire to learn has never been about only increasing her knowledge; for her, learning means sharing the knowledge with other women in her community.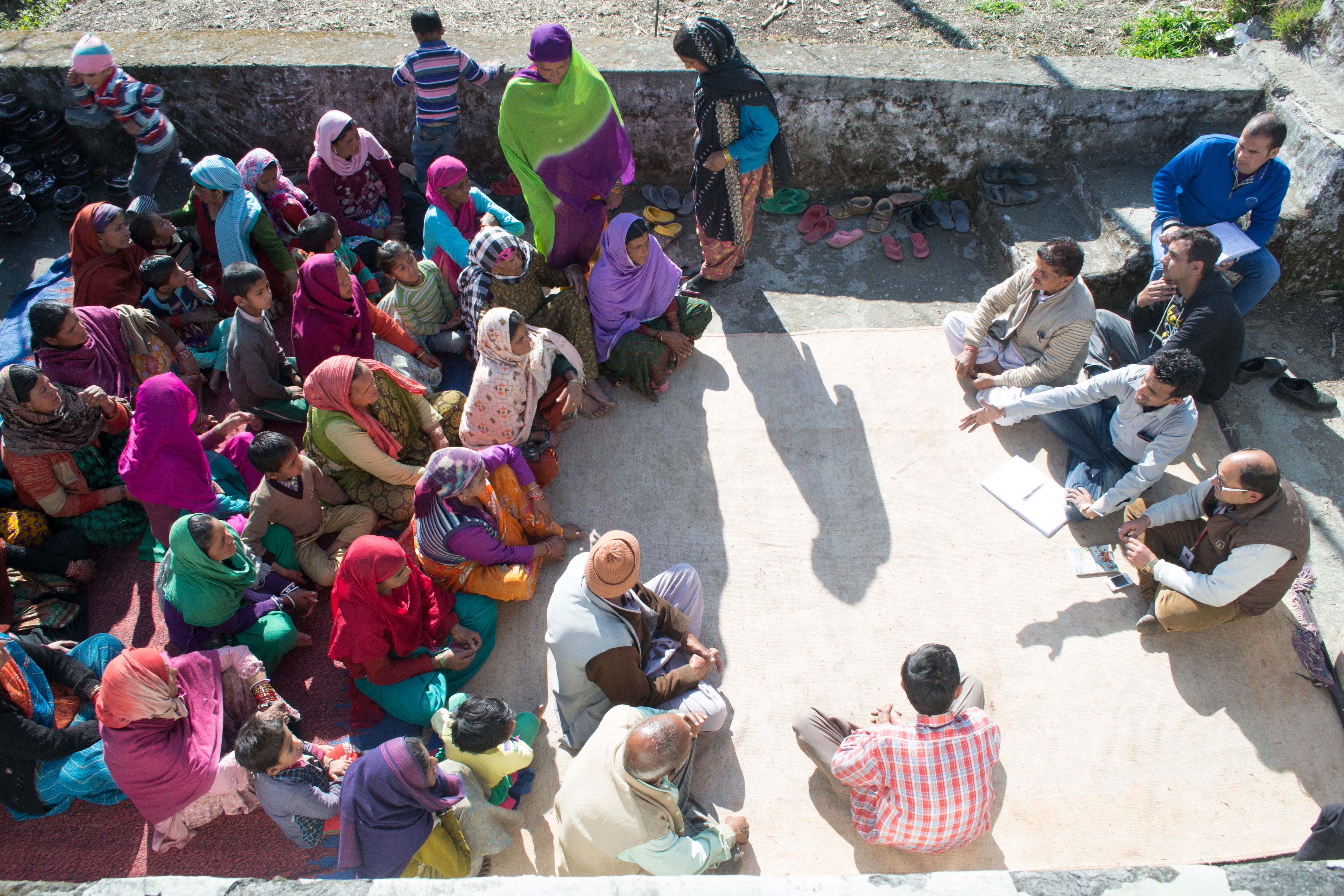 Photo: Mubeen Siddiqui
Shashi Narre
Shashi Narre would do household chores from dawn till dusk, in fact until every member had gone to bed at the end of the day . Her in-laws always had some chore or the other to burden her with, and she would oblige. Until she learnt about an SHG and decided to join it. that is. As part of the SHG, she was among a group of women who were trained at a local CIRC in using digital tools for efficiently collecting data and accessing the Internet for information. Courtesy this training, Shashi now understands her rights as a citizen of India, a woman and a BPL card holder, and helps mobilise other women in her community to become aware of the same.
She is no longer scared of her in-laws either. They, in fact, share the chores now.
Shahnaz
Twenty-four-year-old Shahnaz is married to a folk musician based in Mungaska village of Rajasthan. Aware of their family's financial situation, Shahnaz's father fixed her marriage at an early age, hoping her husband would be able to pay for her further education. He always believed that his daughter could achieve something great if she was given an opportunity. Luckily for Shahnaz, her husband supported her and her desire to learn. Today, she is a computer trainer at the CIRC in Mungaska, and helps children, women and men acquire digital skills. Shahnaz wants to create an individual identity and not be recognised as bhapang player Yusuf Khan's wife. And she wants people to know her father as 'Shahnaz's father.' She also wants to do something that reporters would want to write about in their newspapers.s
Shahnaz says, "I want to see more (positive) reports about women in the newspapers, just like males are entitled to."
Photo: Yusuf Khan
Pushpa Tanwar
Pushpa Tanwar's father was extremely protective. Since he did not want his daughter to be involved in any "bad company," he felt she should continue her college education through a distance learning school. However, Pushpa and her mother saw things differently. They understood the value of education and knew that the exposure to learning that a student gets in a classroom would be much more than reading up textbooks at home and appearing for exams. Together, the mother-daughter duo convinced her father to allow her to join a nearby college just like the other students. Pushpa is now a second-year student of Mass Communication and is also enrolled at a CIRC in Kapashknown era, on the outskirts of Delhi, where she regularly receives career counselling.
She aspires to become a TV news anchor, and her father is waiting for the day he can see his daughter on television.
It's amazing how these girls shared their personal experiences and values with me. It reflects their openness, their acceptance of ground situations and the willingness to move forward in life. They believe in the betterment of their current conditions, the never-ending learning choices, and the potential of women's ability to evade and crack the four walls of their houses and some traditional values that had supposedly nourished but actually stripped them of their freedom and rights. They do not dismiss their pasts, but embrace them with forward-looking optimistic thinking, and we know their dreams are achievable. Several such stories have been compiled in an illustrated book titled Digital Roshini.
Like this story? Or have something to share? Write to us: contact@thebetterindia.com, or connect with us on Facebook and Twitter (@thebetterindia).
About the author:Graphic designer Cathy Pin-Chun Chen is a Taiwanese-Canadian national who interned with Digital Empowerment Foundation a few years ago and then returned to India to work with the organisation. Without knowing their local language, Cathy experiences listening and interacting emphatically in rural and remote parts of India.