Jeevan Public Cord Blood Bank offers millions of patients in India the hope for a better tomorrow with its quick and affordable access to stem cells. Here's how you can help.
At the age of three, most children view the world with wide-eyed wonder. Their senses lead them head-first to explore the world around them. Half-walking, half-stumbling, they reach out to grasp life and everything it has to offer with their tiny flailing hands – their quest to learn being limitless and their energy, boundless.
It was no wonder then that when three-year-old Deepti (name changed to protect identity) began to complain of fatigue, her parents were alarmed. Their little one lacked the energy other children her age displayed and was often forced to stop playing because of shortness of breath.
Tests and consultations with doctors followed and the parents learnt Deepti suffered from Thalassemia Major, a condition that affects red blood cells and results in low haemoglobin. Deepti needed blood donations every month to keep her haemoglobin near normal.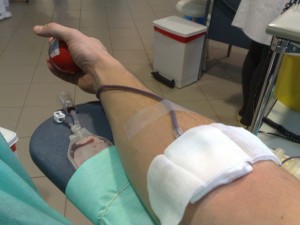 Image for representation only. Source: Flickr
The diagnosis brought Deepti's parents' world crumbling down around them.
Unfortunately, Deepti and her parents are not alone.
Every year, India witnesses the birth of more than 10,000 children with Thalassemia and other blood disorders.
Every year, 120,000 Indians also face the fateful diagnosis of blood cancer. One third of these are children.
The numbers are staggering.
For Deepti, as for many children suffering from Thalassemia and blood cancer, finding matching stem cells is often the only cure. These stem cells can be obtained either from bone marrow donors or from donated umbilical cord blood.
One organisation has set out to provide quick and affordable access to stem cells, with the hope of saving more than 70% of patients suffering from blood cancer and Thalassemia: Jeevan Public Cord Blood Bank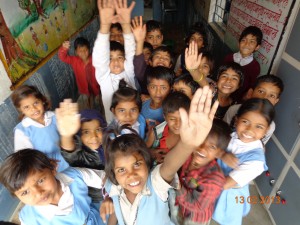 Image for representation only. Source: Flickr
Set up in 2008, it was this organisation that came to the rescue of young Deepti. Today, Deepti leads a happy and healthy life, thanks to the stem cells she received from Jeevan.
Jeevan Public Cord Blood Bank was started by Dr P Srinivasan and Dr Saranya Narayan, founders of the Jeevan Blood Bank and Research Centre.
"When we started reading up about this, we found that 60% to 80% of those suffering from blood cancer and Thalassemia can be cured if they have access to matching stem cells donated either from umbilical cord blood or by bone marrow donors," explains Dr Srinivasan.
Read also: This New Blood Banking App Lets You Deposit, Withdraw and Even Transfer Blood, Just Like Cash!
"But unlike blood, matching of stem cells – what they call HLA matching – is very complicated. And this depends on one critical factor – the ethnicity of the donor as well as the recipient."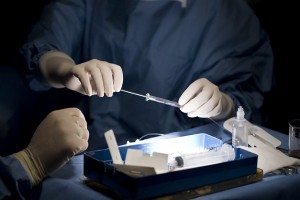 Image for representation only. Source: Flickr
As of today, 27.6 million bone marrow donors as well as 6,87,000 cord blood donations exist globally. Yet, given the role ethnicity plays in ensuring a good match, this impressive number means little to Indians.
"The chance of an Indian – say Deepti or 9-year-old Pooja fighting blood cancer by finding a match in any of the global registries – is less than 10%. We Indians have our own DNA," says Dr Srinivasan, "And even if the child is lucky enough to get a matching donor, the cost of getting that single unit to India for treatment is anywhere between USD 25,000 to 45,000. The cost makes it unaffordable for 98% of the children who need it today."
22-year-old Vigneshwaran is a perfect example of this conundrum. Vignesh was diagnosed with leukaemia when he was in Class 9. For five years, he struggled to beat the disease: "We lost almost everything we had in the five years of treatments," he says. "During that time, there were no public stem cell banks in India and, as a result, stem cell transplant was not common."
Vignesh did have the option of going to Singapore for treatment but the cost was proving to be prohibitive: "Then, my classmates at the Engineering College took up the matter with my department head and started raising funds," he recalls.
His classmates, their parents and college authorities raised more than Rs. 1 crore, helping Vignesh complete his treatment.
Not everyone is as fortunate as Vignesh though and it was this realisation that drove him to join Jeevan as a trustee.
"Public stem cell banking saved my life. It can save thousands of lives. It would make a new treatment option, a highly successful one, available to thousands of Indians who are left with no options after rounds of chemotherapy or at a later stage of cancer," he says.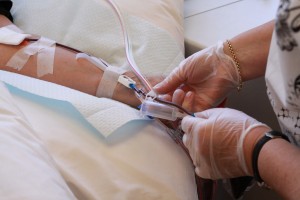 Image for representation only. Source: Flickr
A treatment option that is affordable and accessible is just what Jeevan hopes to achieve with its Public Cord Blood Bank.
Explains Dr Srinivasan: "The bank will create a pool of cord blood donated stem cells in India, because of which the chances of children like Vignesh and Deepti finding a match will go up to over 70%. We can give them access and a hope for a cure."
Since ensuring affordability was one of the primary goals of setting up the Public Cord Blood Bank, Jeevan offers the stem cells free of cost to families whose annual income is below Rs. 10 lakhs. Families whose annual income exceeds Rs. 10 lakhs are requested to donate as much as they can, to ensure the sustainability of the Public Cord Blood Bank model.
Read also: Meet the 86-Year-Old Who Has Helped 6 Lakh Patients Get Medical Treatment They Could Not Afford
In order to ensure quick and affordable access to matching stem cells, the organisation is looking at building an Indian inventory of 30,000 donated stem cells from cord blood, before 2020.
With more than two crore births per year, building an inventory of 30,000 stem cells from umbilical cord blood should be fairly easy. Yet, Jeevan's experience says otherwise.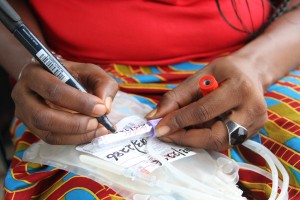 Image for representation only. Source: Flickr
"Till date, we've had 9,593 cord blood donations, of which 4,768 were fit enough to use," says Dr Srinivasan.
"Parents today have two options," he explains, "They may choose to put the cord blood in private cord blood banks or throw it out altogether. Less than 10% of the parents take the first option. The other 90% end up throwing it in the dustbin. It is this 90% we are targeting. If we are able to convert even 2% of these parents, we will meet our inventory target."
Given the number of children the stem cells from donated cord blood could help, throwing it away seems almost criminal. And yet, that is exactly what happens.
Read also: Indian Scientists Achieve Impressive 82% Reduction in Newborn Sepsis Deaths With Radical Innovation
In 2014, Jeevan launched the Bone Marrow Registry. "Stem cells work for children who are less than 30 kg or 40 kg. Adults and overweight children need to depend on adult bone marrow donors," says Dr Srinivasan, explaining the driving inspiration behind the initiative.
So far, the organisation has managed to rope in more than 1,700 donors who have volunteered to donate bone marrow stem cells if and when a need arises.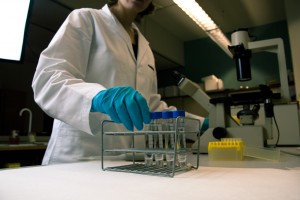 Image for representation only. Source: Flickr
These are only two of the initiatives launched by Jeevan Blood Bank and Research Centre. The organisation started with a 100% component blood bank in 1995, expanded to the Public Cord Blood Bank in 2008, a HLA (Human Leucocyte Antigen) typing lab in 2013, and the Bone Marrow Registry in 2014. As a not-for-profit, its services are offered at a nominal cost for those who can afford them and free-of-cost for those who can't.
Over this incredible journey spanning more than two decades, funds have continued to remain the biggest roadblock for Jeevan.
All of Jeevan's operations so far have been funded by private and corporate donations. But, given the magnitude of the Public Cord Blood Bank project, it will – for the first time – look at crowd-funding to help see the project to fruition.
"We are looking at getting 10 lakh Indians to contribute just Rs. 100 each. This will allow us to scale up quickly, rather than waiting to go through the rigmarole of government funding," says Dr Srinivasan.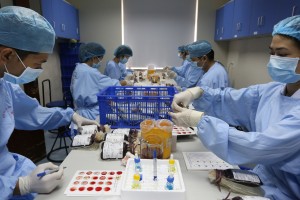 Image for representation only. Source: Flickr
Jeevan is currently raising funds to to help save the lives of more than 70% of children suffering from blood cancer and Thalessemia in India. You can contribute here or here.
As Dr Srinivasan summed it up succinctly: "This is something our children, our grandchildren need. It is for the future generations."
For more information on Jeevan, log on to www.jeevan.org
You can also contact the organisation at jeevan@jeevan.org
Featured image for representation only. Source: Save the Children, Flickr
Like this story? Or have something to share? Write to us: contact@thebetterindia.com, or connect with us on Facebook and Twitter (@thebetterindia).