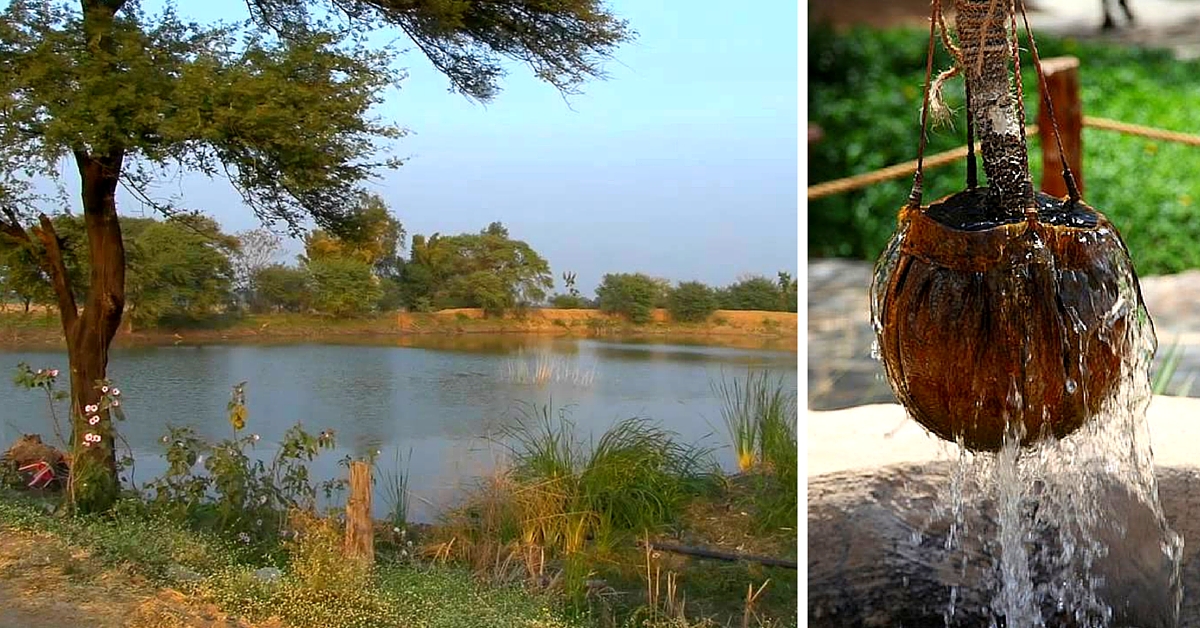 As most of India deals with the drastic consequences of drought, find out how these villages in India are reaping the benefits of efficient water management and revival systems.
As most of India deals with the drastic consequences of drought, find out how these villages in India are reaping the benefits of efficient water management and revival systems.
It's no secret that rainwater management and water harvesting can bring about a major socioeconomic turn around in villages and farmlands. Besides the well-known Hiware Bazar in Ahmednagar, Maharashtra, and Anna Hazare's Ralegan Siddhi, many other villages in India have adopted efficient water management systems, and they're all reaping the benefits. These methods have proved to be especially useful when temperatures rise, rainfall comes late, and drought hits the land. Find out how:
Watershed Management in Five Villages in Gujarat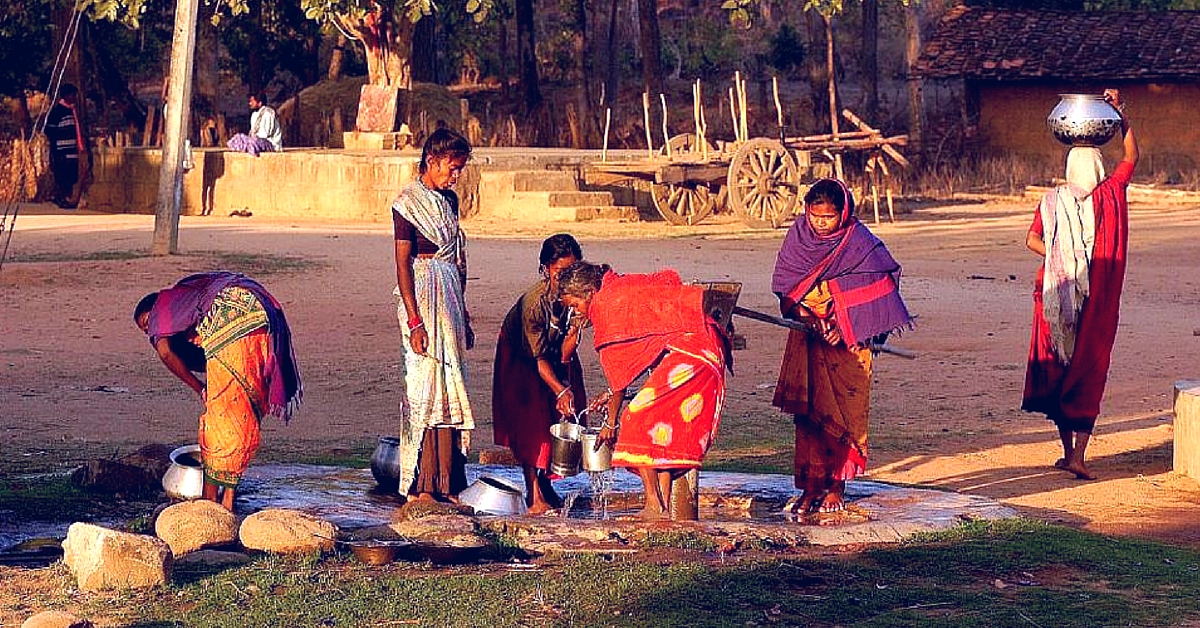 Source: Wikimedia Commons
In the period between 1980 and 1990 in Gujarat, Sadguru Foundation, an NGO, worked hard to bring back water in five villages through watershed management and dams. For instance, in the Dahod district, Bhil tribals faced acute shortage of water for decades. It all changed when in 1994, check dams were built along the Machhan, and watershed management programs were undertaken. As the dams recharged the groundwater, water became available to the 153 households in that area. Similarly, the Raj-Samadhiyala village, near Rajkot, revived itself from an arid zone to a lush cultivated area. Gandhigram residents had no clean drinking water for decades. That changed in 1999, when the villagers took a loan to build a check dam. In Mandlikpur and Jhabua, the villagers initiated rainwater harvesting on the rooftops of their homes, besides undertaking watershed management to recharge their wells. These techniques got the villages through many spells of drought in the years to come.
Bringing Back Ponds in Sandharsi, Patiala, Punjab
When Punjab was in the throes of drought during 2015, villagers of Sandharsi in Patiala fought back. Here, borewells failed drastically. Repeated use of groundwater led to a depletion of water levels, such that good quality water was available to them only at 1000 feet below. But they compensated for it by building ponds within their farmlands. This has a dual purpose: during dry spells, pond water is used for irrigation, and during monsoons, it serves as flood resistance and water collector. Harmesh Singh, one of the first to build a pond, owns two borewells. His pond held 37 lakh litres of water, enough to irrigate his fields two times over. What's more, pumping water from ponds required lesser diesel, further cutting down overhead costs. It's simple common sense, but ponds are a rarity in India, as all the land is taken for farming or building residential areas. In light of the recent drought however, about 15 other farmers in neighbouring villages took up this idea.
Sharing Groundwater in Chellapur village, Mahbubnagar, Andhra Pradesh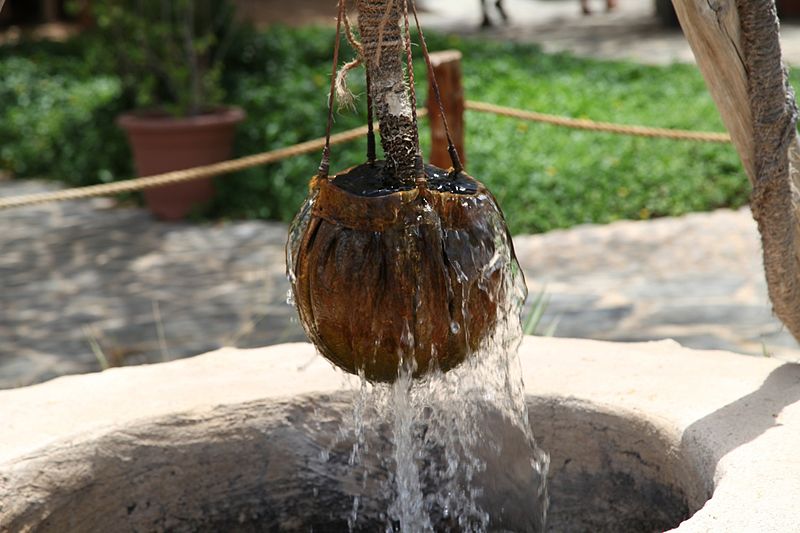 Source: Wikimedia Commons
In the drought-prone areas of Mahbubnagar and Anantapur in Andhra Pradesh, one village was unaffected by the large scale dry spell that occurred in the area in 2009. Chellapur, about 150 kilometres from Hyderabad, had a history of dry borewells and overused wells. In a pilot project backed by the World Bank through the Andhra Pradesh Drought Adaptation Initiative (APDAI), villagers got together to pool in ground water and share the water. Five borewells were connected through an underground pipeline spanning 1.7 kilometres, and those who didn't own borewells were also allowed to use this community-shared water. They also stopped cultivating water-intensive paddy. The impact? When the next drought came, they had enough water to sustain their crops and for use within households. The pipeline system allowed for a larger area of farmland to be irrigated using lesser amount of water through the sprinkler system. The income of the farmers multiplied too.
Spring Revival in Panchgani, Maharashtra
In the areas of Panchgani, springs were identified as an important water source. Years of neglect and destruction of ecology led to reduction in the number of springs. Grampari, a rural ecological centre, began a movement to revive springs in 2010. For instance, in a village called Akhegani, pumping water from dams was not a realistic solution, because it's on a table top of the plateau, and proves a costly affair for the villagers. So instead, the village depends on borewells and two springs for its water requirements. Dr Jared Buono, a hydrologist with Grampari, explains to Mid-day the significance of springs:
"A small portion of the monsoon rains can enter the rocks (layered with basalt) where it percolates down and hits an impervious layer. It then moves laterally and can emerge on the side of a mountain as a natural spring. Many mountains in the Western Ghats are also capped with laterite (a relatively porous rock) that absorbs much more rainfall. On these mountains, springs can be very large, providing a steady source of water throughout the year."
The Green Taluka of Shirpur, Maharashtra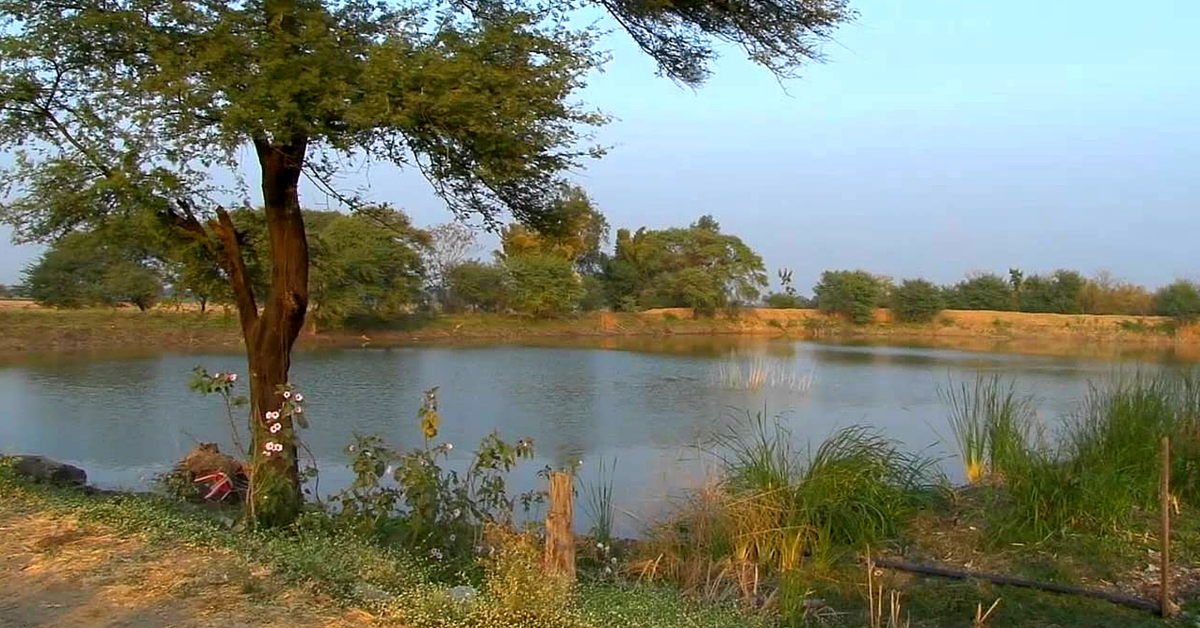 Source: Wikimedia Commons
Called the green taluka, Shirpur is a present-day success story, being one of the only areas in drought-stricken Maharashtra to be water tanker-free. The residents here have their own water, and enough of it. Fourteen years ago though, the area was dry and arid. But with rainwater harvesting and small dams, Shirpur farmers today cultivate three to four crops a year, whereas farmers in other areas struggle with even one. Groundwater, which was previously found at 700 metres below ground, is now at a 100 metres. It was the scientific construction of dams that makes Shirpur a success today.
Geologist Suresh Khanapurkar explains to FirstPost, "In 81.20 percent of the state, Deccan basalt rock lies below the topsoil. This rocky layer is impermeable and not much water percolates down. Below this layer lies Murrum (red gravel), which holds water and this can be drawn from wells and borewells." He adds that the rocky layer was removed, and the water percolated to the murrum. "The nullahs were also widened as more the volume of water, more is the pressure it exerts on soil," he said.
Reviving Rivers in Marathwada
Water conservationist Rajendra Singh started the Rashtriya Jal Biradari (RJB) in the drought hit areas of Maharashtra, where they focus on reviving rivers. While work on watershed management programs and river revival is still going on, a project begun three months back in the village of Ranjani in Osmanabad is proving to be a success. The village now has a steady supply of good water, despite the drought. Besides this, rivers such as Agrani in Sangli, Mann in Satara and Tavaraja and Terana rivers in Ausa, Latur, have been revived. The Latur rivers benefit about 70 villages.
Participatory Groundwater Management in three Maharashtra Villages
A new idea that was introduced by the Advanced Centre for Water Resources Development and Management (ACWADAM) in Maharashtra gained momentum when it reportedly had three success stories. The Participatory Groundwater Management (PGWM) is different from other GWMs, because it focuses on managing groundwater demand (as opposed to increasing supply) and managing the source (as opposed to developing a new source). This reduces the overuse of borewells, because it checks ways to bring down the demand. ACWADAM brought together the villagers in Muthalane, near Pune, Randullabad in Satara and Pondhe in Purandar to educate them about the importance of scientific water management. The implementation of PGWM has been recorded as a success in these three villages, where community wells have yielded positive results.
Like this story? Or have something to share? Write to us: contact@thebetterindia.com, or connect with us on Facebook and Twitter (@thebetterindia).
We bring stories straight from the heart of India, to inspire millions and create a wave of impact. Our positive movement is growing bigger everyday, and we would love for you to join it.
Please contribute whatever you can, every little penny helps our team in bringing you more stories that support dreams and spread hope.