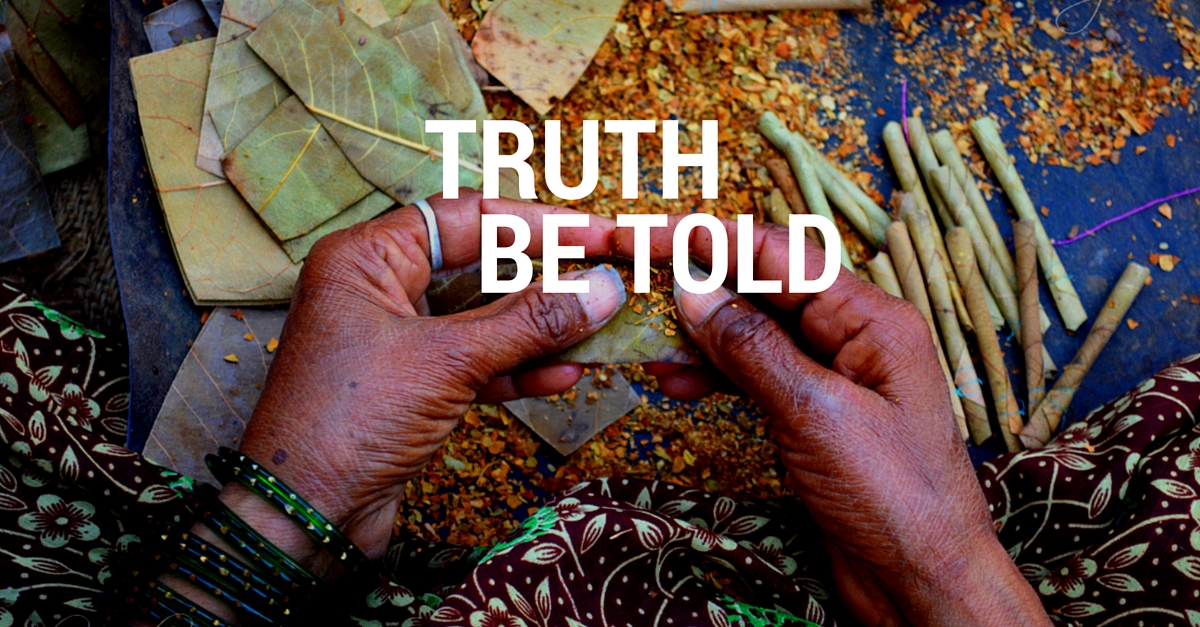 Nine bidi smokers who suffered from cancer, and their bereaved relatives, wrote a letter to Virjesh Upadhyay, Secretary of Bharatiya Mazdoor Sangh, explaining how bidi affected their lives and why larger pictorial representation on bidi packets is important.
On April 1, a notification by Health Ministry for implementation of the Cigarettes and other Tobacco Products (Packaging and Labelling) Amendment Rules, 2014, came into force. The rules prescribe lager pictorial warnings that should cover 85% of the packets. With the backdrop of the Union Labour Ministry's tripartite consultations held on April 21 to assess the impact of the rule on the livelihood of 1.50 crore bidi workers, nine bidi smokers who suffered from cancer and their bereaved relatives, wrote a letter to Virjesh Upadhyay, Secretary of Bharatiya Mazdoor Sangh.
Dear Virjesh Ji,
We refer to a recent media report wherein you are quoted as having said in a very broadminded way that the government's recent notification mandating 85% pictorial warning "needs to be understood at various levels. One, bidi is hand-made and hand packaged. Second, it is less harmful than cigarettes." You are reported to have remarked that implementation of 85% warnings on bidi packages was "a serious issue of livelihood", and to have questioned – "If the notification leads to closure of the bidi making units, what are the government's plans for the rehabilitation of the bidi workers?"
Virjesh Ji, we are specifically referring to this news report, which appeared in several prominent dailies on April 19, and we trust that you have not been misquoted. Sir, we wish to discuss with you the "serious issue of livelihood", but not only of bidi workers. We want to talk about the livelihood of bidi smokers also, and we wonder what you have to say on that issue.
We wish to ask you what you feel about the families of 5.8 lakh bidi-smokers who die after protracted illness every year.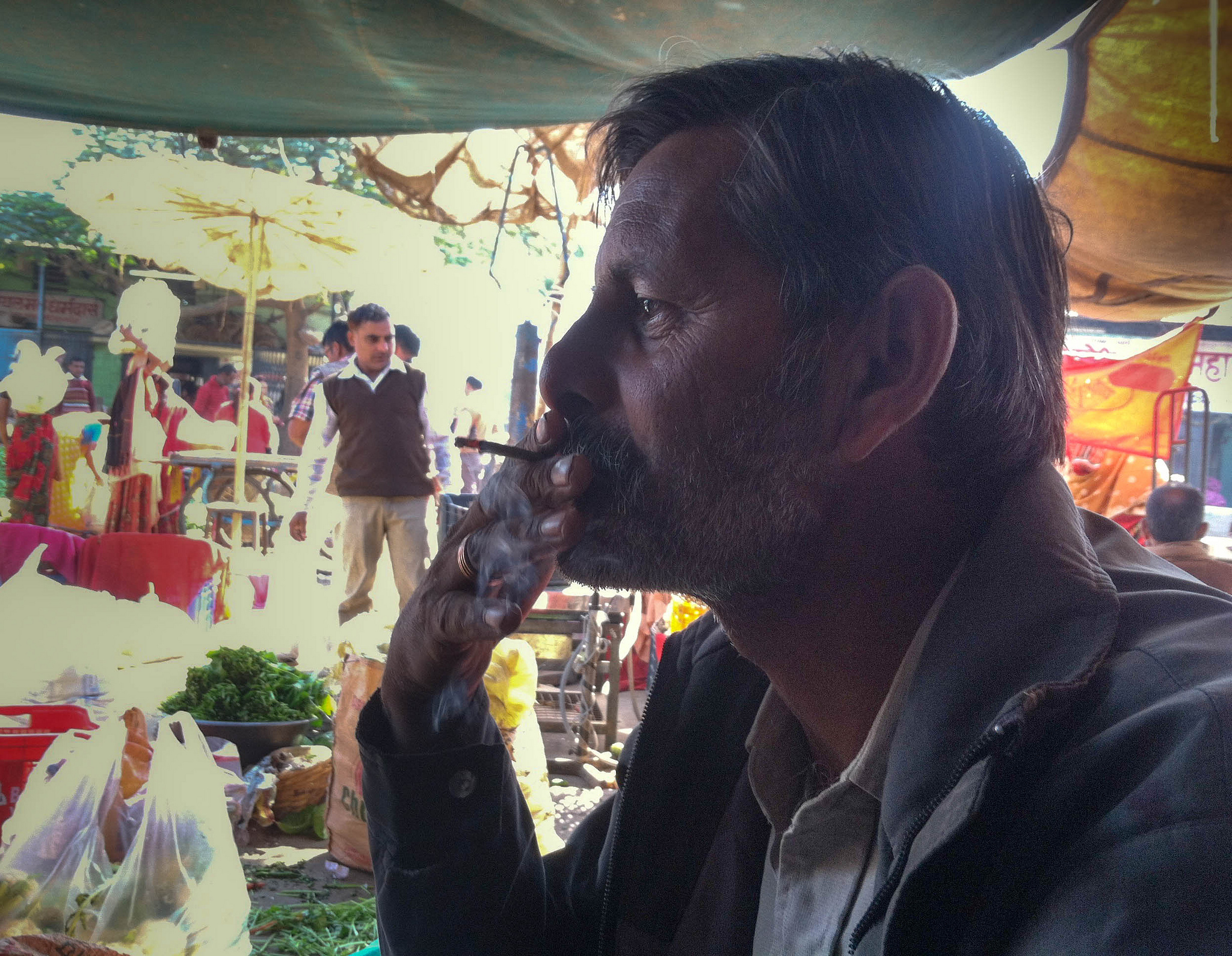 Picture for representation only. Source: Amanjeev/Flickr
If we agree that most of these bidi smokers are male breadwinners, who have, on an average, five dependents, then we are talking about 29 lakh women and children widowed, orphaned and deprived of a breadwinner.
But Virjesh ji, it is not so simple. The death of a bidi-smoker is not swift or clean; it involves years of struggle against cancer. The whole family struggles to keep their loved one alive, running from one hospital to another for diagnostics, radiation-therapy, chemotherapy, surgery and what not. Village people who smoke beedis, accompanied by family members, travel repeatedly to cancer hospitals hundreds of miles away in cities like Mumbai, and stay there for many months. The family burns up its entire life savings and incurs lakhs of rupees in debt. The bidi-smoker's children typically have to sell their assets and take huge loans!
Virjesh ji, does all this sound theoretical to you? We can't blame you, because by God's grace, you are not the son of a man who smoked bidis. But allow us to introduce you to bidi-smokers and their children.
Whenever you find the time, please have a chat with Mallikarjun Jalde. He is the son of a tuar-dal farmer named Shankarappa, from Gulbarga, Karnataka. While studying in college, he used to go home from his hostel during the holidays and see his father, Shankarappa, busily smoking bidis. One day in 2007, Shankarappa complained of pain in his throat while eating.
After performing an endoscopy in Solapur, they went to a government hospital in Bangalore, and then came to Tata Memorial Hospital (TMH) in Mumbai, where Shankarappa underwent radiation therapy. Afterwards, Shankarappa had to be brought to Mumbai every three months for a regular check-up. After five years of this routine, in 2012, Shankarappa was diagnosed with a recurrence of his cancer and was admitted to TMH for two months for surgery. Unfortunately, he expired in July 2014, leaving his wife and son scarred for life after the worst two years of their lives.
Virjesh ji, do you know how much the Jalde family's ordeal cost them? In spite of heavily subsidized treatment at government hospitals, Mallikarjun and his mother footed a medical bill of Rs. 12 lakh. Mallikarjun, who now works in a private firm as a marketing executive, still has an outstanding loan of Rs. 5 lakh after selling the farm and other assets. He reckons that it will cost him over five years to pay off this debt.
There is another person you should speak to. His name is Mukkim Mehboob Shaikh and he lives in Jalgaon Tehsil of Maharashtra. Despite having smoked bidis all his life since the tender age of 14, Mukkim is lucky to be alive…but minus his larynx (voice box), which was surgically removed in 2007 due to cancer. So, since 2007, Mukkim is unemployed as he was no longer able to do what he did for a living – sell salt.
Mukkim, who is now 50 years old, somehow managed to marry off his two daughters, but he still has four unmarried sons and no livelihood. Mukkim now speaks in a rasping high-pitched voice, using a device fitted in his throat that he and his wife refer to as "siti" – a whistle. He is now dependent on his son, because, Virjesh ji, a man with a "siti" voice finds it difficult to sell salt. Mukkim smoked bidis all his life. You really should have a chat with him because for three decades of his life, Mukkim was the source of livelihood for the bidi workers, whom you represent.
Please consider: if 85% of the bidi packet was covered with a pictorial health warning when Mukkim first took up smoking at the tender age of 14, maybe he would not have smoked it at all, and he would still have had a strong voice today, instead of a "siti"? Maybe he wouldn't have been sitting at home today, unemployed, at the relatively young age of 50?
You would have talked eloquently about the impact of the mandated larger pictorial warnings covering 85% of packaging space on the livelihood of 1.50 crore bidi workers at the tripartite consultations on the notification, which was held on April 21.
But please don't forget that crores of bidi smokers have livelihoods and families too. Bidi smokers and their families far outnumber bidi workers. For once in your life, lay aside the trade unionist and lobbyist in you, and think like an Indian. Spare a thought for all the 14-year-old boys out there, in the villages and cities of India. Think of these impressionable kids as your sons. And then ask yourself with your hand on your heart whether you want India to avoid giving a strong warning before these kids pick up an addiction to bidi-smoking.
Yours sincerely,
Victims of Bidi Smoking and their family members from several states of India
1. Mallikarjun Jalde
2. Mukkim Mehboob Shaikh
3. Narayan Chandra Das
4. Abdul Rahman
5. Bhakta Bilash Sarma
6. Kadam Ali
7. Rajen Kalita
8. Son in law of Jatindranath Baru
9. Wife of Bhavanji Moaji Misar
Like this story? Or have something to share? Write to us: contact@thebetterindia.com, or connect with us on Facebook and Twitter (@thebetterindia).
Tell Us More
We bring stories straight from the heart of India, to inspire millions and create a wave of impact. Our positive movement is growing bigger everyday, and we would love for you to join it.
Please contribute whatever you can, every little penny helps our team in bringing you more stories that support dreams and spread hope.