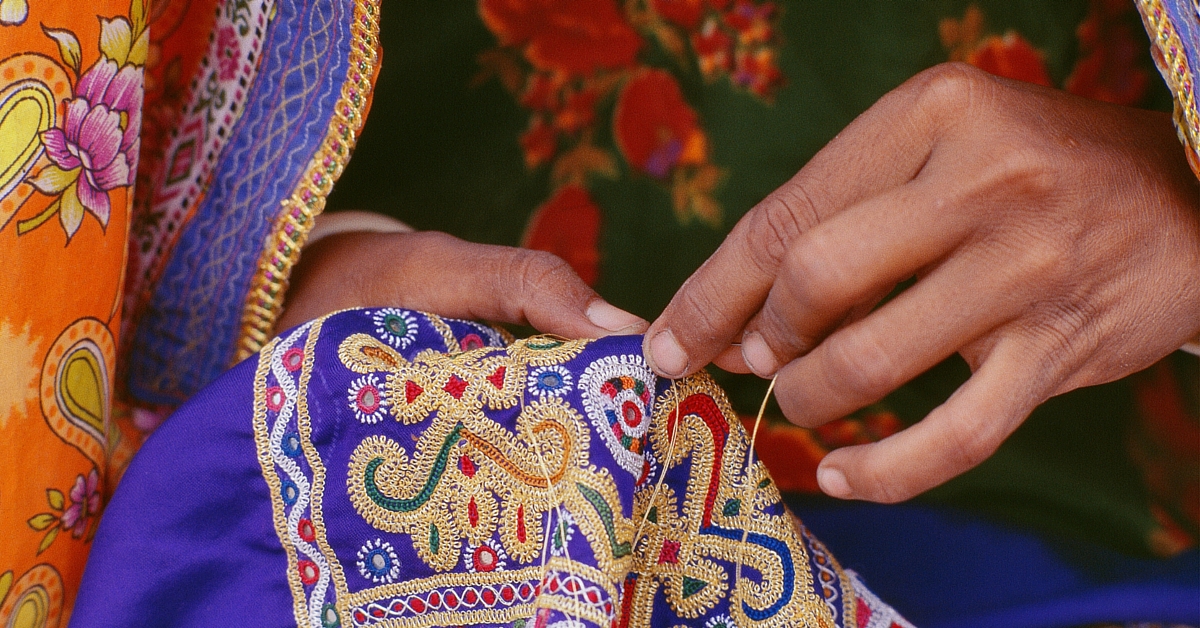 From a drought-relief project to a craft revival and income generation initiative that has touched 20,000 lives, Shrujan Trust's story is truly remarkable!
From a drought-relief project to a craft revival and income generation initiative, Shrujan Trust's story is truly remarkable!
An expanse of white salt encrusted desert plain, sparkling blue waters of the ocean, splashes of colour on a barren landscape, and intricately embroidered clothes worn by smiling people… think of Kutch and these are the images that flash through the mind. But in 1969, India's second largest district was a far cry from the happy picturesque Kutch is today.
Several years of severe drought and famine had robbed Kutch of its vivacity, although its people continued to fight bravely against the odds stacking up against them. Chandaben Shroff, who was on a relief mission in Dhaneti in Kutch, was left speechless by the grit and determination of the people. Recalls Ami Shroff:
"It was the fifth year of the drought. The people had nothing with them. They had already sold everything they could to survive. And yet, they were hesitant about accepting hand-outs. This surprised my mother. The women would often do harsh labour for very little money. All while wearing clothes that were beautifully embroidered by them. It made my mother wonder whether there was any way she could help them earn by using these skills that were clearly fantastic and indigenous to them."
The women were given 30 sarees to embroider. "They were apprehensive about whether the sarees would sell. Embroidery here is the identity marker of a community. They couldn't understand why women might wear markers of another community," says Ami. Setting aside their doubts, thirty of the best craftsmen of Dhaneti got to work.
The finished sarees were presented at an exhibition in Mumbai where they were sold within the day. The seed of hope was planted and Shrujan was born.
Initially conceptualised as a one-time 'drought relief' project, the response the initiative received was overwhelming. "We started getting lots of letters from different parts of Kutch, asking for help. Within two years, my mother realised that it was now for life."
Villages that were facing economic hardship or the prospect of losing the craft would reach out to Shrujan for help.
In no time at all, Shrujan was working with 12 different communities in over 120 villages.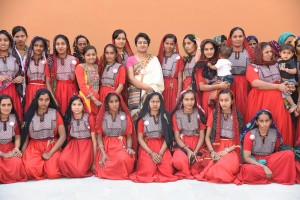 Read also: Villcart: Authentic Handicrafts of India now available online
As Shrujan's popularity grew, many women who did not know embroidery reached out to the organisation for help. Shrujan then facilitated their training by getting women from other communities to train them. "When they see someone who needs help, especially if it's a woman, they are keen on helping and teaching them," explains Ami. For the women who did know embroidery, Shrujan pushed them to do better: "We push them for quality. They are made to understand that when their work is of good quality, we can command a better price for it. If the quality drops, the money they earn from it drops as well."
Once their skills are of an acceptable standard, Shrujan's production team takes the raw materials to their homes. "We procure our raw material from weavers directly, from MP, UP and across India . The embroidery threads come especially from Bombay to ensure that they doesn't bleed," Ami says, highlighting Shrujan's commitment to quality once again. Finished products are then sold in exhibitions or Shrujan's store.
The sale of products does not in any way affect the income of these women, as they are paid on completion of products by Shrujan.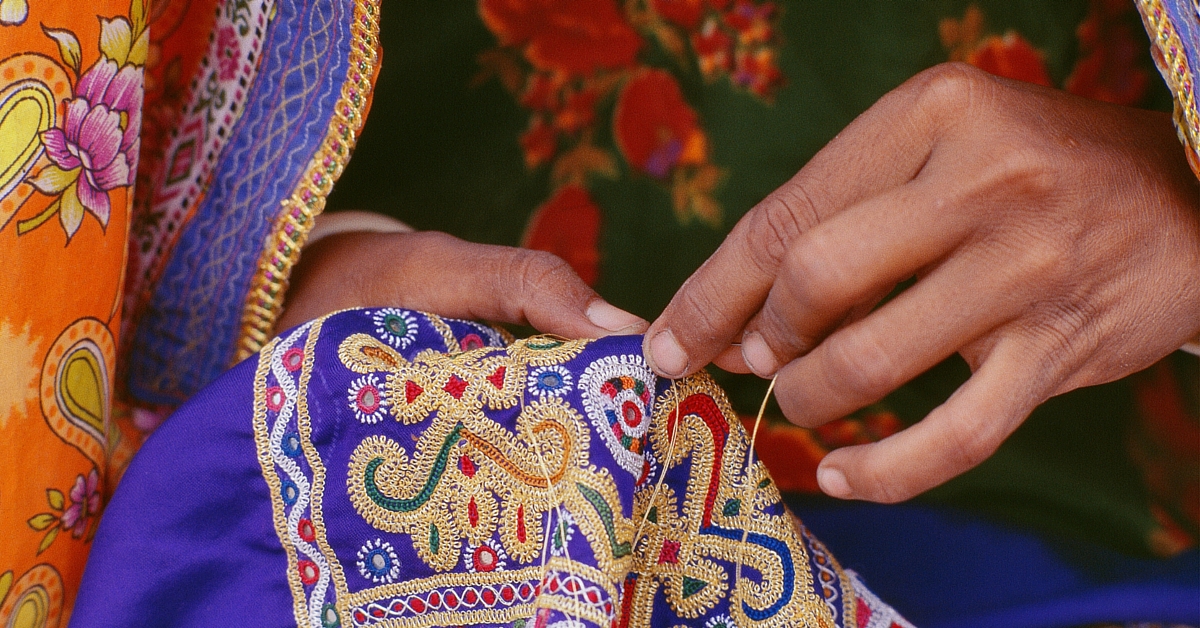 Women can earn anywhere between Rs. 3,000 to Rs. 5,000 a month – more if they can dedicate the time. "Many of these women are either farmers or cattle herders. They do not embroider all day, every day. For them, this is an alternate income," explains Ami. During calamities however, these women often find themselves taking on the role of primary bread winners.
Quality healthcare and education has become accessible to these women, thanks to their earnings from Shrujan:
"Two or three generations have been educated because of this," says Ami. "Some women spend their income buying new cows, new buffaloes and – of late – buying toilets!"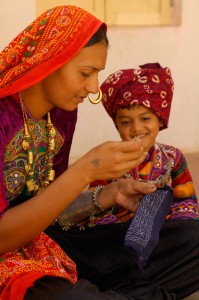 While the impact of economic empowerment of women is evident in homes and families, the reverberations can be felt beyond the four walls of a house as well. "The status of women has definitely changed – not just in homes, but in communities as well."
Artist and master craftswoman Parmaben says:
"Everyone is earning and getting work. Everyone comes to my house and knows me. Everyone respects me in my village and outside. Earlier we were dependent upon agriculture, which was not reliable. I get wages at home in my village. I don't have to migrate."
Read also: The Color Caravan: Platform for traditional Indian handicrafts
Shrujan Trust recently made further advancements in craft revival and preservation with the launch of the Living and Learning Design Centre (LLDC) in Bhuj. The nine-acre Centre houses a one-of-its-kind museum that displays the embroideries of the communities of Kutch:
"These are what we call living embroideries since these are communities that still embroider in Kutch," explains Ami.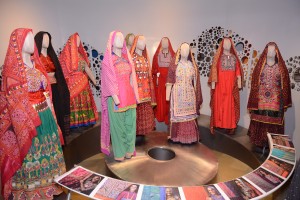 In addition to showcasing the skills of embroidering communities, LLDC also aims to become a treasure trove of information about arts and crafts in Kutch. Its research wing is currently tracing the evolution of embroidery in these communities.
Master craftswoman Fatimaben of Gorewalli village in Banni said:
"My mother and aunt remembered some stitches that even I did not know. After I learnt them, I organized a workshop in the village and trained 22 young girls to embroider those stitches. This is the way Shrujan is encouraging us to learn what has been left behind by time."
The Centre also has a crafts studio. Here, Ami hopes to one day train individuals in the 22 crafts of Kutch. At present, it runs workshops that are open to all who want to learn the crafts – regardless of whether they have a background in them. "Creativity and drive are the only criteria," Ami says; he has great hopes for the Centre and the future of crafts in Kutch.
"I want it to become more than just a skill to earn from. The connect should not be lost."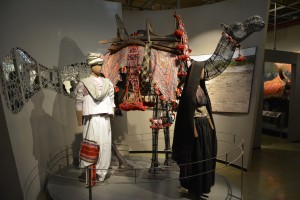 Ami recounts the story of a cricketer to illustrate her point. The young state-level cricketer came from a long line of potters but did not know pottery. He was encouraged by Ami and her mother to begin learning pottery whenever he was not busy with cricket. After a lot of prodding, he obliged and started learning at the Centre. Initially, he could only make diyas. With continued support from the Centre, he progressed and took on more complicated projects – even going so far as to learn drawing on his creations!
"We pushed him to keep trying. He was scared that he would get it wrong, so my mother said 'So what? If you get 100 pieces wrong, we'll use those 100 pieces around the Centre. If you get 200 wrong, we'll use them all too!' That's what we want to do. We want to tell artists 'Come here when you have creative urges but are scared to try'," says Ami
In the last 47 years, Shrujan's efforts towards income generation and craft revival in Kutch have transformed the lives of more than 23,000 women! And given their future plans, it seems like they are just getting started!
Like this story? Or have something to share? Write to us: contact@thebetterindia.com, or connect with us on Facebook and Twitter (@thebetterindia).