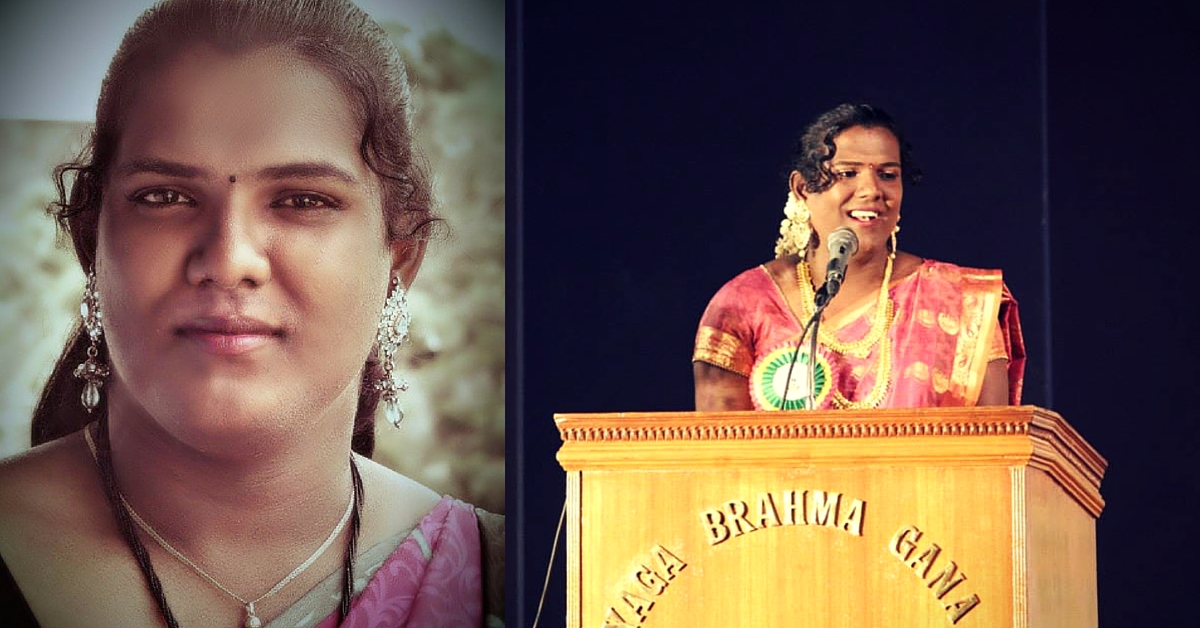 Bullied at school for being different, this transgender woman now runs an organisation that is transforming lives. Her incredible story of overcoming the odds and empowering those in need will leave you inspired!
Bullied at school for being different, this transgender woman now runs an organisation that is transforming lives. Her incredible story of overcoming the odds and empowering those in need will leave you inspired! 
She walked into the room quite hassled from having to juggle a meeting and household chores back at home. Apologizing profusely for arriving late to the interview, she sat on the floor, gulped down a glass of water and said, "Let's start."
Tell me something about yourself, and the organisation you run, I said.
First, let me tell you something about myself, she said in a cheery tone. And, for the next half an hour or so, Swetha Sudhakar, the transgender woman who is the founding member of Born2Win Social Welfare Trust, shared her journey.
From discovering her identity in her teens, to becoming a counsellor and a trainer, to then establishing an organisation which not only empowers people who belong to the third gender, but also supports anyone who seeks aid in any form – hers is a truly remarkable story!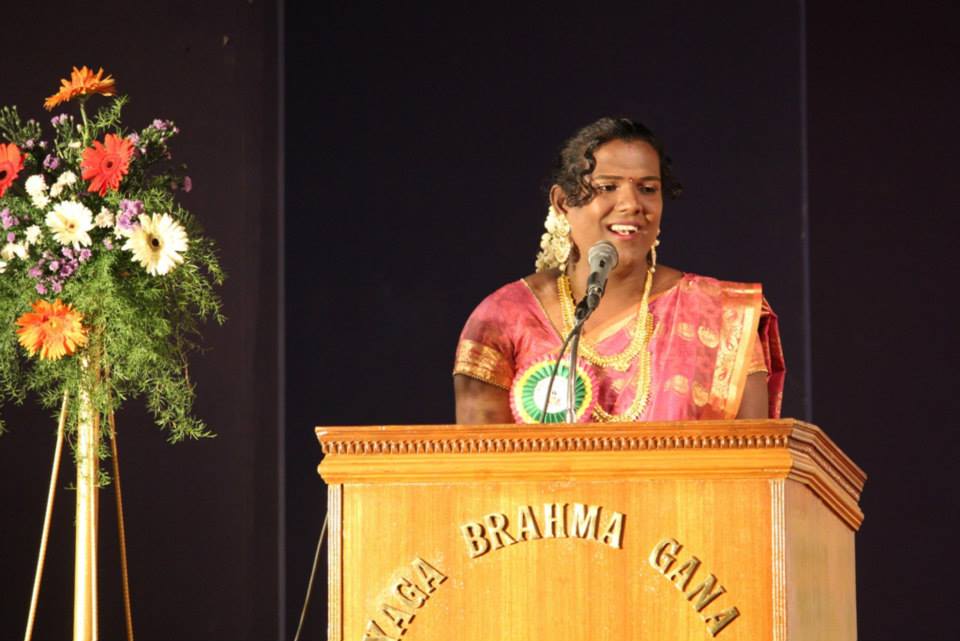 "I feel proud to say that I am a transgender woman. And this happiness comes from within," she shares. While Swetha utters these words with ease, her battle to discover and retain her identity was nothing short of miraculous.
The Early Days
Swetha, who completed her secondary and higher education at the Corporation Boys School at Nungambakkam, Chennai, was at the receiving end of some of the choicest abuses everyday by her fellow classmates. Every slur that referred to a person of an alien gender was used on her. "The school would close at 3.30 PM and I would keep worrying that they will tease me. I've cried a lot too," she admits.
Things at home weren't all smooth sailing either. "My father passed away when I was young, and my sister had a love marriage. So we were shunned from our society," she shares. By the time she entered the eleventh standard, Swetha had taken up a job at a telephone booth to support her mother, who worked at an export factory. "My neighbours would wonder why I walked differently," she says.
"Back then, I didn't know my identity. I couldn't tell if I was a boy or a girl. It was when I turned 14 that I discovered who I was."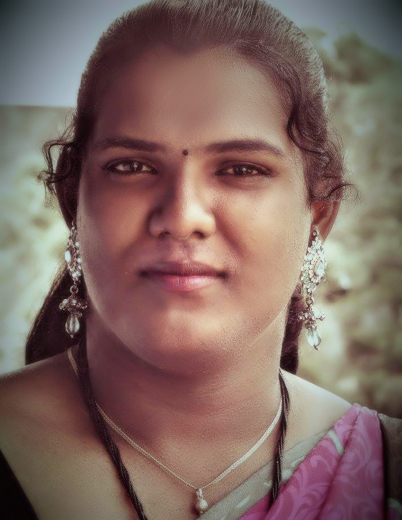 Starting out with a salary of Rs. 1,200 a month, Swetha worked at the booth for close to two years. The owners, she says, believed that her presence brought a lot of success to the shop and they made sure she was well fed and taken care of.
Once she completed her schooling, she applied for a correspondence course at Madras University and handled the accounts at a wholesale shop. While things seemed to be going well, one incident in particular led her to put down her resignation. "We once won an award hosted by India Cements for the 'Best Business Setup.' When we went to collect the award, having always been at the grassroots level, I didn't know how to drink even a glass of water like the wealthy do," she narrates, "I did it wrong and my owner blatantly asked me, 'Don't you have any sense?'" Terribly offended by the remark, she quit her job and spent a brief period managing the house, refusing to take up any other offer that came her way.
One can say that this period led to a turning point in Swetha's life. "One day, I spotted a school senior who teased me at school, walking along with a set of transgender women," she says. Upon questioning, the senior admitted that she knew long ago of her identity but kept it discreet lest she be teased by her peers too. That was also when Swetha discovered terms such as transgender, MSM (men who have sex with men), lesbians, homosexuals, bisexuals and more. She eventually joined a community-based organisation which worked towards scaling HIV Intervention Programs for the MSM communities.
"That's when I realised that there are a lot more people like me, that we were not of unique birth but just a different gender," she says.
In the eight years that she worked there, she grew by leaps and bounds both professionally as well as personally. She went from being a trainer and facilitator, to becoming a program manager, a councillor, a documenter and more! "Eventually, I began questioning the seniors about their work. They also felt threatened because of the progress I was making within the community, and showed me the door," she reveals. While the departure wasn't pleasant, the parting of ways is what got Swetha thinking about founding an organisation of her own. "In those eight years, I had networked with several writers, advocates and notable people in the mainstream. And I was clear that I didn't want to start another HIV-focussed organisation," she states.
Born2Win Social Welfare Trust was established in February 2013 and was set up with the larger goal of providing support (of any kind, to the scale they could), to anyone who came to them for help.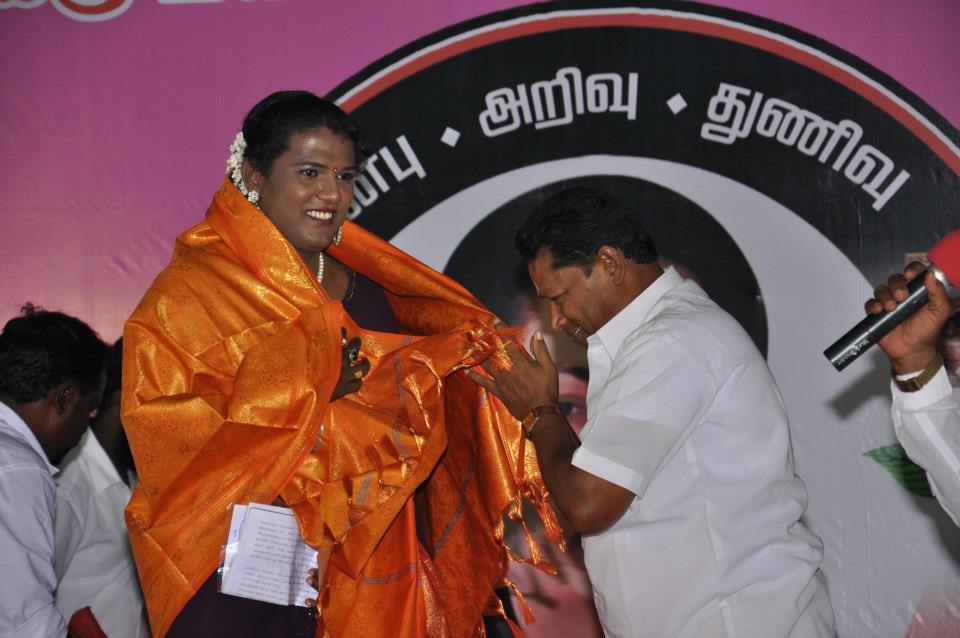 The organisation has 12 positions occupied by members of the transgender community, including roles like secretary, founding director and treasurer. Although a social welfare trust, Born2Win does not accept any membership or membership fee. "We don't want to take charity, nor do we want to make money simply because we don't want altercations on whose money was spent for a better cause," she candidly admits. Instead, Born2Win either creates and sells products such as yearly calendars, or raises money through events like fashion shows and exhibitions. Funds thus raised are then donated towards a social cause or given to persons seeking financial help or are even donated to lead generation-based aid.
For example, in 2013, during its first year of operations, Born2Win held the first trans* achiever awards where the organisation identified 13 members from the transgender community who became agents of social change and made a mark in different fields. It also recognised and felicitated five mothers who accepted their trans* children as they were. These achievers were featured in the Born2Win calendar the following year (in 2014), and the sale proceeds of Rs. 30,000 were donated to HIV Positive orphans. The awards ceremony went on to became an annual occurrence that was held around the 15th of April, to commemorate the day that the landmark Supreme Court judgement recognising the trans community as the third gender was passed. During this period, 27 trans achievers and nine allies of the transgender community were felicitated. While the proceeds from the 2015 calendar (showcasing the winners of the previous year), were donated to the Adyar Cancer Institute, the proceeds from the calendar showcasing the winners of 2015 is set to be spent towards educating five transgender women.
"We wanted to prove a point here. That transgenders don't just beg or become sex workers. They can make meaningful contributions to the society as well," she claims proudly.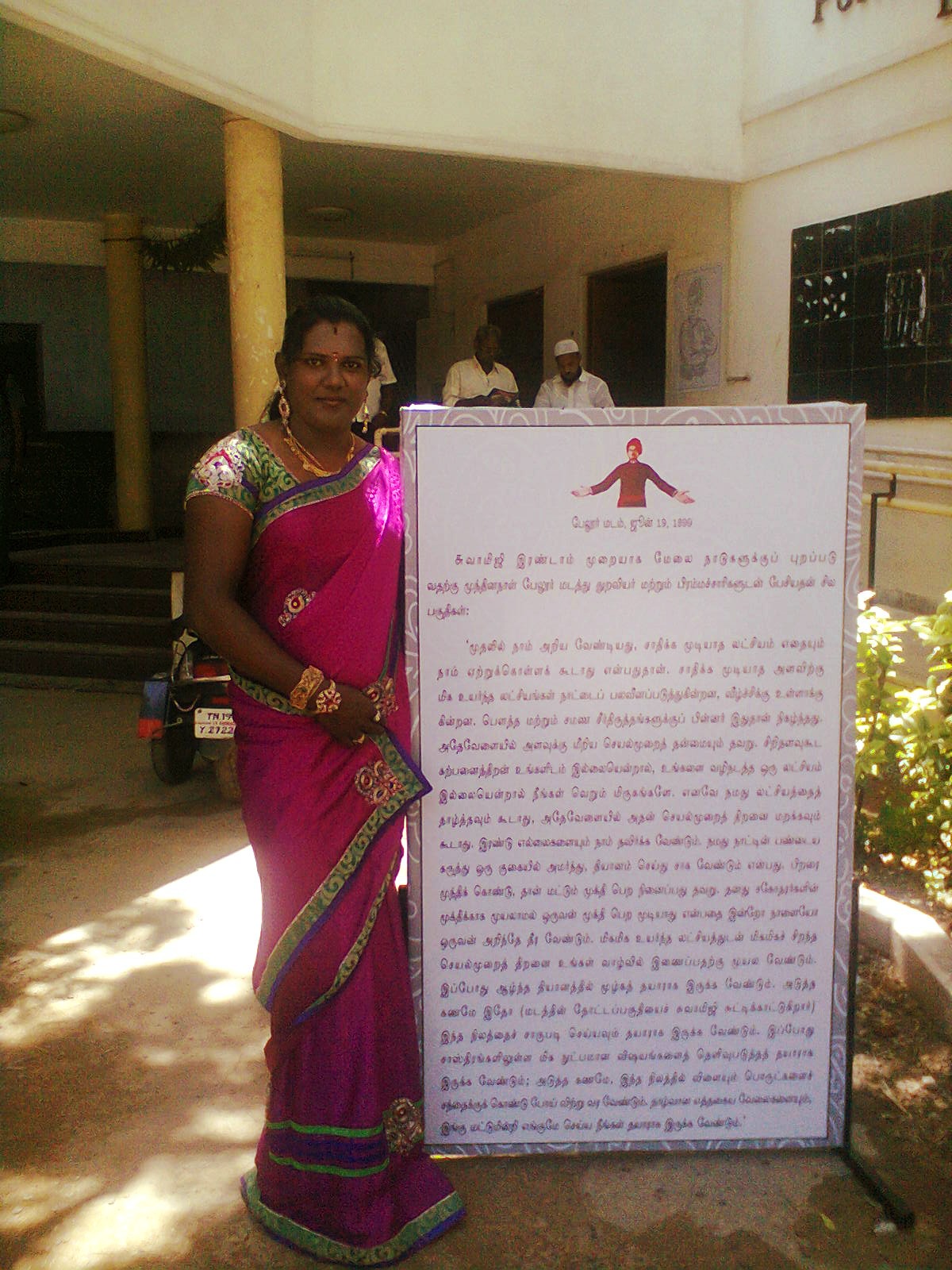 At an individual level too, the organisation has helped people gain educational and employment support. For example, Sri Sathya Sai Medical College & Research Institute (Thirupporur), was on the lookout for people to supervise its ward, pharmacy and more. Its Pondicherry branch already employs a few transgenders who informed Swetha of the openings.
"I negotiated for a salary of Rs. 12,000 including travel and food expenses for seven transgenders, trained them personally by accompanying them every day to the site and teaching them how to carry themselves, how to talk to people and more. Today, four of them still work with the institution, with full time accommodation being provided for them," she shares.
The Dream
When Swetha began delving deeper into empowering these communities, she realised that while people were willing to extend aid,a lot more had to be done: "The society at large needs to understand the challenges surrounding the third gender and be more accepting of it at a family level, and even at an ecosystem level. The approach shouldn't be that of sympathy but that of acceptance. And from the community perspective, we need to look inward and be prepared to accept the kind of support coming our way," she says.
By the organisation's tenth year of operation, she hopes to empower at least a hundred transgenders. Isn't that a small number? I ask, and she points out the potential challenges she could face in achieving even such small a target.
"Typically, these are people who leave their homes at a very young age and join the transgender communities. They are conditioned to believe that begging or indulging in sex work is the only way to make money for a trans person. If you tell them, study for 16 years and then earn a living, they are going to say, when I can earn quick money by doing these tasks, rent an apartment, buy jewellery and live a comfortable life, why should I?" she explains.
Hence, Swetha believes the change has to come from within, and there need to be more role models from within the community, that they can look up to. In other words, such a change should be driven by the seniors in the community who are responsible for them. "That being said, there are many people who want to study and work. Those are the kind of people I am looking to empower," she insists.
Harbouring a dream to become an IAS officer while whole-heartedly content at being a social worker, Swetha concludes, "My mind tells me that I am empowered. I need to know that. Somebody else should not be telling me that. I tell you again, I'm proud to be who I am."
Note: Born2Win is conducting the fourth edition of the Trans Achievers Awards on April 28th, 2016 and is looking for financial support (in the form of buying passes for the event). If you are interested, you can reach out to them at born2winsocialtrust2013@gmail.com.
Like this story? Or have something to share? Write to us: contact@thebetterindia.com, or connect with us on Facebook and Twitter (@thebetterindia).
About the author: Madhumita Prabhakar is a full-time business journalist and freelance features writer by day and a rose tinted glasses clad short story writer by night. She blogs regularly on Medium and her short stories have earlier been published in journals such as eFiction India and New Asian Writing.
We bring stories straight from the heart of India, to inspire millions and create a wave of impact. Our positive movement is growing bigger everyday, and we would love for you to join it.
Please contribute whatever you can, every little penny helps our team in bringing you more stories that support dreams and spread hope.