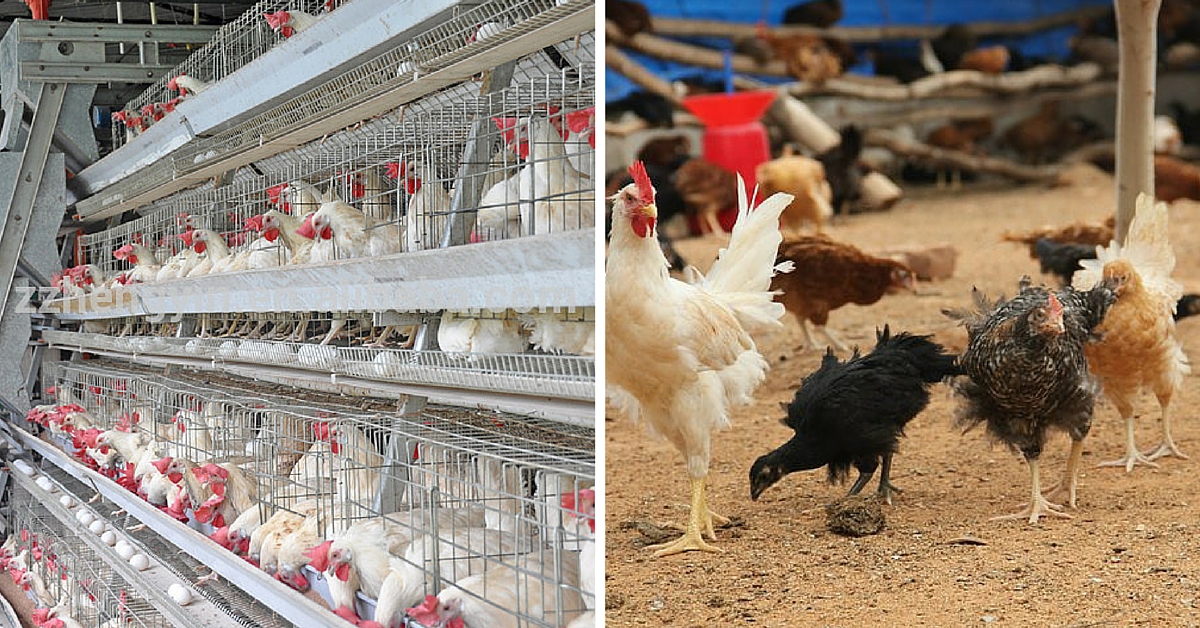 Approximately 80% of India's egg production comes from hens living in tiny, confined cages. This farm gives hens space to walk, run and fly, and forage for bugs. The result? Healthier eggs.
Approximately 80% of India's egg production comes from hens that live their life confined in cages with space less than the size of an A4 sheet of paper. But this farm gives its hens space to walk, run and fly, forage for bugs, grass and grains, and find places to perch and roost. The result? Happier hens and healthier eggs.
High output egg producers in India aren't generally known for putting animal welfare over profits. But at Happy Hens, a free-range egg farm near Bengaluru started by Manjunath Marappan and Ashok Kannan, the mission is to keep hens happy. The genesis of the idea lay in a stray thought that occurred to Manjunath, who wondered:
"Do consumers, who are so conscious about their choice of brand when it comes to clothes and shoes, even know where their eggs come from?"

Hens packed in battery cages
For the uninitiated, the egg industry in India is pegged at about Rs. 90,000 crores. These high figures are due to the boom in commercial poultry farming, which relies on intensive farming to boost productivity, often at the cost of the welfare of the animal.
A report by Humane Society International on 'Animal Suffering in the Egg Industry' throws light on the suffering of egg-laying hens in factory farms. The birds are crammed into metal wire cages with each hen having lesser space than a sheet of A4 sized paper. Thus, they cannot engage in natural behaviour such as perching and dust-bathing, which has dangerous physiological and psychological consequences for the birds. Each hen lays approximately 260 eggs per year, which is many times her natural capacity.
This increase in production is due to the employment of methods such as the use of continuous artificial lighting and forced moulting (where the birds are starved for 10-15 days to induce another laying cycle).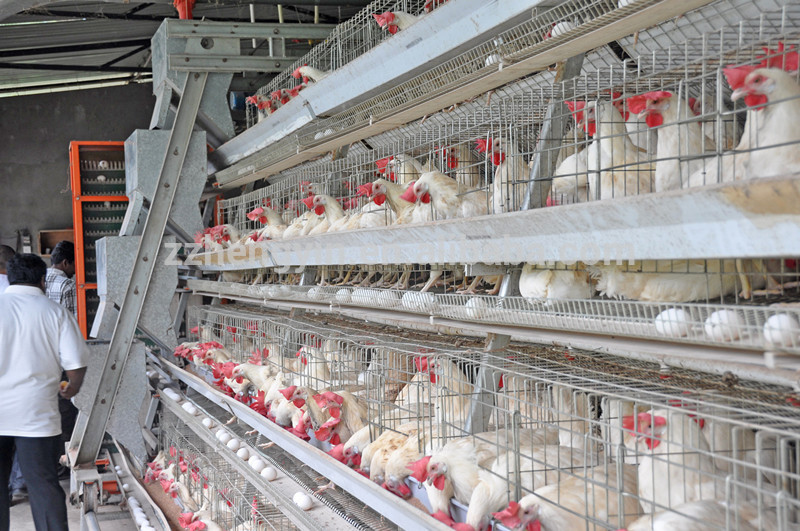 Increased egg production results in painful conditions such as uterine prolapse and also causes skeletal deformities as the hen's own calcium reserves are used up to produce the shell.
To minimise the suffering of chickens, various organizations, including Humane Society International, have been advocating phasing out battery cages. The good news is that the Indian government has issued a directive to phase out the use of battery cages by 2017. Meanwhile, free range farming has emerged as the most sustainable and ethical model of poultry farming.
With an interest in natural farming techniques as well as a background in animal welfare, Manjunath realised he might be armed with the right mix of knowledge and experience to start India's first free range farm for hens.
At the Happy Hens Farm, one is greeted by robust, active hens of the native Kadaknath breed, scurrying across open land, doing what they do best.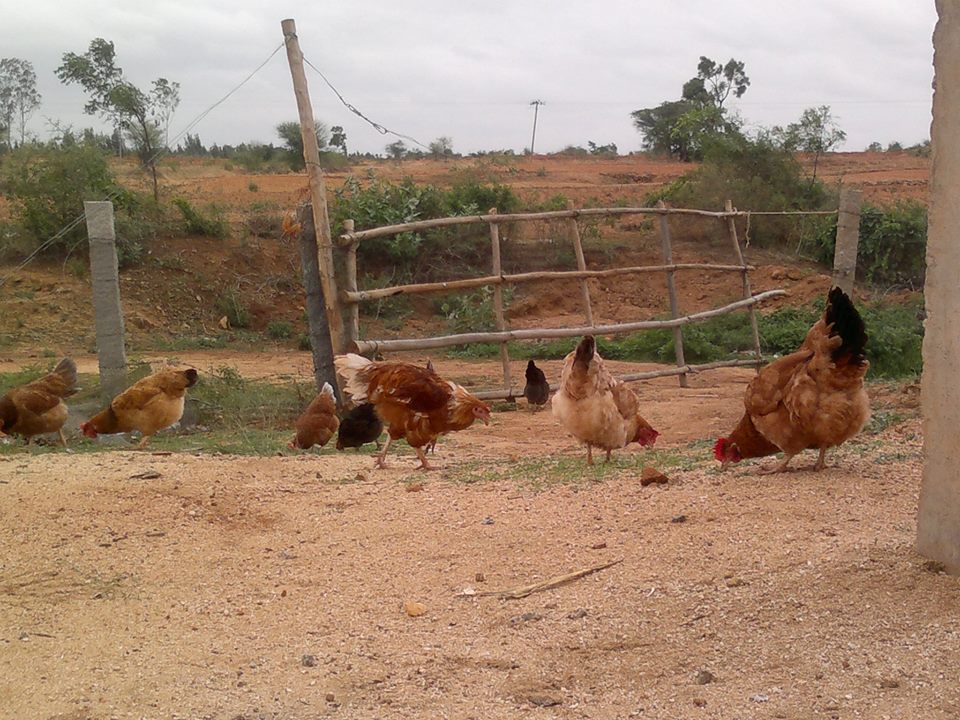 "I chose a native breed as they are sturdier and naturally adapt to local climes", says Manjunath.
And so, some birds are busy scratching the earth for tasty titbits, others are feverishly kicking up dust to bathe in. Those who didn't know that fowl could fly will be surprised to find them hopping between low perches, while the more adventurous ones sit tight on the low hanging branches of trees. To ensure that their dietary needs are met, Manjunath feeds the birds a nutritive mix of greens, herbs (brahmi, basil, turmeric, neem, etc.), organic supplements, and hydroponic fodder along with ayurvedic concoctions. This is in addition to food such as worms, insects, seeds, and plants consumed by the birds themselves during the course of natural scavenging. The use of antibiotics, synthetic supplements, stimulants and hormones is completely eschewed.
Manjunath firmly believes that the birds' healthy diet results in healthier eggs with rich yolks that have superior nutritive value in comparison with eggs produced via other methods of farming. He explains this with a simple, yet effective allusion,
"If you were to compare the overall well-being of a person who relies on artificial supplements with a person who eats healthy wholesome food and gets adequate exercise, the latter is always healthier in the long run. Likewise, any animal who expresses natural behaviour, is allowed to socialise with her kind and is exposed to sunlight, fresh air, greens, bugs and a balanced diet, is far healthier than those fed on artificial supplements and bred in unhealthy dark conditions."
To put it simply, happier animals produce better eggs.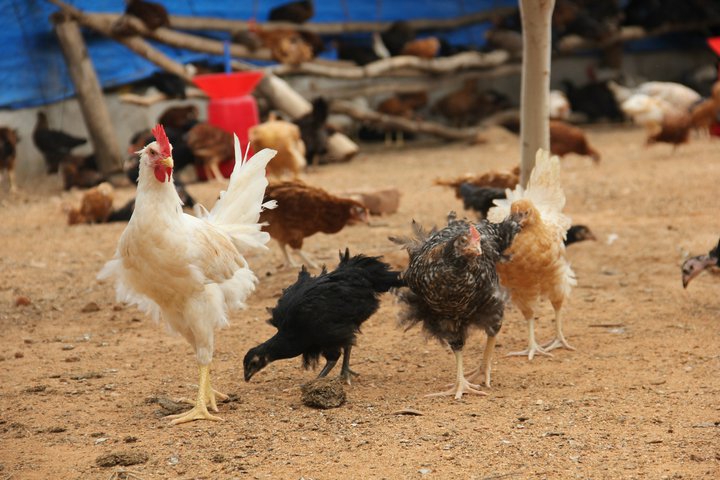 Since the yield per hen is about 150-180 eggs over a period of 1.5 years, the eggs sell for a higher price. However, that doesn't seem to be a dampener as is evident by a growing customer base.
Says Manjunath, "The improved taste and health benefits have resulted in almost all my customers returning for more."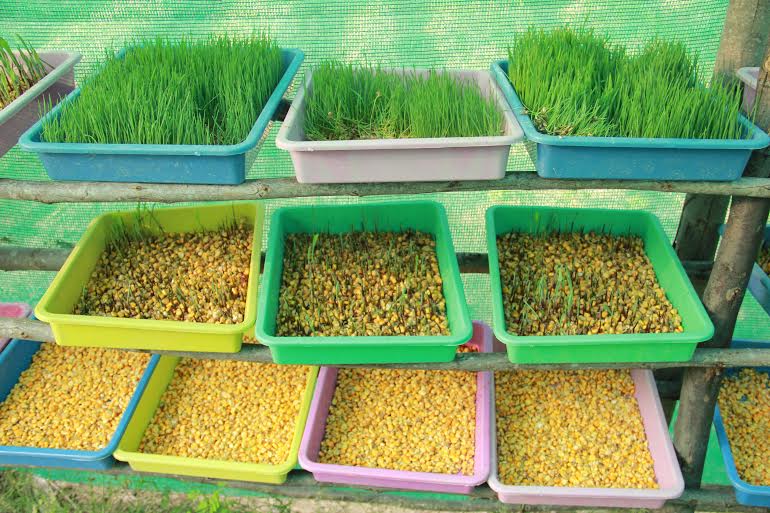 Another slow yet significant outcome is the change in people's perceptions about poultry animals.
Agrees Manjunath, "Most of my customers are astonished by these birds as they have usually seen them cooped up in cages. What fascinates most of them is how choosy and careful hens are about nesting. They're thrilled to see them painstakingly pick a nest and even wait patiently in queues, brood, lay their eggs and only then fly off."
Earlier, these birds were just thought of as food. But those who have the opportunity to see them in their natural environment cannot help but be amazed at the curiosity and intelligence that characterises these birds. Not only does this create greater appreciation but also instills a deeper sense of empathy and kindness for their lot.
Like this story? Or have something to share? Write to us: contact@thebetterindia.com, or connect with us on Facebook and Twitter (@thebetterindia).
We bring stories straight from the heart of India, to inspire millions and create a wave of impact. Our positive movement is growing bigger everyday, and we would love for you to join it.
Please contribute whatever you can, every little penny helps our team in bringing you more stories that support dreams and spread hope.
Tell Us More