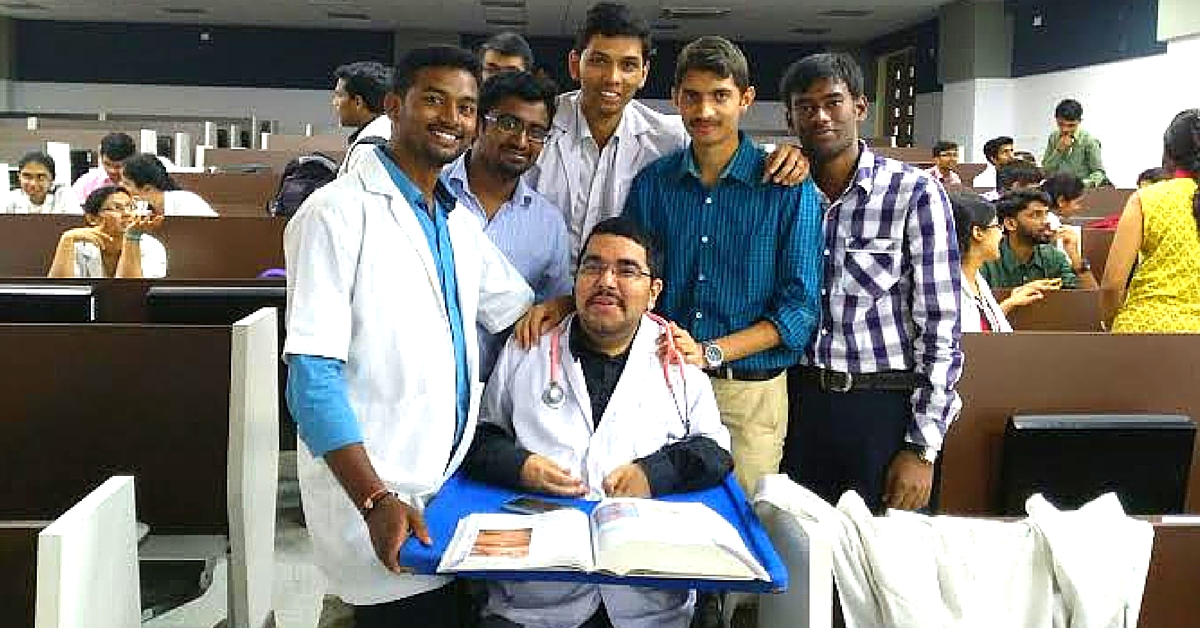 Sarthak Kamath may be physically challenged but he has a lot more to do in life than worry about what he can't do. The 24-year-old with a neuromuscular disease is now on his way to becoming a doctor so he can help people.
Sarthak Kamath may be physically challenged but he has a lot more to do in life than worry about what he can't do. The 24-year-old with a neuromuscular disease is now on his way to becoming a doctor so he can help people.
Sarthak Kamath had a rough start in life. When he was in Class 7, his school refused to keep him enrolled anymore. The reason was his neuromuscular disease, Duchenne Muscular Distrophy, which has him bound to a wheelchair. The school wasn't willing to make the necessary changes to accommodate a disabled person.
For six months after this incident, Sarthak was to sit at home. His mother, Sneha Kamath, was not one to give up though. She frantically looked for a school that would take him. "There were really few schools that would accept me. Most of them said they're not ready to adjust for just one disabled student," Sarthak recollects.
But then, the search wasn't in vain. At the Acharya Shri Mahapragya High School in Bengaluru, the principal Parvathy Vishwanath welcomed him with open arms. Sarthak finished his SSLC there, and moved on to the Seshadripuram Composite Pre-University College to finish his Class 12 and Bachelor's in Science.
Today, he is on his way to becoming a doctor. He finished his final year MBBS from MS Ramaiah Medical College.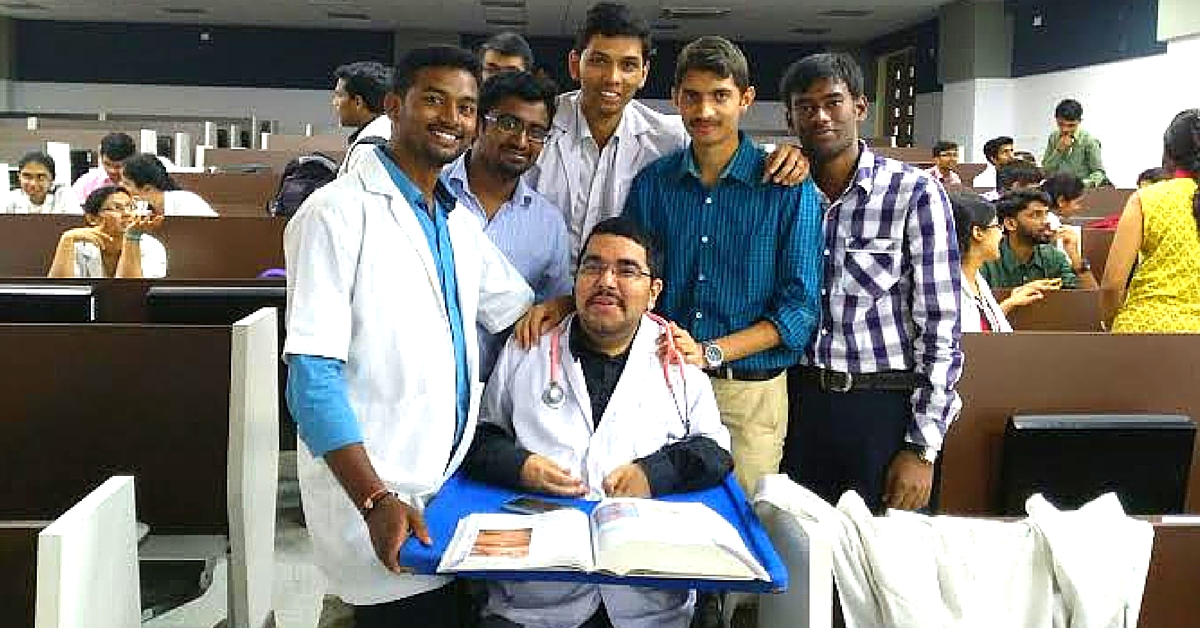 He began his internship in community medicine recently at his alma mater, and it has him motivated to keep going. "It's a one-year internship program at the hospital, where I will be posted in different departments for a month each," he says, "I will be a full-fledged doctor with a certificate after I complete this internship."
Sarthak chose to do MBBS not only because of his undying curiosity about the functioning of the human body, but also his desire to help people.
"I used to think, if so many bad things have happened to me, they could happen to anyone. I thought that if I could become a doctor, I could counsel them and treat them."
Part of his courage to dream comes from knowing that he isn't the only one trying to overcome his disability. Recently, at the India Inclusion Summit 2015, he was inspired by the discussions on inclusion and the heartwarming stories of the disabled overcoming challenges.
"The host of the Summit, Deepa Narsimhan, has spinal muscular atrophy, a variant of Stephen Hawking's disease. But she heads a software company where they provide jobs for the physically challenged. This year we had plenty of such people there, they were really inspiring."
It's no wonder then that the 24-year-old takes inspiration from Stephen Hawking. "Even though he has such a crippling disease, he has managed to survive it. The mean age of survival for his condition is just two years, but he has actually survived more than that. Despite that, he is one of the most brilliant minds in the world," he says. "David Hartman, the world's first blind doctor, is also a great inspiration for me. He had been advised to take up jobs where he didn't need to put in much work, instead of taking up medicine. But he still took up medicine and is a psychiatrist now."
Sarthak praises his family for being supportive and helping him through tough times.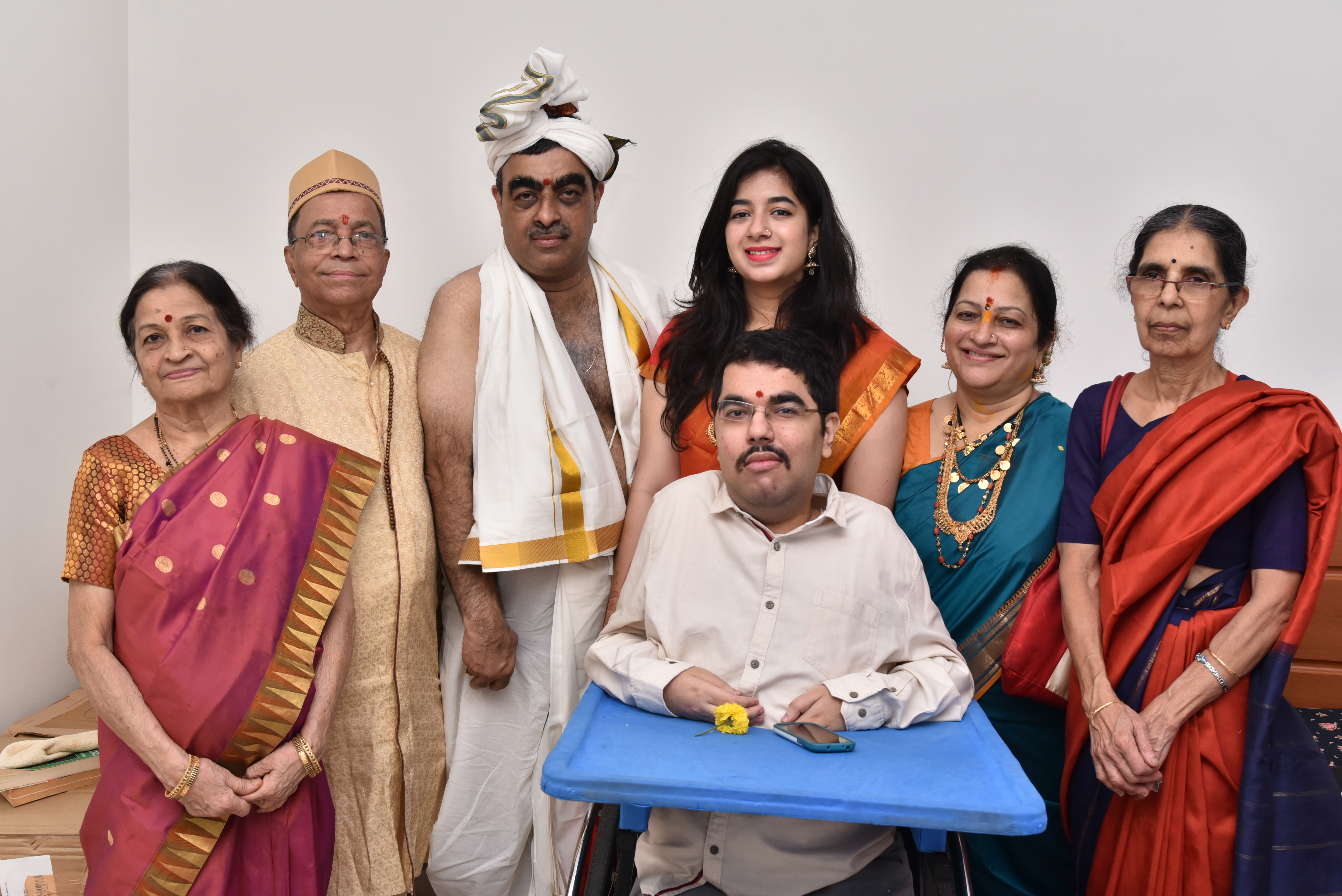 "Nothing would have been possible without my mother," he says, smiling. "While I was sitting at home for six months, she went to every school to look for one where I could go. When I was admitted to ASM High School, she even worked there as a teacher for a year to help me get accustomed to the place!"
Besides her, Sarthak thanks his grandmother who is always at home tending to his needs. "My father has also been a source of encouragement for me, and so has my sister," he adds.
In his neighbourhood and family, he is an inspiration to everyone as the boy who stopped at nothing to achieve what he wanted.
"It was very easy for him to say, I can't do this, why should I study?" says Sneha, with a proud smile, "But he was determined from the start. He has lived up to his name; Sarthak in Kannada means fulfillment – and that's exactly what he has done."
Sarthak is known for his ability to smile through every situation, according to Sneha. "He is also very systematic, in studies as well as leisure," his mother says. "Even if he is tired, he finishes whatever he has to do. He does not keep anything for tomorrow, does not procrastinate. He sets up time for everything and sticks to it."
His sister Sanmita adds, "He's also an ardent football fan. Even though he can't play, he follows the game intently. That's what I really appreciate about him. He does not let his disability get into his way for anything."
Sarthak wants to raise awareness about disability and the lack of suitable infrastructure for the physically challenged. He wishes to bring a change in people's perceptions about being challenged.
"Most people think that the disabled can't do anything, and that they are to be looked down on," he explains, "But the truth is, because of this phenomenon called neuroplasticity, if one side of the brain is not developed properly, the other side will be developed much better to compensate for it. This is why we hear of how a blind person has a better sense of hearing than a person who can see and hear."
Schools and colleges in India are still far behind in being disabled-friendly. "I don't think schools and colleges are welcoming towards physically challenged people," he says, "My mother and I realised that when we were looking for schools. They didn't want to make any adjustment for one person. But the school I went to (ASM) was very good. They even shifted my class to the ground floor for me."
Finding the right school did make all the difference, though. It gave him not just the academic success that he needed, but the inclusiveness helped him gain confidence and the voice to speak up for disabled in the country.
"There should be a law that mandates educational institutions to provide at least a ramp for physically challenged students," he says. "In college, I was the first disabled person there. Now in MS Ramaiah, after seeing me for three-four years, they have built ramps in the new college buildings." He adds that theatres, malls and places of entertainment too need to be disabled-friendly.
When it comes to leisure, Sarthak is both musically and intellectually inclined. He is a keyboard player and has performed both in college and school.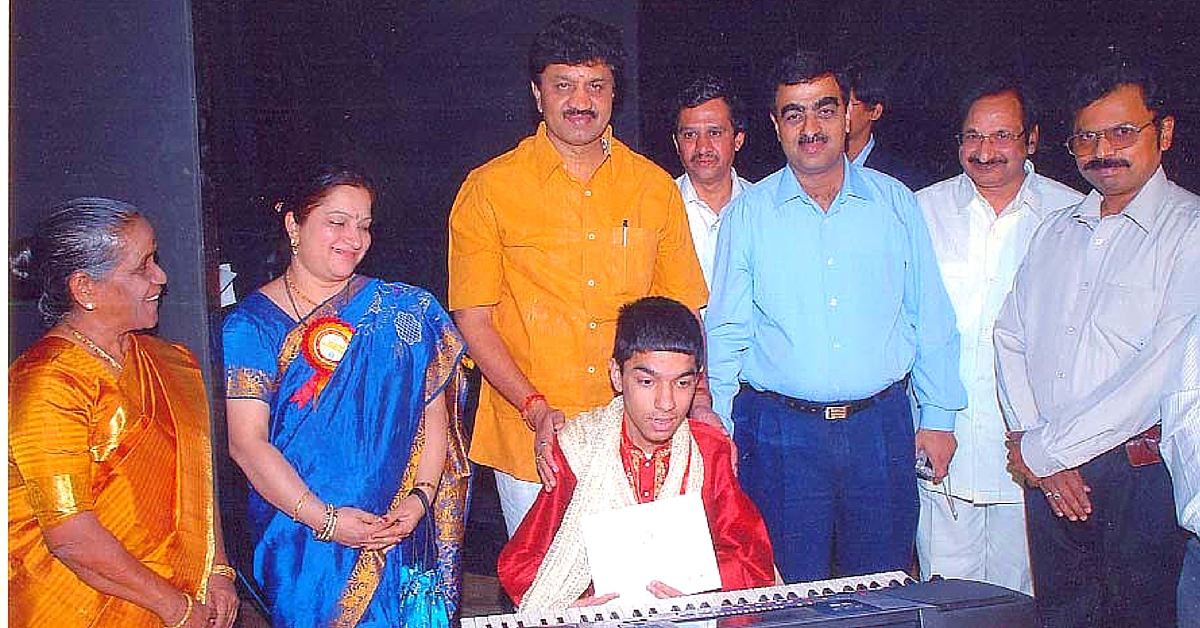 He was even part of a band. "But I don't have much time for my hobbies since I started medical college," he says. "I used to also play chess and participated in inter-collegiate tournaments. I love reading and participating in quizzes too."
His mother adds, "He topped his college in a quiz competition recently and came second in the zonal levels. He takes part in cultural activities in college. He is pretty much an all rounder!"
Sarthak calls himself the man who lives in the present. "I don't think about the future," he smiles. "Not knowing the future is more interesting."
Like this story? Or have something to share? Write to us: contact@thebetterindia.com, or connect with us on Facebook and Twitter (@thebetterindia).
We bring stories straight from the heart of India, to inspire millions and create a wave of impact. Our positive movement is growing bigger everyday, and we would love for you to join it.
Please contribute whatever you can, every little penny helps our team in bringing you more stories that support dreams and spread hope.