Even as urban India continues to develop at a dramatic pace, a tiny settlement in Maharashtra still awaits what most of us take for granted – electricity, potable water, roads….and a well-functioning school.
Pimpaldhara is situated in the Yavatmal district of Maharashtra. A few decades ago, some 30 odd farmers, along with their families, migrated to Pimpaldhara from the Londhari and Khadakdari villages of Pusad. They did so to live closer to their fields.
Despite its sizeable population, Pimpaldhara has by and large been ignored by the government. Moreover, the panchayats of both villages from where these farmers migrated have done nothing to help the residents of Pimpaldhara either.
In 2004, a young man named Sanjeev Deshmane from Khadakdari, a village located 3 km from Pimpaldhara, took note of the problems these villagers were facing.
He realized there were no schools in the village and the kids had to walk till Khadakdari to study. So he decided to walk everyday to Pimpaldhara to teach the kids there instead, in a temporary shed made of hay.
Sanjeev continued teaching this way until Late Shri Navji Ganpat Dhindalkar donated a piece of land and the government helped build a school in Pimpaldhara.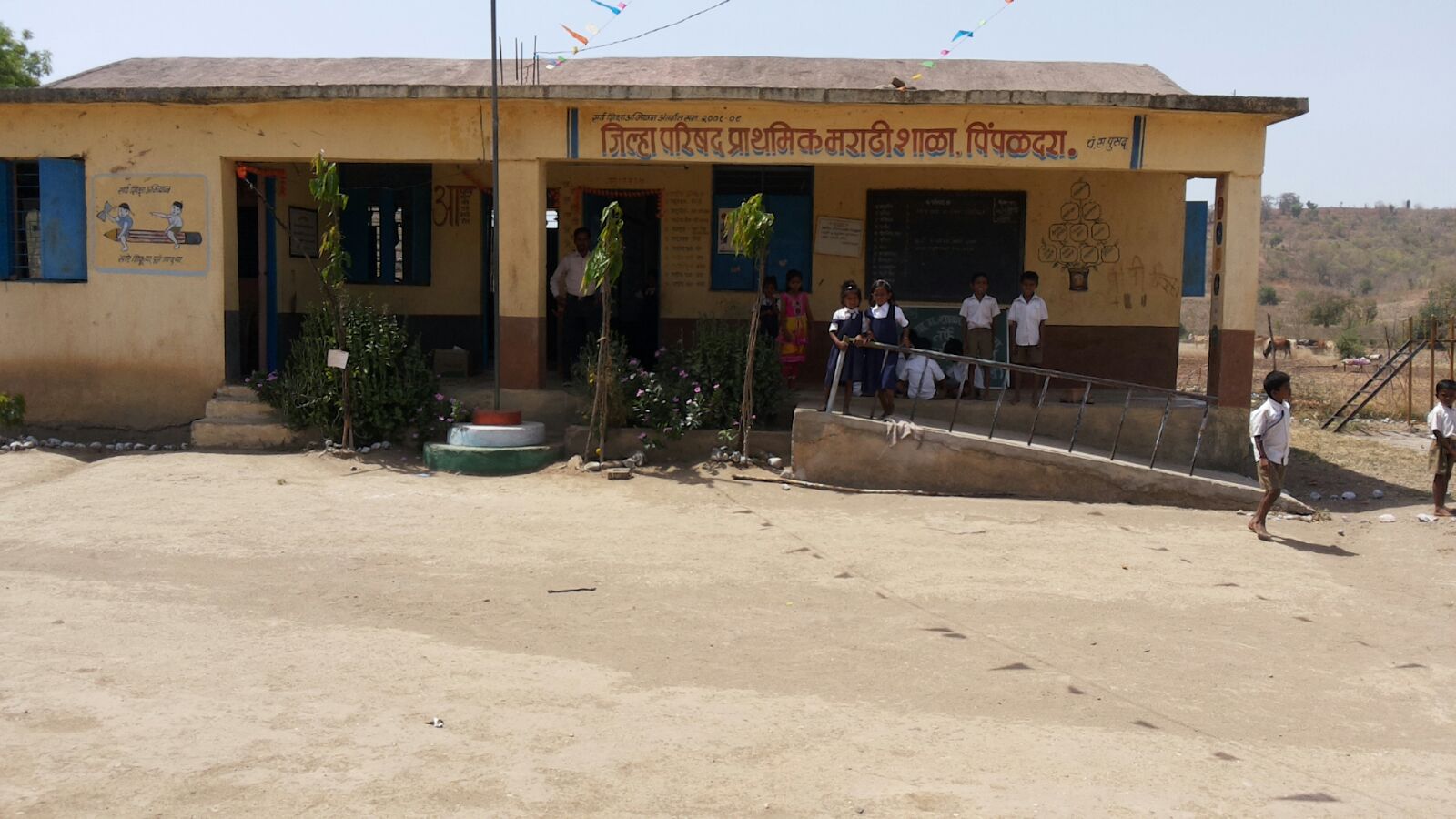 Now, the children in the village finally go to school. But there is still no electricity or provision for water in it.
"The kids have no idea what a television or music system is. They are learning lots of things. They love to sing and dance. But I know they are missing a very important thing and that's music. I have obtained some DVDs of nursery rhymes from Khadakdari but how do I play them for the children?" asks Mr. Deshmane.
---
You can help by donating to Shivprabha's Fundraiser
Kids in this school in Pimpaldhara can get access to the basic amenities that we all enjoy with a little help from you.
Unable to view the above button? Click here to donate
---
The school has just two classrooms. Mr. Deshmane teaches Classes 1 and 2 in one of the classrooms and the headmaster, Mr. Kirtankar, teaches Classes 3 and 4 in the other. There is no anganwadi (playschool) in the village so the kids start school only once they turn 7. After they pass Class 4, they have to walk 3 kms every day to attend the secondary school in Khadakdari.
"Our school is quite good but there are challenges too. The kids know nothing until the age of seven when they come to school. Moreover, most of their parents are illiterate and very poor. When they don't get work in this village they go to other villages and take their children along too. The kids sometimes don't come to school for days. We have to counsel their parents to send them to school regularly," says Mr. Deshmane.
The school has a small playground with just one slide for the kids to play on.
Until recently, the ground had no boundary walls so animals like cows and goats would get in most of the time. But now the villagers have managed to make a temporary fence to get around this problem.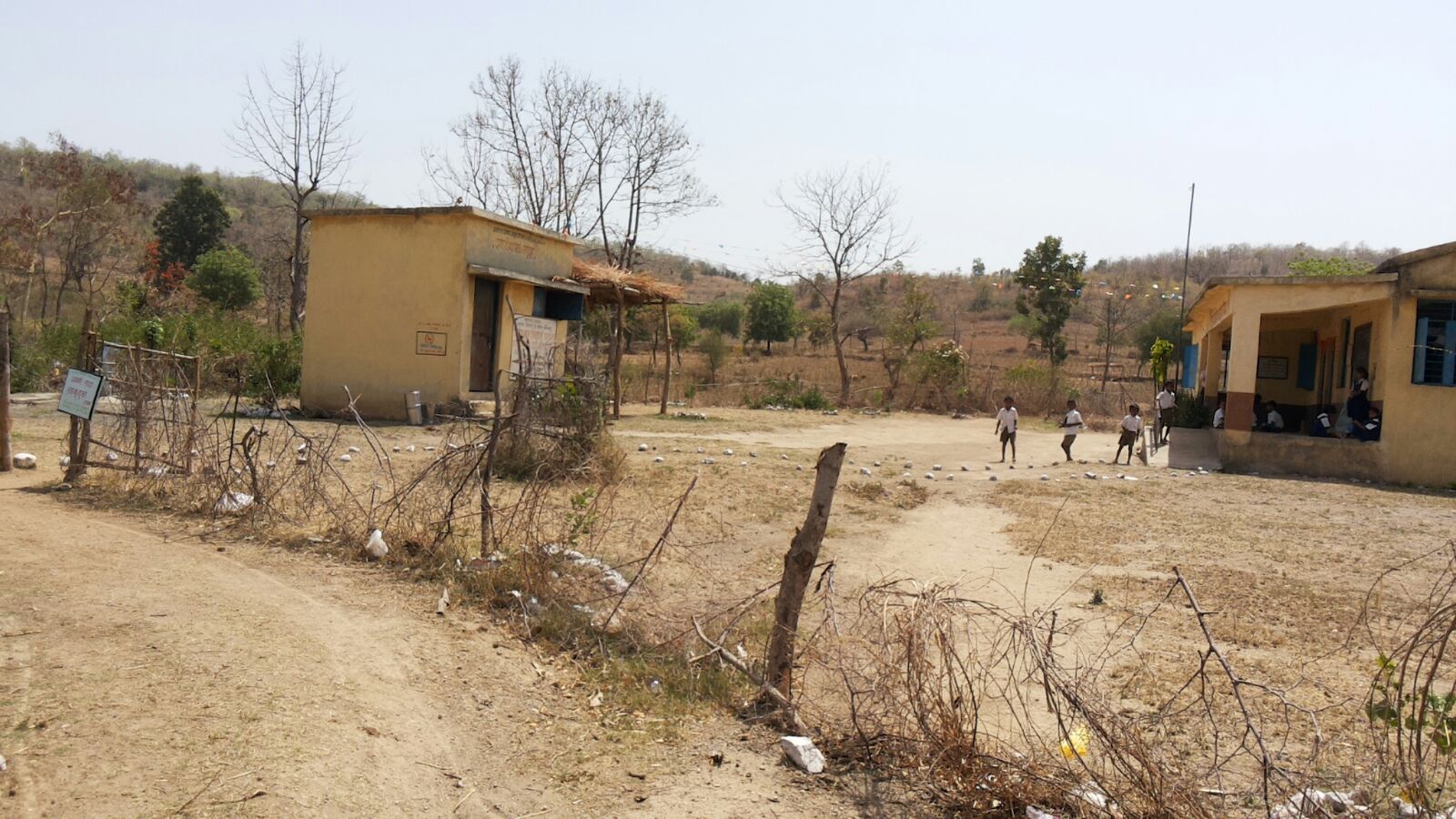 Today, when people like us in urban areas look for airconditioned classrooms and modern amenities in schools for our kids, these Pimpaldhara children are looking to us to help them get basic facilities like electricity, water and a play area in their small school.
Like this story? Or have something to share? Write to us:contact@thebetterindia.com, or connect with us on Facebook and Twitter (@thebetterindia).