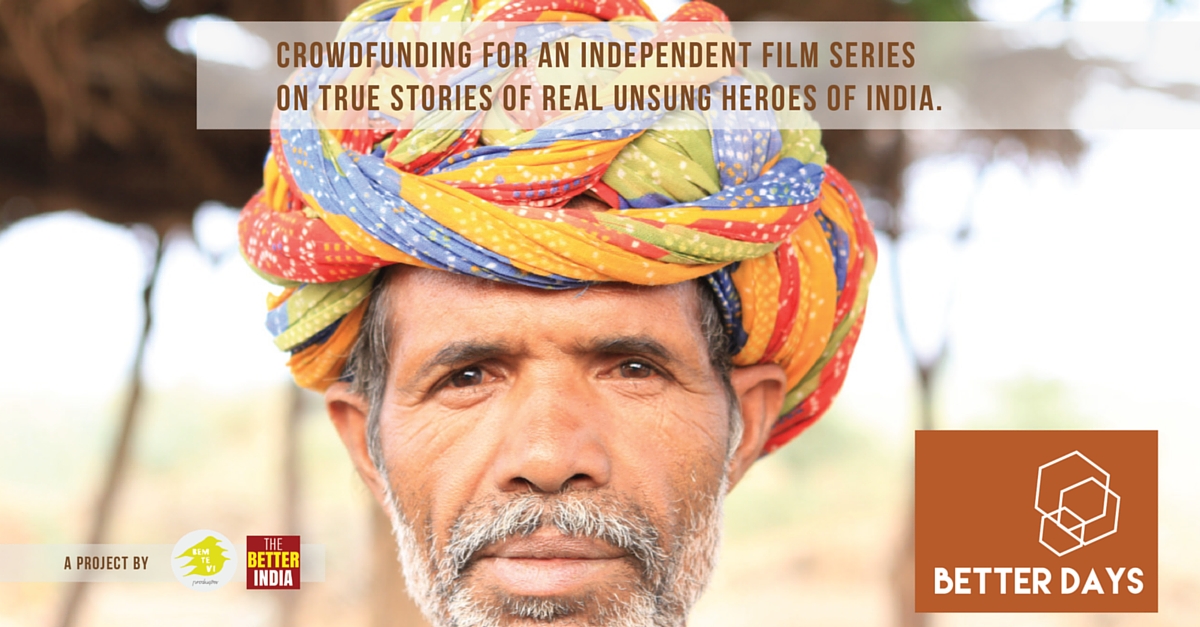 A Brazilian duo is on a mission to unearth the unsung heroes of India and present them to the world. Here are their plans!
Cambodia, Thailand, Bolivia, Peru, Morocco, Brazil, United Kingdom – Lara & Patrick of Bem-te-vi Productions have been there and done it all. For 7 years now (individually & together), this duo has been making films across the globe – focusing on the beauty, talent and determination of the human beings around us and the world we live in. Having been to India for a short while before, they promised themselves that they would be back one day and spend time documenting the stories of the absolute human spirit that runs this country.
And here they are!
How are they doing it ?
From Jammu & Kashmir to Tamil Nadu – 3 Months – 12 Stories of Unsung Heroes & Change Makers – Project Better Days.
For Lara and Patrick, the inspiration to tell a tale comes from the realization that we have reached a crucial point of man's development on earth, where 1% of the population holds 50% of the GDP (gross domestic product) of the entire planet. Wealth concentrated in the hands of so few generates widespread poverty, which results in severe inequality. The purpose of this project is to bring light and voice to the unheard 99% – the victims of such inequality, who in spite of their situation are creating a positive impact in their daily life and in the lives of those around them!
In their own words, "We want to empower people around the world by narrating positive stories about solutions rather than problems. Help the world realize that the power to change and improve lies within us."
From their widespread experience of the world, having met so many people while making documentaries, Lara and Patrick have felt a lot of disparity in what India really is and how it is perceived by the world. This project is a way to connect the world to the better, brighter and more beautiful side of India and the amazing people behind this diverse nation.
"India is a country that stands out for its vast and dense historical ancestry and this is in permanent contrast to the great misery which the world is exposed to," says Lara.
While the duo has bootstrapped itself to fund half the project, taking care of the pre- and post-production expenses, they have set up a crowdfunding campaign in order to finance their travel, accommodation and production expenses that will be incurred over the next 3 months.
For every rupee you contribute, this Duo wants to reward you. Here's how:
> Donate : U$15 (INR 945) – Name in Credits + Music
Digital download of a 4 hours compilation of Indian Music by Patrick and Lara + Your name in the project credits. (estimated delivery to April/2016)
> Donate : U$30 (INR1,890) – Editor Collab. Credit + Exclusive preview link
If you think you can provide valuable inputs to Lara & Patrick, you stand a chance to get credit, if your ideas are implemented + Get a special VIP only link when the films are finished.
> Donate : U$40 (INR 2,520) – Get : Digital Wellness Package
One email per week during two months – They will deliver a mix of a guided meditation download, an Ayurveda life balance chart, tips to harmonize your day-to-day life, nourishing recipes, videos about the subject, inspirational quote and relaxing music to hear.
> Donate : U$60 (INR 3,780) – Get : Gita Package (30 AVAILABLE)
Wellness Package above + One of the best Indian classic books "Bhagavad Gita" in English with a postcard from India signed by us! (sent by mail, shipping included)
> Donate :U$70 (INR 4,780) – Souvenirs From Thailand (30 AVAILABLE)
Package of Thai gifts, Monkey Thai balm, three different lucky flag (around hand size) and a Buddha pendant for necklace.
> Donate U$90 – (INR 5,670) – Join Lara & Patrcik on an AMA
If you wish to live the life of a digital nomad, here's your chance to get advice from the experts. Join a webinar (10 people per chat), you can ask them anything about the project, their experience in India, the experience on crowdfunding or exchanging services in South Asia, getting clients while traveling, living as a digital nomad and so on. The date will be set sometime between March and June.
> Donate : U$110 – (INR 6,930) – A fully hosted dinner
Lara & Patrick are two amazing people who will keep you company for an evening that will be nothing short of enlightening – They will be in Mumbai / Delhi / Bangalore to host dinner nights at Patrick's house or yours, whichever may be convenient. If you would like to invite more people to the dinner please add U$20 more per person.
Lara & Patrick have set themselves on a mission along with The Better India to document the lives of 12 unsung heroes of India! Here's how you can be a part of it.
Watch their previous unforgettable video on India:
And here's a glimpse of some of their other work:
Like this story? Or have something to share? Write to us: contact@thebetterindia.com, or connect with us on Facebook and Twitter (@thebetterindia).