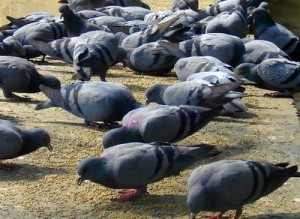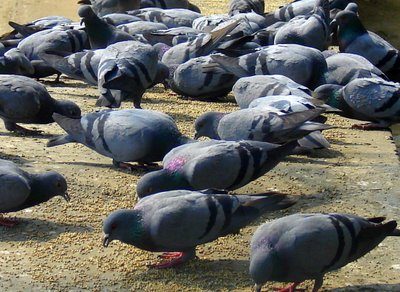 A few residents in a locality in Bangalore have created a safe haven for birds to nestle and feed. For over a period of 16 years, almost 30 households of 5th Cross, Pipeline on Magadi Road have been actively involved in feeding over 50 kilos of food grains to hundreds of birds daily. This has helped to create a 'sanctuary' in the heart of the city, where many species rendered rare in other urban areas, find a habitat. Subhash Chandra N S and Chethan Kumar write about this citizen initiative for the Deccan Herald News Service:
Not just a few but hundreds of various kinds of birds come to this citizen-created 'sanctuary'. "There are parakeets, sparrows, pigeons, mynas and other birds which descend at a self-scheduled time, once in every mornings and evenings", said C Umadevi, the lady who began this noble work. Over a fifty kilos of food grains goes to the chirping friends every month, a ritual in practice for the past 16 years.
Despite being a densely populated area full of traffic and people, the residents have taken care that the avian visitors are not disturbed and receive their daily due on time.
"We have restricted people from going up to the terrace when the birds are there," says another lady. The practice has resulted in holding back sparrows, almost extinct in urban environment. "More than 20 are coming here now while the numbers were much more earlier" a resident informed.
The simple initiative of these residents has gone a long way in teaching habitat conservation and co-existence among species, besides the added benefit of nurturing fast disappearing species in the urban landscape. While we applaud their efforts, we urge all our readers to adopt this easy and do-able practice in your daily lives. The pleasant chirping of the sparrow sitting on your ledge will be worth it.
Read the complete article here.
Image courtesy: Pigeons by Pratosh Dwivedi at imgoftheday.blogspot.com