For people with disabilities, for those who face trouble while steering or pedalling bicycles, for the benefit of bicycle sharing stations, for solving innumerable environment issues – this driverless bicycle developed by some students of IIT Kharagpur may well be the answer. Read how.
"We saw some differently abled people who could ride bicycles but had to face many problems when trying to take their bikes out from the parking space, as most such spaces are not disabled friendly. To tackle this problem we started working to make a bicycle that would be controlled wirelessly," says Ayush, a fourth year Mechanical Engineering student of IIT Kharagpur, who went on to develop i-Bike – a unique, disabled friendly bicycle that autonomously rides itself towards any given location.
The brainchild of Ayush Pandey and Subhamoy Mahajan, i-Bike has autonomous steering, brake, driving and balancing mechanisms.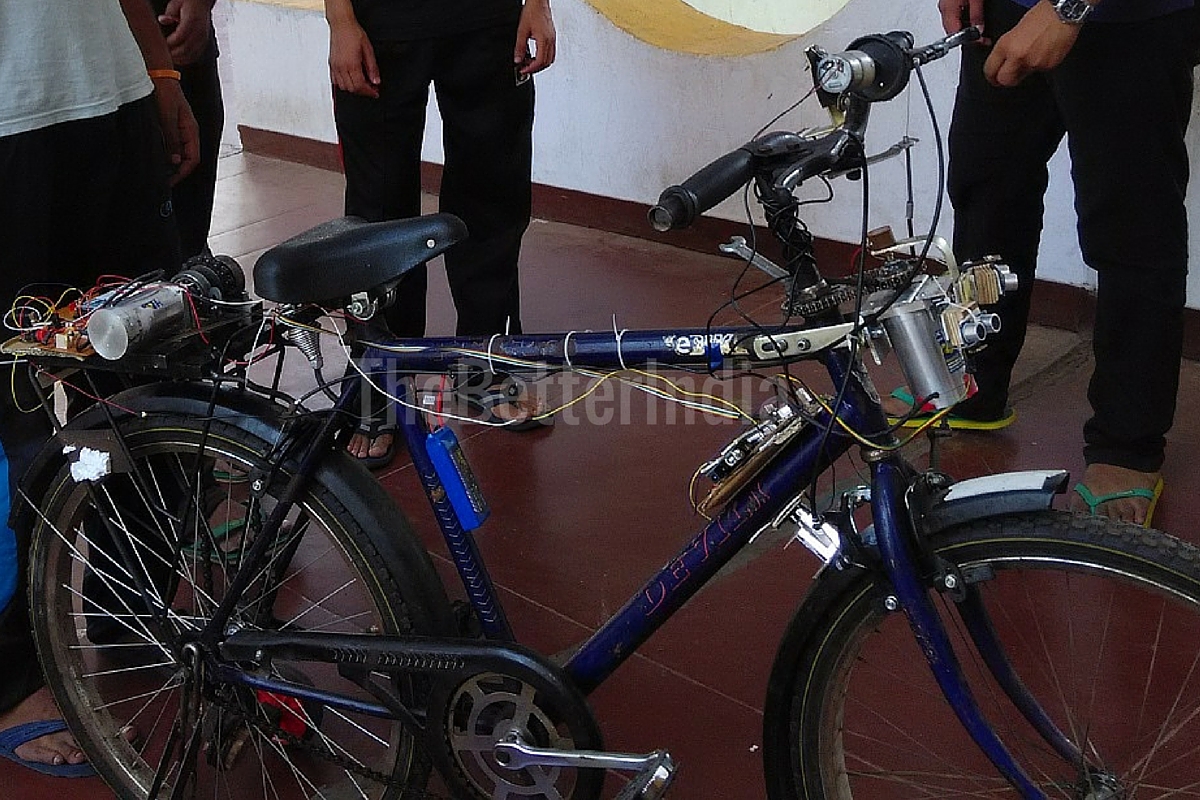 Moreover, one can even ride it manually as and when required, with the help of its dual locomotion technology. The bicycle uses global positioning system (GPS) for automatic manoeuvring and responds to the GPS coordinates of the destination received via SMS with the help of an Android app meant for i-Bike. In order to avoid obstacles in its path, the bike utilises laser and sonar based sensors and uses the data to plan its motion. It has unique and affordable software architecture, which enables it to follow specialised bicycle lanes (as available in many countries with well-established bicycle sharing centres) and avoid obstacles. The bicycle is connected to a wireless telephone network, which provides wireless control and live tracking mechanisms.
If, for example, an arm amputee wants to use i-Bike, all he/she has to do is send an SMS to the bike using the Android app that has an option – "call the bike to my location." The GPS location is saved on a server that is continuously accessed by sensors on the bike. On receiving the location information, the bike instantly starts moving towards the destination. The rider can then add a new destination using the app and reach there with the help of autonomous steering.
While working on the project for about a year, Ayush and Subhamoy realised that the bike can have many other applications other than parking retrieval for people with disabilities.
"We felt that it can also be applicable in those bicycle sharing stations that run in many developed cities around the world and are also being planned in India. In such systems, you pick a bicycle from a station, ride it, and then leave it at another particular station. So you have to find a sharing station each time you want to leave the bike – governments have to invest a lot in setting up several stations like these. But if the bicycle is autonomous, it can be called by a user to his/her home and can be sent back to the station after use. This way, we can completely change the bike sharing system," says Ayush.
The i-Bike team comprises 13 undergraduate students from various departments of IIT Kharagpur. Ayush and Subhamoy initiated the project in October 2014 and it has won several awards in different student competitions.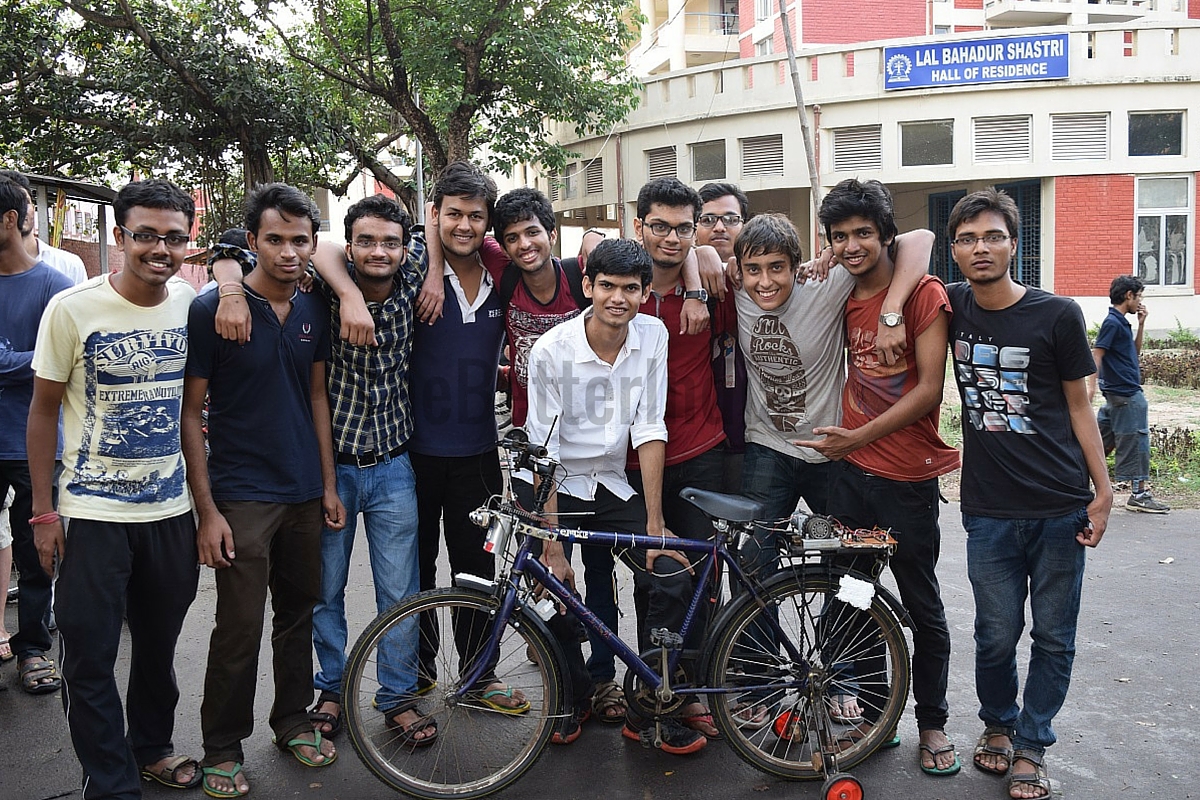 In the recently concluded nationwide innovation challenge organized by KPIT Technologies, i-Bike won the first prize and was awarded with Rs. 5 lakh prize money.
The theme of the contest was 'Smart Solutions for Energy and Transportation' and i-Bike won among 1,700 other ideas. The team is currently filing a patent for the product design.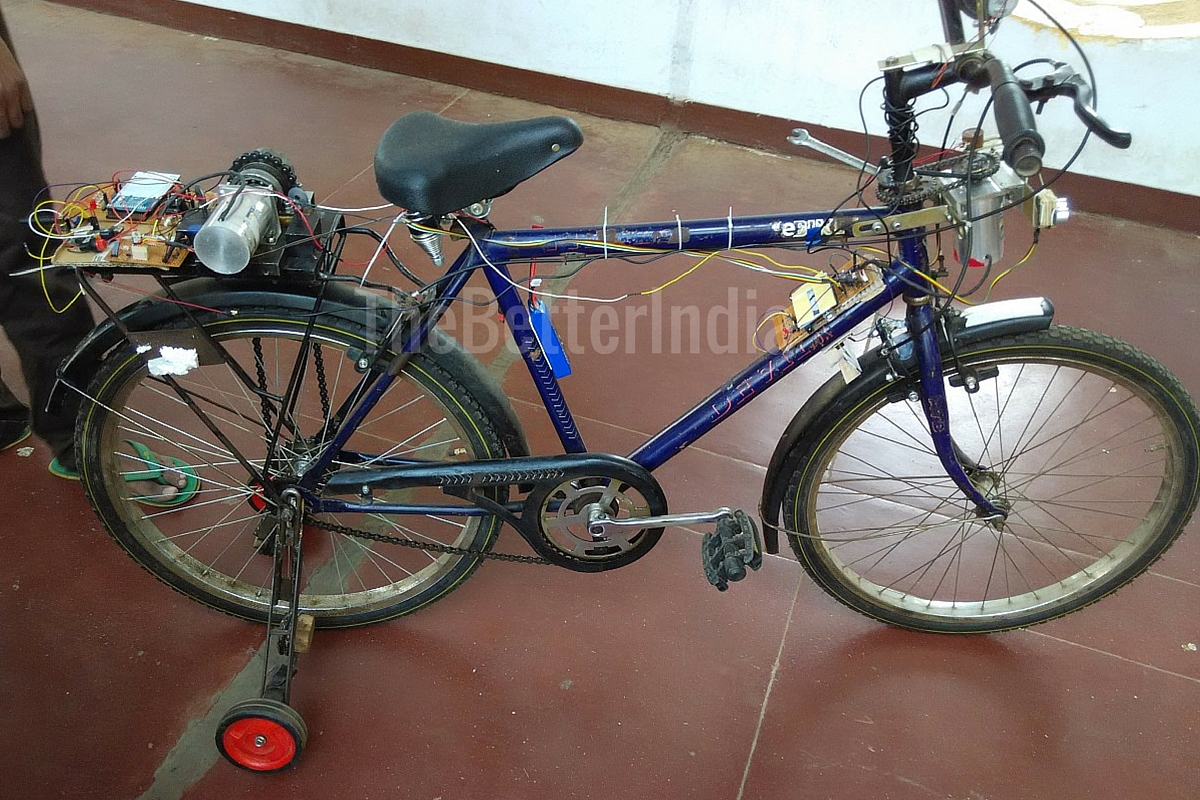 "The best thing about the bike is that it is a normal bicycle with external modifications only. All modifications are retractable and it can function as a normal bike by simply flicking a switch. So, in the case of bike sharing systems, users can ride the bike themselves after calling it autonomously. No such design exists in the world," says Ayush.
The steering of the bicycle has been modified using an innovative gear mechanism that allows both autonomous and manual modes with the help of a latch mechanism.
Trainer wheels have been used for balancing the bike and these too are easily retractable with the help of a switch.
With i-Bike, this team plans to solve the last mile transportation problem in many urban cities. The bicycle is primarily for use by people with disabilities, like amputees and the visually impaired, but will also be very useful to commuters who struggle to find affordable means of transport after getting off local trains, metros, and buses.
Once the team has the patent, they plan to collaborate with companies willing to start bicycle sharing centres in India.
You can contact Ayush by writing to him at ayush.9.pandey@gmail.com.
Like this story? Or have something to share? Write to us: contact@thebetterindia.com, or connect with us on Facebook and Twitter (@thebetterindia).