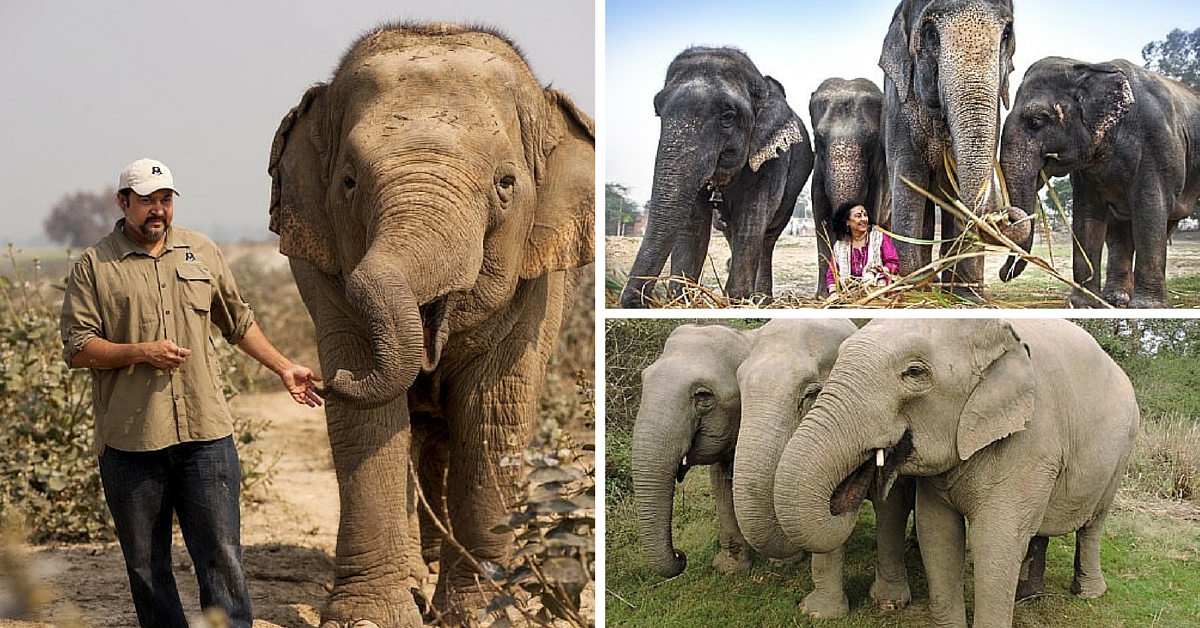 Raju the elephant had never experienced life without chains till Wildlife SOS rescued him. When the spiked shackles were cut from his legs, the relief brought tears to his eyes. Read more about his ordeals and how this small but dedicated team rescued him.
Raju the elephant had never experienced life without chains till Wildlife SOS rescued him. When the spiked shackles were cut from his legs, the relief brought tears to his eyes. Read more about his ordeals and how this small but dedicated team rescued him.
The Asian elephant is found in India and many other South East Asian countries.
"Interestingly, the survival of the Indian elephant is critical to the survival of the entire species in South East Asia, as India is home to almost 60% of the elephant population on earth. The major problem we have is lack of awareness and education, which leads to the persistent enslavement of these amazing animals for manual labour, for entertainment and even begging" says Kartick Satyanarayan, the co- founder of Wildlife SOS.
Wildlife SOS is a non-profit organisation in India, established in 1995, working primarily to rescue and rehabilitate wildlife in distress in the country.
When it comes to elephants, the main focus of the organisation's work is to address the problem of injured and sick elephants that are forced to work in urban environments.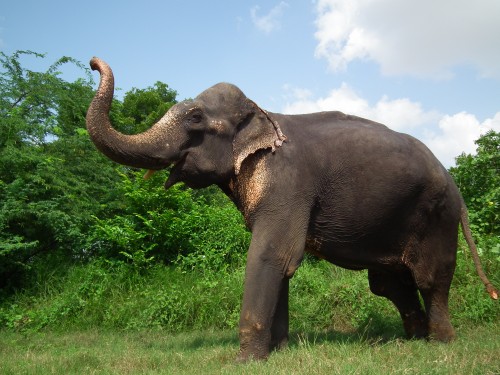 "Currently, we offer medical services to these elephants in need and train their handlers, the mahouts, on humane treatment and management of these gentle giants. We also take action to remove abused elephants from the streets and help them to retire in our elephant sanctuaries", says Kartick.
Thanks to Project Elephant and thanks to the partnership with the Haryana Forest Department, Wildlife SOS has an elephant sanctuary at Ban Santour in Yamunanagar. The other sanctuary is at Mathura and this is thanks to the partnership with the Uttar Pradesh Forest Department.
Though based in New Delhi, the organisation runs around 10 wildlife rescue centres all over the country. The organisation has a 24-hour wildlife rescue hotline in the NCR, which receives calls round the clock about all kinds of wildlife in distress – be it snakes, monitor lizards, leopards, elephants, bears, birds, and many more species.
Kartick Satyanarayan and Geeta Seshamani, the founders of Wildlife SOS, started working with animals in distress with a very small team and minimal support and funding.
However, their enthusiasm to keep the organisation going led them to dedicate themselves to the mission of eradicating the abusive practice of making bears dance in India. From here started their long journey and today they have many success stories to their credit.
When anyone in the organisation hears about an elephant in distress, Wildlife SOS immediately springs into action to work out a way to help. A classic case was that of Raju, a gentle pachyderm who was 50 years old in 2014 when Wildlife SOS first heard about how he had been abused all his life. A 10-man-strong team of vets and wildlife experts, with 20 forest department officials and 6 policemen, went to the rescue of Raju from his tormenting owners.
Raju had always been a captive elephant. He had been captured as a baby and had lived with 27 different owners already.

He had never experienced life without chains around his legs. He was being used to beg for alms from passers-by in many small towns in Uttar Pradesh. His owners could barely afford to feed him, hence paper and plastic were a major part of his diet. When the spiked shackles were cut from his legs, the relief brought tears to his eyes. His rescuers have tried to ensure that he never sheds a tear again.
Raju's former owners launched a legal battle to reclaim their ownership over Raju. But the court sided with the rescuers, that is Wildlife SOS, and granted custody to the latter. Raju is one of 18 elephants who live in the Elephant Conservation and Care Centre in Mathura.
Suraj is one of Raju's many companions at this sanctuary.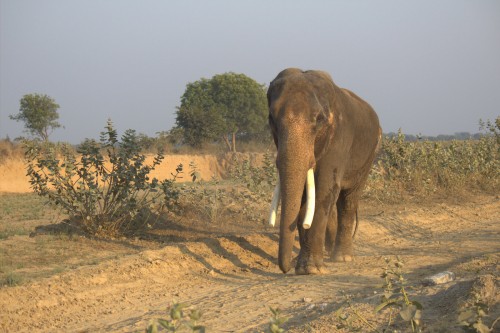 Suraj was 45 years old when he was rescued from a dark and dingy room in a temple at Satara, Maharashtra. His body was riddled with bull hook wounds, his tail had a severe injury that had been left untreated and his feet were in an advanced stage of foot rot, thanks to him standing in his own excrement and dirt. In addition to all this, Suraj is missing one ear; there has been no proper explanation for this.
"When Wildlife SOS has to begin the rescue operation, a medical examination of the animal is done first. This over, the local Forest Department is informed and permission to rescue the animal is solicited. The next step is to get permission from the Uttar Pradesh or the Haryana Forest Departments to get the elephant to either of the sanctuaries, depending on which one is closer," adds Kartick.
At both the sanctuaries, the elephants are able to move around freely in the open fields, with natural vegetation and enough trees for them to scratch themselves against. There are water pools for the elephants to bathe and play around in.
There are protected enclosures for the bull elephants – this helps the staff avoid being harsh or cruel to the elephants when they need to be restrained.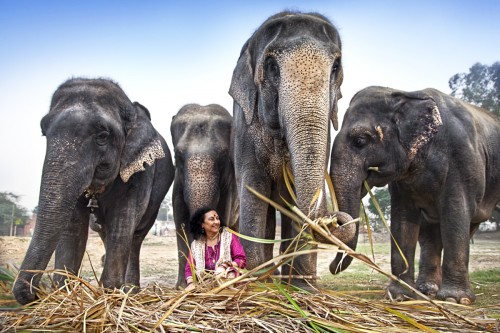 The organisation does not take care of the rescued animal alone. Help is given to the mahouts too – they can join the staff at either of the sanctuaries to take care of the animals there. Many other schemes for rehabilitation are placed before them to choose from. Wildlife SOS does not only find them jobs but also helps take care of the education of their children and health care of the entire families.
Wildlife SOS is open to volunteer help from people of all backgrounds. There are opportunities to go for walks with the elephants, help prepare their meals and also help scrub them when they bathe. Anyone can be of assistance to the organisation to help these animals lead better lives.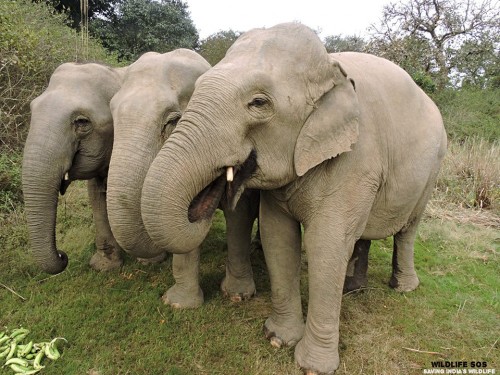 Fundraising is another field where help is always required. Wildlife SOS USA and Wildlife SOS UK are two registered charity organisations that help spread awareness about the work being done to help animals in distress in India and fund the various projects that Kartick and Geeta take up in support of endangered and threatened wildlife. Over and above this, there is always a need for finances.
With the great work being done by Wildlife SOS and those who support them, we hope that most of these domesticated elephants will find a better life in either the surroundings that they already live in or in the sanctuaries that they can be easily shifted to.
For more information, log onto www.wildlifesos.org. To make a reservation, send an email to volunteer@wildlifesos.org / info@wildlifesos.org or call 09756205080 or 09917190666.
Like this story? Or have something to share? Write to us: contact@thebetterindia.com, or connect with us on Facebook and Twitter (@thebetterindia).
About the author: Aparna Menon is a freelance writer, writing for various newspapers for the past 10 years.
We bring stories straight from the heart of India, to inspire millions and create a wave of impact. Our positive movement is growing bigger everyday, and we would love for you to join it.
Please contribute whatever you can, every little penny helps our team in bringing you more stories that support dreams and spread hope.