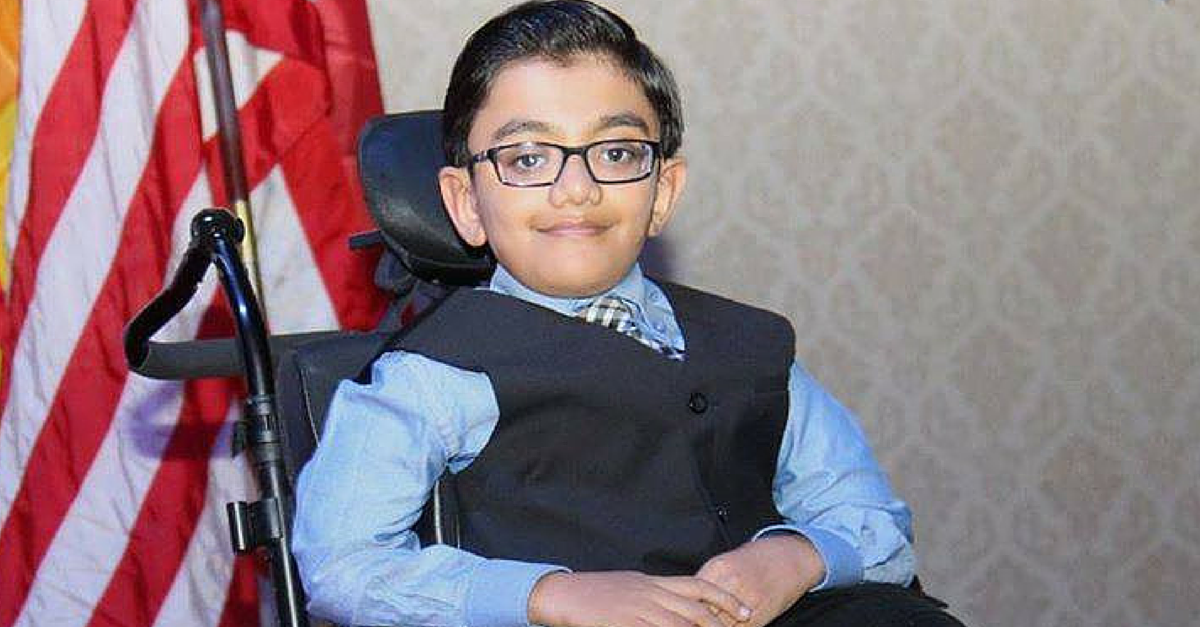 Sparsh Shah, a 12-year-old singing prodigy who lives in the US, was born with almost 40 fractures. He has given more than 45 performances in just the last year-and-a-half. Read his inspirational story here.
Sparsh Shah, a 12-year-old singing prodigy who lives in the US, was born with almost 40 fractures. He has given more than 45 performances in just the last year-and-a-half. Read his inspirational story here.
Sparsh (aka Purhythm) has written 10 songs – "This Love Will Never Fade," "There's Always Tomorrow," "Why'd You Have To Leave Me?", "You Are My Heroes," "Count on Me," "A Little Bit of Respect," "Turn Around," "Birthday Wishes," "You're The One," and "No One Knows." He has composed the music for most of them too.
Listen to him pay homage to his favourite Eminem here:
Aren't you still feeling that beat? Sparsh has been learning Hindustani classical music for the last seven-and-a-half years and American vocal music for the last three years.
Sparsh is multi-talented. He performs at community events and has appeared on local radio stations and television shows, besides hosting shows as an MC.
He has memorized 250 digits of Pi, can say the 12 longest words in the English dictionary in less than 18 seconds, and can speak in four different accents in English. He has written several poems, short stories, motivational/funny speeches ("I am Disabled"), etc., and acted in the developmental reading of a play called The Greatest Choice at the Crossroads theatre in New Jersey. He was able to spell a 45 letter word, "Pneumonoultramicroscopicsilicovolcanoconiosis," at the age of 6.
Hiren and Jigisha Shah migrated to the US some 14 years ago. In 2003, when Sparsh was born, they could never have imagined their little boy would touch millions of hearts soon.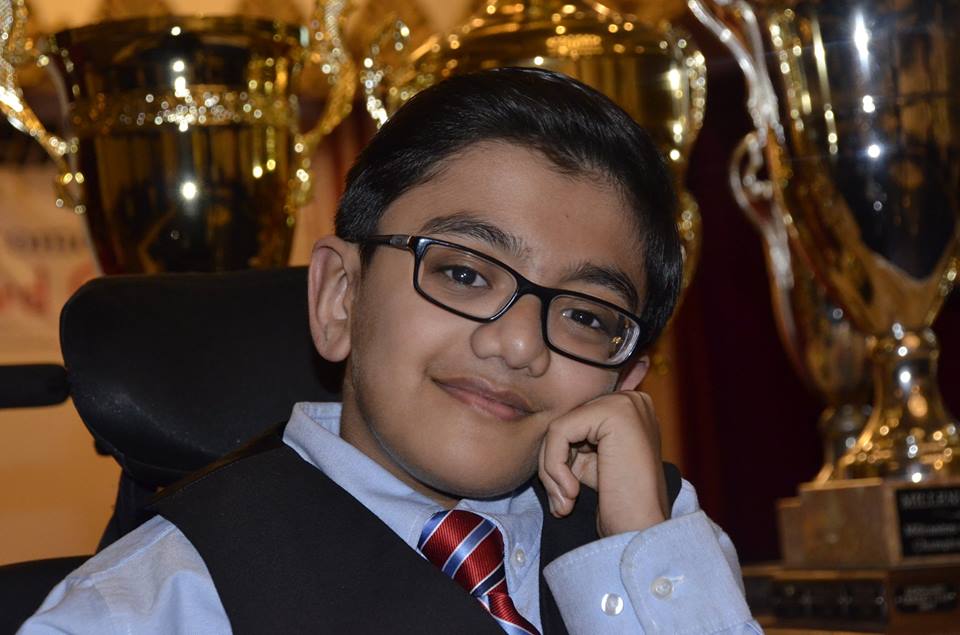 His parents, however, could experience the joy of holding their baby only after six months of his birth – Sparsh had broken 35-40 bones while emerging from his mother's womb.
Sparsh was born with an incurable disease called Osteogenesis Imperfecta.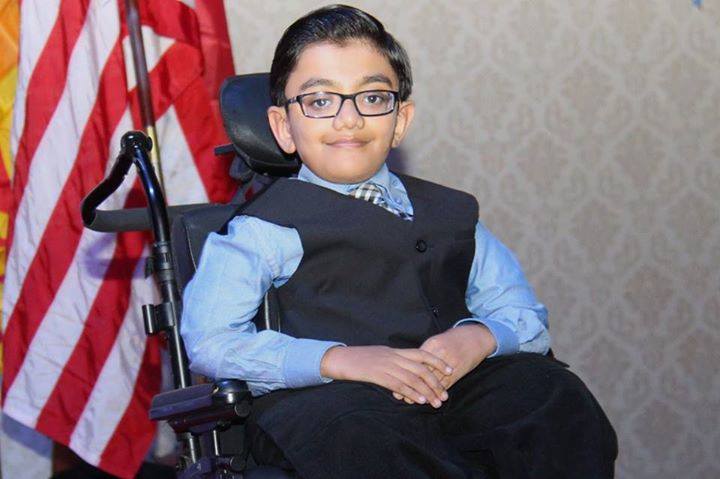 This condition makes his bones extremely fragile and brittle – even a hard handshake can break his bones. He cannot bear weight on his hands and legs, so he cannot walk or run like other normal kids. He has had more than 125 fractures in the first 12 years of his life already and the doctors cannot predict how many more are to come.
In April 2015, Sparsh participated in and won the prestigious talent competition Young Voice of NYC, and was honoured to be made the 'Youth Ambassador' for St. Jude Children's Research Hospital. He now supports the hospital in spreading awareness about the fight against pediatric cancer.
Sparsh has been a catalyst in helping raise over half a million dollars for various philanthropic organisations.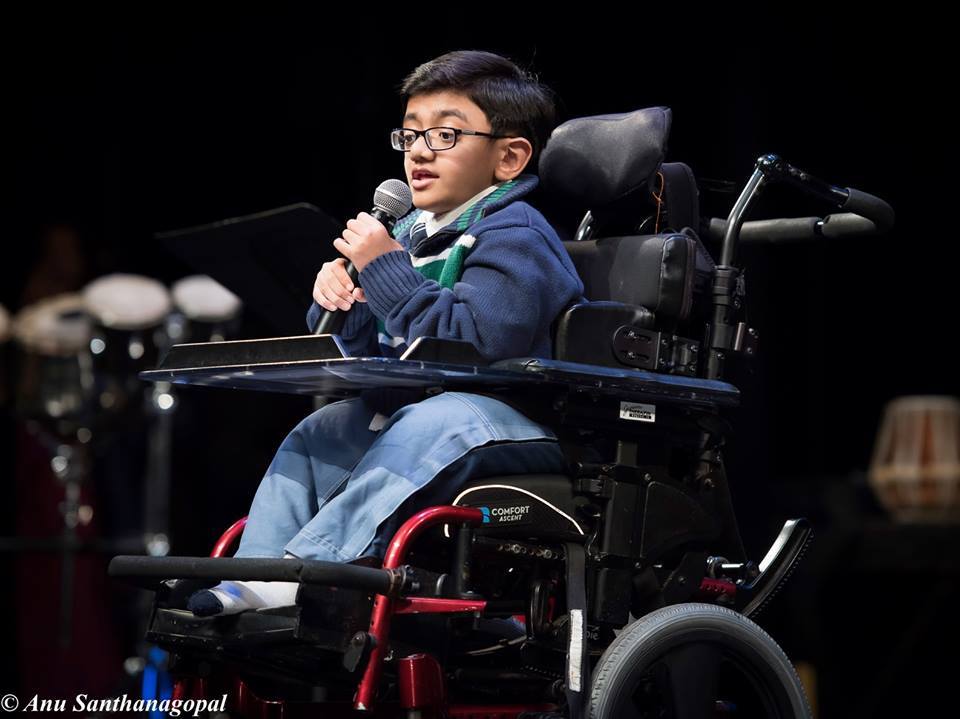 Sparsh was also a member of the Watt NXT Robotics team that won at the state and regional levels in the US. He participated in the first World Robotics Championship in St. Louis, MO in 2015. Sparsh won the first prize in the speech competition about Dr.Ambedkar at the Indian Consulate in New York City in November 2015. Sparsh also participated won the Swardhara Singing Competition organized by Marathi Vishwa, New Jersey, in February 2016.
He always thanks his parents and grandparents for his success:
"I don't see myself as disabled. I just dis the 'dis' from disabled. Most people with disability always keep thinking about their disability and that makes others think about it too. I want to be the courage of such people," says Sparsh with a smile.
When Sparsh was just three years old, he started learning the keyboard and reading books. However, as his bones kept breaking, it was difficult for him to continue to learn the keyboard and he had to stop playing.
Watch him say hello to The Better India readers here. (Thank you Sparsh for this!)
Once, when he was three-and-a-half, his family was travelling in the car and his father switched on the radio. To his parents' surprise, Sparsh remembered the song that was playing on the radio and started singing along. They thought that he perhaps knew the song because it was a well known one. But then, he sang the second, the third and even the fourth song that was played on the radio. When they asked Sparsh about this, he said his preschool bus driver played the same channel  and that is how he had memorized all the songs. This was the beginning of the making of this gifted singer and musician.
"Dreams are not enough, Hard work is what turns them into reality! And so, he makes sure that he works hard enough to make his dreams come true," says Jigisha Shah, Sparsh's mother.
Sparsh started learning Indian classical music at the age of 6 and is a student of Pandit Jasraj Institute of Music (PJIM) since 2009. He also learns American vocal music.
"All we tell him is that no matter what situation you have in life, never limit yourself!. We believe that Sparsh is a miracle who has come to this world to do something extra special," says Hiren Shah (Sparsh's father)
A 7th grader, Sparsh is also excellent in his studies. He has a 5-year-old brother named Anuj who plays video games with him.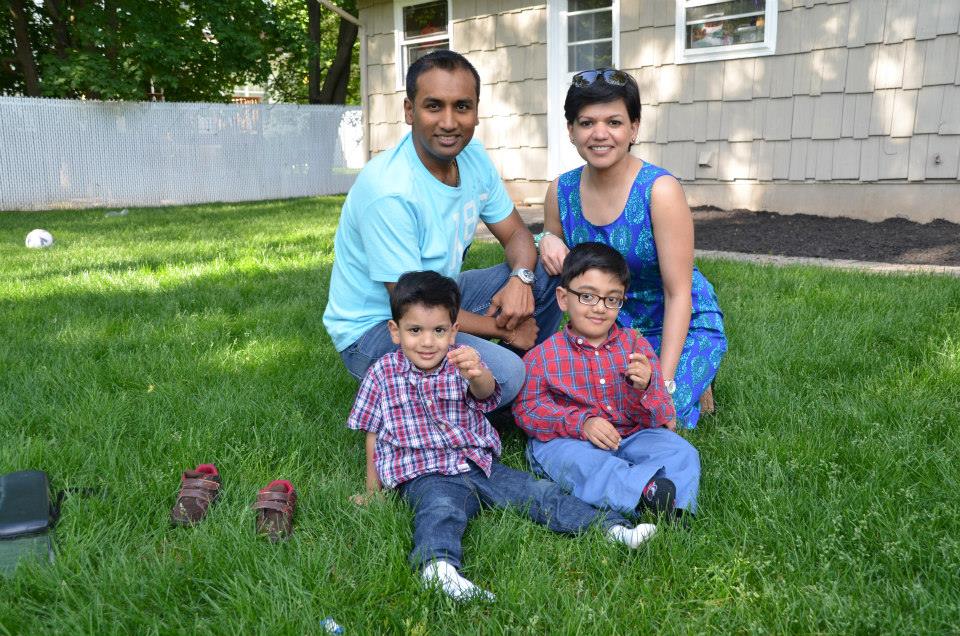 Sparsh has gone through multiple surgeries for his brittle bones. His parents help him write when he has fractures, or he uses voice to text technology to do his homework.
When asked how he deals with the pain, he says: "There is not much you can do about pain…isn't it? Crying is just a natural response to pain but you need to smile. This is what my Papa taught me since I was small. He said that I should tell my bones to smile whenever there is a fracture. If I don't smile at them, they won't respond to me with a smile. And so, whenever there is an x-ray after a fracture, I look at my bones and say – Smile please bones."
Sparsh loves rapping as he believes that rap makes even sad songs come alive; rapping keeps the spark going. This huge fan of Eminem also loves Bollywood songs. "Abhi mujh me kahi" by Sonu Nigam is his favourite Hindi song.
He met musician Neel a year-and-a-half ago, at a Karaoke competition. They sang together. Since then, Neel and Sparsh have been inseparable musical buddies and they have written a wonderful motivational duet: "Count On Me."
Sparsh recently auditioned for America's Got Talent and is waiting for the results, which will be out by March 2016.
He won the first prize in Gaan Nipun Spardha, a prestigious singing competition organized by PJIM and was awarded a certificate of recognition by none other than the stalwart of Hindustani classical music, Sangeet Martand Pandit Jasraj, on February 27, 2016.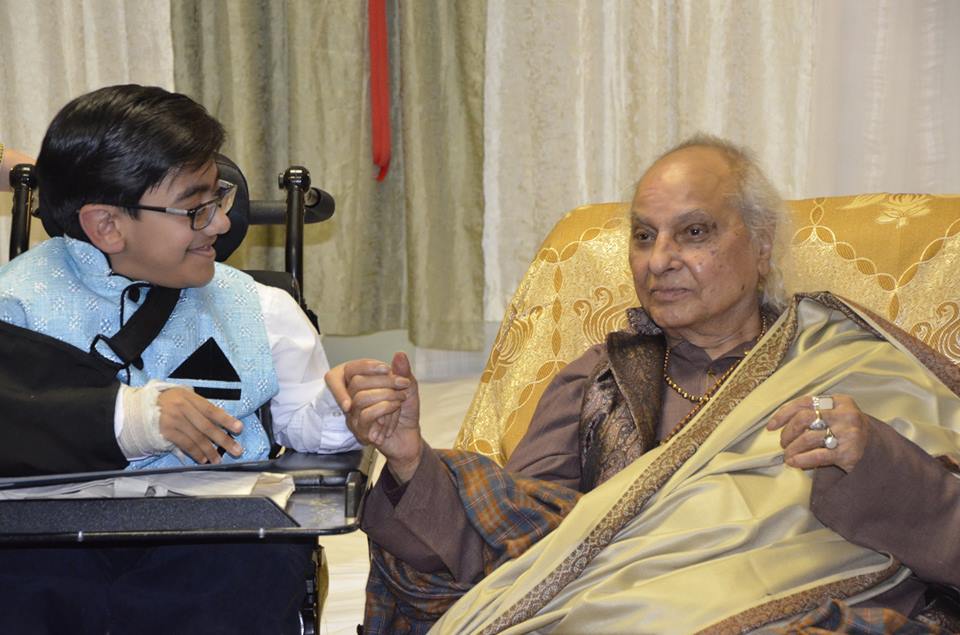 Despite all the challenges he has faced, Sparsh's spirit is unbreakable. He aspires to sing in front of a billion people one day.
"I want to leave the marks of my footprints (aka wheelchair tracks ;)) in the sand of legacy so deep that not even a tsunami can erase them," concludes Sparsh.
Join this miracle boy's journey to fame and help him make his dream come true by sharing his latest sensational cover song: "Not Afraid" with all your friends and family members.
To listen to Sparsh's magical music, log on and subscribe to his YouTube channel. You can also connect with Sparsh and keep updated on his progress by liking his Facebook page or following him on Twitter or Instagram .
Like this story? Or have something to share? Write to us: contact@thebetterindia.com, or connect with us on Facebook and Twitter (@thebetterindia).
We bring stories straight from the heart of India, to inspire millions and create a wave of impact. Our positive movement is growing bigger everyday, and we would love for you to join it.
Please contribute whatever you can, every little penny helps our team in bringing you more stories that support dreams and spread hope.
Tell Us More