---
This article on using mobile technology for social good is part of the
#Mobile4Good
series & is made possible by Vodafone India.
---
Do you wait to go to the doctor till your health gets really bad or you have some serious questions to ask? What about those questions that need instant answers? With this app, you can ask the smallest questions that you know are important for your health, and get answers within 10 minutes. This is how it works.
"I was suffering from a severe migraine since the past two days. Today, I am feeling nauseated and have a buzzing sensation in my ear. I have been drinking juices and eating well. But I feel weak and my head feels heavy. What should I do?"
That's an example of the kind of questions the Superdoc mobile app receives on a daily basis. An Android-based application, Superdoc helps patients get instant advice from genuine doctors – easily, quickly, and without leaving the comfort of their homes.
"There is only one doctor per 1,700 citizens in India," says Mumbai-based Chaitanya Mehta, one of the co-founders of Superdoc. This makes it really difficult to make healthcare available to everyone who needs it, when they need it.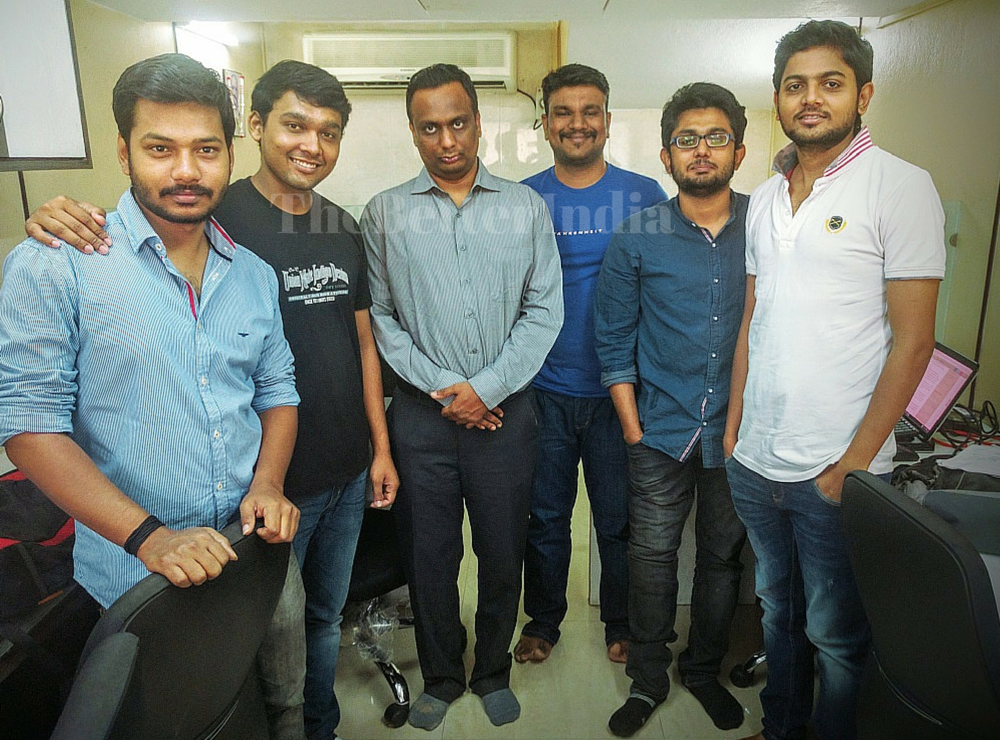 "A few years ago, we were looking at the major problems faced by Indians in the healthcare space, and the numbers appeared to be really negative in general. We found that one of the major concerns was the lack of enough doctors, especially primary care physicians. The solution, we thought, could be found in mobile chat because of the massive reach of WhatsApp and smartphones. So we started looking for ways to bring doctors on mobile phones and medical care on chat," he adds.
In January 2015, Chaitanya, along with two of his friends, launched Superdoc.
How it Works
The user is given four options on opening the app:
• Ask a doctor:
You can ask any question you want. The doctors reply to queries from 8:00 am to 12:00 midnight and users receive the answers within 10-15 minutes of asking.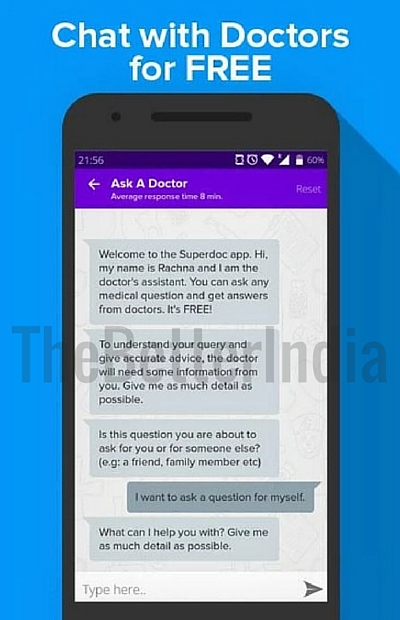 • Discover:
You can search for nearby health services.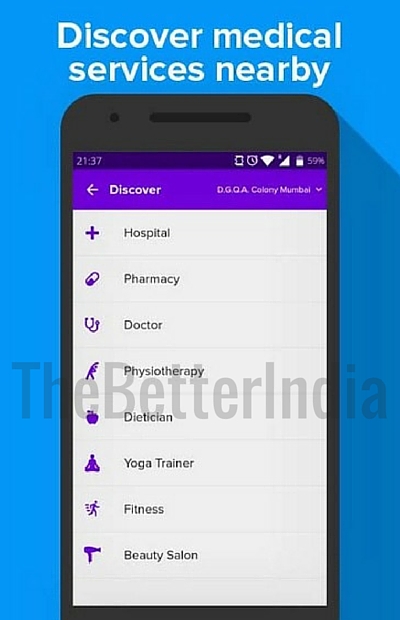 • Health Tips:
You can get healthy advice on a regular basis.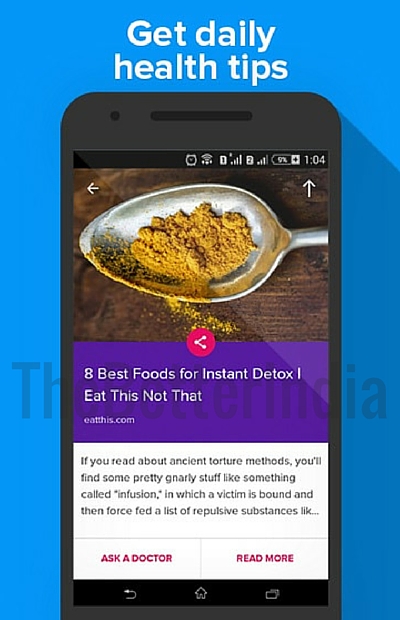 • Instant Answers:
You can learn from the questions others have asked before you.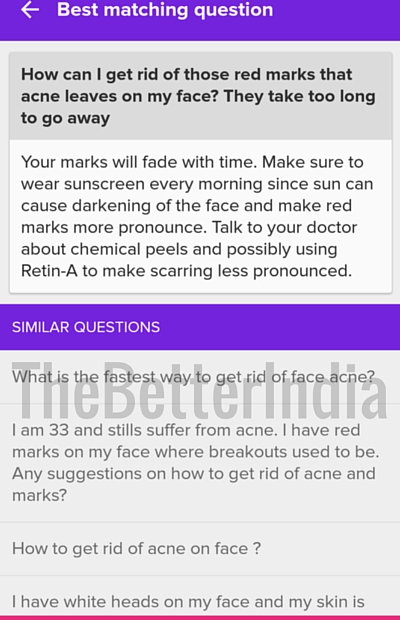 An automated chat with a health assistant bot opens up on clicking the 'Ask a doctor' option. It asks the user to fill all patient details like gender, age, the issue being faced, and past information like allergies or medical history. There is also an option to attach a picture of the affected area in case of skin infections and injuries, or if patients need to share information about past reports. This helps the doctors understand the condition properly, and they reply with the most suitable solution.
Currently, Superdoc has five doctors on board who are available online during time shifts. "All of them are registered doctors – from Delhi, Kolhapur, Mumbai, etc., and we give them specific guidelines that they need to follow while answering queries," says Chaitanya. His team interviews and conducts background research on the doctors before hiring them. Every doctor is trained on how the app works and the kind of answers he/she should provide.
The team tries to ensure patients feel confident about the person who is answering their questions.
"Before the doctor answers any question, the health assistant bot sends the user a card in the chat. The card contains the doctor's picture, qualification, experience, etc. This helps patients know who is answering their queries and they feel more confident," Chaitanya says.
Currently, Chaitanya has a team of 14 people based in Mumbai. They are constantly working on improving the app and bringing more doctors on board. The other co-founders are Abhishek Mane, who earned a Master's in Computer Science before starting an e-pharmacy platform with Chaitanya, and Dr. Dinesh Rijhwani, an MBBS from King Edward Memorial Medical College.
"Superdoc is a platform of primary care doctors. Not specialists. So using the app is like going to a general physician, but for free. Most of your queries will be resolved there and then but in case the doctor needs more information, or feels that the condition needs more attention, he/she will refer the user to a specialist," Chaitanya adds.
According to him, the app has already received 25,000 queries from people across 100 countries. They range from questions about mental health, depression and anxiety to skin infections and the results of test reports.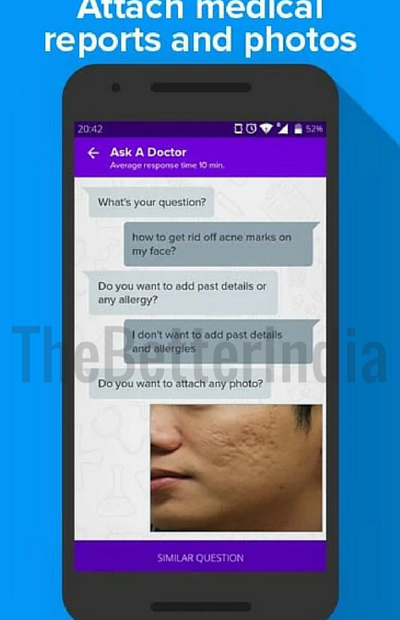 "There are queries from first time moms and dads who live in nuclear families and don't know what to do. Then there are questions on diet, nutrition, sexual health, and more," says Chaitanya. His team also puts up curated content from the net in the blog section, providing information about several health-related topics.
All queries are answered free of cost. The app has been downloaded 10,000 times since its launch. The founders hope the use of smartphones will spread far and wide and the rural population will also be able to utilise the app.
Download the app here. Contact the team by writing at care@superdoc.co.
Like this story? Or have something to share? Write to us: contact@thebetterindia.com, or connect with us on Facebook and Twitter (@thebetterindia).