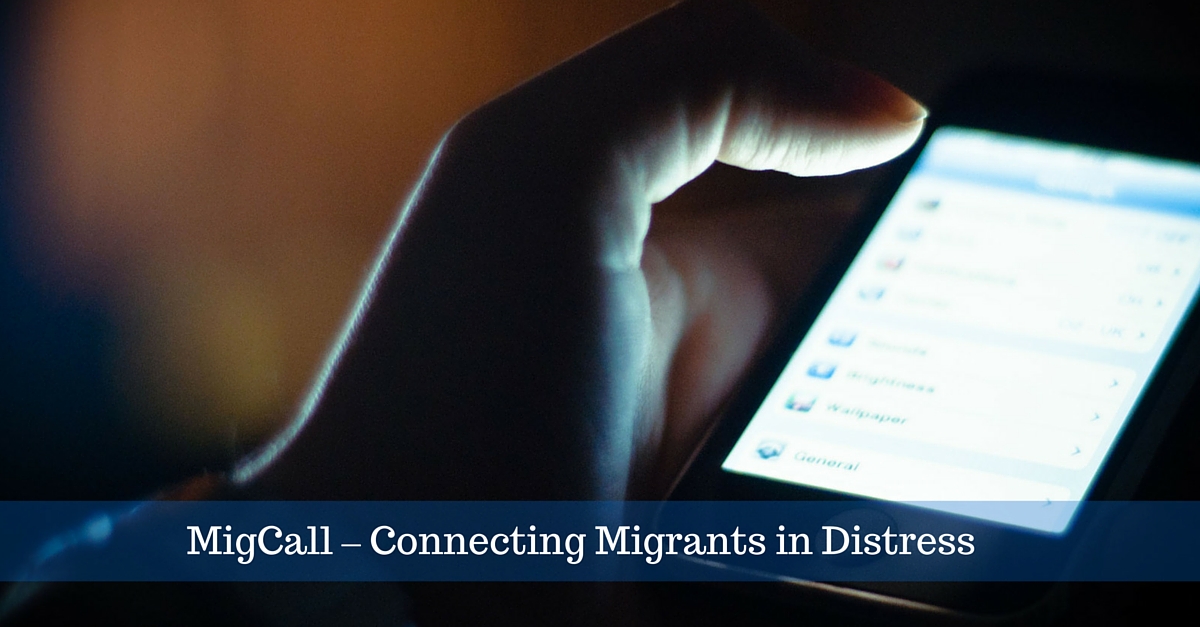 With cases of Indian migrant workers being ill-treated in Oman and many other Gulf countries becoming extremely common, an Indian journalist working in Oman has decided to find a way to help his fellow citizens. He has developed an app that can be used by migrant workers to contact relevant authorities without any delay.
---
This article on using mobile technology for social good is part of the
#Mobile4Good
series & is made possible by Vodafone India.
---
With cases of Indian migrant workers being ill-treated in Oman and many other Gulf countries becoming extremely common, an Indian journalist working in Oman has decided to find a way to help his fellow citizens. He has developed an app that can be used by migrant workers to contact relevant authorities without any delay.
"I had heard about many Indian migrant workers being exploited in Oman – physically, mentally and financially. Being a journalist and a migrant myself, I wanted to find a way to help my fellow stranded migrants, many of whom would often tell me that if they had the contact details of relevant authorities their sufferings would have reduced remarkably. That's how I got the idea of developing a mobile application for them," says Rejimon K, the founder of an offline mobile app meant to provide assistance to Indian workers in countries constituting the Gulf Cooperation Council (GCC).
Named MigCall (short for Migrant Calling), the app has been developed in association with the Migrant Forum in Asia, a Manila-based network that works for the rights of migrant workers in Gulf countries.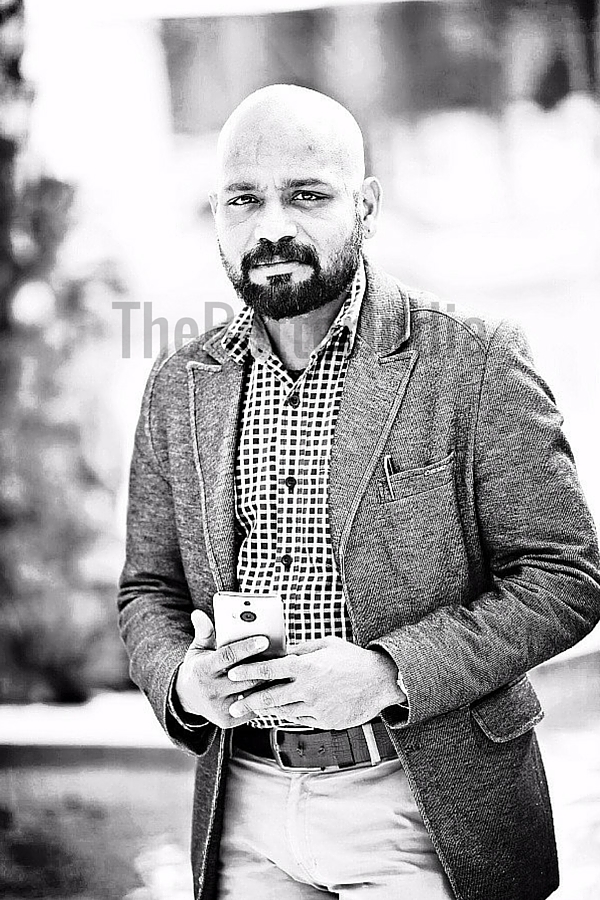 Once a user downloads the app and registers on it, ten helpline numbers get saved automatically in his/her phonebook. During registration, users are asked to enter their name, name of the home country, home state, foreign country, location in foreign country, emergency contact number, and a contact number from India. Five of the helpline numbers that get saved in their phones after registration are from the home country, and five are from the host country. The users can then make direct calls with these numbers, either from their phonebooks or by opening the app.
Once registered, no internet connection is required to use MigCall. According to Rejimon, smartphones are available in Gulf countries for approximately Rs. 4,400 (25 Omani Rial) and most migrant workers own one.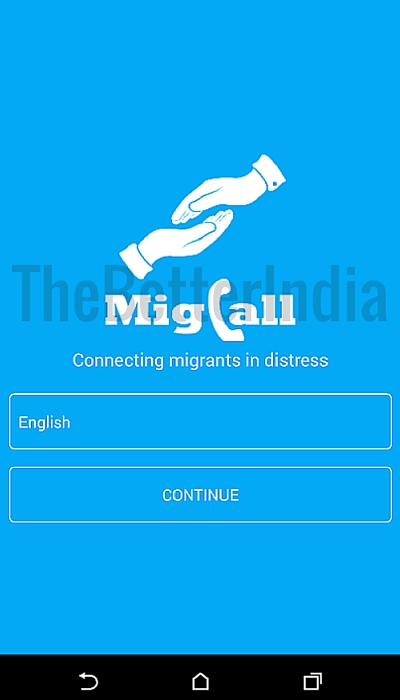 The helplines are operated by multilingual officials, and callers are currently assisted in six languages — including English, Hindi, Malayalam, Telugu, Kannada, and Tamil.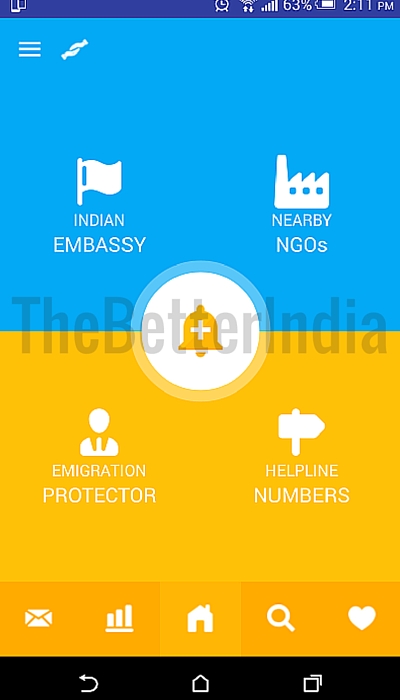 The app also has an SOS button which, when pushed, instantly sends a message to the emergency contact number the user had set during registration. It also provides the GPS location of the nearest Indian embassy or consulate. Rejimon says that workers should set the Indian embassy contact number as their emergency contact so the embassy can call back. The app also provides helpline numbers of passport services, counselling services, local police stations, and hospitals.
Rejimon K is a 37-year-old senior Indian journalist based in Oman; he moved there after working in India for about two years as a reporter. He is also a migrant rights activist who has been involved with migrant rights issues for the past five years.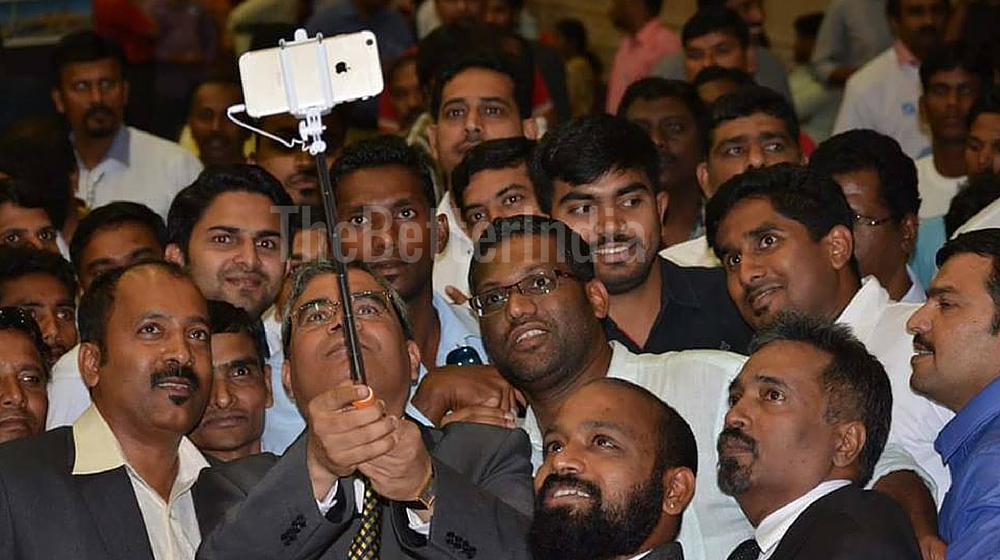 "I work with the Migrant Forum of Asia, which is closely knit with UNO and other migrant rights organizations. In December 2014, I was invited to a meeting on diplomacy training programme for migrants to discuss innovative ways of helping migrant workers. That was when I came up with this idea," he says.
Rejimon was helped by Jose Chacko, an Indian businessman in Oman, who agreed to fund the app and bring the idea to fruition. The Indian Ambassador to Oman, Indra Mani Pandey, officially launched the app at the Indian embassy on January 1, 2016.
Three hundred workers from different companies across GCC countries were invited. All of them downloaded the app.
Prior to developing the app, whenever Rejimon had to attend global meetings on migrant issues, he would go with pamphlets and diaries that had numbers of the Indian embassy, government offices, social workers, etc., printed on them. He and other volunteers of Migrant Forum of Asia used to distribute them in worker camps. But most of the workers would lose the contact details when shifting camps.
"I have seen that 90% workers are stranded for months only because they do not have the numbers of the Indian embassy. They are mostly not educated and don't know how to go to the website and find contact details of the concerned officials. So I thought of putting the essential numbers on their smartphones, instead of distributing the diaries," he says.
According to a report in the Economic Times, cases of ill treatment, non-payment of wages, food deprivation, physical and verbal abuse, and confiscation of passport are shockingly common in the Gulf countries. One such case was that of Hari Thoppil, a migrant from Kerala, who went to Saudi Arabia to work as a driver. On reaching his place of work, his employer refused to pay the amount that was specified in the contract. He even threatened Hari that he would be locked up like other migrant workers if he questioned the terms of employment. Hari's friends had told him to download MigCall but he had never used it.
He called a helpline number via the app and help reached him in no time. He has safely returned to India now.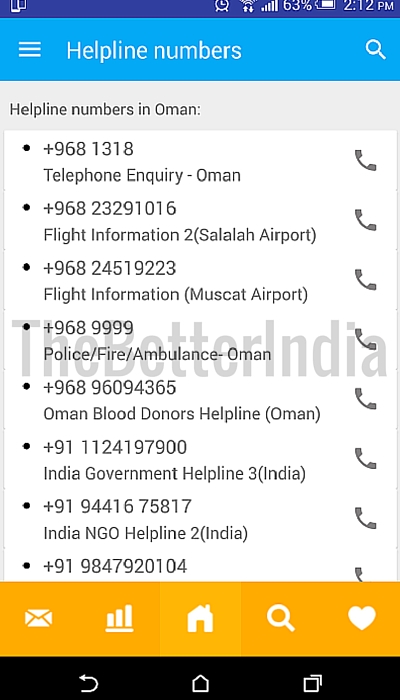 MigCall is an Android-based app; it is compatible with all phones operating on Android 4.0 and other higher versions. Other than the embassy, Rejimon is also working with some volunteers who have agreed to attend to calls at different helplines. Rafeek Ravuther, the head of an Indian NGO named CIMS Kerala, is one such volunteer. His organization has been working for migrant workers for the past 16 years and he has volunteered to attend calls on a helpline number in India.
In just a day after the launch, 10,000 people downloaded the app. As of now, there have been 12,000 downloads. On the third day after the launch itself, one of the helplines got a call that 13 Indian workers were stranded after their employer confiscated their passports. The helpline led them to the embassy and the issue has now been settled. The app is currently operational in six GCC countries – Kuwait, Bahrain, Oman, Qatar, Saudi Arabia, and the United Arab Emirates (UAE).
It is available on Google Play Store. You can download the app here. You can contact Rejimon by writing to him at reji.news@gmail.com.
Like this story? Or have something to share? Write to us: contact@thebetterindia.com, or connect with us on Facebook and Twitter (@thebetterindia).