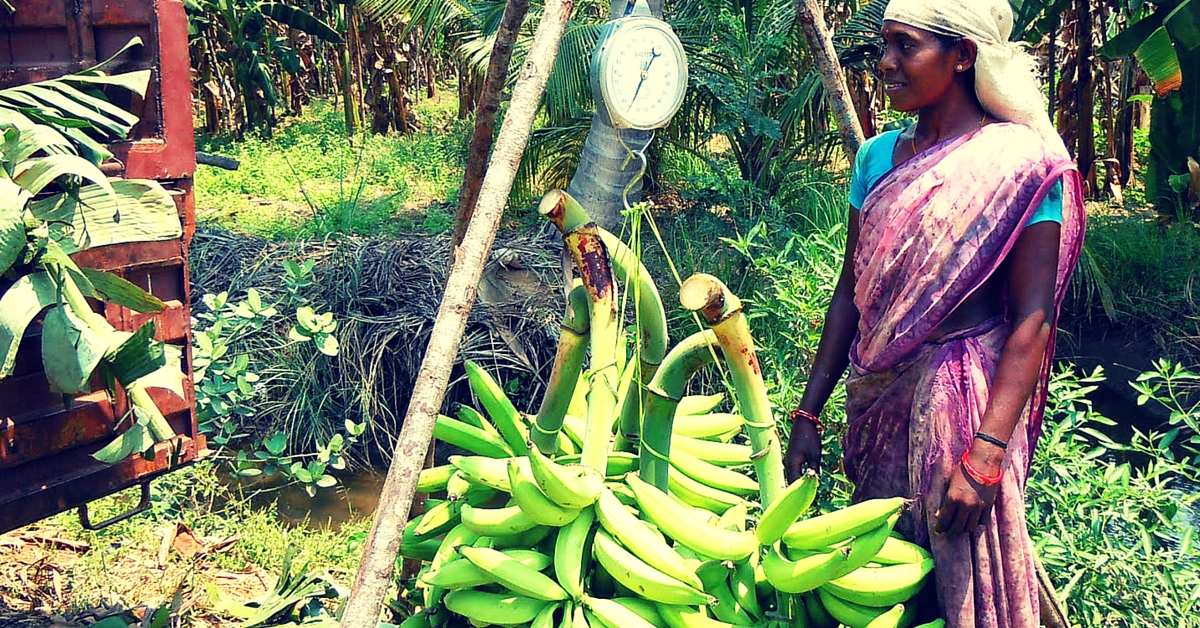 Kudumbashree's holistic approach towards financial empowerment has worked wonders in Kerala.
Kudumbashree's holistic approach towards financial empowerment has worked wonders in Kerala. 
The 'Naivedyam', or food offering, made during different prayers and rituals for Lord Krishna at the world famous Guruvayur temple in Thrissur district of Kerala, includes about 1,200 bananas of a rare variety called 'Pooja Kadali'. Earlier, to give this daily offering, the temple was dependent on supply from Tamil Nadu, as this special variety was on the verge of extinction in Kerala. However, now, women agriculturists are growing these bananas on 47 acres, under seven panchayats of Kodakara block, and supplying them to the temple, ensuring a taste of homegrown plantain for the revered deity.
"I am part of a five-member Joint Liability Group and we cultivate bananas, vegetables, and paddy on about 15 acres of land. We supply the fruit to the Labour Cooperative Society, which has a deal with the Guruvayur Devaswom Board, under the auspices of the State government's 'Kudumbashree' programme. Around 750 women in 150 groups are cultivating bananas in our block," says 54-year-old Shobhana Krishnamurthy of Muttathoor panchayat.
Kudumbashree, the Kerala government's poverty alleviation programme launched in 1998, has brought about a green revolution in the state today.
It has done this solely by tapping into women's potential for farming and entrepreneurship.
"The Guruvayur temple only accepts 'Pooja Kadali' of a stipulated size (7000 apex.), so those bunches that don't meet the criteria are then utilised for making 'Rasayanam', an ayurvedic preparation, in collaboration with an Ayurvedic pharmaceutical company. About 20,000 bottles of 'Rasayanam' are being made in our block every month," adds Krishnamurthy.
Farming has taken off in a big way among women under Kudumbashree's collective farming and 'Samagra' projects, implemented with active participation from Panchayati Raj Institutions (PRIs) and supported by a farming subsidy. Not only has the project increased agricultural production, it has also brought considerable fallow land back under cultivation and financially empowered thousands of women.
Joint Liability Groups (JLGs), structured under the National Bank for Agriculture and Rural Development (NABARD) guidelines, have been formed to ensure agricultural credit from banks for women cultivators. The JLGs come under the interest subsidy scheme of Kudumbashree, when they avail agricultural loans from banks – the state government provides a subsidy of five per cent on the seven per cent interest of agricultural loan. So far, around 10,543 JLGs have availed of loans amounting to over Rs. 123 crore under the project.
"In Muttathoor panchayat alone, 504.85 acres are being cultivated under Kudumbashree's collective farming and Samagra projects," shares Dhanya Vijayan, 30, Community Development Society Accountant, Muttathoor panchayat.
Data collected in 2013-14 indicates that 47,611 JLGs are cultivating on 40,218 hectares, growing paddy, fruits such as pineapple, bananas; vegetables like bitter gourd, amaranthus, snake gourd, cowpea, watermelon, bottle gourd, ginger, tapioca, ridge gourd, lady's finger, brinjal, and chilli. Coconut and cashew are popular crops as well.
"We have debunked the theory that agriculture is not profitable. Our group 'Aishwarya' took a bank loan of Rs. 60,000 for cultivating the 'Nendran' variety of bananas on 75 cents of land, which had been lying bare. We paid off the loan in just six months. The subsidy was a big help. We made a profit of one lakh in one season," says 39-year-old Bina Pradeep of Vallachira village.
As the women have discovered, the trick to making things work in their favour is by putting in their own labour.
"Hiring workers is expensive in Kerala as daily wages are Rs. 700-750. That is why big landlords don't make profit. We have leased land from landowners and are still able to turn in a profit because we put in the labour ourselves," elaborates 35-year-old Surabhi Sivan, whose five-member JLG 'Jeeva' leased a two-acre plot to cultivate bananas.
"We paid Rs. 54,000 for the lease, gave back the bank's one lakh rupees loan in six months and still made a profit," she says proudly.
Across Kerala, there are many such success stories.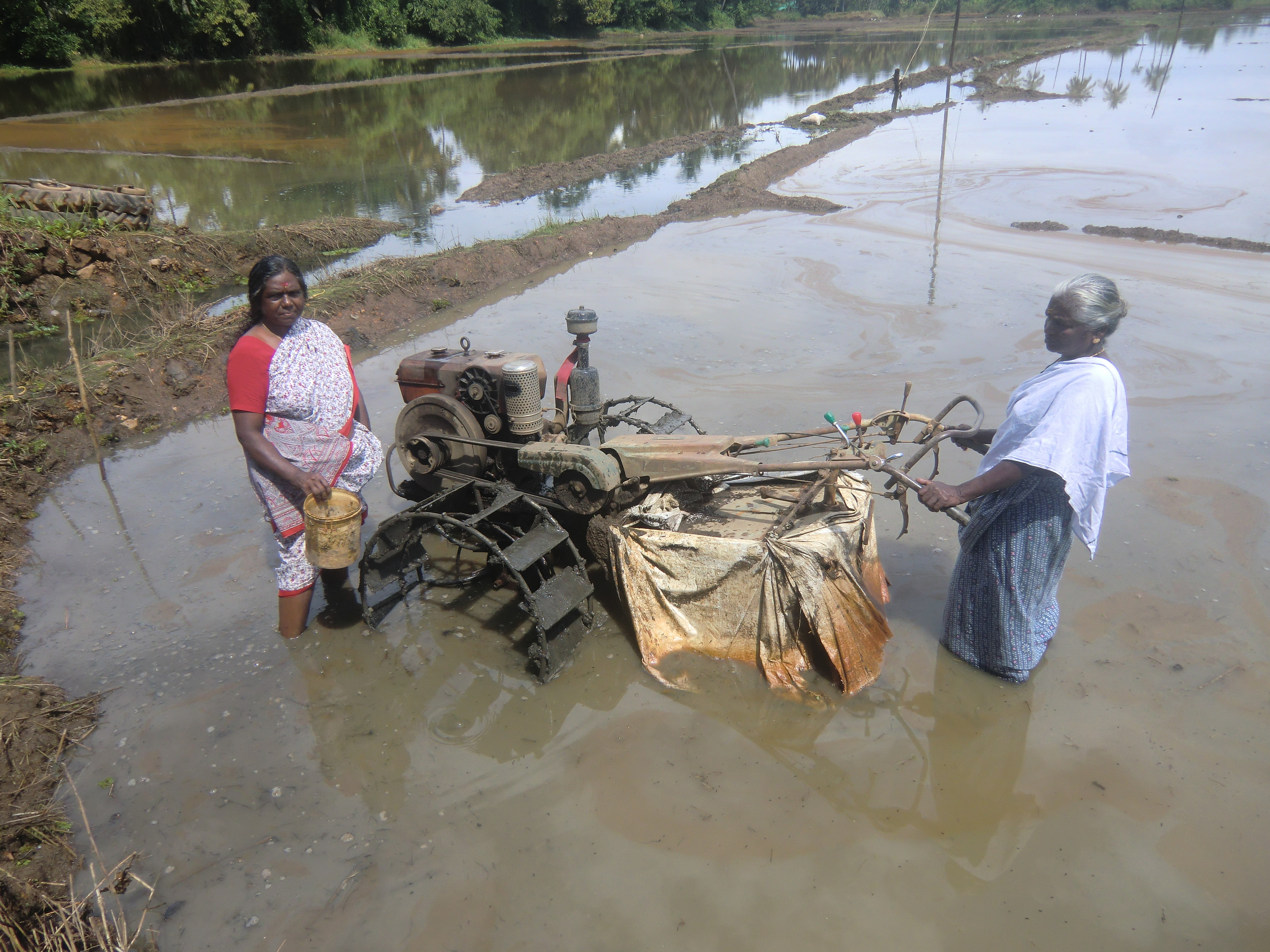 Kudumbashree lists the collective farming venture at Kaipram under Perambra panchayat in Kozhikode district at the top. Here, 170 acres of fallow land was recovered and put under paddy cultivation with the efforts of 256 women belonging to 53 groups. While the seeds were procured from Krishi Bhavan, the manure was provided by the gram panchayat, which gave Rs. 1,80,000 for equipment. The women have turned an overall profit of Rs. 20 lakh.
In another case, 30,000 women banana cultivators belonging to 6,000 JLGs pushed up banana production in Thiruvananthapuram district from 8 to 20 metric tonnes per hectare. The phenomenal change was brought about under the guidance of the Kerala Agricultural University.
Additionally, facilitated by Kudumbashree, the women executed a buy back arrangement on the produce with a private company. The JLGs leased the farming land, conducted comprehensive soil surveys, set up demonstration plots and carried out integrated pest management practices, to make the venture a model project.
Ensuring a profit has been the underlining factor in Kudumbashree's agriculture revolution.
Towards this, gram panchayats across the state train women in using farming equipment and machinery, creating Kudumbashree's own 'Vanitha Karma Sena' or Green Army.
"Money is lost if you have to pay the coconut tree climber, the tiller machine operator or the sowing machine operator. We have trained the women to operate different agriculture related machines themselves and with loans and support available to buy equipment, most groups now own and operate their machines, saving considerable amount of money," explains Bindu Shivdasan, 40, President, Muttathoor panchyat.
There are nine women coconut tree climbers in her panchayat and several women are operating tiller and sowing machines.
Leela C.K., 60, of Palliparam village under Paralam panchayat in Thrissur district, is a case in point.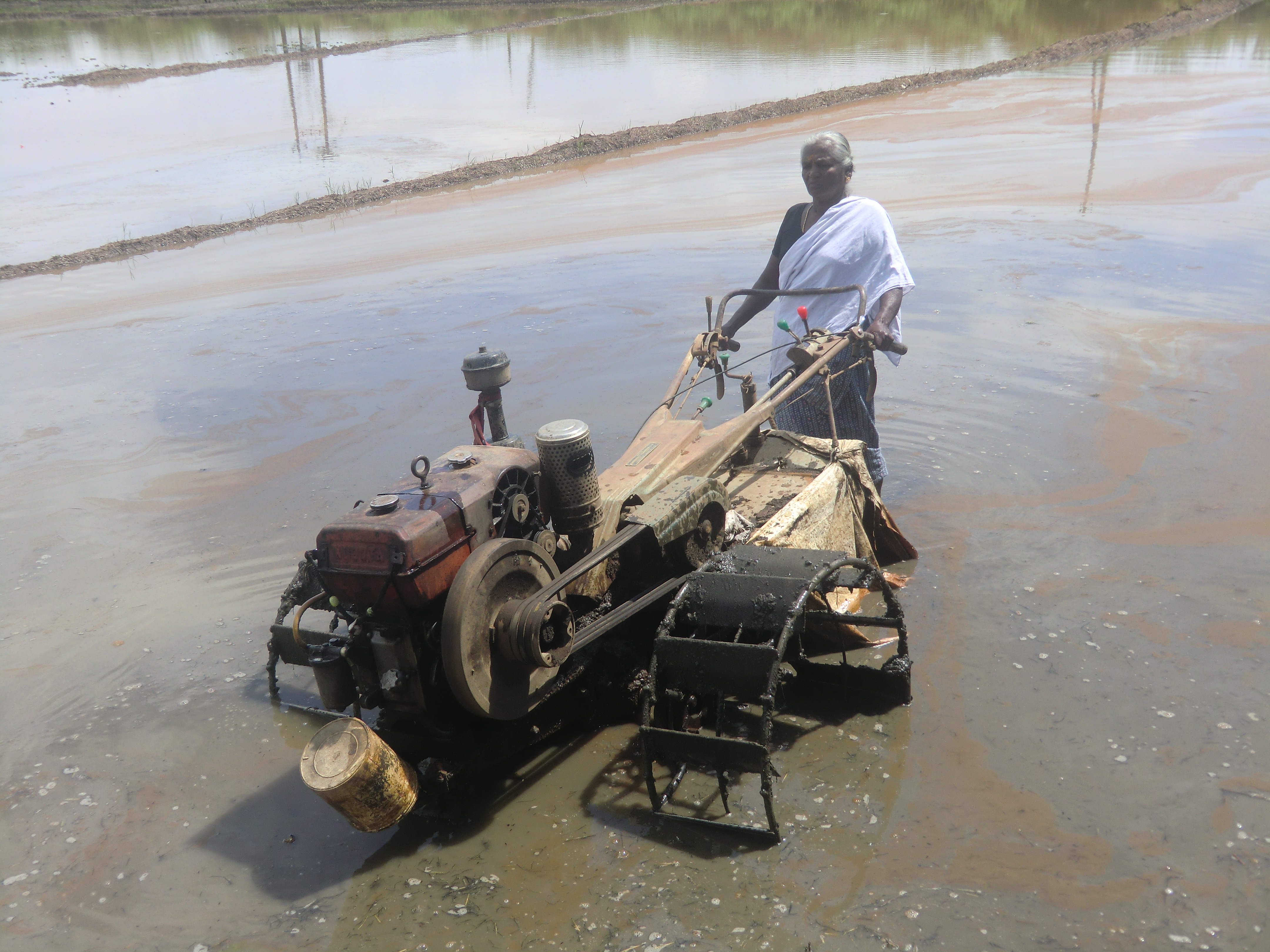 Her group cultivates paddy on her three-acre plot once a year. She operates her own agriculture machines. "I attended the panchayat's training courses and can confidently work the machines, as does my friend Omana C.C., who is 60 as well. Age is no factor and this saves the group a lot of money in wages," remarks Leela.
Apart from their regular production, the women nurture a kitchen garden on ten cents of land, producing different leafy vegetables, brinjal, lady's finger, beans and chilli. "We share the produce and use the vegetables ourselves. This ensures a steady supply of cost-effective nutrition for our families as the labour is ours and seeds are available free from Krishi Bhavan," says Omana.
Bad weather can ruin the crops sometimes, as experienced by Surabhi Shivan and her group 'Jeeva' last year.
However, Kudumbashree's holistic approach towards financial empowerment worked wonders.
"The micro-credit facility available under Kudumbashree allowed us to take another loan to make up the loss and this year we are sure to make a good profit," says Shivan.
Kudumbashree has provided the wherewithal, but it is the sheer hard work, entrepreneurship and sincerity towards commitments like repaying bank loans that has seen the women in Kerala surmount challenges and hurdles such as the lack of land and finances, natural calamities and labour issues to lead a green revolution in their state. This has made them the cornerstone of the food security movement – that too in a notoriously consumer state!
Like this story? Or have something to share? Write to us: contact@thebetterindia.com, or connect with us on Facebook and Twitter (@thebetterindia).
We bring stories straight from the heart of India, to inspire millions and create a wave of impact. Our positive movement is growing bigger everyday, and we would love for you to join it.
Please contribute whatever you can, every little penny helps our team in bringing you more stories that support dreams and spread hope.