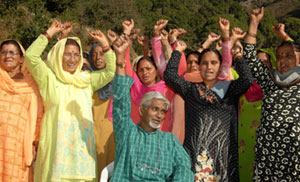 The hills of Shimla are rich and fertile. All major agricultural products are grown here, including wheat, rice, pulses, potatoes, ginger, turmeric and many other fruits and vegetables. However, in the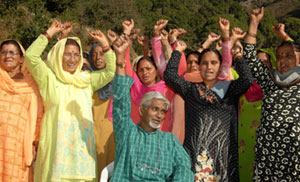 The hills of Shimla are rich and fertile. All major agricultural products are grown here, including wheat, rice, pulses, potatoes, ginger, turmeric and many other fruits and vegetables. However, in the early 1970s, the problem was that the menfolk of this area would squander away all their income on liquor. Women were deserted and led miserable lives. Enter Subhash Mendhapurkar who transformed the lives of the women in the Shimla Hills.
Kallol Bhattacherjee of The Week writes this extensive report on Subhash Mendhapurkar and how he brought about a revolution in the hills of Shimla:
Mendhapurkar knew it was not going to be easy in Shimla. He started off in a room in a youth hostel near Jagjit Nagar village. The chain-smoking young man punching the keys on a rickety Remington intrigued the local people. He started introducing the women to feminist thoughts. "Sometimes he would stay up for weeks as people came continuously to consult him," said Vimla Devi.
Under his guidance, the women learnt of a rule that every liquor vendor needs to seek permission from the Gram Panchayat to open a store.
This then led to more active involvement from the women:
The hills were changing. In 1983, Mendhapurkar ended his association with SWRC and started Sutra (Social Uplift Through Rural Action) with rural women as members.
"We told liquor vendors to seek permission of the panchayat members before vending liquor in the neighbourhood," said Leela Devi, one of the pioneers of Sutra. The panchayat was still under the thumb of the menfolk, and female panchayat members' role was limited to making tea and pakodas for the male members. Mendhapurkar asked the women to decide if they required a liquor vendor in their neighbourhood. "If not, you should form majority in the panchayat meetings and convey your opposition through mahila mandalis," he told them. The women just did that and nixed every attempt to open new liquor shops. "We mobilised all the women suffering from alcoholic husbands and ensured that they formed majority in every panchayat meeting," said Vimla Devi, who emerged as a prominent anti-liquor crusader.
Subhash just didn't stop there. He also looked actively in to the issues faced by the women who were deeply reliant on the mountain lands for their living:
The forest department had been planting thousands of pine trees on the hill slopes to prevent soil erosion. But it was of no help to small women entrepreneurs. "What is good for the forest department is often not useful for women. They want small fruit trees that hold soil, and grass which is good for their cows," said Mendhapurkar. How to use mountains for social benefit without triggering landslides in the rains was a challenge that pushed him to understand them better. Now he visits the International Centre for Integrated Mountain Development, Kathmandu, to deliver an annual lecture in December. According to Mendhapurkar, since women control the rural economy in the Shimla Hills, and since they benefit from forestry, the Shimla-Kassauli region of the Shivalik ranges should be utilised for female health and their economy.
Subhash then went ahead and introduced the concept of water harvesting to help women manage water resources better. The association started by him, Sutra, became immensely popular. After focusing on these livelihood issues, Subhash then turned to healthcare and micro-credit to make them more independent:
"Denied care and affection, and always illiterate, these women did not know how to improve their condition," he said, narrating a campaign he began in the mid-1980s for single women. It is known as Ekal Naari Shakti Sangathan or simply 'ekal' in the hills.

Hearing of the campaign in the hills, women from all over Himachal Pradesh sent requests for similar help. In Hamirpur and Una districts, a large number of single women were HIV+ thanks to their husbands who were migrant workers. In April this year, around 3,000 single women from rural Himachal marched to Shimla, and Chief Minister Prem Kumar Dhumal promised them that the rural single women would get free treatment for all ailments in government hospitals. "We want respect for single women of Himachal villages. We should not be treated differently," said Nirmal Chandel, leader of Ekal. By 2009, Ekal will launch its pan-Indian avatar.
The impact of all that Subhash has done is there for everyone to see. The article says:
The impact of Mendhapurkar's work is best felt in the way the sex ratio in Solan district has stabilised at 940 females to 1,000 males, which was much lower earlier.
Truly, what Subhash has managed to achieve is a lot and beyond what can be put in words in a single article. And of course, the hills have changed. The Better India salutes the spirit of Subhash Mendhapurkar and all his associates who helped bring about this change.
Read the complete article which covers the initial days of Subhash and how he managed to bring about these transformations.
Image courtesy: Arvind Jain of The Week.
Act Now For The Better India.