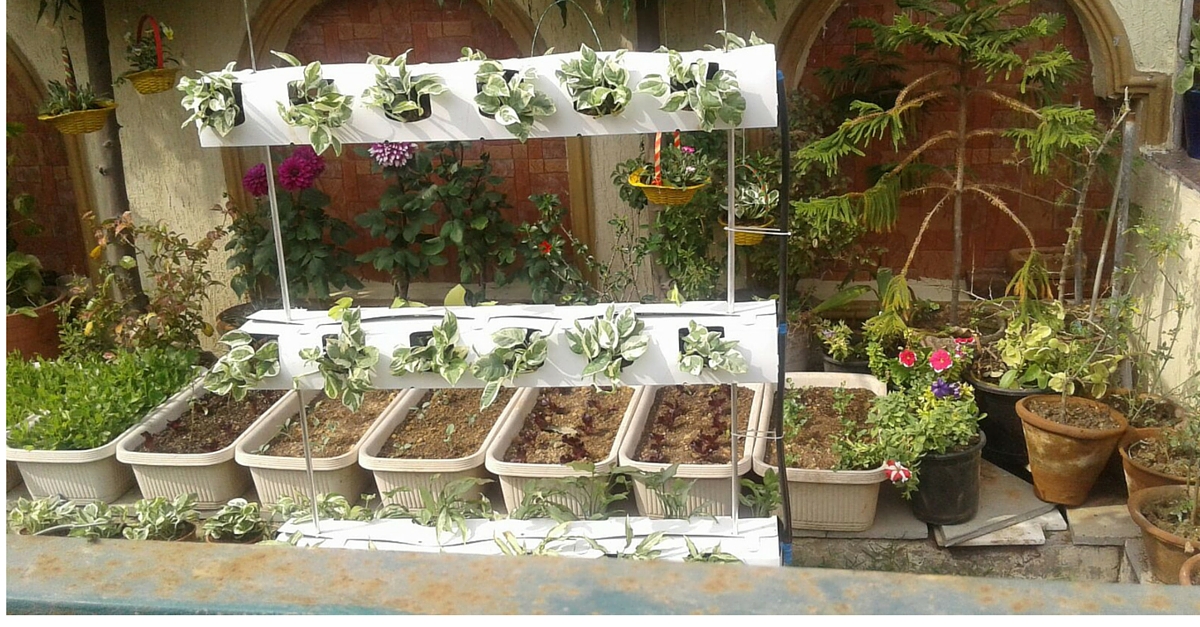 Bioneer is a revolutionary machine that can create compost from organic waste in just 24 hours. An innovation of Mumbai-based Excel Industries Private Limited, this product is in the market now.
Bioneer is a revolutionary machine that can create compost from organic waste in just 24 hours. An innovation of Mumbai-based Excel Industries Private Limited, this product is in the market now.
Everyday, our growing cities generate more and more waste and this is overloading our municipal systems. Governments as well as the common people have fortunately come to realize that responsible and inclusive waste management is the only sustainable solution to this mounting problem we face.
Excel Industries is an Indian company involved in the manufacture of domestic chemicals. It was set up as an agro-chemical manufacturing company in 1941. But it was only 20 years ago that it stepped into waste management in a big way.
Instead of letting waste just fill up landfills, this company has been coming up with various technologies to convert organic waste into compost.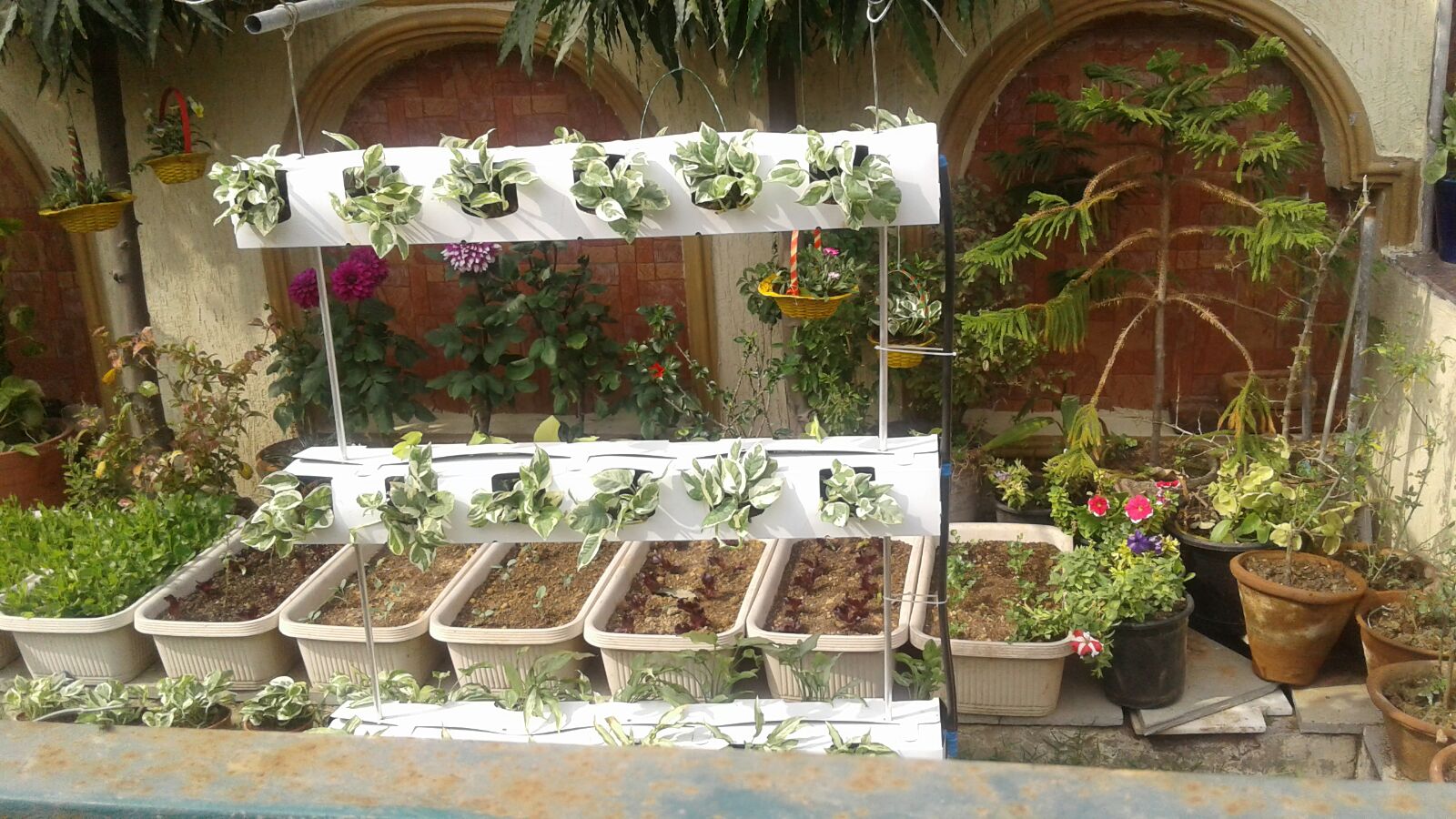 "The first step towards effective waste management was to establish the Centralized Waste Management units. In these CWM units, all municipal solid waste, whether segregated or not, would be converted into compost. These large plants are capable of treating waste ranging in quantities from 100 to 500 tons of municipal solid waste," says Saurabh Shah, Vice President, Environment and Biotechnology Division, Excel Industries.
The flagship plant of the company at Ahmedabad treats up to 500 tons per day and produces a rich organic manure brand called Celrich.
One of the chief innovations of the company is the Organic Waste Converter. There are at least 1500 installations of this converter all over India.
This decentralized waste management system can turn large amounts of organic waste — like kitchen waste, garden waste and food processing waste — into compost.

Last year the company came up with a more compact unit that is faster in composting too. It is called Bioneer. This unit makes compost out of organic waste within 24 hours.
Bioneer, revolutionary in-vessel composter, has the potential to change how the world treats organic waste.

Mr Amit Choudhary, who is a resident of Rajnagar Extension in Ghaziabad,  heard about this machine from one of his friends. He saw it being used at another location and convinced the people of his own housing colony to invest in it.
"We have placed the machine in the car parking space and since it is very compact no one is complaining. We have our rag pickers who collect the garbage from door to door every day and after segregating the waste, the organic waste is stored in a pit. Once a week we put it all into the Bioneer machine and by the next day compost is ready. This is fed immediately to our plants in the colony garden as well as in personal gardens. Everyone in our colony is very happy with this system of waste disposal," he says.
Excel has also created Bioculum and Sanitreat, two in-house manufactured powders, which help the converters do the composting easily.
Sanitreat is a free flowing light brown powder. It is a non-hazardous mixture of mineral and herbal components that control the putrefaction process of organic waste materials.
Since Sanitreat retards the formation of toxic leachates and gases, it is able to make organic garbage stink free in just a few minutes.

Sanitreat powder should be sprayed dry over the garbage using a powder sprayer. Though no special handling precautions are necessary, it is advisable for the users to wear gloves when handling this powder. The amount to be used varies upon the organic content of the waste material, the climatic conditions and how old the material is. About 2 kgs is enough to cover 1 metric ton of waste, which need not necessarily be segregated waste.
Bioculum is another mixture of micro organism cultures that accelerates the aerobic composting of bio degradable organic waste. It also treats the waste and makes it free from pathogens, foul smells and weed seeds.
Bioculum is free from any toxic or hazardous components and preserves the vital nutrients and organic matter in the waste.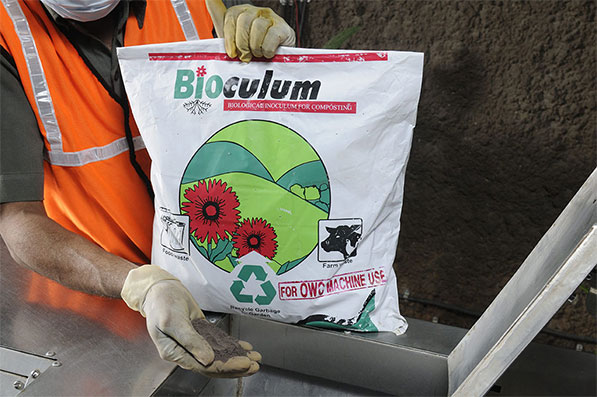 "Bioculum is a key input in the Organic Waste Converting process and consists of cultures of naturally occurring bacteria, fungi and actinomyces and enzymes. These facilitate the rapid conversion of organic waste into a bio-stabilized compost," says Saurabh Shah.
If the organic waste is properly treated with Bioculum, the waste can be converted into stable organic manure that can be used for bio-organic enrichment (especially of soil).
In the Organic Waste Composter, as well as Bioneer, only segregated organic waste is put into the machine. The waste matter is mixed with Bioculum and an absorbant as recommended. For absorbant, the users of the machine can put in sawdust or even dry grass.
Within 15 minutes the organic waste composter processes the waste and the output is a moisture free material which is placed in open trays for curing for around ten days. After this it becomes ready to use compost. However, in the Bioneer unit, within 24 hours an innocuous, nuisance free output is produced.
This output can immediately be mixed with soil and within two or three days the product begins to work as compost.

Mr MK Garg, a horticulturist by profession, has invested in Bioneer as well as the Organic Waste Converter and is very happy with these products.
"Composting, especially with Bioneer, is an extremely hassle free method. We have it in our housing society in Greater Noida, and the organic waste of all the houses is converted into compost within a day," he says.
The compost is used by all the residents in the society as well as by Mr Garg for his horticulture plants.
"The output from this machine is a nutrient enriched fertilizer, which is 10 times better than normal manure. Over the past year I have grown many vegetables and flowering plants with this compost mixture and have noticed that growing high density vegetables in pots is very easy with this manure," he adds.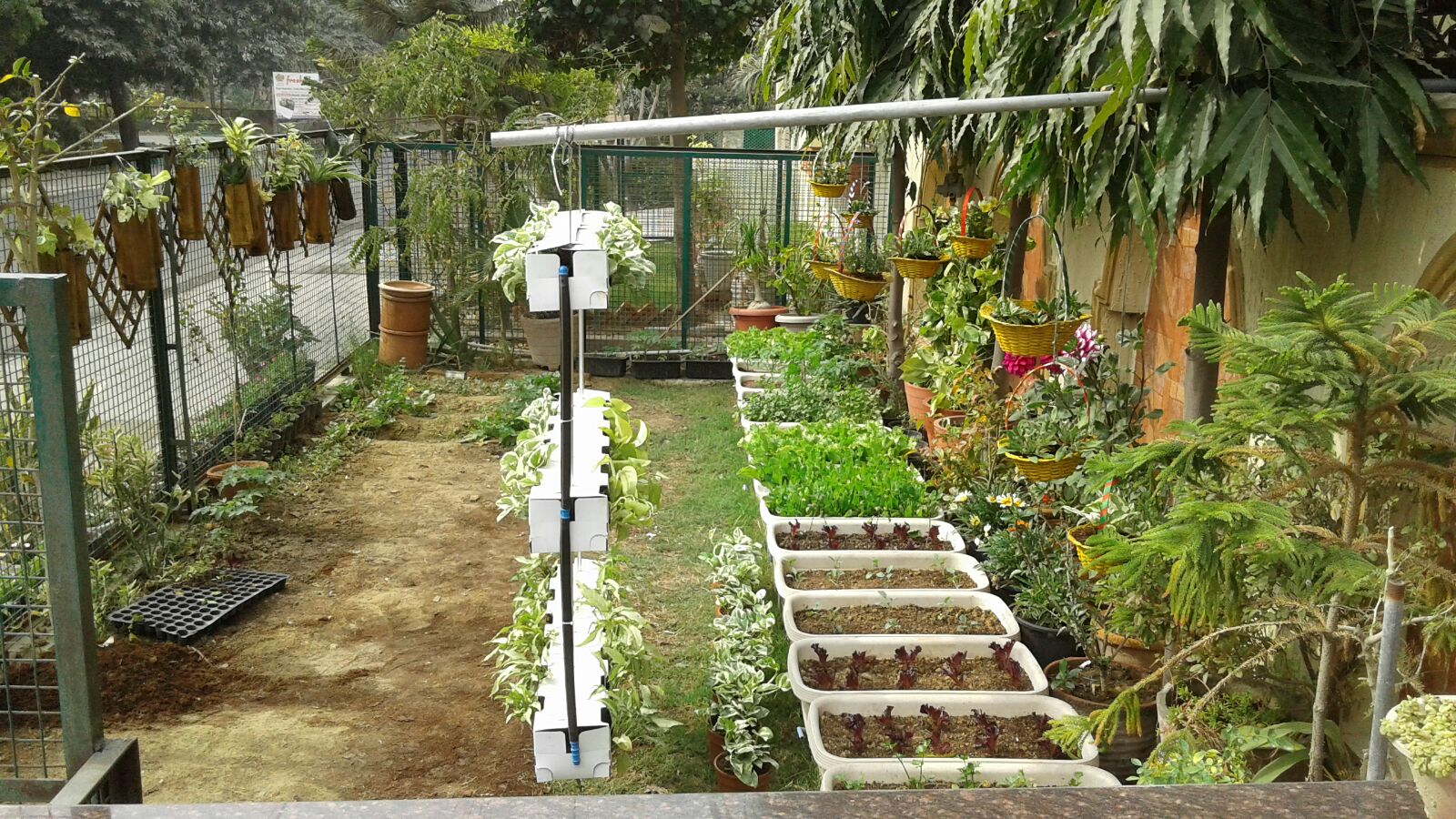 Excel's machines come in various sizes and capacities. The OWC comes in 5 sizes, with a capacity variance from 10 kg per batch to 170 kgs per batch. The Bioneer comes in four different sizes too, with the smallest one having a capacity of processing 100 kg of waste in a day and the largest being able to process 400 kg per day. These machines are best suited for housing societies, corporations, large kitchens, and even temple complexes.
"It is heartening to know that people are interested in sustainable waste management and more and more people are aware of making their surroundings cleaner," concludes the Vice President.
For more information log onto the official website of the company – http://www.excelind.co.in
Like this story? Or have something to share? Write to us: contact@thebetterindia.com, or connect with us on Facebook and Twitter (@thebetterindia).
About the author: Aparna Menon is a freelance writer, writing for various newspapers for the past 10 years. Her main fields of interest are wildlife, heritage and history. A keen traveler, she loves to read and write and does a lot of art work too.
We bring stories straight from the heart of India, to inspire millions and create a wave of impact. Our positive movement is growing bigger everyday, and we would love for you to join it.
Please contribute whatever you can, every little penny helps our team in bringing you more stories that support dreams and spread hope.