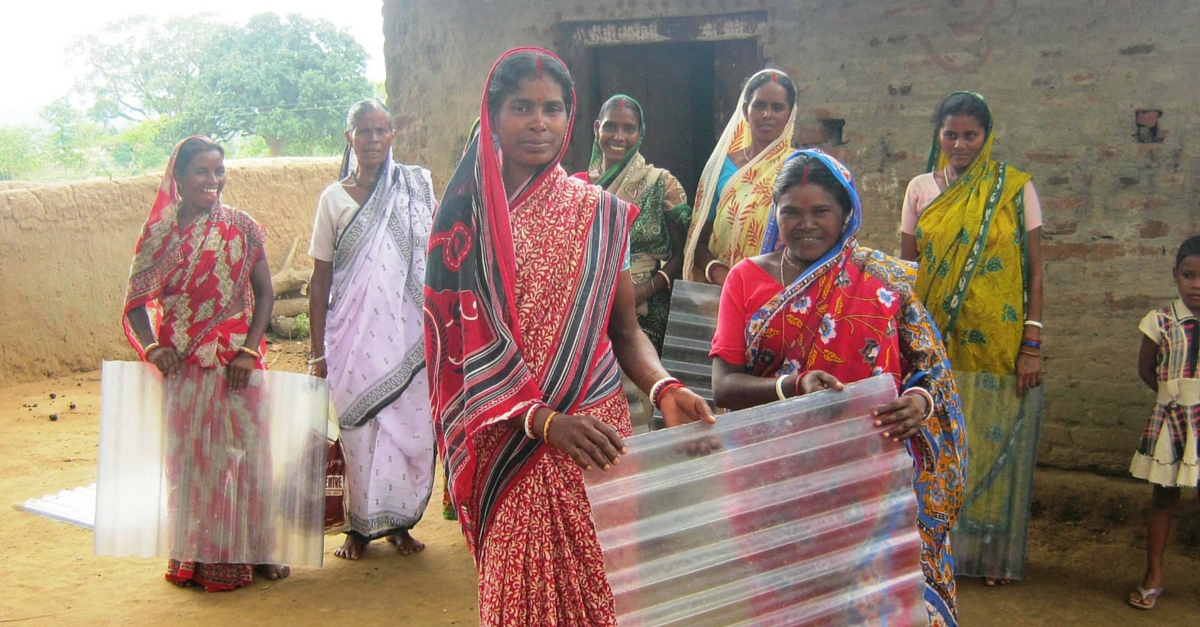 Most women, who have a fibre sheet at home, have got into the routine of finishing all their cooking and other kitchen work during day, making best use of the 'free' light.
In West Bengal's Purulia district, simple ideas are bringing about small but significant changes to nutrition and food security. 
A one-and-a-half feet by two feet transparent fibre sheet has completely revolutionised Kokila Mahato's way of life. It has enabled the 58-year-old from Pandra village in Jhalda Block II of Purulia district, West Bengal, to finally prepare hygienic, nutritious, and well-cooked meals for her family.
Quite remarkably, the fibre sheet has not just brought sunshine into the otherwise dingy kitchens of rural women across Jhalda II block, it has also emerged as a cost-effective way of ensuring that families eat healthy.
Bhavana Mishra, an activist with Pradan, a local NGO which has facilitated this innovative intervention with the financial assistance of Deutsche Welthungerhilfe (WHH) of Germany, says, "Tiled roofs, thick mud walls, and almost no windows are characteristic features of most village homes in the region. The interiors are dark and the most unventilated room is the kitchen – located almost always at the back of the house," she says.
These women are used to cooking by the light of firewood, coal, or a small kerosene lamp.
"Often the food would remain underdone and even if some fly or insect fell into it, they would not see it. Today, those are things of the past. A single fibre sheet has ensured that strong sunlight filters into the kitchen, illuminating it without electricity or use of any fuel. While the idea itself is simple, the impact has been extraordinary," she says.
In homes across 16 villages of Majihidih Gram Panchayat, a few tiles on the kitchen roof have been replaced by a transparent fibre sheet, supplied to local women self-help groups (SHGs).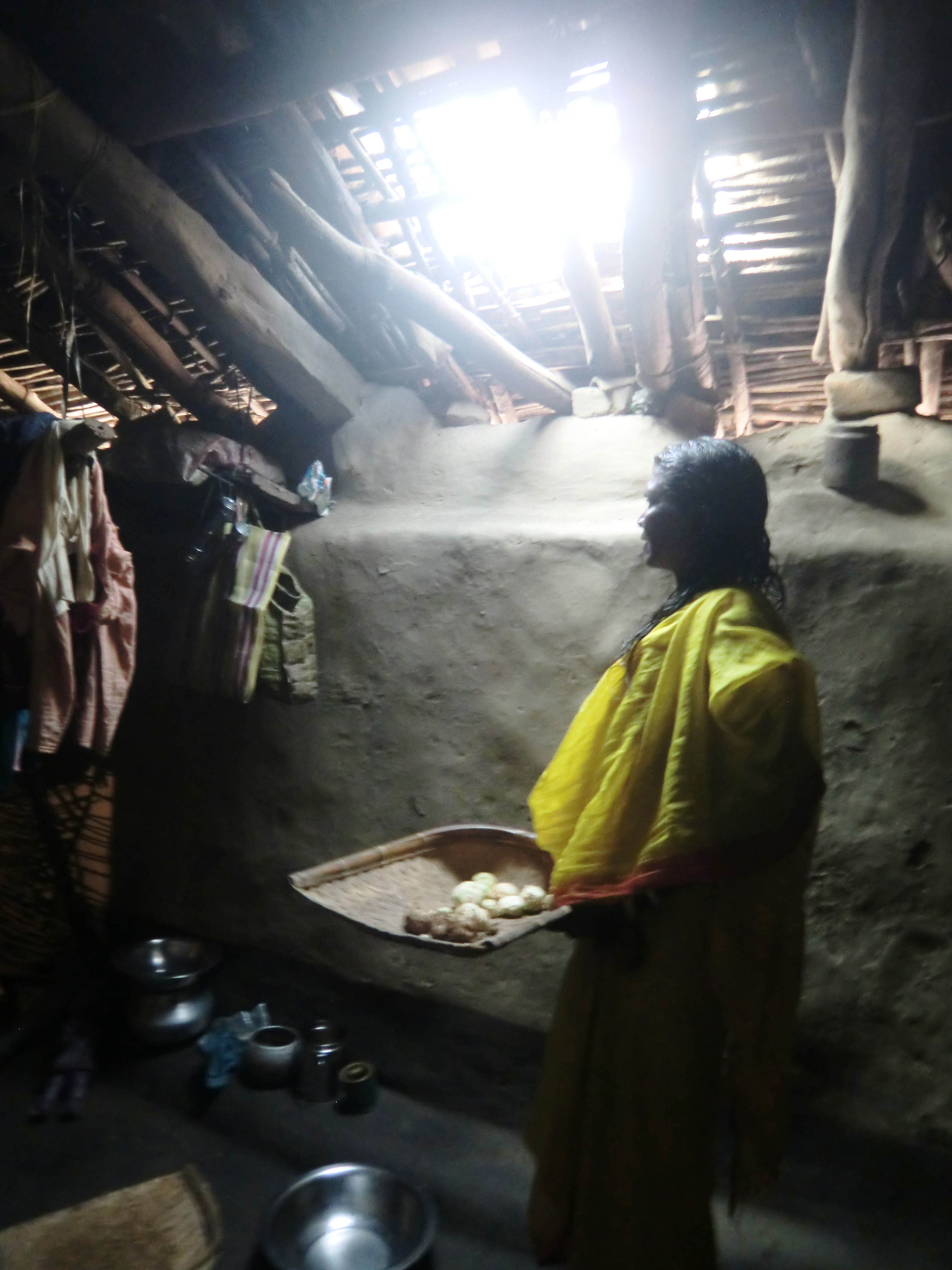 "I can see what I am cooking nowadays. Previously, working in darkness, I would make food almost by instinct, randomly adding spices and even washing the vegetables, meat, and fish very cursorily. My family would often complain about the food being tasteless and sometimes there would be dirt left on the vegetables. Now, there is a huge difference in the quality of meals I am churning out on a daily basis," says Kokila with a happy smile.
All the 12 members of the Hari Mandir Mahila SHG in Pandra, including Kokila, have got the fibre sheet fixed in their kitchens.
"Each of us contributed Rs. 20 towards the fibre sheets. The transportation worked out at about Rs. 2 per head, while the mason charged Rs. 10 to install it. This turned out to be a very cost effective solution for us, as we are no longer spending money on buying kerosene for the 'dibri' (lantern). Large families run out of rationed kerosene soon and then have to buy it in black. It severely increases our household expenses," elaborates 50-year-old Adumoni Mahato of Pandra village.
Of course, not everyone has been successful in getting a fibre sheet installed. Some members of the Nari Mukti cluster in Pandra village, which has six SHGs under it, comprising 76 women, ran into a problem.
"My house has an asbestos roof and the mason is charging higher rates to cut through it and fit the fibre sheet. But most women here have realised how important it is for our family's health to not just cook in the right light, but also eat in the right light so that we can spot and avoid contamination," says 36-year-old Lakhi Mahato of Maa Saraswati SHG.
Banasree Mahato, 23, who belongs to the Shaktimaan SHG under the same cluster, is so pleased with the fibre sheet that she has installed one on the roof of another room.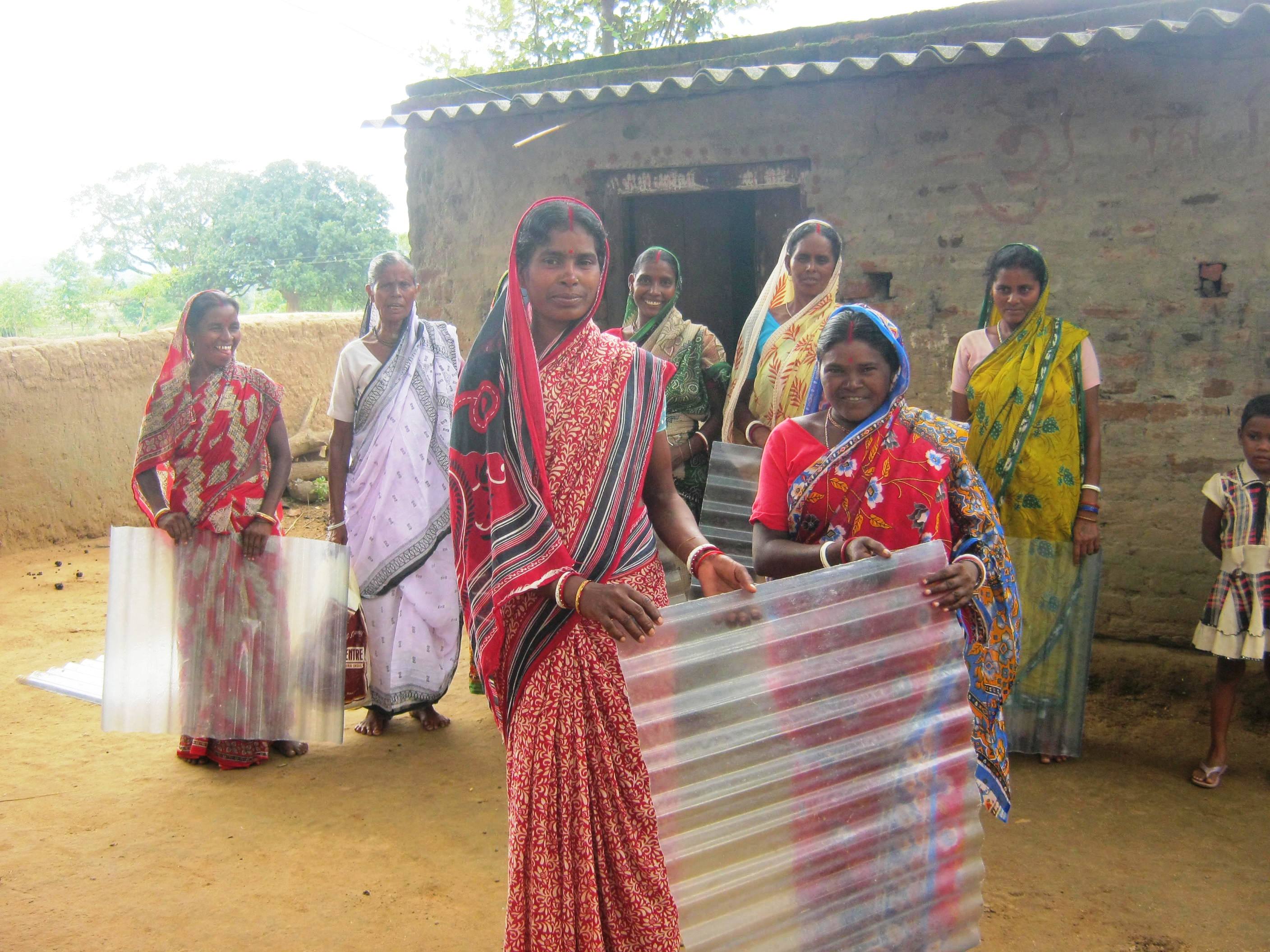 "My house has an electricity connection but ever since we got the fibre sheets fixed, the power bill has come down. There is light in my kitchen and my main room all day long and we do need to not use electricity. Some of my SHG members have installed fibre sheets on the roof of their cowshed as well, where it is always dark," she says.
Most women, who have a fibre sheet at home, have got into the routine of finishing all their cooking and other kitchen work during day, making best use of the 'free' light.
"I remember when sunlight had first filtered into my kitchen through the fibre sheet. I was shocked to see the number of flies, ants, and mosquitoes that were in my kitchen and near the food. In fact, many women had initially complained that there were more flies and mosquitoes because of the fibre sheet. But gradually it dawned on all of us that these insects and pests had always been there in our kitchens, but were just not visible to us because of lack of light. No wonder our children and other family members always had stomach ailments and other diseases like malaria and body rashes," says Suradhani Hembram, 40, of Simni village.
Incidentally, cases of malaria showed a considerable decline in these villages after Pradan handed out medicinally treated mosquito nets to the families. Several wells and tube wells have also been repaired under the initiative to provide better quality water, both for drinking and other uses.
To add to the efforts of ensuring better health for the community, especially the women and children, Pradan has facilitated the introduction of another significant initiative in Jhalda block II – the System Root Intensification (SRI) process for improved paddy production.
This significant initiative covers a population of 6,043 in the area.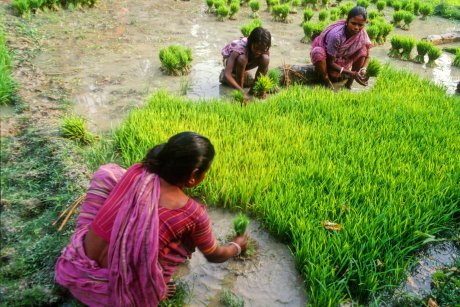 "We have been taught to wash paddy seeds in salt water and add a medicine. We then dry the seeds in the shade in the early evening or morning and once they are ready, we plant them one by one in neat rows at a gap of at least 10 inches. One kilo of these treated seeds is enough to be planted in one bigha of land. Earlier, we used to waste about 20 kilos for the same area," says  Urmila Murmu, of the Adivasi Lahanti Tirla Samiti, in Simni village.
The paddy saplings are then taken out after 12-15 days, instead of the conventional 20-25 days and the sowing is again done row by row. "We get a much higher yield with each plant having about 60-65 stems in comparison to the 4-5 stems before. We also get 200-250 grains from one plant, while through the traditional method, we got just about 80-85," she adds.
Better availability of food and its proper cooking as well as consumption have emerged as important components of food security and nutrition. In Purulia, simple ideas that don't entail huge costs are bringing about small but significant changes within families.
Like this story? Or have something to share? Write to us: contact@thebetterindia.com, or connect with us on Facebook and Twitter (@thebetterindia).
We bring stories straight from the heart of India, to inspire millions and create a wave of impact. Our positive movement is growing bigger everyday, and we would love for you to join it.
Please contribute whatever you can, every little penny helps our team in bringing you more stories that support dreams and spread hope.