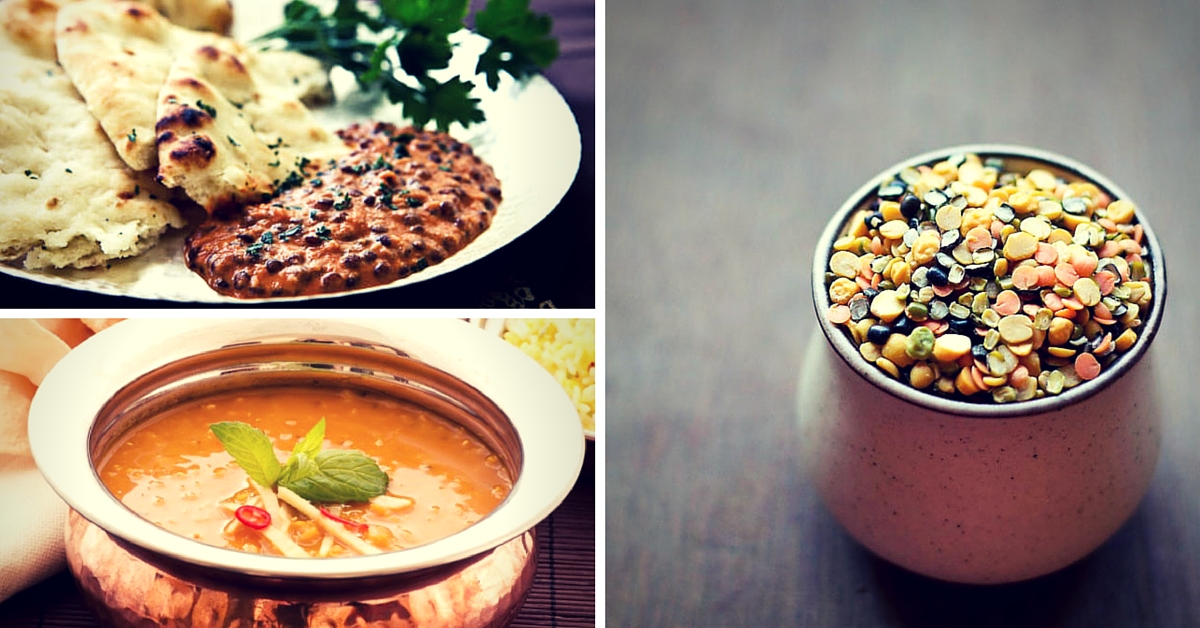 Daals are comfort food in virtually every Indian home. And each region in the country has its own favourite way of preparing them. Soup 'em, spice 'em or sprout 'em – but get your daily dose of healthy protein with any of these 10 must-try lentil dishes.
Daals are comfort food in virtually every Indian home. And each region in the country has its own favourite way of preparing them. Soup 'em, spice 'em or sprout 'em – but get your daily dose of healthy protein with any of these 10 must-try lentil dishes.
Hear that sound? It's the pressure cooker whistle going off in your own kitchen or in the next door flat. Whatever else there may be for dinner, some kind of daal is certain to make it to the table – be it sambhar or aamti or daal makhni or some new moong recipe your mom just learnt on Khana Khazana.
Daals have been on the Indian menu since pre-Harappa days, even before rice and roti made an appearance in the Indian thali. Old texts speak of simple recipes of daals being served to guests as part of celebratory meals — like at the wedding of Chadragupta Maurya with the Greek princess Helen in 303 BC.
You've probably tasted many varieties of daals – moong, urad, toor, masoor. But if you've only tasted them cooked one way, in the style of your local region, you're missing out on some fantastic culinary experiences from the rest of India. Here are 10 different ways you can cook daal at home, or sample when dining in another state of the country. Go on, experiment!
 1. Aamti, Maharashtra
A little hot, a little sweet and a little tangy, Aamti is the essence of the daily menu in Maharashtrian homes.  Usually made with toor dal, it is seasoned with a special aamti powder (or goda masala), mustard seeds, jaggery and kokam.
Aamti can be made with other varieties of lentils as well and is known by different names like Katachi Aamti (made with chana daal), or Golyanchi Aamti (fried balls in daal) or Masoor Aamti (made with red lentil). Aamti is best served with fresh steamed rice and a dollop of ghee.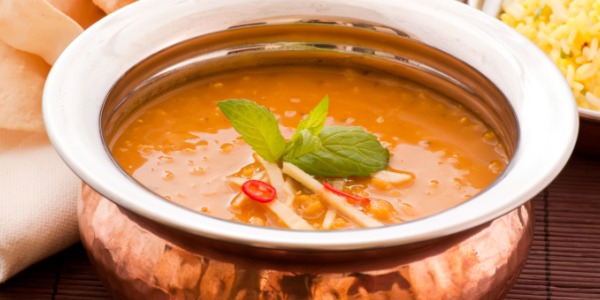 Try this Aamti recipe
2. Sambhar, South India
Sambhar is said to have originated in the kitchen of the Thanjavur Marathas ruler Shahji during the 17th century, in the South Indian state of Tamil Nadu. Shahji named it sambhar after Sambhaji, the second emperor of the Maratha empire, who was the guest of the day at a feast he held.
Other sources point to the origin of sambhar in Karnataka, where sambaru padartha in Kannada means mix of spices and condiments. There is also an alternate explanation that the origin of the name is from the old Tamil word, chaampu, meaning ground or paste, in the context of grinding coconut and spices to be dissolved in tamarind pulp.
Today, there are a variety of sambhars in Tamil Nadu, Andhra Pradesh and Karnataka. Each state, restaurant, home boasts of its secret sambhar powder recipe.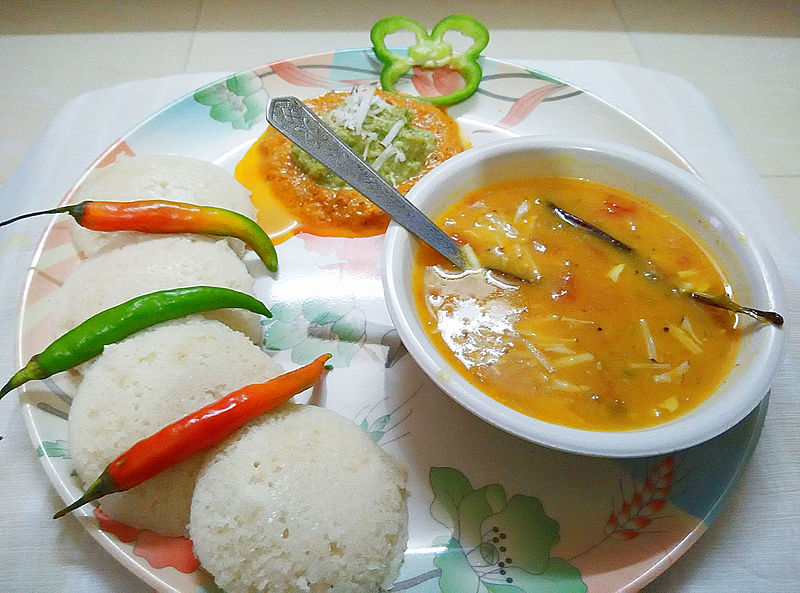 Pic source: Wikipedia
Try this Sambhar recipe
3. Daal Makhni, Punjab
Also known as 'maa ki daal,' this rich daal dish originated from the Punjab region of India and Pakistan. The primary ingredients in dal makhani are urad daal, rajma (kidney beans), butter and cream.
Daal makhani was a staple in united India before Partition. It was popularized in India following Partition, when many Punjabis migrated to the northern regions of India. The dish was also introduced to many consumers by entrepreneurial Punjabi migrants like Kundan Lal Gujaral who opened the Moti Mahal restaurant in Daryaganj in Delhi. Now, of course, you can sample various delicious versions of the dish at any of the highway dhabas while travelling by road in Punjab or Haryana.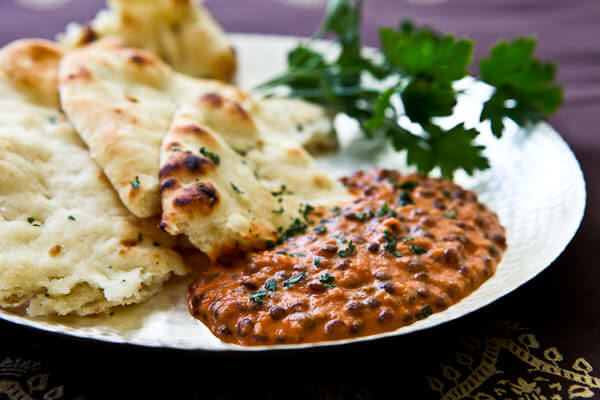 Try this Daal Makhani recipe.
4. Thikri ki Daal, Rajasthan and Hyderabad
In this unusual daal dish, which is made using different recipes in both Rajasthan and Hyderabad, one technique is common — a piece of freshly fired earthen pot is broken, heated until red hot, and added to the dish so that the rich aromatic flavor of the earth is captured. 'Thikri' means freshly broken earthenware. Different versions of this dish call for masoor daal or toor daal.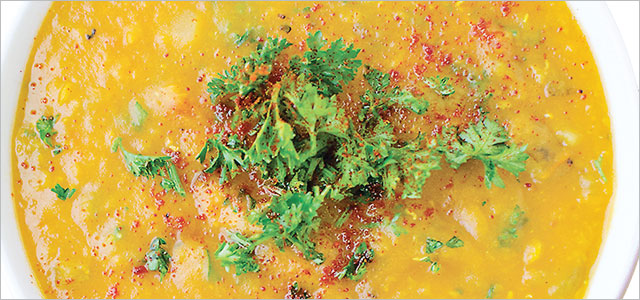 Here is a recipe for Rajasthani Thikri ki Daal
And the recipe for Hyderabadi Thikri ki Daal.
5. Gujarati Daal, Gujarat
Made with a distinct blend of masalas, toor daal and vegetables, what sets this dish a class apart is the use of flavourful peanuts that take the tastebud experience to a whole different level. This spicy, sweet and sour daal is light and thin in consistency and a staple in all Guajarati homes.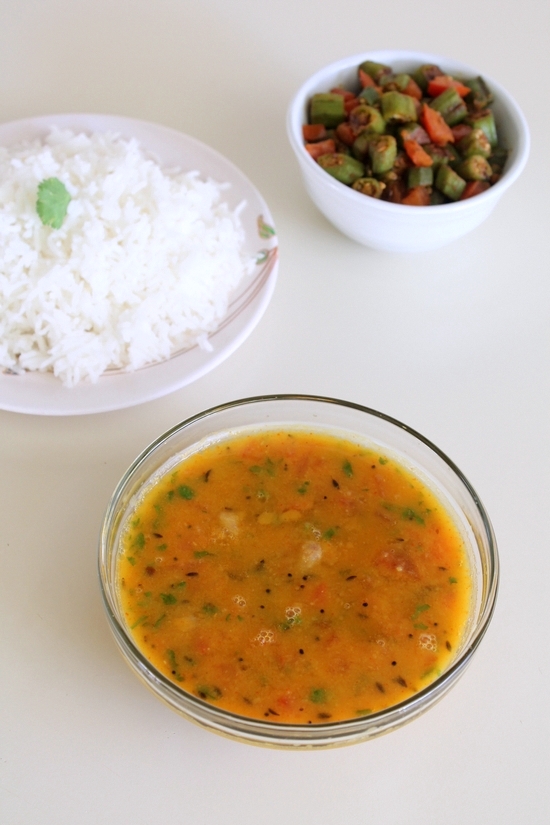 Here's a great Gujarati daal recipe.
6. Lucknowi Daal, Uttar Pradesh
The cuisine of the nawabs of Awadh is famous for its biryanis and meat preparations cooked in the 'dum pukht' (means to 'breathe and to cook') style.  A very interesting aspect of Awadh cuisine is the inspiration it draws from a myriad sources – seasons and celebrations, flora and fauna, personalities, poetry and colour. So it makes sense then that the humble daal should acquire a shahi or royal flavour when cooked in the land of the nawabs. The people of Lucknow give it that special touch by cooking the daal in milk.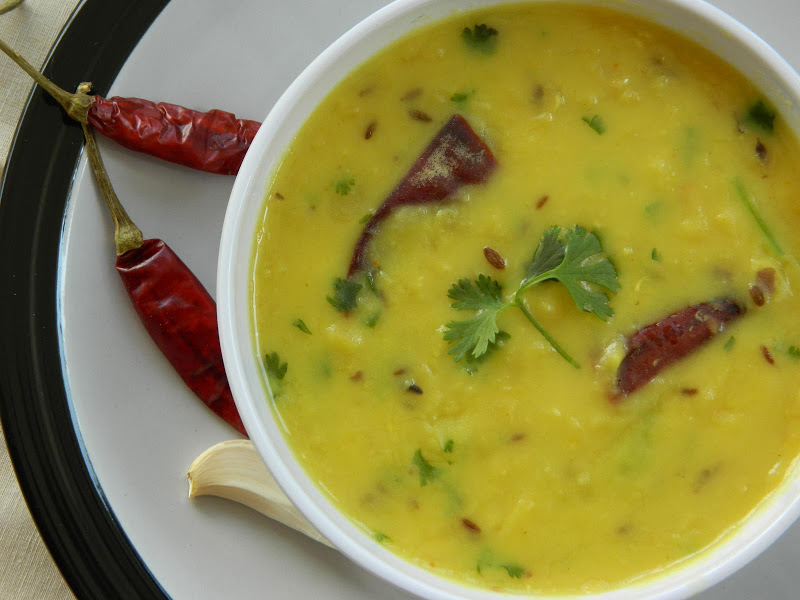 Try this Lucknowi Daal recipe.
7. Panchmel or Panchratna Daal, pan-India
When did this tomato-less yet flavourful melange of five different lentils make an appearance on the Indian culinary scene? Apparently, the first mention of this daal is made in the Mahabharata — Kunti and Draupadi prepared it to fulfill the nutrition needs of the Pandavas during their years of exile. Folklore in East India credits Bhim with coming up with this dish while hiding out as a cook in King Virat's kitchen.
By the medieval ages, this daal was popular in the Mewar gharana of Rajasthan and Jodhabai is credited with introducing it to Mughal chefs after she married Akbar. The use of five different lentils aside, what gives panchmel daal a nice smokey flavour is the tempering of spices in ghee. The dish was such a big hit with Mughal royalty that by the time Shah Jehan took over the throne the court had its own Shahi Panchmel Daal recipe. It was often demanded by Aurangzeb who, being a strict vegetarian, fancied the dish more than the roast meat dishes that found favour with his brothers.
India currently has over 9 different varieties of Panchmel daal.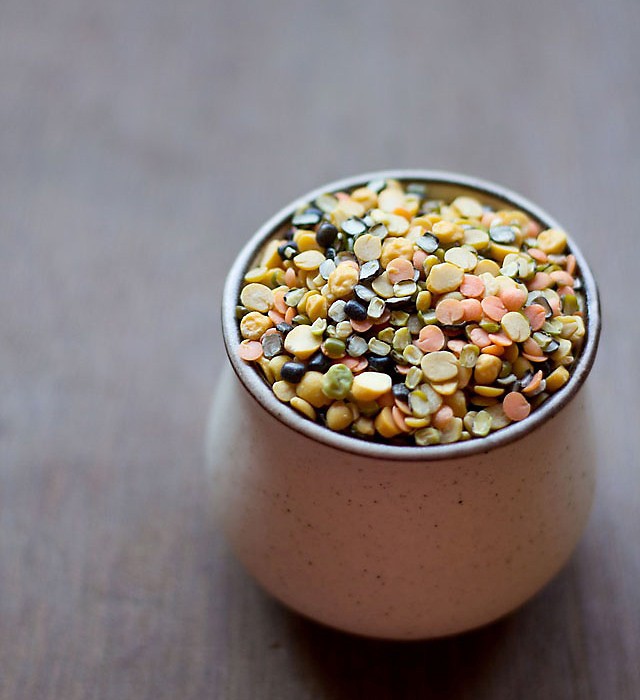 Try this recipe for Rajasthani Panchmel Daal.
8. Dalma, Orissa
Dalma is simple, no fuss food found in Odiya homes. This soup-like dish, which combines toor daal with vegetables like pumpkin, eggplant, potatoes and tomatoes, is a great accompaniment to rice. The traditional recipe calls for raw banana and raw papaya as well but these may be hard to find in city supermarkets. Roasted cumin and dry chilli powder are essential seasonings.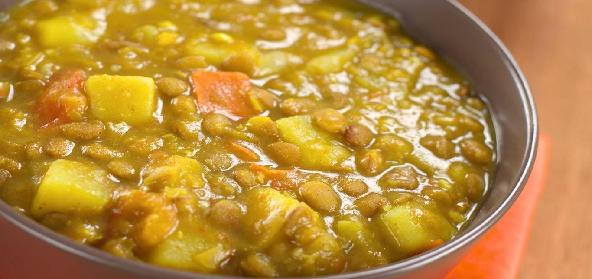 Here's a Dalma recipe for you to try.
9. Tomato Pappu, Andhra Pradesh
Pappu, meaning 'cooked lentils,' has a very special place in Andhra cuisine. A homely meal in this state is never complete without a portion of pappu, be it plain cooked lentils straight out of the pressure cooker or a more elaborate preparation. In colloquial Telugu, "pappu sudi" is a term used humourously to refer to someone as a simpleton or "one who does not know beyond his pappu," to be precise.
Andhra is known for its spicy cuisine but this tomato and lentil dish is restrained, although far from dull.
Here's a recipe for Tomato Pappu.
10. Daal Gosht, Hyderabad and Lucknow
This non-vegetarian dish, sometimes known as Mutton Dalcha, is a fusion of Hindu and Muslim cuisines. Although it is known that Vedic Indians cooked meat, since animal sacrifice and grilling were common among Hindu kings, this was not the kind of food eaten by everyday Indians before the Muslims came. The Islamic invasions of India brought in food influences from Turkey, Afghanistan and Central Asia that changed the food culture of the country. The Mongols, especially, given their nomadic roots and the arid landscape of their homeland, were used to quick grilled meats and food cooked with very little water. Indians, on the other hand, were not used to kababs and pilafs but exposed the Mughals to lentils cooked as a soup (daal) rather than the dry lentil salads of their homeland.
The coexistence of these two distinct cultures gave birth to a fusion cuisine that has popularly come to be known as 'Mughlai.' Daal gosht is an example of the complex cultural integration that has shaped this cuisine.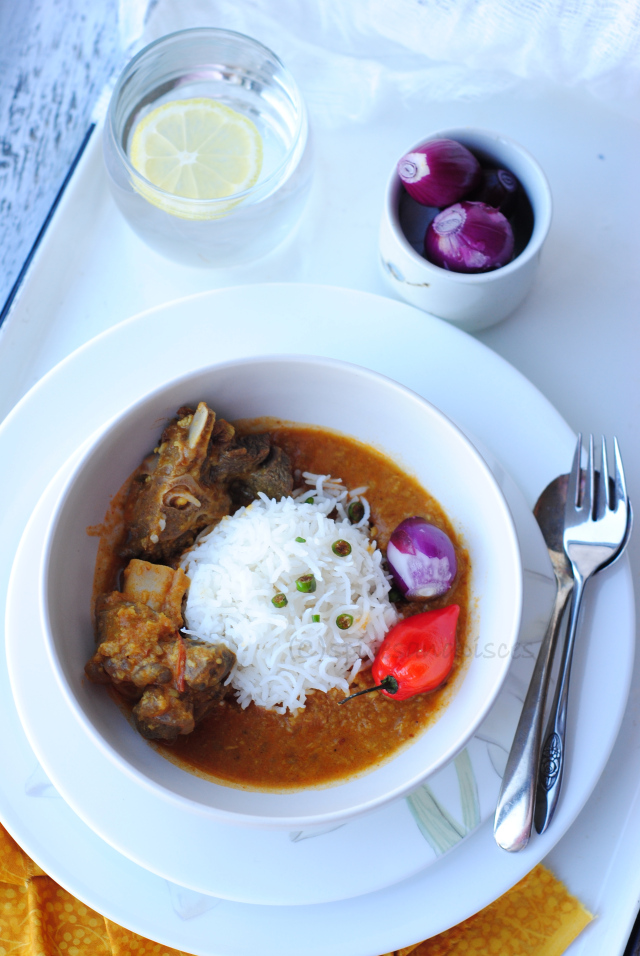 Here's a recipe for Daal Gosht.
We hope you enjoy making these delicious dals and introduce a healthy dose of protein in your diet. Tell us your own favourite dal recipe in the comments below.
Like this story? Or have something to share? Write to us: contact@thebetterindia.com, or connect with us on Facebook and Twitter (@thebetterindia).
Tell Us More
We bring stories straight from the heart of India, to inspire millions and create a wave of impact. Our positive movement is growing bigger everyday, and we would love for you to join it.
Please contribute whatever you can, every little penny helps our team in bringing you more stories that support dreams and spread hope.