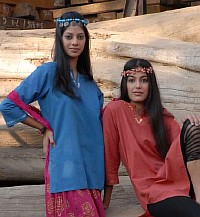 Women who had never stepped out of their houses now travel across the country to display their crafts and dream of setting up their own fashion range! This is no small feat, and has been achieved by an NGO, Hunnar, which has freed 75 women from the backward section of Jaipur and shown them the route to financial independence. These women have traditionally been adroit with hand embroidery and stitching, and these were the easiest skills to enhance. Shara Ashraf reports in Times of India:
"We introduced workshops where these women learn hand embroidery which is quite a rage these days. It's remarkable that within 6 months these women have got orders from another Delhi based NGO, that does handwork for various national and international fashion houses," shares treasurer Nirja Mishra, who is also the ex vice-principal of Kanodia College.
The initiative has brought about tremendous change in the lives of these women.
From being totally dependent on their husbands for a living to gaining financial independence, they are on the fast track to discover themselves. There are some women who have been victims of wife battering, marital rape and molestation too. "As these women are now contributing to the family income, they command respect from their families and their relationships with their husbands have improved as the husbands have started believing in their wives' capabilities," says Lee, a volunteer from Taiwan, who works with these women now.
There are women who have already been benefited and now are devoted to helping others in the basti (community) find a similar foothold. Sanjeeda is one of them, and here she explains about the many benefits of the program:
"Besides the technical training, the women are also getting trained in various other aspects such as understanding the market, the current demand, networking, importance of networking, quality control, discipline and delivering orders on time," explains Sanjeeda.
The excitement of these women to escape the shackles that bind them and experience freedom and appreciation for the first time is something palpable. We do hope that there are many such initiatives all over the country to uplift the millions of other women living in similar conditions.
Read the complete article here.
Image Courtesy: Times of India