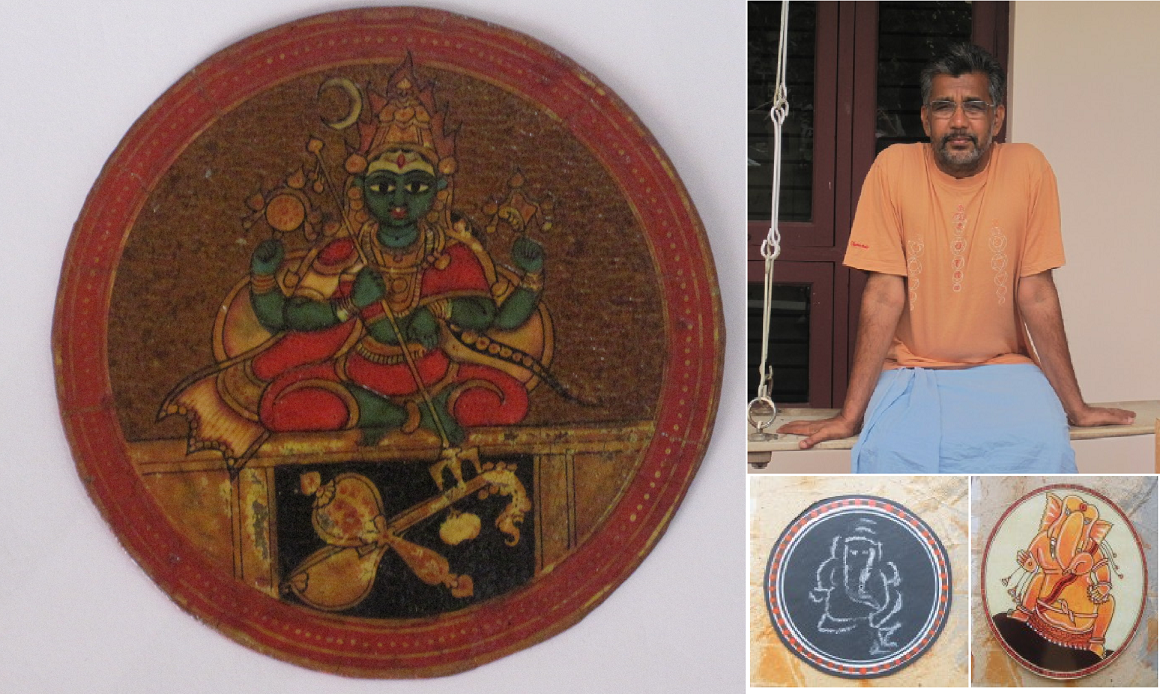 In search of Ganjifa and the Artist "Ganjifa" is the name given to an ancient Indian card game. Historically this game is believed to have been brought to India and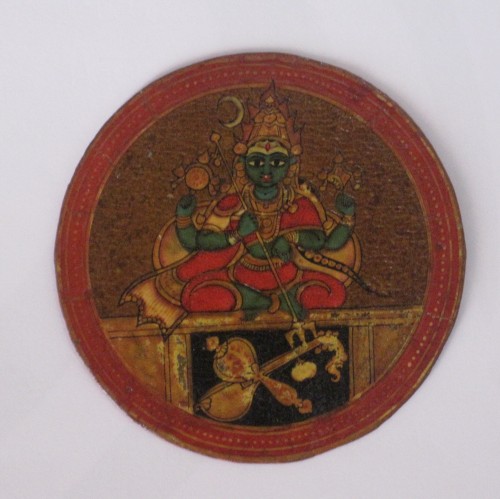 In search of Ganjifa and the Artist
"Ganjifa" is the name given to an ancient Indian card game. Historically this game is believed to have been brought to India and popularised during the Moghul period. Quite aptly the name Ganjifa comes from the Persian word "Ganjifeh" which means playing cards.
The speciality of these cards is that they are traditionally hand-painted. The cards are typically circular although some rectangular decks have been produced. This was a game that was popular and played across Medieval India. Each region in the country had its own form of the game. There was the Sawantwadi Ganjifa from Maharashtra, Navadurga Ganjifa from Orrisa, Rajasthan and Gujrat Ganjifa , Kashmir Ganjifa, Nepal Ganjifa and the Mysooru Ganjifa which was greatly patronized by the Mysore Royal family during their reign.
A quest to find out more about the traditional "Mysooru Ganjifa" and its popularity in our present times (read: non- existence) will lead you to a tucked away corner in the city of Mysore – the capital of the Erstwhile Mysore State(Karnataka). Mysore or Mysooru as it is now known was once the seat of the Mysore kings.
In one hidden corner of this city, tucked away in a quiet locality near the famous Chamundi Hills of Mysore is the home of Shri Raghupathi Bhatta or Ganjifa Rahupathi Bhatta as he is popularly known. A very humble and simple man, a large chunk of whose life as an artist was spent reviving Mysooru Ganjifa in an attempt to popularize it in our present times.
Ganjifa Shri Raghupathi Bhatta is originally from Udupi District in Karnataka and had a keen interest in painting and ancient Indian art from a very early age. His interest in traditional paintings of the region that led to his active interest in the restoration and revival of Ganjifa Miniature paintings.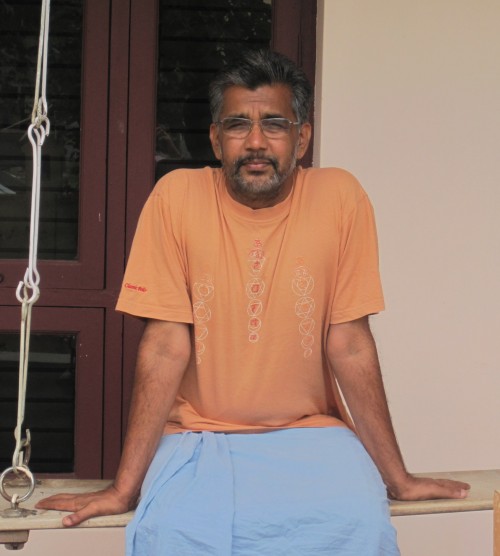 Early History of the Game
Mysooru Ganjifa was extensively patronised by the Mysore Royal Family – The Wodeyar Kings. Given that the main aim of the game was to teach, learn and tell stories from our ancient scriptures and holy books, all the 18 games in the Mysooru Ganjifa Style were set to stories and shloka's from the Hindu Purana's, stories from the Ramayana, Mahabharata etc. The Dashavatara Ganjifa which is a series based on the 10 different forms of the Hindu God Vishnu was the most popular of the 18 Ganjifa games and is the best known to this day. The Dashavatara Ganjifa has a set of 120 different playing cards.
The Artists Tryst with Ganjifa
Given his keen interest in traditional paintings and their disciplines, Ganjifa Raghupathi Bhatta is an avid practitioner of the spiritual discipline of painting laid down in the Chitra Sutra of the Vishnudharmottarapurana. Here the painter is enjoined to meditate on the subject of his painting until he is able to bring it to form and colour. He also had an early induction into the Mysooru Ganjifa miniature style of painting during his studies at the Karnataka Chitrakala Parishat. However it was not until many years later in the early 1980's ( 1981- 82) that he chanced upon Ganjifa originals from the Mysore Palace. His early fascination with traditional art combined with the uniqueness of this miniature art form led him to delve further into the intricacies of the form of painting, its techniques and history. The originals he chanced upon were about 200 years old and he was attracted to the beauty of the painting and fascinated with the fact that these cards had stood the test of time and not lost any of their original beauty. All Mysooru Ganjifa paintings were made from natural dyes and colours and squirrel hair brushes were used for their fineness.
Shri Raghupathi Bhatta makes all his colours by hand and they are rich in natural minerals and vegetable dyes. He grinds and mixes these natural colours by hand himself. He also uses his own fine brushes including squirrel hair brushes suitable to the Ganjifa painting technique. Shri Raghupathi Bhatta successfully re- created a large number of Ganjifa paintings and cards.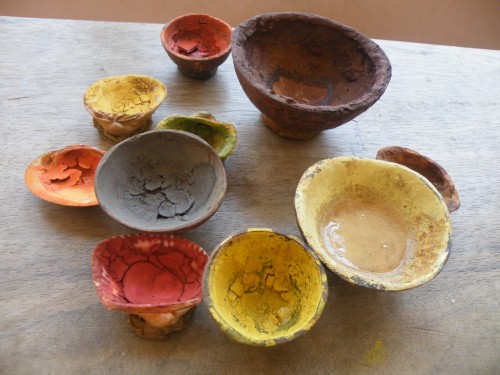 An attempt at revival
As a part of his quest to revive and popularise this ancient tradition of miniature paintings Shri Raghupathi Bhatta used to exhibit his Ganjifa work in a museum in Srirangapatana close to Mysore. After this was closed down, not one to give up his cause, the artist shifted his works to a smaller museum and studio in Mysore. This too had to be shut down in the year 2000 due to lack of any support financial or otherwise from the Government and patrons. So after an almost 18 year focused study and attempted revival of Ganjifa, what is left today are a large number of miniature paintings and the man himself – Ganjifa Shri Raghupathi Bhatta one of the pioneers of Mysooru Ganjifa.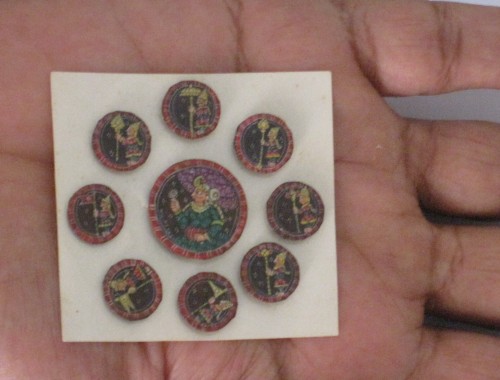 A testimony to his early recognition as a Ganjifa Revival artist is that fact that he has demonstrated this fine art at London's Victoria and Albert Museum and his works are also part of a permanent exhibit there. He also has several awards to his name including the Presidents Award in 1993 and the Lalitha Kala Akademi Award in 1996 for his pioneering work in this field.

Final words
Ganjifa Shri Raghupathi Bhatta today works on traditional paintings based on the Ramayana, Mahabharata and the Upanishads and has showcased a lot of his work overseas in countries like Japan and Canada. All his paintings are done using natural and organic colours. For a man who once had made it his life's mission to revive Ganjifa, he is today more focussed on commissioned art works overseas and is almost reticent and withdrawn when asked about Ganjifa and his work in the field. Most of his paintings today are specific works on the ancient Hindu scriptures.
As we talk about this there is an underlying feeling of regret and disappointment in the artist's demeanour. The journey he embarked upon 20 years ago is obviously incomplete for reasons not totally within his control such as a lack of appreciation for hard work and originality. Ganjifa Shri Raghupathi Bhatta whilst having weaned himself away from his life's mission deep down wishes there was some way to completely revive this lost art.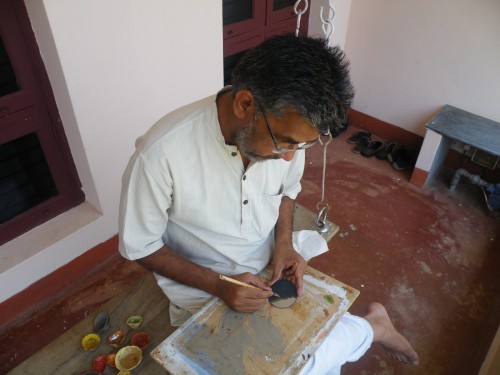 His last words are reflective of what he wishes deep down. He wishes people and patrons of art would learn to recognise originals from cheap copies and encourage, buy and use local art forms like Ganjifa. This may well be possible. All we need are discerning and enthusiastic patrons who believe in this cause and those who have the conviction to Support artists like Ganjifa Shri Raghupathi Bhatta – A simple and humble artist living in isolation and seclusion.
At Banna Creations, Ganjifa is one of the art forms we are working on reviving with the artist himself. In keeping with our model to revive and re-create an awareness for dwindling art forms within our country, we promote Ganjifa as one of our premium art forms and also facilitate workshops conducted by the artist himself.
Please go to www.bannacreations.com for details.
Pictures of Ganjifa cards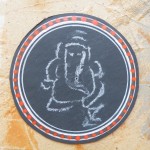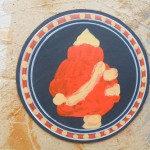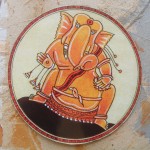 Aishwarya Suresh is the Founder and Chief Promoter of
Banna Creations
. Banna's products are the result of hard work of artists and artisans from remote corners of India. A percentage of revenues will be used as funding to ensure that the art and craft sustains.
We bring stories straight from the heart of India, to inspire millions and create a wave of impact. Our positive movement is growing bigger everyday, and we would love for you to join it.
Please contribute whatever you can, every little penny helps our team in bringing you more stories that support dreams and spread hope.