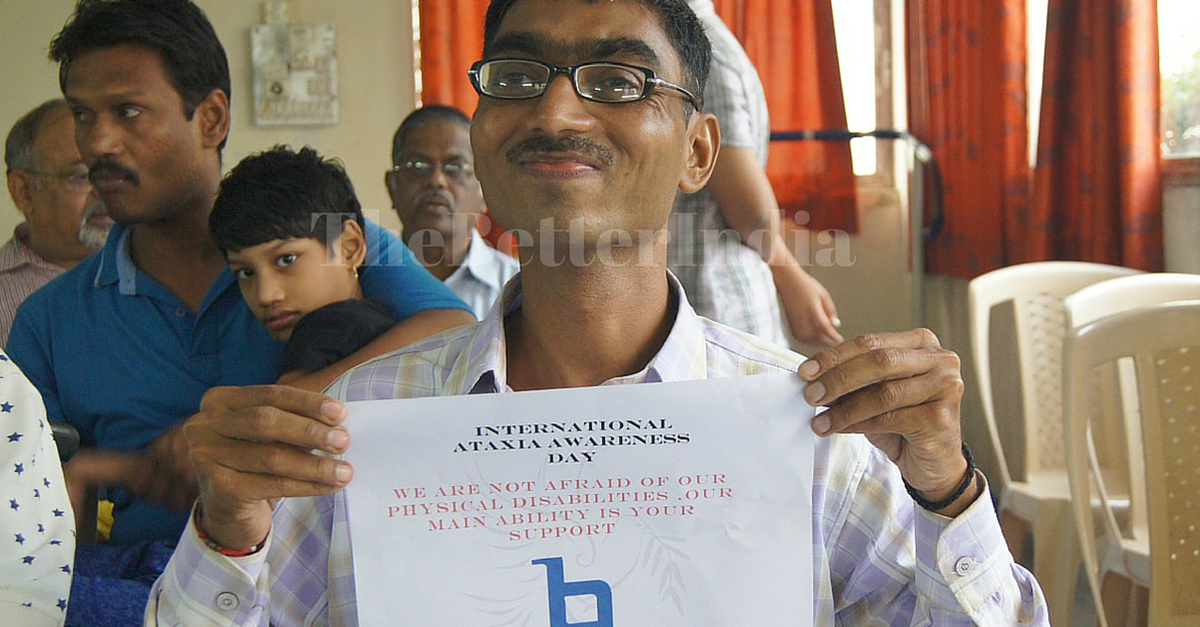 Meet Vilas Shinde – a man whose indomitable spirit is taking Ataxia, a debilitating condition, by its horns. This is his inspiring story as he fights a daily battle for dignity and survival.
Meet Vilas Shinde – a man whose indomitable spirit is taking Ataxia, a debilitating condition, by its horns. This is his inspiring story as he fights a daily battle for dignity and survival.
Forty-four-year-old Vilas Shinde lives in Pune. He is a man who personifies the struggle of every person living with a disability and belonging to a disadvantaged background – one who smiles through the odds, never loses hope and does all he can to earn a living.
Born into a family of farmers, Vilas was diagnosed with a debilitating condition called Ataxia when he was 15. He used to help his father at a shop they owned in Pimpri area near Pune city at that time. But customers would often abuse him, calling him a drunk.
"No one knew that Ataxia causes our speech to get slurred and our gait to become imbalanced. So we walk and speak like drunks" he says.
It was embarrassing for both father and son, but was impossible to explain to every person that these symptoms are common among Ataxia patients. "Our symptoms are common, but the disease is rare" laughs Vilas.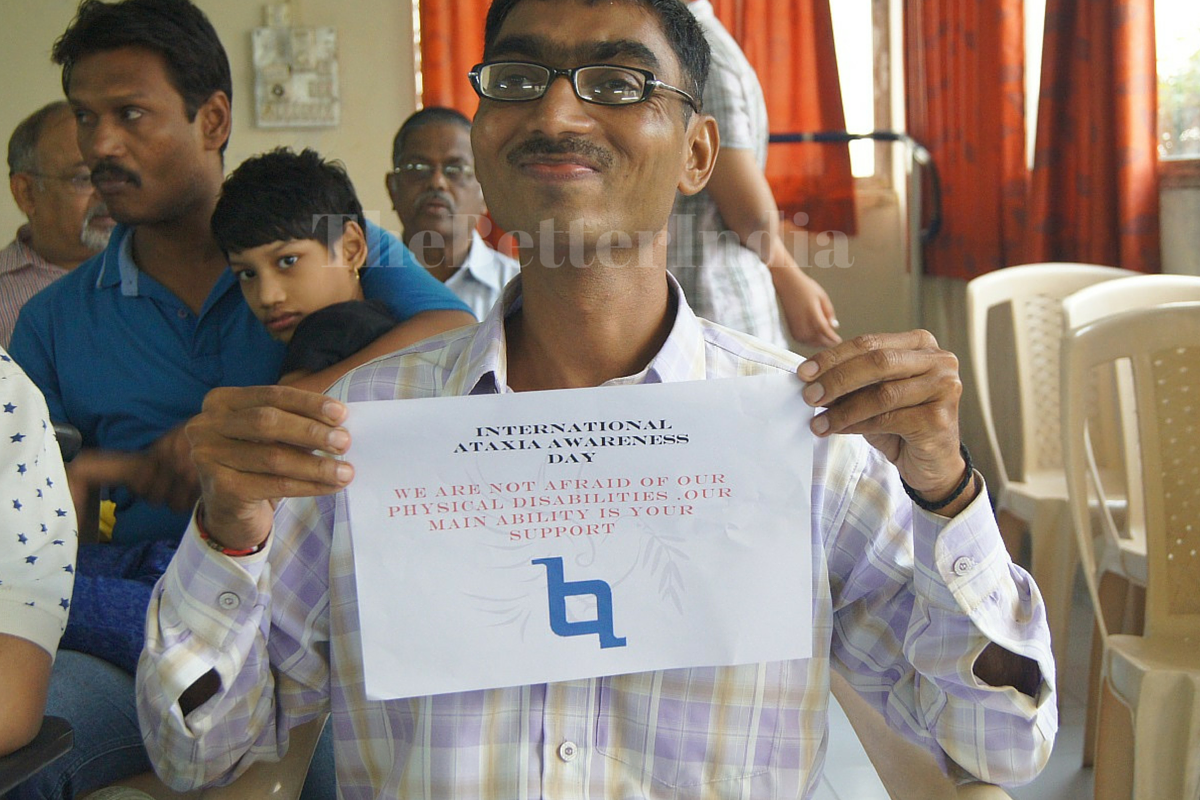 Ataxia is a rare, fatal, neurological, degenerative and progressive condition that causes the loss of coordination of body parts. Walking becomes difficult and impaired coordination of the arms and hands affects a person's ability to write and eat. As time goes on, Ataxia affects speech and swallowing as well. It leaves mentally agile human beings trapped in physically disabled bodies. As of now, this condition has no known cure.
Eventually, after his father's untimely death, Vilas became confined to the one room quarter that has been allotted to his older brother, an employee of Hindustan Antibiotics Limited (HAL).
But he felt the need to contribute to the household and manage his personal expenses. That is the reason why Vilas started making paper bags out of newspapers, and selling them. Making these bags is not easy for him, and his elderly mother also helps sometimes.
The money he makes from selling the bags has been his only source of income since the past one and a half years. The work does not fetch him much; it is about Rs. 1,000 per month on an average. But it helps him lead a dignified life. "At least I can manage my salon and mobile expenses" he says.
Vilas tried to gain employment several times in the past, but his disability (lack of mobility, inability to speak coherently etc.) has been a huge drawback. His average day begins early. After waking up at 6:30 am, he does pranayama for about an hour and a half – a routine he has followed for over a decade. He then spends about three hours making bags with a determination to make 400-500 in 10 or 15 days.
"I use numbers for all my activities. I know that in 2.5 minutes I can do 100 bhastrika" he says.
Getting through the rest of the day is challenging for Vilas as the physical restrictions accompanying Ataxia are burdensome. He likes to read and write but both activities have become difficult these days. His insistence on walking, doing yoga etc. has helped him avoid the confines of a wheel chair, but his condition is deteriorating. He also used to ride a three-wheeled bicycle inside the HAL campus until a few months ago, but it is difficult now.
A Pune based NGO, Ataxia Awareness Charitable Trust, helps Vilas market the paper bags.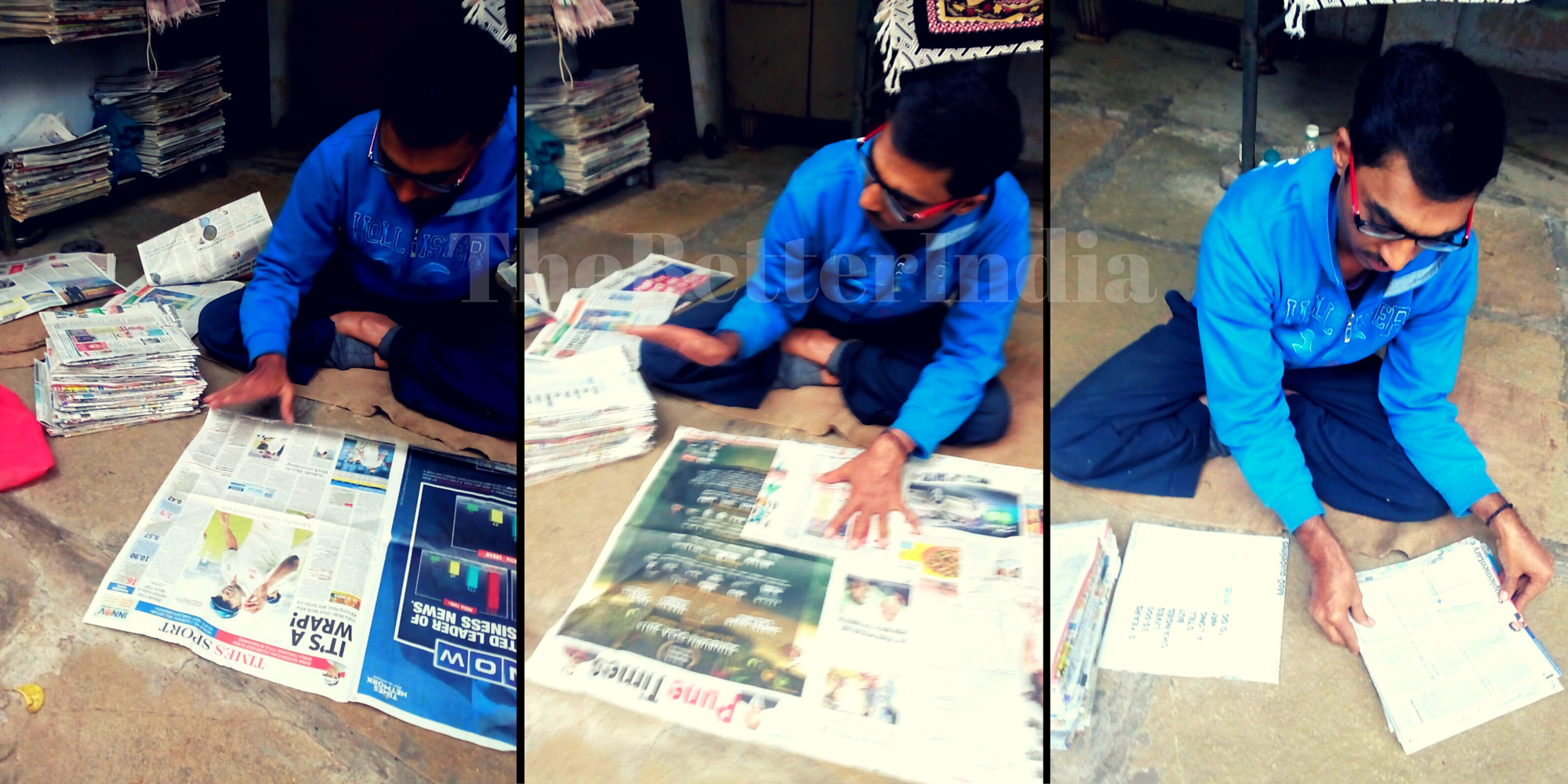 The sense of being a burden on his brother who has his own family and children, weighs heavy on his mind sometimes. "I manage to eat two meals a day but it is difficult" he says. He has considered moving into an ashram or a 'home', but no one has been willing to take care of a disabled young man.
Vilas wishes the government would help people like him who are neither physically, nor mentally disabled.
"We don't fall under any category. Disabilities benefits don't apply to us. We don't have dignity and are left to struggle as long as we are alive" he says.
His mother is his pillar of strength, but she often gets depressed owing to his condition. "But I tell her, I want to live and she shouldn't feel bad about my life" he says.
Vilas' zest for life seems matchless. He is not discomfited when he speaks about the writing on the wall (his impending death) or about how it has only been getting worse over the years. He greets everyone with a smile at the annual meetings the Ataxia Awareness Charitable Trust on September 25, which is the International Ataxia Awareness Day.
His ability to keep up his spirits, his hope for a miracle in the form of a cure, and his will to overcome his overwhelming economic difficulties display his strength of character. And it is something very rare and inspiring.
How You Can Help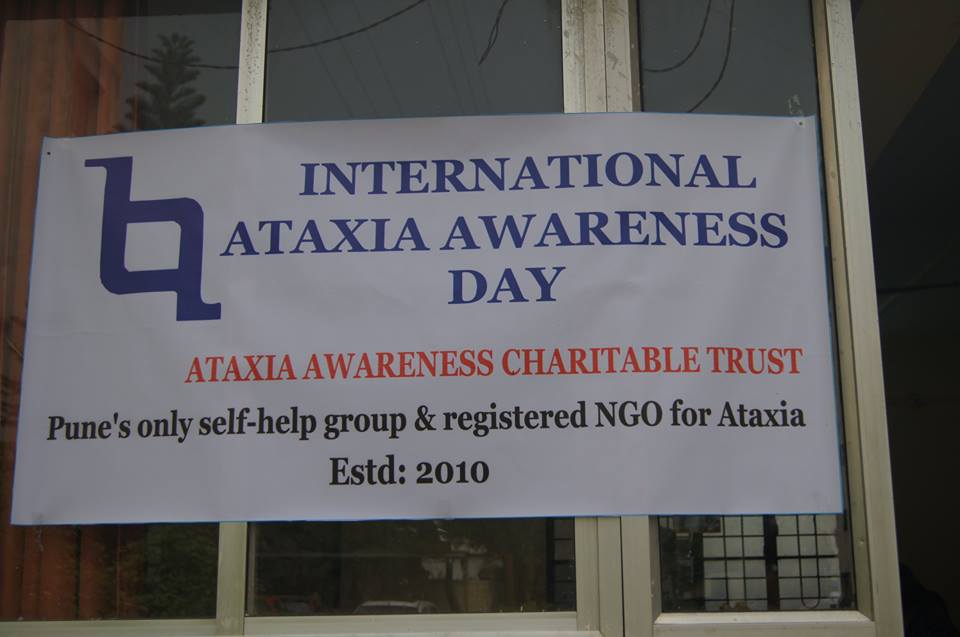 Pune's first self-help group, Ataxia Awareness Charitable Trust (AACT), started on a positive note in 2010. The NGO started by two brothers and Ataxia patients Guruprasad Rao and Vivek Rao, is dedicated to raising awareness about the condition. The biggest challenge for AACT is the lack of volunteers and supporters.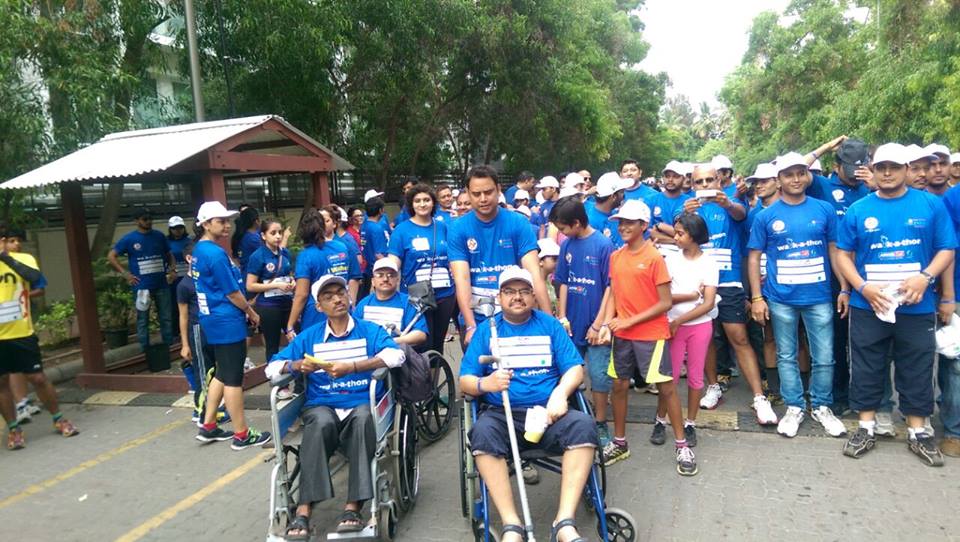 AACT needs volunteers to –
1. Support: Take patients for physiotherapy or educational classes, rehab programmes. Offer jobs/opportunities to earn money that can be undertaken without travel. Buy/Promote Vilas' paper bags.
2. Celebrate: Take patients on outings like movies, parks etc. Some patients are only seven or nine years old.
3. Share: Patients of other debilitating diseases can share experiences of positivity and comfort with a call or personal meeting.
Like this story? Or have something to share? Write to us: contact@thebetterindia.com, or connect with us on Facebook and Twitter (@thebetterindia).
About the author: Ritu is a journalist who has worked nearly all her career of about 15 years as a freelancer. She currently lives in Pune and is an avid travel blogger too. Most of all, she enjoys playing the role of mum to two kiddos and a dog!
We bring stories straight from the heart of India, to inspire millions and create a wave of impact. Our positive movement is growing bigger everyday, and we would love for you to join it.
Please contribute whatever you can, every little penny helps our team in bringing you more stories that support dreams and spread hope.