Ride through Delhi's smog-filled streets and you will encounter another health hazard — the sound of blaring horns, which add to the noise pollution and can even lead to hearing loss in humans. Ravi Kalra's Earth Saviours Foundation is on a mission to involve citizens, government and the police to get rid of this problem, which is much more than just a nuisance.
Ravi Kalra, the founder of Earth Saviours Foundation, popularly known as the 'No Honking Man of India,' is one citizen who does not turn a deaf ear to the noise on Indian roads.
He says, "I have been driving for more than 28 years and have never found reason to use the horn and have never had an accident either. I have visited many countries and found that people do not honk unnecessarily on the roads anywhere in the world. Even the Indians who drive in foreign countries have tuned themselves to avoid honking. Sometimes I feel India loses out on tourists only because our roads are so unfriendly."
In an effort to do something substantive about the oft neglected issue of noise pollution, Ravi has, besides running awareness campaigns, been doing the rounds of government and police offices for the last many years.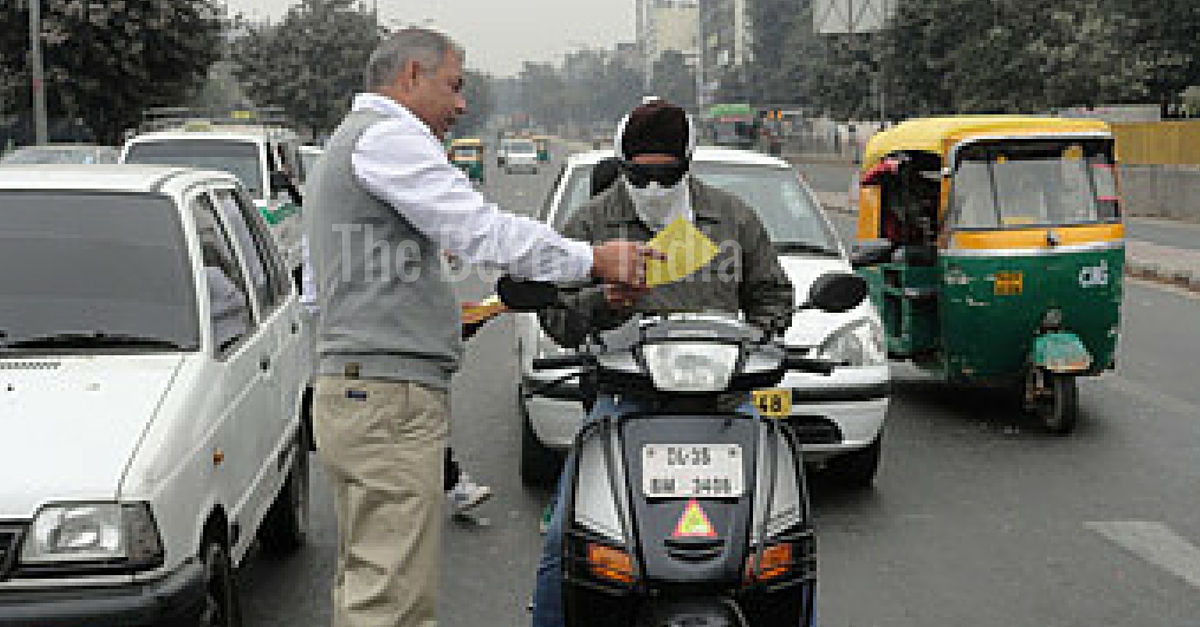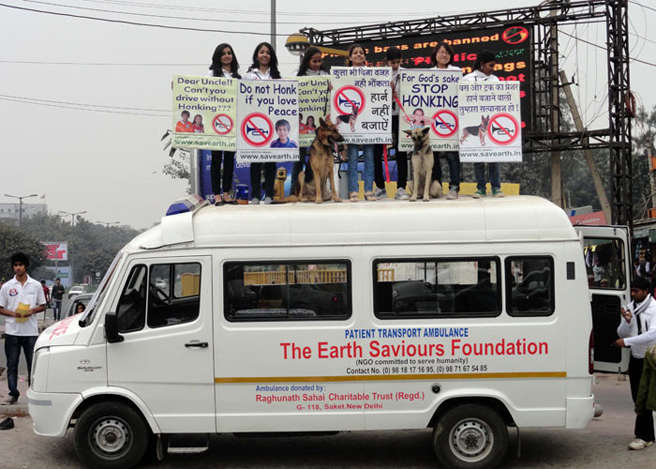 The results of his work are just beginning to show – in the form of fines imposed by Delhi police on drivers who honk unnecessarily, and the introduction of low decibel horns in some bus lines.
Ravi Kalra used to earlier work as a martial arts trainer in 2008. He gave up his career to do something closer to his heart – taking care of homeless people. He set up the Earth Saviours Foundation, which basically runs a home for people who have nowhere to go and have to fend for themselves on the streets. He also takes care of abandoned cattle, dogs and other animals at his shelter called Gaushala.
The other issue he felt strongly about was the problem of noise on Indian roads, particularly in Delhi.
He had as many as five lakh 'Do Not Honk' stickers printed with his own savings.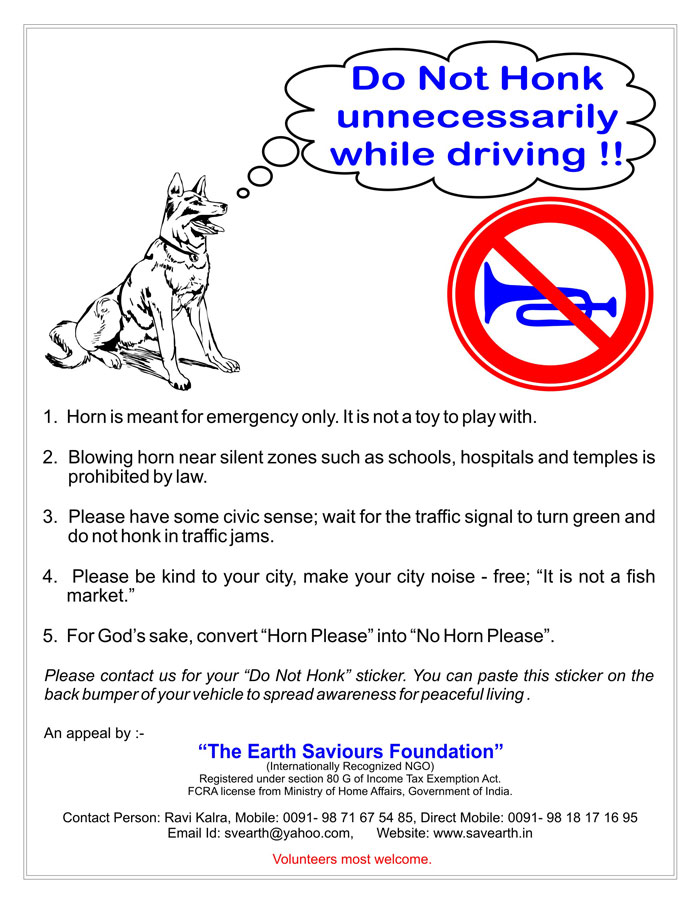 Very often, he would rustle up volunteers and they would stand at various traffic junctions holding posters, waiting for cars to stop. They would then request permission from the people in the vehicles to let them place 'No Honking' stickers on the rear bumpers or windshields of their cars.
"Over the years, the number of stickers we have used has gone up tremendously. The initial posters we held up to create awareness were very polite and 'decent.' But when we realised they did not really send the message home, we began to use more hard-hitting slogans. These too don't seem to make much difference. Maybe we need to coin even more 'harsh' ones," says the maverick sound warrior.
When starting out on his 'No Honking' mission in 2008, Ravi visited many government departments, asking officials to come forward and take a stand on the issue of reducing the noise level on the roads. But, on receiving a lackadaisical response, he decided to take up the cause fervently on his own.
Today, the police and many other departments in the capital are willing to give him a hearing and help him get permissions for his various activities.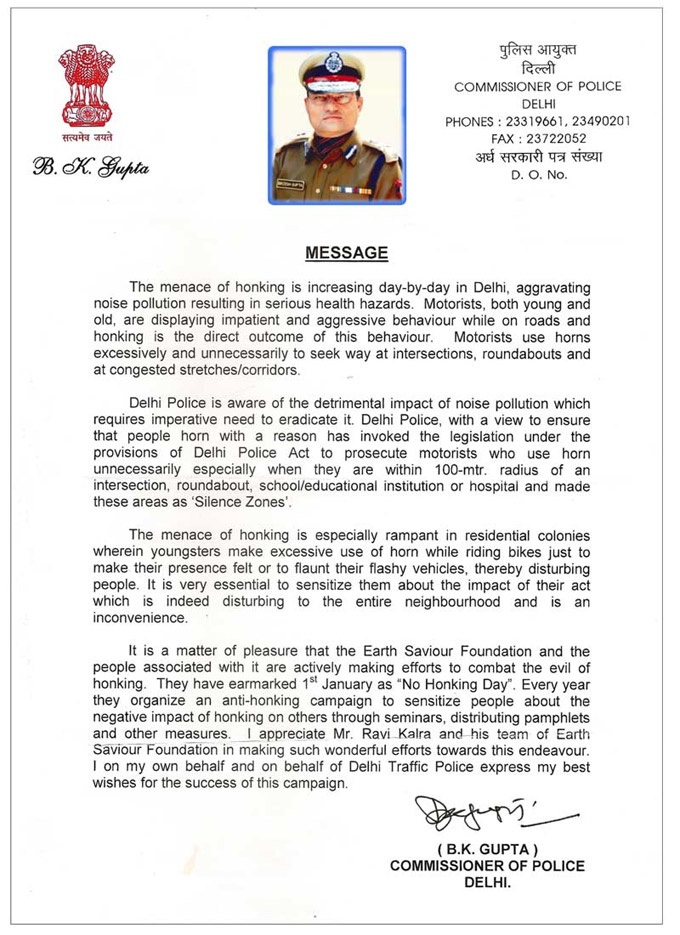 Thanks to his interaction with various government officials, he has now even managed to get January 1 declared as 'No Honking Day' in India. However, like he says, people still do not realize that the horn in the vehicle is to be used only for emergencies and not for getting the traffic in front of them to move faster.
"The unwanted sound can affect human health and behaviour, causing annoyance, depression, hypertension, stress, hearing loss, memory loss, and panic attacks. Most drivers try to release their frustrations and tensions by blowing horns," he says.
Many drivers resort to using the horn unnecessarily due to a lack of awareness regarding the negative effects of noise pollution; however, most of them do it only due to the lack of civic sense.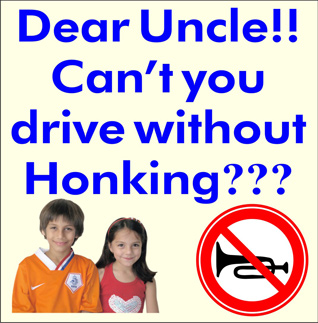 As per the Supreme Court, it is an offence to blow horns in five sensitive areas anywhere in the country. These are – at signals, during traffic jams, in residential areas, near hospitals, and near religious institutions. Most of us are not even aware of these rules and violate the law all the time. Over the years, due to various awareness programs conducted for the Delhi Police, police officials have now begun imposing fines on drivers caught honking unnecessarily while driving.
"In addition, in 90% of the commercial blue line buses, the pressure horns have been changed to low density, standard horns. This is indeed proof that we have the support of the people in power," he adds.
In early 2013, Ravi took around 100-odd volunteers with paint and brushes to the Gurgaon tollgate. When commercial vehicles stopped to pay toll, the volunteers painted over the 'Horn Please' and 'Sound Horn' slogans behind the trucks, etc.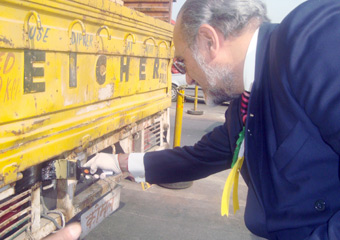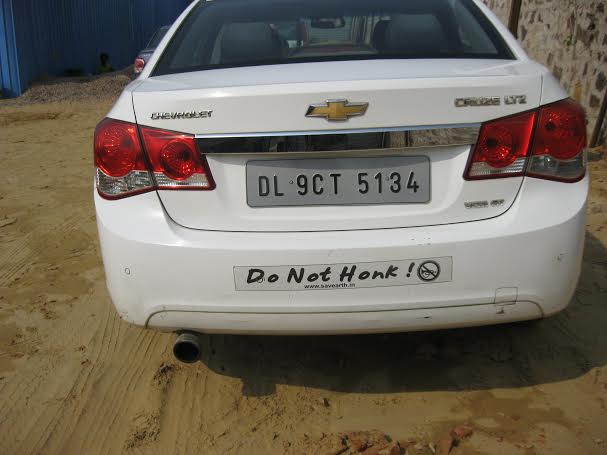 Over a period of a week, they managed to paint these slogans on more than one lakh vehicles. They hold a world record for this feat.
"There are some inevitable sources of noise pollution, which one has no choice but to live with. Bulldozers, trains on rails and air traffic are a few such unavoidable noise polluters. However, if we, the citizens of this country, take this issue up seriously, we could help spread awareness among children through school textbooks and other programs," he says.
These are activities that his Foundation undertakes regularly.
Ravi has received appreciation from many departments of the central government. He has received certificates of appreciation from the Delhi state government as well. In 2013, his 'Do Not Honk' campaign in Delhi was featured in the Wall Street Journal in the US. Presently, the chief ministers of Bihar, Punjab and Haryana have shown interest in his campaigns and want him to visit their capital cities and conduct campaigns there too.
For more information on the 'No Honking Man of India' and his various activities, you can log on to the Foundation website.
Like this story? Or have something to share? Write to us: contact@thebetterindia.com, or connect with us on Facebook and Twitter (@thebetterindia).
About the author: Aparna Menon is a freelance writer, writing for various newspapers for the past 10 years. Her main fields of interest are wildlife, heritage and history. A keen traveler, she loves to read and write and does a lot of art work too.