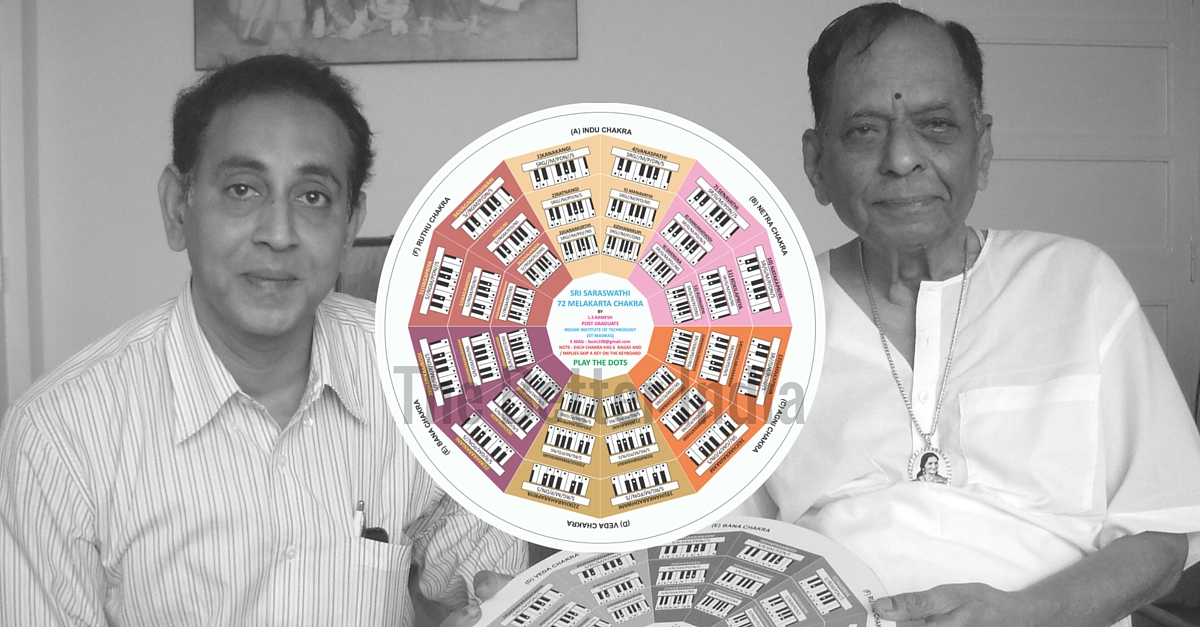 Ramesh, a graduate of IIT Madras, has designed an innovative Music Chakra to help anyone, with or without music knowledge, to very easily learn and play music – be it Carnatic, Hindustani or Western music.
Ramesh, a graduate of IIT Madras, has designed an innovative Music Chakra to help anyone, with or without music knowledge, to very easily learn and play music – be it Carnatic, Hindustani or Western music.
Listening to music is something almost everyone likes to do, but being able to play a musical instrument is a talent that is inborn or has to be developed. Studies have proved that playing music helps in total brain development.
To simplify the process of learning music, LS Ramesh, after six years of intensive research, came up with the Sri Saraswati Music Chakra.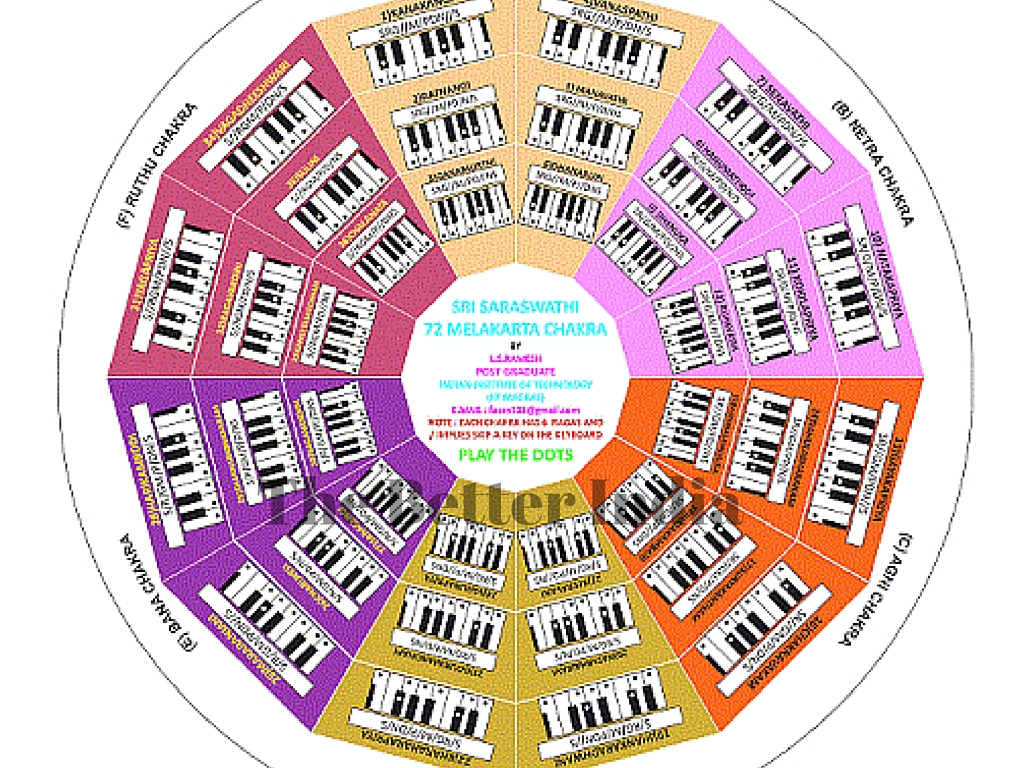 There are many similarities in the notes played in all forms of classical music around the world. In Indian classical music, a raaga refers to a series of musical notes on which every melody is constructed. Though there are differences in the raagas of the Carnatic style of music and the Hindustani style of music, many musicians have pointed out that some raagas are common to both styles of music and they find similar counterparts in western classical music too.
Carnatic classical music is based on 72 parent (melakarta) raagas. To help simplify the process of understanding the basics of this style of music, Ramesh has developed a chakra chart. There are two circular diagrams on both sides of the chart, with the main keys of 36 raagas marked on each side.
To make it easy on the eyes of the learner, each circular diagram is divided into 12 different segments and 6 different colors are used to highlight the segments.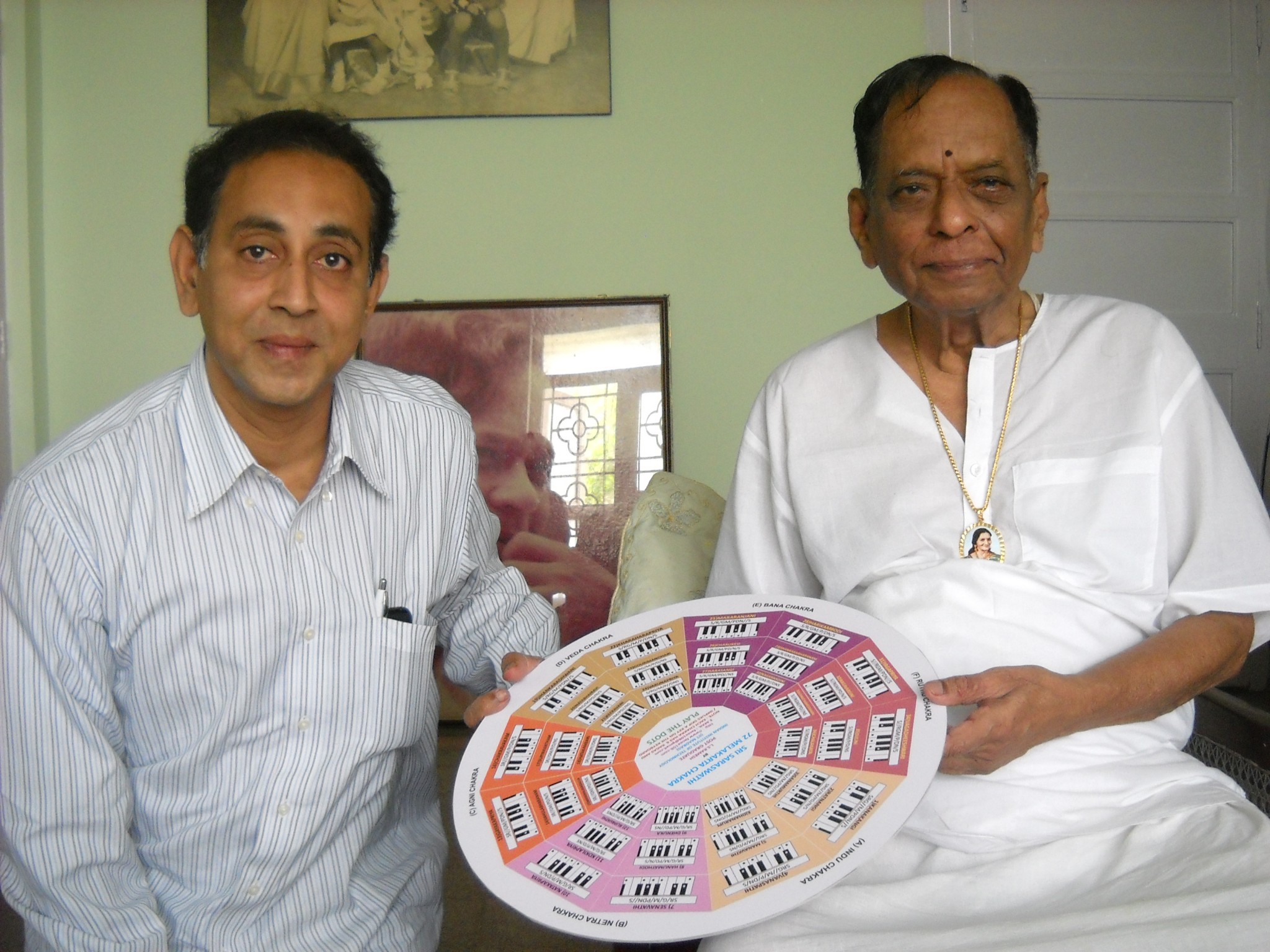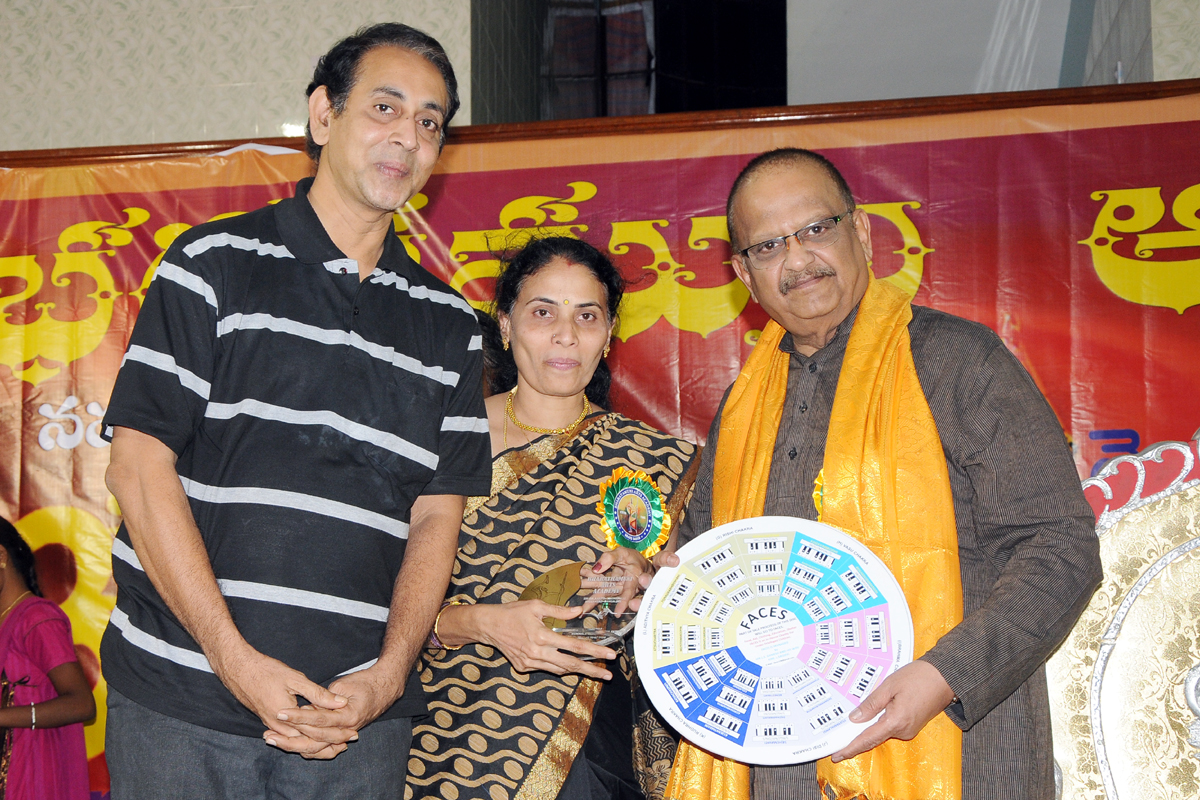 Specific keys have to be played for each raaga. Therefore, in the sub segment pertaining to a particular raaga, the specific keys to be played are drawn like how one would see them on a piano – they are marked with dots, making it easy for even a person with no knowledge of music to follow without any difficulty.
"To play music, one must know the basics. The 72 melakarta scheme is the foundation of not only Carnatic music but of any music the world over. The Melakarta Chakra visually helps in laying a strong music foundation. Once introduced to music through the chakra, children generally get over their fear to play music," says Ramesh.
Ramesh feels that when children learn music following a visual tool they tend to remember more than when they learn music only by listening to tunes.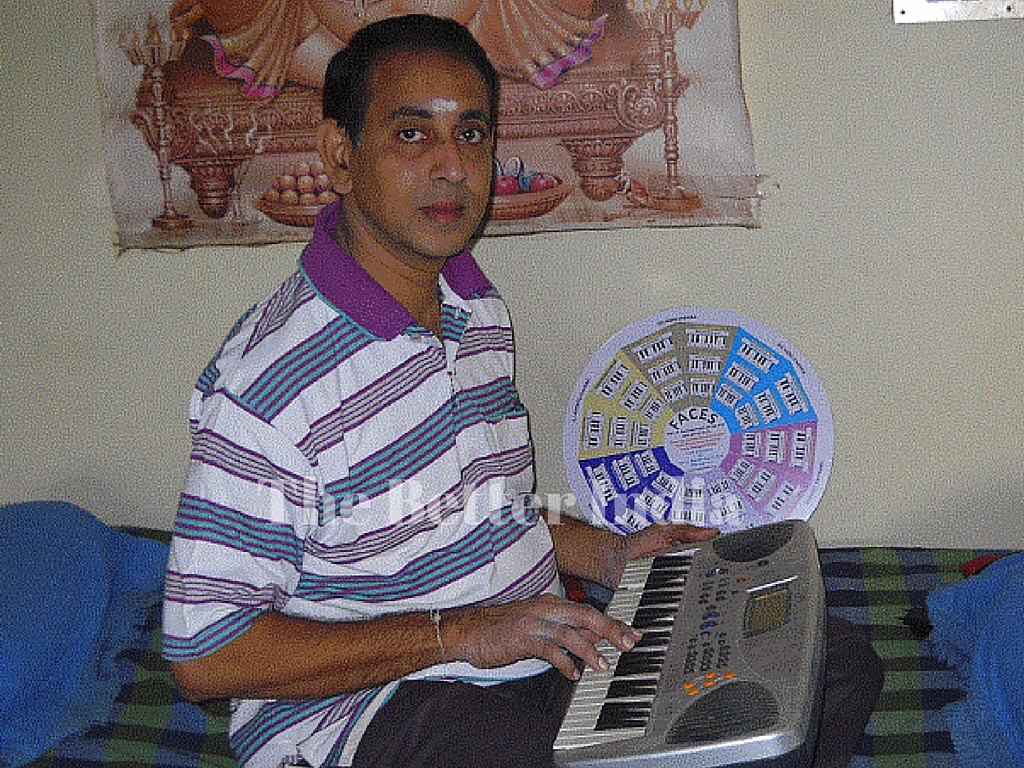 When a child follows this chakra, his/her doubts about stringing together the right keys to play the right raaga are allayed and the child becomes confident of not making mistakes.
Ramesh and his wife Sridevi grew up following the Sanskrit saying Manava Seva, Madhava Seva. They have always been involved in being of service to orphans and after marriage it just became easier to do this work as they had the same interests in life.
FACES, an organization to support orphans, was started by them just after they tied the knot. The FACES programme is simple — newspapers are collected from various places and the sale proceeds are used for Food, medical Aid, new Clothes, Education material and Shelter (FACES) for underprivileged children.
They have been supporting a few orphanages in Warangal and Telangana, the place where Sridevi grew up. The Manovikas Kendra in Warangal is an establishment that not only helps orphans but also children with autism, Down's Syndrome, and speech and hearing challenged children. Ramesh and Sridevi have been involved with this organization for many years now and so it was no surprise that they decided to try the Music Chakra on the children here.
"The Music Chakra is rather interesting. It keeps the children engrossed. With the intervention of music, especially with the ability to play music, maturity levels and confidence levels, especially among the deaf and dumb children, are very visible," says Mahateja, the music teacher at Manovikas Kendra.
According to Mahateja, when he plays the keys following the chakra, the hearing impaired children watch his fingers intently and when they get a chance to try their hands on the keyboards, they end up playing the right tunes.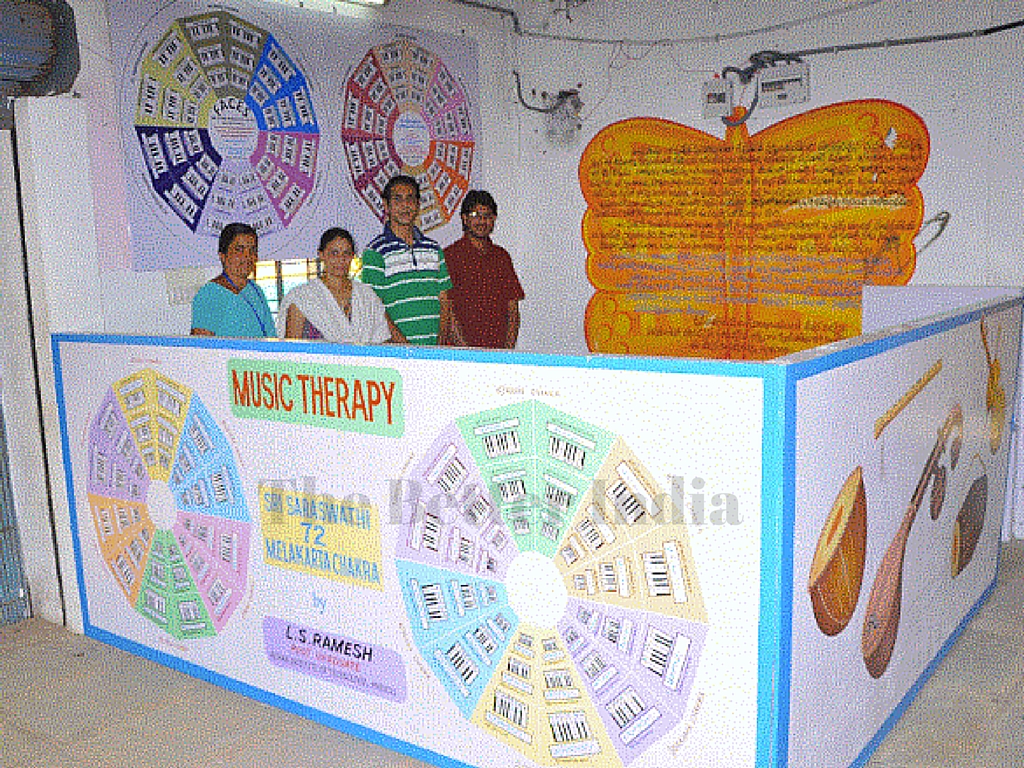 The smiles and applause of the people around make them very happy and make them want to play more music.
Playing music is very therapeutic for persons with autism. Autistic people are very good at visual tasks, especially when they are associated with perception and pattern recognition. Many children with autism respond very well to music, which can be easily used to improve communication skills and helps in dealing with sensory issues too.
"Anxiety is one of the biggest challenges facing individuals in the autistic spectrum. Music helps to calm and relax them. Classical music especially helps to reduce stress, ease frustrations, reduce muscle tension, slow down the heart rate and, in turn, open the mind to learning and communicating with others," says Ramesh, who has seen how the autistic children at Manovikas Kendra have shown improvement after this unique Music Chakra was introduced for teaching music.
The proceeds from the sale of the Music Chakra are used to fund the FACES initiative, which is very close to the hearts of this couple.
Another very interesting initiative taken on by Ramesh and Sridevi is the 25 year calendar designed on a single sheet of paper. The motto here is: Save a Tree, Help an Orphan.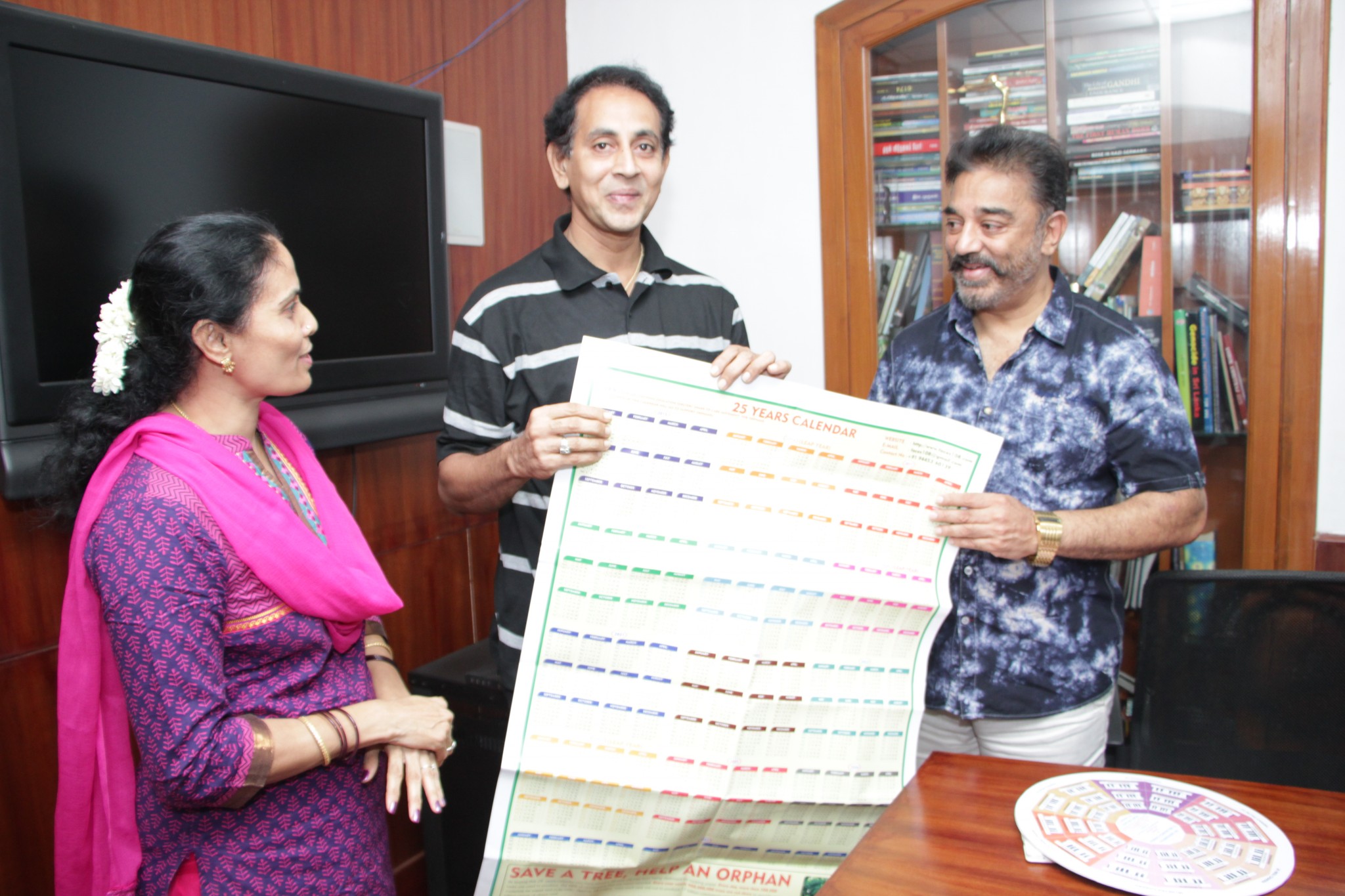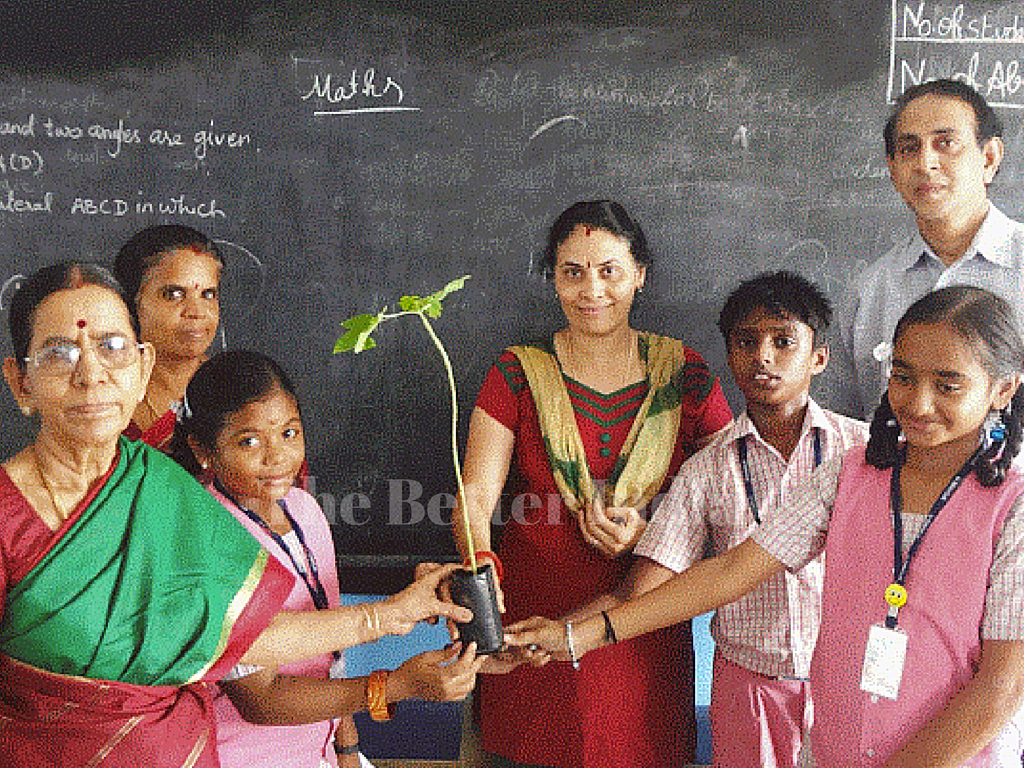 "Dr Abdul Kalam has given the FACES programme a target of planting at least 10 lakh trees in the country, involving only students. For every 15 kg of newspaper brought in by a class of students to support the FACES program, the calendar is donated to the classroom. This calendar reminds the children to bring in newspapers the following month too. Along with the calendar, a tree sapling also is gifted to the students for them to plant within their school premises," says Sridevi.
However, they do sell the calendar in many other schools, as well as to corporate houses. With more newspapers being donated to them, more orphanages can be helped, more trees can be saved and more trees will be planted. "The calendar just reminds people about the promise made to Dr Abdul Kalam. Through this method, more people will be involved in making his dream come true," she concludes.
For more information, log onto www.faces108.com
Like this story? Or have something to share? Write to us: contact@thebetterindia.com, or connect with us on Facebook and Twitter (@thebetterindia).
About the author: Aparna Menon is a freelance writer, writing for various newspapers for the past 10 years. Her main fields of interest are wildlife, heritage and history. A keen traveler, she loves to read and write and does a lot of art work too.
We bring stories straight from the heart of India, to inspire millions and create a wave of impact. Our positive movement is growing bigger everyday, and we would love for you to join it.
Please contribute whatever you can, every little penny helps our team in bringing you more stories that support dreams and spread hope.