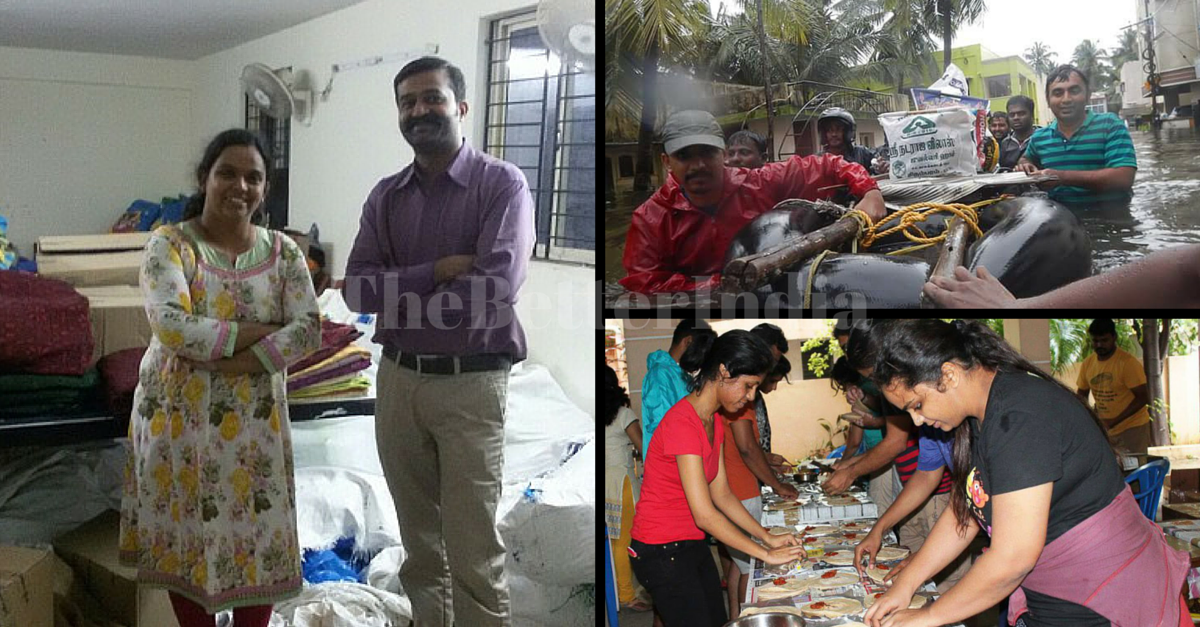 Sanjeev Sekhar had some heart-warming experiences when he was in Chennai during the rains – incidents that broke several stereotypes and left a deep impression on him. Here is a look at 12 such people and events he came across, that changed his outlook forever.
---
In the MY STORY section, we present some of the most compelling and pertinent stories and experiences shared with us by our readers. Do you have something to share? Write to us: contact@thebetterindia.com with "MY STORY" in the subject line.
---
Sanjeev Sekhar had some heart-warming experiences when he was in Chennai during the rains – incidents that broke several stereotypes and left a deep impression on him. Here is a look at 12 such people and events he came across, that changed his outlook forever.
The popular images of Chennai's unity in the face of adversity, of various religious groups working together, and of volunteers wading through deep waters to rescue people, would have been imprinted in your mind by now – thanks to the media. But there were some occurrences that could not be covered by the media. They just rose to the challenge in small and big ways, and quite unintentionally, smashed many stereotypes in the process.
Here are some of those stories – incidents that I experienced, and people that I had the privilege of meeting, who left a deep impression on me:
1. Geethapriya and Sareetha – The Women Who Stood Strong in the Face of Crisis: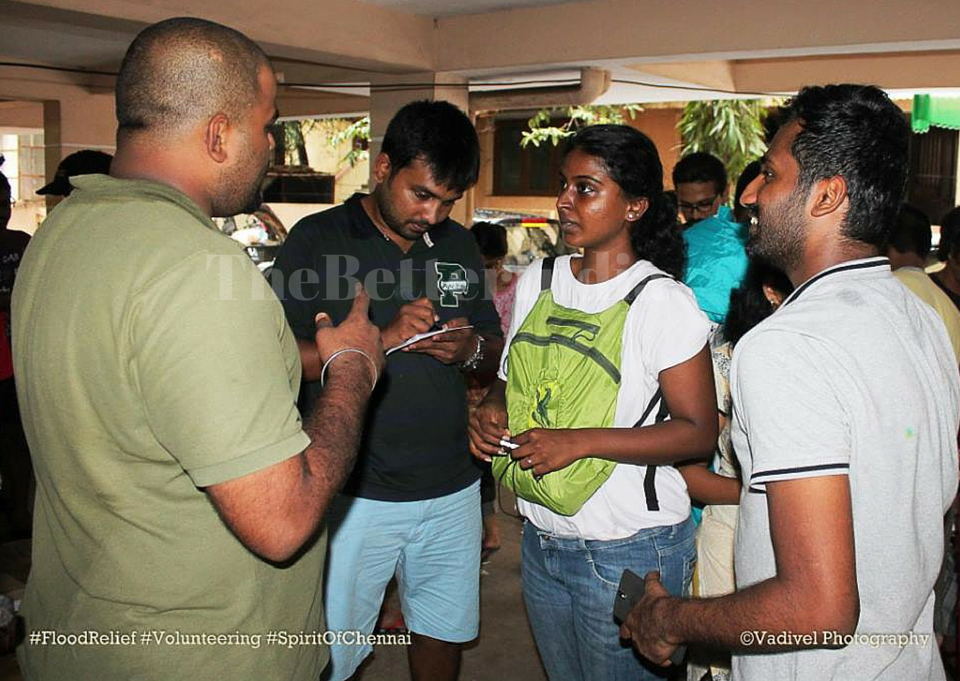 Geethapriya, a recent acquaintance, converted the parking area in her apartment into a food-making, packing and distribution centre and ran it with the efficiency of a world class manufacturing unit. It started off as a small operation with her friends Yogesh, Kavitha, Malli, Karthikeyan, Sangeetha, Uday and Satish – dispatching 500 basic food packets containing biscuits, buns and water on December 1. And the initiative grew immensely by the end of the week. On December 6 alone, she and her team that had increased to 30 members, made and dispatched close to 15,000 food packets including rice and roti meals. The final count for the week exceeded 30,000 meals.
And Geetha managed it all with a smile.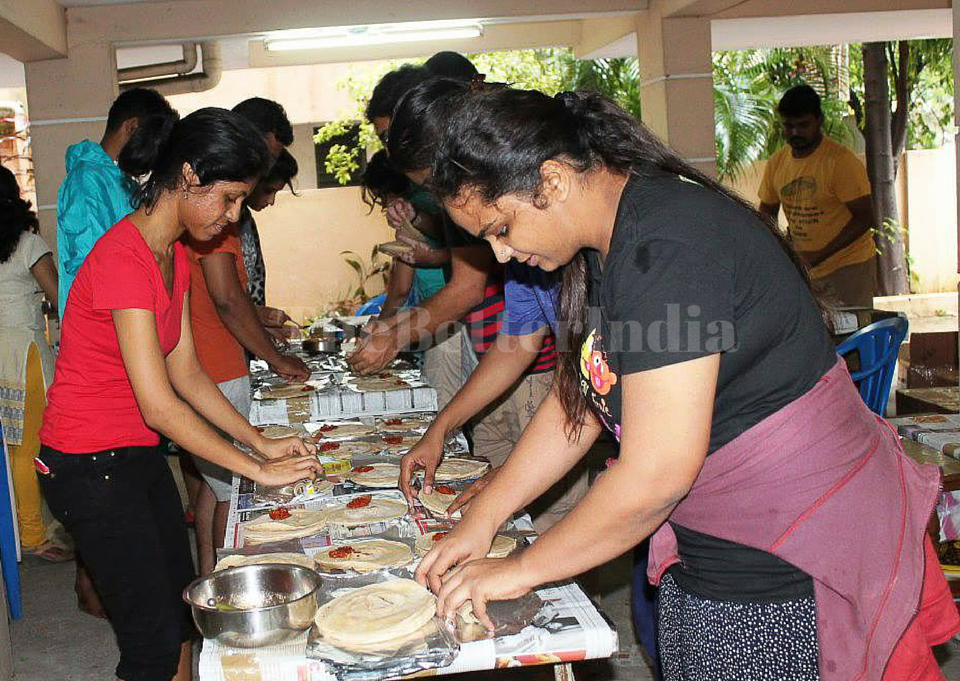 When they fell short of raw materials, she didn't hesitate to use her own money to keep the supply going.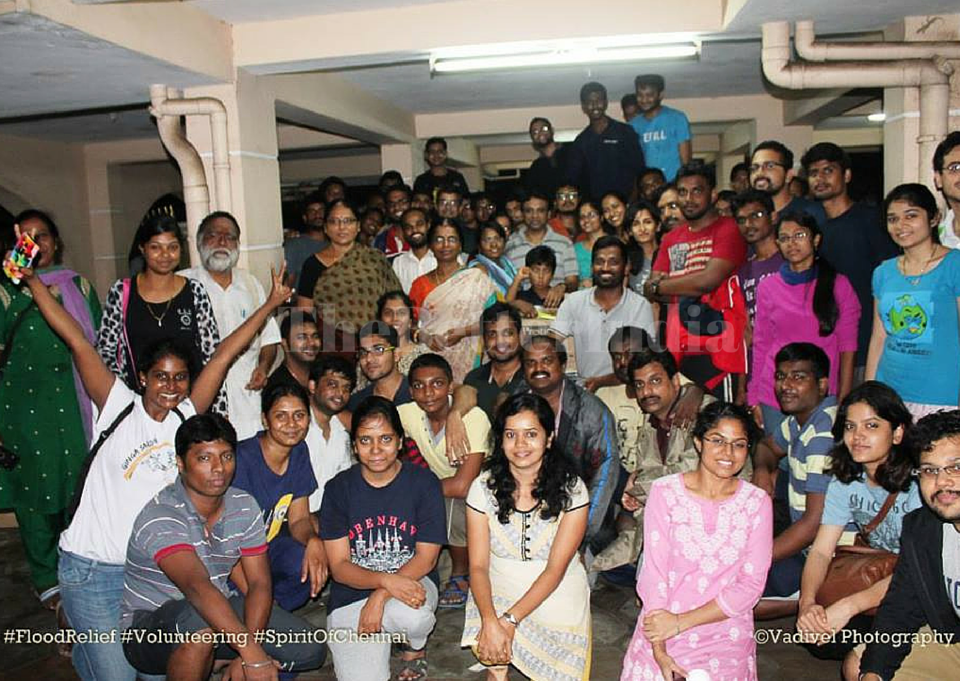 Another lady from my neighbourhood, Miss Sareetha, converted her apartment area into a warehouse and dispatch centre. By December 5, her apartment, H110, was the byword for emergency food supplies.
With the able assistance of her core team including Raghul, Ajay and Gokulraj, Miss Sareetha ensured that supplies were not wasted or procured by hoarders.
To give you a faint idea of their achievement, the final count for just rotis, parottas and idlis that were dispatched was 1.5 lakh, 50,000 and 2.5 lakh respectively.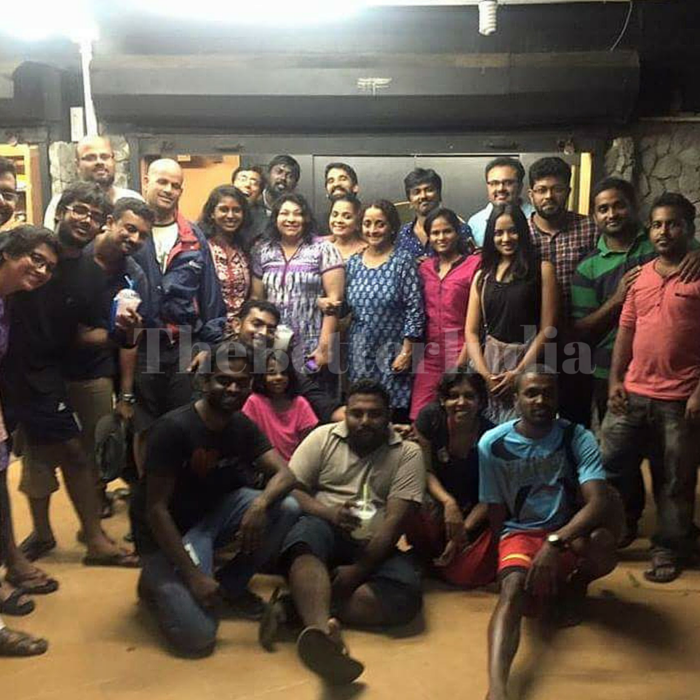 Both these ladies and their respective teams had a formal account and audit process for all foods distributed and areas that they went to. One can only imagine the countless number of affected people who benefited from their actions.
2. The Three Guys Who Put Their Adventurous Spirit to Use: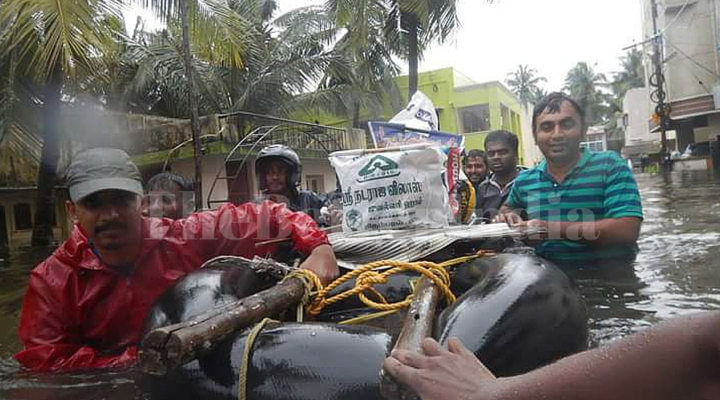 Raghul, Ajay and Gokulraj have always embraced adventure and the great outdoors. As fitness and cycling enthusiasts, they love pushing their limits. But they never thought that their passion would be tested for a greater purpose.
On December 1, when it dawned upon them that the rains had turned into a disaster of epic proportions, they swiftly set out to rescue stranded people. Their physical prowess was aided by their native intelligence as they prepared a makeshift raft and reached stranded citizens. When searching for food sources, a Facebook post led them to apartment H110 and Miss Sareetha. The rest is history.
Over the span of that dreadful week, this untiring team coordinated rescue and relief operations from H110 using cycles, boats and old school swimming. In trying conditions, this team passed the Iron Man test with flying colours.
3. The Food-People who Thought beyond their Bottom Line:
Without thinking about their profits and losses, star rated restaurants, small scale hotels, and even road side food vendors opened their kitchens to provide tonnes of free food. Business can sometimes be about something other than profits.
4. These Two Generous Uncles:
On December 5, I was desperately running short of fuel and cash in hand. I managed to find a working ATM and stood last in a long line. Two friendly middle-aged men standing in front of me noticed the stuff in my car and asked general questions about what I was doing. I was the last to enter the ATM and was lucky enough to be able to withdraw cash. On stepping out, I found that they were still there. "In case the ATM had run out, we thought we will give you a Rs. 1,000 each. That should at least get you enough fuel to keep running," they said. So much for the stereotypical penny-pinching middle-class uncle who cares only about his filter coffee and arm chair political analysis – they stood out like bosses that day.
5. My amazing Colleagues:
My office had a fair bit of water logging. Many computers and documents were damaged. With the worst not yet over, the whole office team turned up on December 5, and painstakingly cleaned the office to salvage the remaining computers. If it wasn't for them, we would not have been able to resume work immediately. Some of them had been impacted directly by the rains, and I didn't expect anyone to turn up. Yet they did. Loyalty counts for a lot more than privileged backgrounds and fancy degrees. Such stalwarts as colleagues and employees are a blessing to any organization.
6. The Selfless Givers: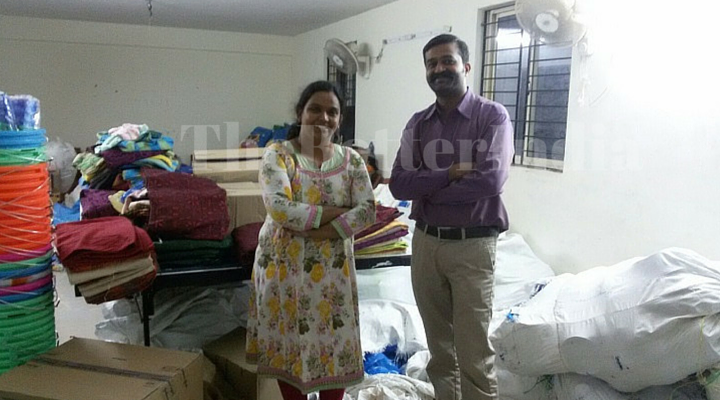 Vel Arumugam, a gentleman from Erode, purchased 1,000 blankets and rode an overnight bus to Chennai, sitting in the driver's cabin due to lack of seats. I got his contact through a relief WhatsApp group and was lucky to receive 100 blankets. I had never met this person before. Talk about trust and kindness from a total stranger.
He, along with Miss Vijayalakshmi, India's first lady chess grandmaster, conducted relief operations in the city. The phrase 'Young Indian' has received a negative twist in the last few weeks due to a political scandal. Take a look at these people mentioned above – this is the 'Young India' we must celebrate, project and harness.
7. The Local Biker Gang That Was Full of Surprises:
The situation worsened by the morning of December 6. I stopped for a tea break at my favourite haunt – the ubiquitous Cheta Chai Shop. A bunch of burly looking guys were fervently discussing relief operations that they were planning for the day. I identified them as the local biker gang.
Over the years, I had always wondered (admittedly in a mildly condescending manner) whether they had a real job. All they ever seemed to do was go on road trips or endlessly sip tea and smoke cigarettes for hours together. Knowing that any contact could be useful at that point, I reached out to them and exchanged information.
An hour later, my car that was loaded with food, blew a tyre. And one phone call later, the very same team came to my aid, loaded their SUV with all the food and zipped off to the target area, Siruseri that was 80 km away from their planned destination. So the tough guys, Lakshminarayanan, Ajith, Bharath and Rajashekar – "jobless" or not, sure have a heart of gold. When the chips were down, these men turned out to be rebels with a cause.
8. The Actress Who Didn't Care About Being Noticed:
Ramya, a media personality and actor, constantly worked the phones and used her contacts and popularity to collect endless food supplies and water. Was she covered by the media? No. Did she take advantage of the situation to make it a photo – op? No. She just did what she had to and truly wanted to do. No frills, no scenes.
9. Those Outside the Country & Attached to Their Roots:
An NRI friend took a day off from work to collect and filter information received through various social networks, and kept ground level volunteers posted on genuine distress calls. Another US based friend organized blankets and mosquito coils and had them dispatched to Chennai from a city in North India. Yes, they left for greener pastures. But that didn't stop caring for their first home.
10. From Bangalore With Love:
Folks from Bangalore used their access to control rooms in Bangalore and Chennai to disseminate verified information to ground level volunteers. Is Bangalore a cooler city than Chennai? Is Karnataka selfish for its stand on the Cauvery issue? Well, I don't know about all that. On a citizen level, our neighbours were there for us when we needed them the most.
11. The Man Who Set an Example: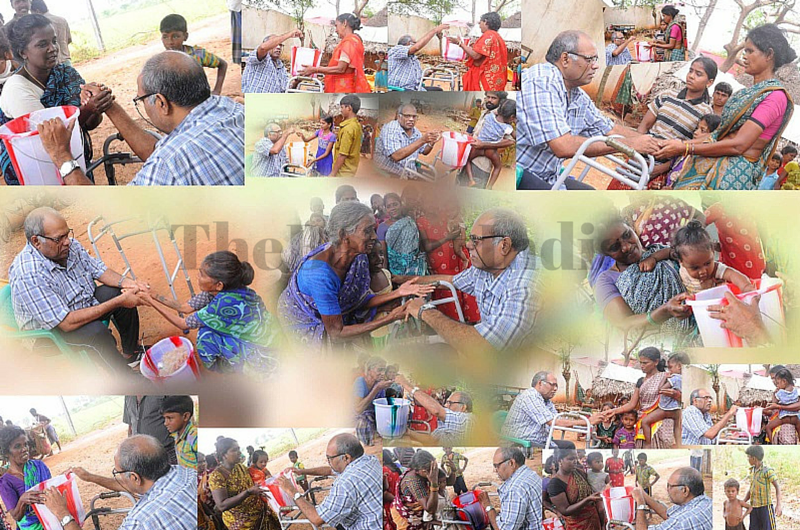 Michael Hubert is an elderly man who runs an NGO for children. The flood waters inundated his house and he had to shift base to stay safe. In spite of his own situation, Mr. Hubert, who walks with the aid of crutches due to a recent spinal surgery, headed out to offer solace and relief materials to victims who had lost it all. More than the relief material itself, it was the human touch provided by a man who clearly wasn't keeping well himself, that moved people. When it came to looking out for lesser privileged people, Mr Hubert literally walked the talk.
12. WhatsApp to the Rescue:
Finally, every WhatsApp group had turned into an info-centre. There were repetitions and outdated posts too, but these were outnumbered by the timely leads on availability of supplies and the overall result was positive. We can wish away social media for all its evils, but when tragedy struck, the memes and gossip posts gave way to conduits for a higher purpose.
I chose to highlight these incidents and people as they are from various walks of lives, professions, strata of society, geographical locations, age groups and time zones. Take these incidents and people and multiply them a few thousand folds – you will get the answer as to how Chennai fought back. It is ironical that our parliament was having a debate on the idea of India. If the Delhi-centric media had turned their cameras this way a little earlier, the visuals would've given that debate some answers. When the state machinery was floundering and sincere efforts were being politicized and derailed by party hoodlums, it was these citizens who gave life to that machinery. Every one of them turned into a nut, bolt, cog and gear, working synchronously to keep the machinery going.
Now that the city is limping back to normalcy, I am sure we will get back to our bickering ways, highlighting our differences and playing blame games. We are humans. And that's just how humans are. To expect a permanent Utopian society is a foolishly romantic notion. But the events of that week hinted at the possibility of such a selfless society. For now, we can take great comfort in knowing that such a possibility exists.
Kudos to the people near and far who created this possibility.
– Sanjeev Sekhar
Like this story? Or have something to share? Write to us: contact@thebetterindia.com, or connect with us on Facebook and Twitter (@thebetterindia).
About the author: Sanjeev Sekhar is a keen follower of politics, public affairs and policy. Having grown up for first 16 years in Singapore and the following 16 years in India, he has been exposed to a myriad cultures and personalities. Sanjeev strongly believes in the potential of India, economically and culturally.
We bring stories straight from the heart of India, to inspire millions and create a wave of impact. Our positive movement is growing bigger everyday, and we would love for you to join it.
Please contribute whatever you can, every little penny helps our team in bringing you more stories that support dreams and spread hope.