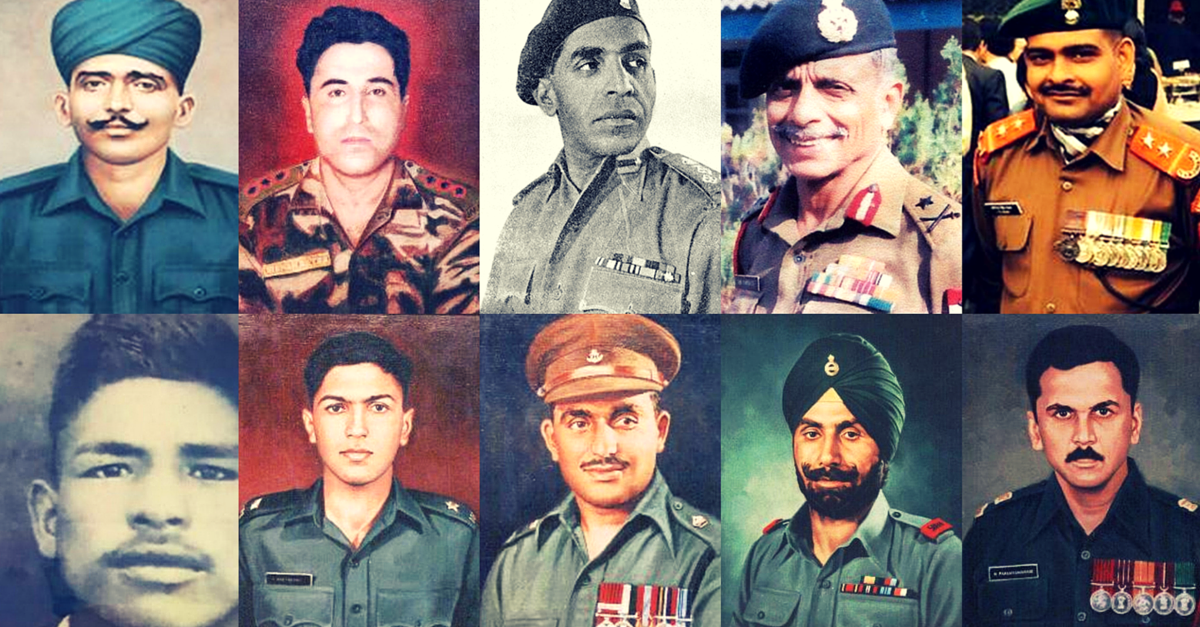 Far from home and loved ones, these heroes sacrifice their own lives so the entire nation can sleep in peace. The stories of their courage and passion are larger than life. Read on and be inspired by 10 such army heroes – they are legends whose tales will not just make your chests swell with pride, but whose sacrifices will leave your eyes a little moist.
Far from home and loved ones, these heroes sacrifice their own lives so the entire nation can sleep in peace. The stories of their courage and passion are larger than life. Read on and be inspired by 10 such army heroes – they are legends whose tales will not just make your chests swell with pride, but whose sacrifices will leave your eyes a little moist.
They are men of steel, standing tall in the harshest of conditions. They disregard freezing cold temperatures and scorching heat to always remain brave, awake and devoted towards us.
They are all heroes, each and every one of them. But there are a few whose stories have become the stuff of legends, stories that deserve to be shared and told over and over again:
1. Captain Vikram Batra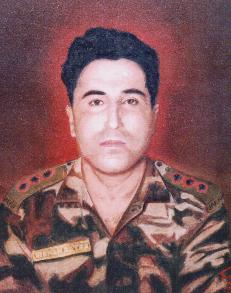 Born in Palampur, Himachal Pradesh, Captain Vikram Batra of 13 J&K Rifles, is known as the hero of the Kargil war. He led one of the toughest war operations in Kashmir, and was also called Sher Shah (in the intercepted messages of the Pakistani army).
He was instrumental in recapturing Peak 5140, which is located at an altitude of 17,000 feet. During this mission, Batra was seriously injured but still managed to kill three enemy soldiers in close combat. After capturing Peak 5140, he went on yet another difficult mission to recapture Peak 4875 on July 7, 1999. Batra made a call to his father before he left and told him about the crucial mission. Hardly did he know that this would be his last call home.
It was one of the most difficult missions the Indian army attempted because the Pakistani forces were sitting above the peak at 16,000 feet and the climb gradient was 80 degrees. On their way up, one of Batra's fellow officers was severely injured. Batra set out to save him. When a subedar tried to help him save the officer, Batra pushed him aside, saying, "You have children, step aside." He saved his fellow soldier but was killed while clearing enemy positions. Batra's last words were "Jai Mata Di."
A famous quote by Batra is: "Either I will come back after hoisting the tricolour (Indian flag), or I will come back wrapped in it, but I will be back for sure." He was honoured with the Param Vir Chakra.
Quick fact: The 2003 Hindi film LOC Kargil had a character based on Captain Batra, played by Abhishek Bachchan.
2. Major General Ian Cardozo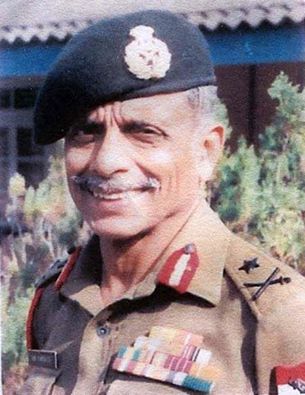 Major General Ian Cardozo, who has many achievements to his name, will always be known for his immense courage in the 1971 war with Pakistan. He was, at the time, a young major with 5 Gorkha Rifles. During the war, he stepped on a landmine and severely injured his leg. When even the doctor could not cut his leg, Cardozo asked for a khukri (the Gorkha knife) and cut his own leg off, saying, "Now go and bury it!"
The incident did not deter Cardozo from going on to serve his country. Through sheer willpower and determination, he continued to perform his duties as a soldier and became the first disabled officer in the Indian Army to command an infantry battalion and a brigade. In spite of not being physically at par with other officers, he defeated many 'two-legged' soldiers to come first in many fitness tests during his stint in the army.
3. Brigadier Mohammad Usman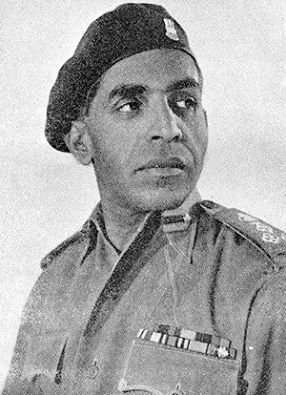 Born in Bibipur, Uttar Pradesh, this man of steel joined the Indian army in 1934. During the Indo-Pakistan war of 1947/48, Brigadier Usman repulsed a fierce attack on Naushera and Jhangar, two highly strategic locations in Jammu and Kashmir, and was named by his fellow soldiers 'The Lion of Naushera.'
At the time of the Partition, he was made the offer of becoming the Chief of the Pakistani Army but he chose to stay in India. He left the Baloch regiment of Pakistan and was inducted into the Dogra regiment in India. After the Battle of Naushera, where the Pakistanis suffered heavy casualties at his hands, the same country that had courted him to become the chief of the army, now went ahead and placed prize money of Rs. 50,000 on his head.
Brigadier Usman was not just a fierce soldier but also a compassionate man. He never got married and used to donate a large part of his salary to support poor children and pay for their education. This inspiring and exemplary officer of the Indian Army died on July 3, 1948, defending Jhangar. His last words were, "I am dying but let not the territory we were fighting for fall to the enemy."
He was awarded the Maha Vir Chakra posthumously for his great courage and leadership.
4. Subedar Yogendra Singh Yadav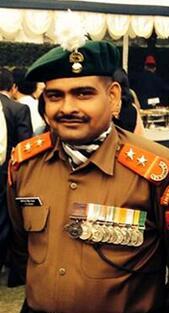 This brave soldier has the high honour of being the youngest recipient of the Param Vir Chakra. He received this award at the age of 19 for his actions on July 4,1999, during the Kargil war. Born in 1980 in Aurangabad Ahir village, Uttar Pradesh, Yadav showed immense courage during the war in 1999. He volunteered for the task of capturing three strategic bunkers on Tiger Hill, which were situated at the top of a vertical, snow-covered, 16,500 feet high cliff face.
He was climbing the high cliff with the help of a rope when the enemy bunker started rocket fire. Yadav was hit by three bullets in his groin and shoulder. Despite being severely injured, Yadav kept climbing and finished the remaining 60 feet to reach the top of the cliff. Though in immense pain, Yadav crawled to the first enemy bunker and lobbed a grenade, which killed four Pakistani soldiers and set back the enemy fire. This gave the rest of the Indian platoon the opportunity to climb up the cliff face.
However, this was not it. Yadav continued to fight and destroyed the second bunker too with the help of two fellow soldiers. In fact, he also engaged in hand-to-hand combat with the enemy and killed four more Pakistani soldiers. By the time the rest of the Indian platoon arrived, Yadav had already neutralised the enemy attack. This gave Indian soldiers the upper hand and they managed to accomplish one of the toughest missions of the Kargil war – the capture of Tiger Hill.
During the second part of the fight, a few more bullets hit Yadav. Some say he was hit by 16 bullets, some say less, but he survived it all. Yadav's heroic actions were portrayed in the film, Lakshya, by actor Hrithik Roshan.
5. Rifleman Jaswant Singh Rawat
Words fall short when it comes to telling this brave man's story. A hero of the 1962 Indo-China war, Rifleman Jaswant Singh Rawat of the 4th Garhwal Rifles Infantry Regiment is the only soldier in the history of the Indian Army who has risen through the ranks after his death. He was 'promoted' to the rank of Major General 40 years after his death, and is still believed to 'command' troops guarding India's eastern frontiers with China.
During the 1962 war, soldiers were ordered to vacate their posts as soon as possible due to heavy casualties against the Chinese at the Battle of Nuranang. But Jaswant did not leave his position and continued to fight even after the other soldiers had left.
Rawat was helped by two Monpa tribal girls named Sela and Nura. The trio set up weapons at separate points and maintained a volume of fire to make the Chinese believe they were facing a huge battalion. Rawat successfully managed to fool them for three days. But the Chinese found out about the set up through a man who used to supply rations to Rawat and the two girls. At this point, Rawat chose to shoot himself rather than be captured by the Chinese forces. The Chinese were so furious on learning that they had been fighting a single soldier all this time that they cut off Rawat's head and carried it back to China.
The post that Rawat held to repulse the Chinese troops has been renamed Jaswant Garh in recognition of his courage. A small shrine to Rawat has also come up at the battle spot. All army personnel who pass by this route make sure to pay their respects to him here.
Rifleman Jaswant Singh Rawat was awarded the Maha Vir Chakra posthumously.
6. Second Lieutenant Arun Khetarpal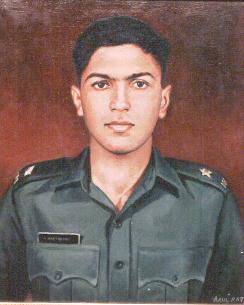 Born in Pune, 2nd Lieutenant Arun Khetarpal of the 17 Poona Horse regiment is yet another braveheart who died too young at the age of 21. He died in the Battle of Basantar during the Indo-Pakistan War of 1971, where his brave actions earned him the Param Vir Chakra posthumously.
Khetarpal showed immense courage and strong will when Pakistani armour, which was superior in strength, counterattacked at Jarpal, in the Shakargarh sector, in December, 1971. Though Khetarpal was in a different squadron, he rushed to help, moving towards the enemy, overrunning the defences with his tanks, and capturing Pakistani infantry and weapons.
When the commander of his troops was killed, Khetarpal continued to attack the enemy fiercely until the latter's tanks started pulling back. Khetarpal even managed to destroy one of the withdrawing tanks.
But the enemy reformed their armour and prepared for a second attack. This time they targeted the sector held by Khetarpal. The attack was severe and swift. Khetarpal was wounded but managed to hit 10 enemy tanks. He was asked to abandon his tank but realised that if he left it the enemy would break through. He fought courageously and destroyed another enemy tank. But then his own tank received another hit, which resulted in the death of this courageous officer.
7. Major Somnath Sharma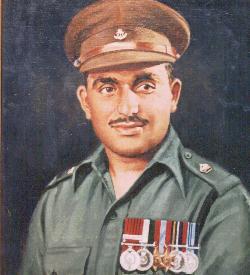 This brave soldier of Fourth Kumaon regiment sacrificed his life at the young age of 24. With his hand already in plaster from an injury sustained in a hockey game, Sharma insisted on being with his company in combat when they were airlifted to Srinagar on October 30, 1947 to fight Pakistani invaders.
On November 3, when Sharma's company was on a patrol of Badgam village, it was approached by a tribal lashkar of 700 raiders from the direction of Gulmarg. The company was soon surrounded from three sides and endured heavy casualties from the ensuing heavy mortar bombardment. Realising that Srinagar and the airport would be vulnerable if they abandoned the battle at this point, Sharma ran from post to post, encouraging his men to fight in the face of an enemy that outnumbered them seven to one.
When heavy casualties adversely affected their firing power, Sharma, with his left hand in plaster, took to filling the magazines for the men operating light machine guns. While he was busy fighting, a mortar shell exploded on the ammunition near him, killing him instantly.
His last message to Brigade HQ, received a few moments before he was killed, was: "The enemy is only 50 yards from us. We are heavily outnumbered. We are under devastating fire. I shall not withdraw an inch but will fight to our last man and our last round."
Major Somnath Sharma was the first recipient of the Param Vir Chakra. The citation on the award says, "His leadership, gallantry and tenacious defence were such that his men were inspired to fight the enemy by seven to one, six hours after this gallant officer had been killed."
8. Naik Jadu Nath Singh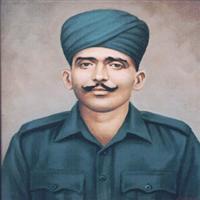 Naik Jadu Nath Singh, the fourth recipient of the Param Vir Chakra, fought in Jammu and Kashmir in the Indo-Pak war of 1947/48. His presence of mind and bravery saved his post, not just once but thrice, from the enemy. On the crucial day of February 6, 1948, Singh was in command of a forward post at Taindhar. Nine men garrisoned the post.
The Pakistanis launched their attack in successive waves to take this post. At this juncture, Singh showed superb leadership and used his small force in such a manner that the enemy retreated in utter confusion. With four wounded men, he re-organised his force to face another onslaught. He did not give in despite being outnumbered.
When all his men, himself included, were wounded, he took over the Bren gun from the wounded gunner and continued to fight. The enemy were now on the walls of the post but Singh's fire was so devastating that the post was saved for a second time.
Every one in his post was dead by now. The Pakistanis came in again for a third attack. Wounded and alone, Sharma charged out of his post with his sten gun firing, surprising the enemy and forcing it to flee back in confusion again. But two bullets caught Sharma in the head and chest and this gallant soldier died instantly.
9. Subedar Karam Singh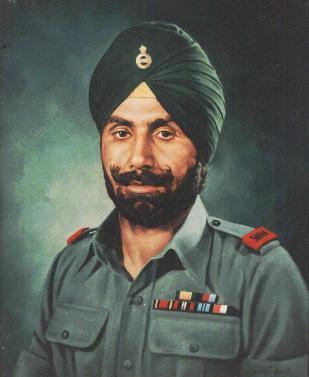 Born in Sehna village in the Sangrur District of Punjab, Karam Singh was the first non-posthumous Param Vir Chakra awardee. Singh retired from the Indian Army as Honorary Captain in 1948 and died in 1993 at the age of 77. He is also the only Indian to win the highest medals of both the British and Indian governments.
Among his several brave acts, Karam Singh is best known for his courage on 13 October, 1948, when Pakistan decided to launch a brigade attack to retake Richhmar Gali in Kashmir. The firing was so furious that it destroyed almost all the bunkers in the Indian platoon. The communication with the commander was also cut off and Singh could not update his situation or ask for reinforcements.
He was left with just one choice – to fight the enemy with whatever little army and weapons he had. The attacks had left Karam Singh severely injured but nothing could deter his spirit. He refused to evacuate the post even when the enemy got very close. When enemy soldiers came even closer, Karam Singh jumped out of his trench and stabbed two intruders to death. His brave act demoralised the enemy so much that they broke off the attack.
10. Major Ramaswamy Parameswaran
Born in Mumbai, Maharashtra, Parameswaran is yet another braveheart who died at the age of 41 in 1987, in India's Sri Lanka operations. He was awarded the Param Vir Chakra, posthumously.
It was late night when Parameswaran was returning from search operations in Sri Lanka, when his column was suddenly attacked by a group of militants. He did not panic and showed great presence of mind by encircling the enemy from the rear and surprising them with an unexpected attack. During the hand-to-hand combat, a militant shot him in the chest. Undaunted, Major Parameswaran snatched the rifle from the militant and shot him dead.
Barely able to stand now, he continued giving orders to his men and inspired them to fight till his last breath. The Indians managed to kill five militants and recovered three rifles and two rocket launchers from the militants.
Like this story? Or have something to share? Write to us: contact@thebetterindia.com, or connect with us on Facebook and Twitter (@thebetterindia).
We bring stories straight from the heart of India, to inspire millions and create a wave of impact. Our positive movement is growing bigger everyday, and we would love for you to join it.
Please contribute whatever you can, every little penny helps our team in bringing you more stories that support dreams and spread hope.