While working with wastepickers, Kagad Kach Patra Kashtakari Panchayat – Pune (KKPKP) realized that wastepickers took loans from money lenders, scrap dealers and friends even for meager daily expenses at

While working with wastepickers, Kagad Kach Patra Kashtakari Panchayat – Pune (KKPKP) realized that wastepickers took loans from money lenders, scrap dealers and friends even for meager daily expenses at high interest rates. They could never manage to repay the principal amount, simply because repaying the monthly interest from their daily earnings was for many, a challenge in itself.
Moreover since they had already borrowed money from the local waste dealer, he would always have the upper hand while dealing with them and he would buy recyclables from them at even lower rates than usual. The absence of any written account of how much money was repaid by wastepickers and how much was outstanding sent debts spiraling higher as scrap dealers would exploit them to the greatest extent possible. These problems plagued wastepickers and since they lacked credit standing, banks and other institutions refused to loan them any money.
In order to build their credit, inculcate the saving habit and to protect them from the clutches of money lenders and waste dealers, The Kagad Kach Patra Kashtakari Urban Credit Cooperative was formed in the year 1993. Members of the Credit Cooperative began with savings as low as Rs. 50/- per month and today most members hold shares worth 15-20,000 rupees each. Even members who earned merely Rs. 100-150 a month scraped together small amounts for their savings and this is how they have built their credit piece by piece.
The credit society has 3,500 members today and its annual turnover in 2010-11 was Rs. 86,96,442/-. In the current financial year, the credit society has forwarded Rs. 47,07,020/- to its members in loans.
Members have the option of holding recurring /fixed deposits or shares with the society which earns them an interest of 9%, 10% and 7% for each respectively. Members are also entitled to get loans 4-5 times their total savings with the society at an interest rate of 2%. Approximately 150-180 members take loans every year. Savings groups are formed within each locality so that members get loans without delay . For members convenience sake, savings are collected from their localities by KKPKP workers or community representatives. The financial situation of members is discussed at the ward level and although savings of certain members may be lower than mandated, they can still avail of a loan in a higher bracket than that what they are eligible for as the entire group serves as a guarantor for that individual. This encourages members to save regularly and repay loans on time. Loans are generally taken to finance the education of children, marriages, building homes and medical treatment.
The Board of Directors of the Credit Society , which consists of KKPKP's wastepicker members, deals with issues like approval of members loans, overview of loan repayments and other financial matters which are discussed and all decisions are taken at the monthly Board Meeting. The Board of Directors has complete authority and autonomy to take all decisions pertaining to the Credit Society.
Looking back, it's clear that the credit society has played a major role in helping wastepickers gain financial mobility which in turn has increased their confidence and self respect and members see themselves in a different light now.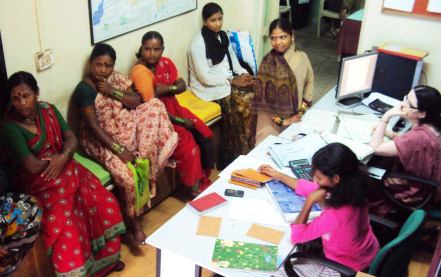 Hausa Sonawane
"I have faced all the hardships that one has to while working as a wastepicker. We used to live in a rented accommodation, but because of the loan from the credit society, I now own my house. The credit society's loan installments are affordable, so I was able to repay the loan easily. We have spent our entire lives in collecting garbage. But now we want our children to get good education and for that too, I have taken a loan from the credit society."
Sushila Kamble
"I had taken a loan from the money lender at 10% interest. From my meager income I could barely afford to pay the interest every month. The amount kept on increasing and soon it had gone up to Rs. 65,000! I decided to sell off my house and repay the loan. But when the members from my locality came to know of my intentions, they informed the area representative. The area representative immediately called for a meeting where they decided to forward me the amount through the credit society. All the members from my locality stood as guarantors for this loan. Soon I had repaid the loan, my house was saved and I was free from the clutches of the money lender. Today I work with 'SWaCH' and pay my loan installments regularly."
Written by Bharat Kamble from KKPKP and published by Alliance of Indian Wastepickers (AIW). AIW is is a national network of 35 organizations working with, and comprised of, informal recyclers, wastepickers and/or itinerant buyers. The AIW has a presence in 22 cities across India and focuses on peer support, policy advocacy, and cross-learning.
Tell Us More
We bring stories straight from the heart of India, to inspire millions and create a wave of impact. Our positive movement is growing bigger everyday, and we would love for you to join it.
Please contribute whatever you can, every little penny helps our team in bringing you more stories that support dreams and spread hope.