As soon as one believes that the weather will finally clear up and people will get some relief from the heaviest rainfall in over 100 years to hit Tamil Nadu, another spell of rains enter the state and leave it devastated. The nonstop rains since Monday night in several parts of Chennai, its suburbs, and Puducherry, have completely disrupted life in the region.
Rains have already claimed at least 188 lives, and it has been predicted that they will last for four more days. With flights, trains and all means of transportation being cancelled, along with telephone lines going flat, the state seems to be cut off from the rest of the country. There is water filled up inside houses, roads are submerged, and people stranded in different areas are waiting to be rescued.
In such a situation of distress, this is how people in Chennai and the neighbouring areas are helping each other out in every possible way. Even those who are not located in the city can contribute by spreading the word and helping rescue teams reach the right places.
1. Need food? Here's help!
If you can organise food packets in chennai please contact me. We will have it picked up and delivered. Batches of 50-100 packets. #TNflood

— Siddharth (@Actor_Siddharth) December 2, 2015
Breakfast and lunch being organised at T- nagar Jain temple,G N chetty road 5000packets being prepared kindly contact #chennairains — Deepak Mehta (@DeepakmehtaH) December 1, 2015
2. Need shelter? Here's help!
A form named Chennai Places to stay #Chennairains, is being circulated on social media wherein people can fill out details of the kind of accommodation they can offer, and the complete list is available on a Google spreadsheet for others to access. And then there are these:
Accommodation provided for the needed in the following locations.. #Chennai people care to the core during emergency pic.twitter.com/aou2XQxibv

— Saranam (@SaranamMusical) December 2, 2015
#ChennaiRains #ChennaiRainsHelp Cannot stress this enough. For accommodation, seek out public buildings first. pic.twitter.com/0zTSqhYI6l — Silverscreen.in (@silverscreenin) December 1, 2015
#chennairains #ChennaiRainsHelp More places with available accommodation. pic.twitter.com/m3NJdu5D5v

— Silverscreen.in (@silverscreenin) December 1, 2015
Can accommodate 2-3 people at my apartment in Mylapore. Anyone looking for shelter for tonight can DM me. #Chennairainshelp — Venkatesh (@venkkeyy) December 1, 2015
I have a school to accommodate 75-100 in Nungambakkam.food at Chetpet to closely around 1000ppl +917092020207 +918939433288 #chennairains — Sattish viswanath (@sattish_viswa) December 1, 2015
To anyone offering accomodation in Anna Nagar, contact Brijesh 9962400760 #ChennaiRainsHelp @ChennaiConnect @ChennaiRains

— Siddharth Saravanan (@sidsrvnn) December 2, 2015
3. Need medical assistance? Here's help!
If anyone need medical assistance(free) in saidapet,kk nagar area pls contact Dr.Vignesh Raj 9790801234 https://t.co/ILStmiJmDx — ChennaiRains (@ChennaiRains) December 2, 2015
@arjuunsraman pls sundarakrshnan 9840069101. He provides DG on rent. — Rangarajan (@rangakidambee) December 1, 2015
4. Need phone recharges? Here's help!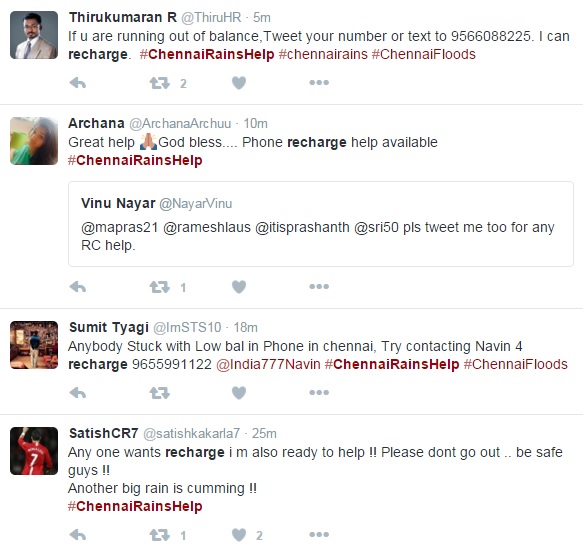 5. Need a ride? Here's help!
We have a 5 car convoy patrolling affected areas in #Chennai . Please collect genuine transport issues and post to me & @rj_balaji #TNflood

— Siddharth (@Actor_Siddharth) December 1, 2015
6. Have pets? Here's help!
7. Want to contribute? Help here!
8. Need a flood map of Chennai, with all the details of vulnerable and inundated areas, flood relief camps, water logged points and more? Here it is!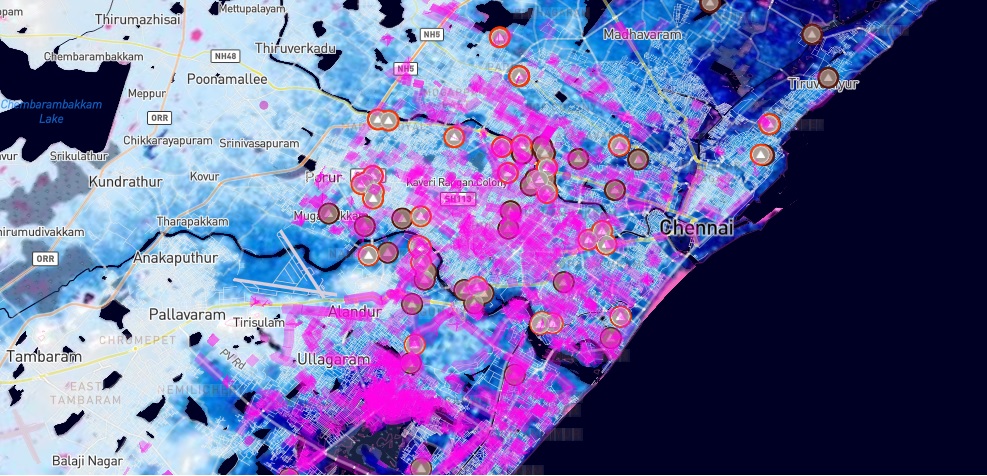 9. Need helplines? Here they are!
Source: Twitter
Direct number to contact for rescue boats at 5 diff places in chennai Ilayaraja-8056007207 @tw_bhav @ChennaiRains #ChennaiRainsHelp — SAM (@SAMPONRAJ) December 2, 2015
Boats at Tambaram, Perungalathur, Vandalur and Urapakkam 9176666431, 9840920186,9962634858, 9500002000. via Madras Memoirs. #chennairains — TheNewsMinute (@thenewsminute) December 1, 2015
Verified information #ChennaiRainsHelp pic.twitter.com/BrP1api6Ky — Shantha Sakkubai (@himsini) December 1, 2015
Towing service Towing service Phone Mobile:98 41 156584 Work:044 5527 3759 Mobile:98 41 156584 — Priyamvatha (@Priyamvathap) December 2, 2015
Flood Control Room, (State Emergency Operation Centre), O/o S.C & C.R.A, Chennai-5 044-28593990 044-28410577 9445869843 / 47 — Priyamvatha (@Priyamvathap) December 1, 2015
Southern Railway help line numbers #ChennaiFloods 044-29015204 044-29015208 044-28190216 044-25330714 pic.twitter.com/nz4NFPhi3w — All India Radio News (@airnewsalerts) December 2, 2015
Emergency contact numbers released by Chennai Corporation – NDTV #ChennaiFloods pic.twitter.com/n0e4js4wuj — All India Radio News (@airnewsalerts) December 2, 2015
10. Need weather updates? Here they are!
#chennairains You can follow all the latest updates on #chennaiweather here: https://t.co/ufl7DVouW7 #TamilNadu

— SkymetWeather (@SkymetWeather) December 1, 2015
Looking for a hero? Here she is!
Our milk lady Radha in Chennai – been delivering for 25 years, and did not fail to show up this morning. pic.twitter.com/WrcCITS60e — Ramanathan S (@madarassi) December 2, 2015
Stay strong Chennai! We're sure with people like these there's no way you can't stay afloat!
Featured image courtesy: https://twitter.com/DrRamSaran
Like this story? Or have something to share? Write to us: contact@thebetterindia.com, or connect with us on Facebook and Twitter (@thebetterindia).