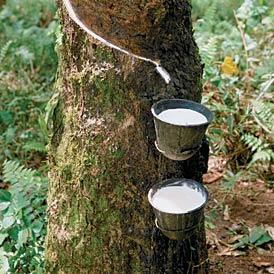 Our previous post revealed how Bamboo is being used by victims of floods to rebuild their lives. Now, rubber plantations are leading to increasing prosperity among people of Goalpara district in Assam. A lot of success stories have emerged, largely centered around those who have taken to growing rubber trees in their farms. Rubber grows easily in the North East regions owing to large tracts of unused land and inexpensive labour. Not only is the money good, it has had various positive impacts on the society and the way of living of the beneficiaries. 
Teresa Rehman writes in Tehelka about this Rubber Revolution:
The rubber board, a statutory body constituted under the Rubber Act, 1947, by the Ministry of Commerce and Industry has implemented several programmes for rubber plantation development in the Northeast. The first plantations, mostly confined to large estates, trial plantations were taken up by the forest and soil conservation department. However, since 1980s, small growers have been switching to rubber with some help from the Rubber Board. 

In fact, Goalpara district of Assam has been one of the Board's success stories. Out of the total 4000 hectares of rubber plantation in Assam, around 2900 hectares are in Goalpara district itself. Over 7000 familes are dependent directly or indirectly on rubber plantations and their average income is more than Rs 10 crore per annum.
And the statistics of the kind of demand for rubber in our country:
More than 36000 articles ranging from giant truck tyres to tiny elastic bands are manufactured from rubber. In fact, an ambassador car has 300 rubber parts. The tyre-industry consumes nearly 85 percent of the natural rubber in India. 
What is even more interesting is the impact that this prosperity has led to in the traditional customs and ways of life in this region. To know more about that, read the complete article here.