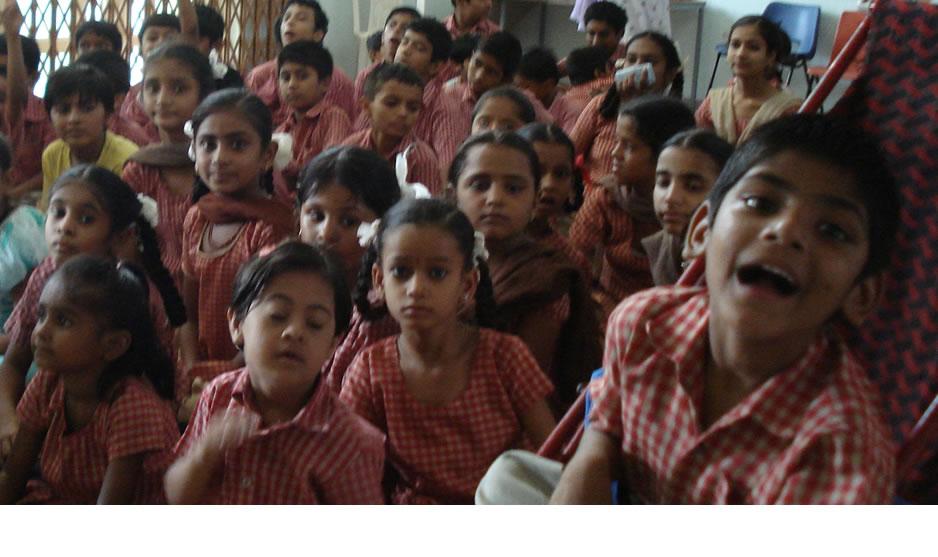 I was still living in the Netherlands when my mum put me on the phone with a visitor of the family – a doctor and a Vipassana teacher, I was
I was still living in the Netherlands when my mum put me on the phone with a visitor of the family – a doctor and a Vipassana teacher, I was told. I heard her delighted voice exclaim how she loved one of my murals in the wall of our family home and went on to invite me to a school she manages in Kutchh, Gujarat. She said that I would love the peace of the desert, the compassionate energy of the students that it played host to. I liked the idea, but left it at that at the time.
I met Dr. Shantuben Patel the next time I visited India. Her presence was energetic. She was narrating how at my age, as a practicing neo-natologist in the UK, all she sought was peace, quiet, and a chance to serve her patients better, at a more personal level. She narrated how one day in 1975, Sean, the child of a miner, was brought into Liverpool hospital where she worked. Sean was critical, with bitemporal haemorrhage. He was airlifted immediately for operation at a specialised hospital. Seven days later, Sean, well on his way to recovery, greeted Dr. Patel with a box of chocolates.
This incident was a turning point for her, she said. The child's background did not matter when he needed urgent specialist treatment. She began to seek an opportunity to work in a hospital that provided its services to everyone for free.
She later began practicing in Kutchh and now runs a school for mentally and physically challenged children. Our conversation ended with an invitation to visit the school, and left me wondering as to how a paediatrician came to run a school for challenged children.
I hesitated at the invitation at first, unsure whether I'd actually be able to contribute at all, afraid that I'd end up being a burden instead. But I was keen to get a glimpse of the methods they use to reach out beyond the classroom, into the childrens' daily lives. For that is where information turns into education, and finally literacy. The knowledge that these children were practicing Anapana meditation also drew me to them.
Dhanvantri School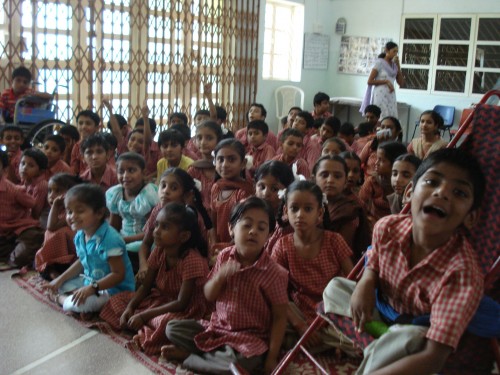 Dhanvantri school is a little shelter, a peaceful little abode for anyone that steps in. The walls are painted in bright colours all picked by the students. The first thing I noticed was older children helping the younger ones who were in a wheelchair or needed to be carried around, even feeding and taking care of some of their juniors.
That evening when I arrived, I heard about how 15 years ago, when Dr. Patel was still practicing as a paediatrician and neo-natologist in Bhuj, unexplicably large numbers of mentally and physically challenged children started turning up at her doorstep as patients. In response, she helped one of the mothers train as a teacher, and the school was founded on 1 September 1996, in one of the rooms of her nursing home. It grew in time, adding students and a team of special educators.
There isn't much that I can add about the devastating earthquake that hit Bhuj on 26 January 2001. Dr. Patel's school, which she was then located inside her ancestral home in Bhuj, turned to rubble. Her team and students stuck together during that horrific time, with almost no external support for a while.
The school has since grown to 163 students in three departments (hearing impaired, mentally challenged, and cerebral palsy) from in and around Bhuj, and 15 trained teachers.
As a science communications expert specialised in Space and Astronomy topics, I deal daily with the issues of science education and public understanding of science. I have a special interest in science education, especially of girls, and am investigating ways that can help turn basic science education into scientific literacy, for mothers and children, and from them, to the community and wider public.
This is a grave challenge that extends well beyond the classroom; cultural and local knowledge become indispensable. I am especially unaware of the mechanisms at work in rural areas in a developing country such as India, so I visited Dhanvantri school hoping for a tiny little glimpse into this world.
As I observed a normal day unfold at the school, Dr. Patel's deep insight in dealing with each individual child and their parent, and her understanding of how each case needs to be educated and then treated, came through clearly. I was asked to begin by sharing my story and that of my family with the teachers. Dr. Patel wanted me to find words and anecdotes to convey my own story to the staff, so that they could find the strength to continue their own personal and professional exploration.
I entered the room where the teachers were seated for our 20-minute meeting, heavy with the knowledge that these women were doing far more important work for our country's future than I can begin to imagine. I shared with them about my childhood, my parents, some of their struggles in making sure that their children received a good education, and my own travel and academic as well as professional exploration.
After my talk, which was met by surprised faces, and curiosity at my wanting to return to India, I thought that my work there was practically over, and I was keenly waiting for my friend Danish to arrive and conduct workshops with the students, but I was in for a surprise. I learnt a few hours later that after the teachers returned to the classrooms, the students demanded that I share with them what I had shared with their teachers.
This was far more challenging. I was used to an English-speaking, computer literate audience. Questions flooded my mind. How do I work these students up to become excited about space? How do I share with them the beauty of a picture of the Cat's Eye Nebula, the enormity of Jupiter, or the desolation of the Moon? How do I convey to them the thrill of the scientific process, the thrill of enquiry, observation and discovery? I didn't even know the names of the planets in Gujarati!
I was a little less afraid about being able to reach out to the hearing impaired students, but was at a total loss otherwise.
I was given about 30 minutes to put together a quick pictorial presentation. The response blew me away.
The pictures were enough to hold the gaze of the younger students. As I shared trivia, one of the teachers translated it into sign language for some of the students. The surprise in their eyes bowled me over. The students were able to grasp big, heavy concepts that seasoned minds find difficult to grasp in their entirety. They intuitively sensed the power of the information and the enormity in the numbers and pictures of stars, planets and galaxies that I was sharing with them.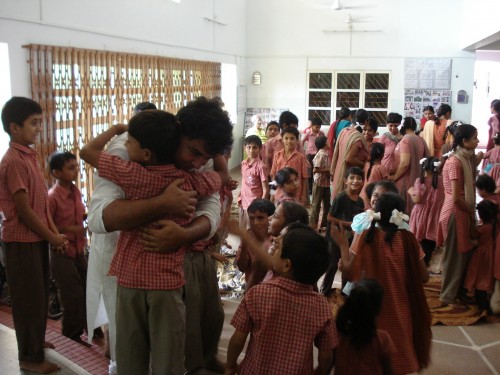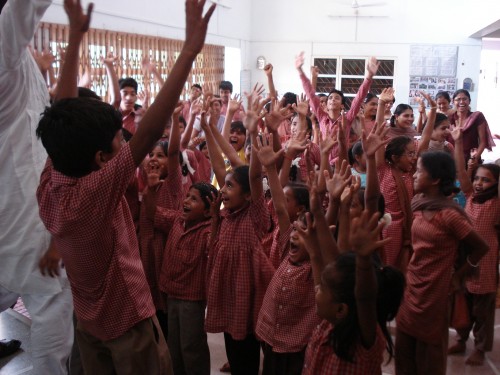 The Future
I am hoping to come back with more teaching aids related to space and astronomy so I can take the students a step further from being just a responsive audience.
The next day I also painted a little, but I am hoping to conduct a proper painting workshop the next time, to help them explore creative expression.
If I write that Dr Patel and her team are making a huge difference to the area that they work in, it would be a grave understatement that belies reality.
The truth is that the progress of our nation depends on people such as them. They are the ones who take literacy out of our classrooms and into households, communities, and villages. They educate the parents, give them the tools that they need to deal with the most precious little citizens: our children. They keep the most deprived and challenged of these children from exploitation and from what would otherwise be a substandard life. They are sowing the seeds of progress.
This is the true face of development.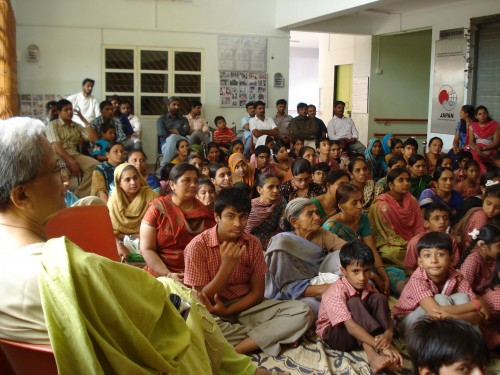 And I can add one more thing safely: we need many more people like Dr. Patel in India's villages.
I have to thank Dr. Patel and her team for blowing me away with their warmth, compassion, and their ability to work with me to bring out my best effort while I was visiting. And the children, for they only offer true love and warmth in response to your every action.
I will try my best to do what I can to support them, and I hope that you will too.
More Information about the school
Dhanvantri school is a special school for the mentally and physically challenged. The students include children that are hearing impaired, hyperactive and cerebral palsy, among other afflictions. The school is managed by Dr. Shantuben Patel, a paediatrician and a neo-natologist, and a team of special educators, who set it up in response to the large numbers of mentally and physically challenged children that turned up at her doorstep as patients while she was still a practising doctor.
Danish Husain's heartfelt article on Kafila will tell you more about this phenomenal woman and her personal struggle as well as that of her dedicated team, before, through, and after the massive earthquake that hit Bhuj on 26 January 2001.
The school's operating expenses amount to about 25 lac Indian Rupees, or approximately 60k USD, per year. It relies entirely on funds from generous donors to meet its expenses.
For donations, cheques and drafts can be made payable to "The Child Welfare Trust". Please mail them to:
Dr. Shantuben Patel
Dhanvantri School
Near Pramukh Swami Char Rasta
Mundhra Relocation Site,
Mirzapar Road
Bhuj, Kutch,
Gujarat 370 001, India.
Dr. Patel is also reachable at +91.2832.291366, or at thechildwelfaretrust[at]gmail.com or shantubenpatel[at]gmail.com
Website: http://sites.google.com/site/childwelfaretrust/
Amruta is an Independent Expert for the European Commission's Research Executive Agency who takes up consultancy, writing and editing jobs when she isn't painting or dancing. Having married the wonders of physics and adventure at a young age, she left India to study in Germany and France, and later travelled to Singapore and the Netherlands to work for private companies, as well as the European Space Agency and the German Aerospace Center. She is currently based in Mumbai, from where shares her perspective of the world at
http://blog.amrutamehta.com/
We bring stories straight from the heart of India, to inspire millions and create a wave of impact. Our positive movement is growing bigger everyday, and we would love for you to join it.
Please contribute whatever you can, every little penny helps our team in bringing you more stories that support dreams and spread hope.