Youth for Seva is an organization that matches a volunteer with an NGO based on the former's interests, time constraints, locational preferences, etc. Whether you want to work with children, physically and mentally impaired or senior citizens at schools, hospitals, slums or old-age homes, Youth for Seva has something for everyone as long as you have the desire to help others.
About YFS:
There is a growing desire among the youth in India to volunteer their time and talent for community development. But most of them are not currently involved in volunteering work because of three major reasons:
1. Not knowing where to start.
2. The fear that it may be too much of responsibility.
3. Concern that it cannot be done with their limited time availability.
"Youth for Seva"(YFS) was formed in April 2007 to fill this gap so that youth with an intention to volunteer and with different time commitments can easily find meaningful opportunities to serve the community.
Mission:
The mission of YFS is to inspire youth to volunteer, connect them to the grass roots projects, and provide ongoing support and training to the volunteers and the NGOs.

Achievements:
Since its inception in April 2007, YFS had secured the help of nearly 1,100 volunteers and assigned them suitably. However, in 2008 they were one of the NGOs to partner with Teach India program of Times of India, and helped engage more than 2000 volunteers in various government schools and slums of Bangalore. Besides schools, YFS has also helped hospitals, old-age homes and other institutions secure volunteers to help them with their needs.

Interview with Venkatesh Murthy – Co ordinator:
I met Venkatesh Murthy, Co-ordinator of Youth for Seva, several aspects of the vision of YFS were revealed. After working in the US for nearly 12 years, and observing the deep sense of community service ingrained in the culture, Venkatesh began to yearn to bring in a similar culture in the youth of his home country. So he moved back to India in early 2007, and began to float the idea of a community building and involvement program for individuals. His ideas received a lot of positive response, and he was encouraged to lay the foundation of Youth for Seva in April 2007.
Venkatesh was also deeply influenced by his readings of the ancient Indian scriptures, which talked of the 5 debts of man – his debt to his teachers, to his ancestors, to animals, nature and society. He believes that if only man would consider it his duty to repay his debts, we would not be witnessing the widespread damage to our habitat, environment, wildlife and the sufferings of the poor.
Though Youth for Seva is an NGO, Venkatesh wishes he could do away with the entire notion of NGOs.
"I want to encourage the concept of Individual Social Responsibility (ISR) – each individual taking charge of improving the conditions all around him. With a holistic approach encompassing all the five debts, it is possible for each person to do his bit and we will not have to worry about the world. Instead of calling up an NGO and asking them to pick up old clothes from your house, you could donate them to the construction workers at a nearby site. Instead of going to the slums and teaching children, you could start with taking lessons for your maid's or watchman's children. It's all about looking around you and bringing about change"
Venkatesh's ideals are reflected in Youth for Seva as it empowers the youth to find their niche, and participate in the change they want to bring about. Hopefully, this will lead to his mission of Individual Corporate Responsibility, where they will no longer be NGOs. Just a world full of hope.
How you can help:
Youth for Seva offers various options to the youths with varying time commitments.
•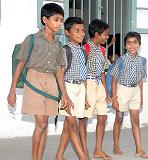 Few months after graduation and before starting your professional career-Volunteering provides true-to-life experience and also helps you develop better communication skills and leadership qualities. If you volunteer for three months or more, you are eligible for a fellowship (stipend).
• For few hours every week throughout the year you can be associated with one or more projects closer to your home or college.
• Semester breaks-Here you can volunteer full time for 10 days or more. Your time will be utilized based on your interests and abilities. Remember that the longer you volunteer, the better are the fruits of service.
• We can assist Master of Social Works (MSW) students in doing their project work with credible NGOs.
• You can sponsor a school kit containing a school bag, 10 notebooks, one pen, pencil, eraser and geometry box for needy children with a donation of Rs.200
• Non-field work- You can help us with your writing, photo and video skills, graphics work and/or website development. Just let us know your areas of specialization and we will try to find ways to help the NGOs which share the same interests.
• Something that every one can do is subscribe to our e-newsletter.
Whether you want to work with children, physically and mentally impaired or senior citizens at schools, hospitals, slums or old-age homes, Youth for Seva has something for everyone as long as you have the desire to help others.
Contact Youth For Seva at:
8/28, Bull Temple Road,
Bangalore – 560 004
Karnataka, India
Tel: 9900227382
Email: youthforseva@gmail.com
Read more about Youth for Seva and register to volunteer with them at http://www.youthforseva.org/
We bring stories straight from the heart of India, to inspire millions and create a wave of impact. Our positive movement is growing bigger everyday, and we would love for you to join it.
Please contribute whatever you can, every little penny helps our team in bringing you more stories that support dreams and spread hope.