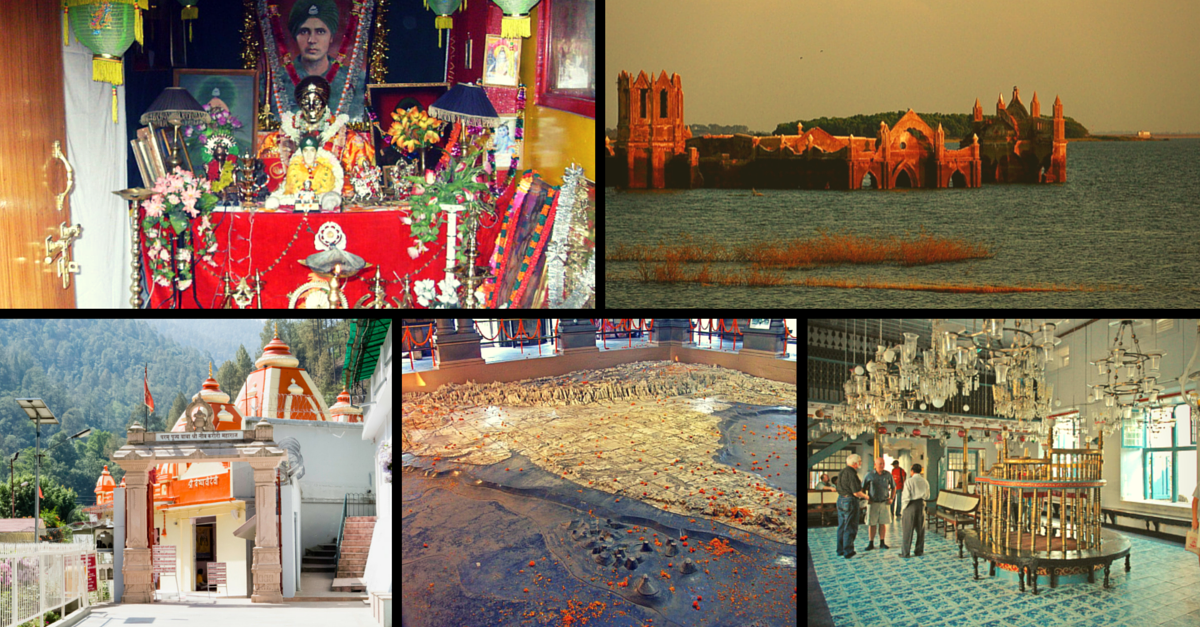 While other gods may be placated with flowers and candles, some of ours demand liquor and noodles too. And, given that this is the 21st century, they don't say no to offerings of clocks and aeroplanes either. Or to Steve Jobs and Mark Zuckerberg! Here are 15 of the most unusual places of worship in India.
Strange stories, superstitions, curious rituals, deep beliefs, undying faith, age old anecdotes – all these and more abound in places of worship in India.
Buddhist, Muslim, Christian, Sikh, Hindu, Jewish – we have people of every faith and belief, shrines dedicated to monks and pirs, and temples that have stood the test of time – because we are the spiritual hub of the world.
We worship the forces of nature and animals of course. But, when the fancy takes us, we also elevate our politicians and movie stars to God-like status. We have a temple dedicated to the country itself and another to a mysterious soldier who haunts the Himalayas. While other gods may be placated with flowers and candles, some of ours demand liquor and noodles too. And, given that this is the 21st century, they don't say no to offerings of clocks and aeroplanes either. Or turn away Steve Jobs and Mark Zuckerberg!
Read on and be amazed by the wonder that is India – here are 15 of the most unusual places of worship in the country.
Kainchi Dham, Uttarakhand:

The Temple that gets visitors like Steve Jobs and Mark Zuckerberg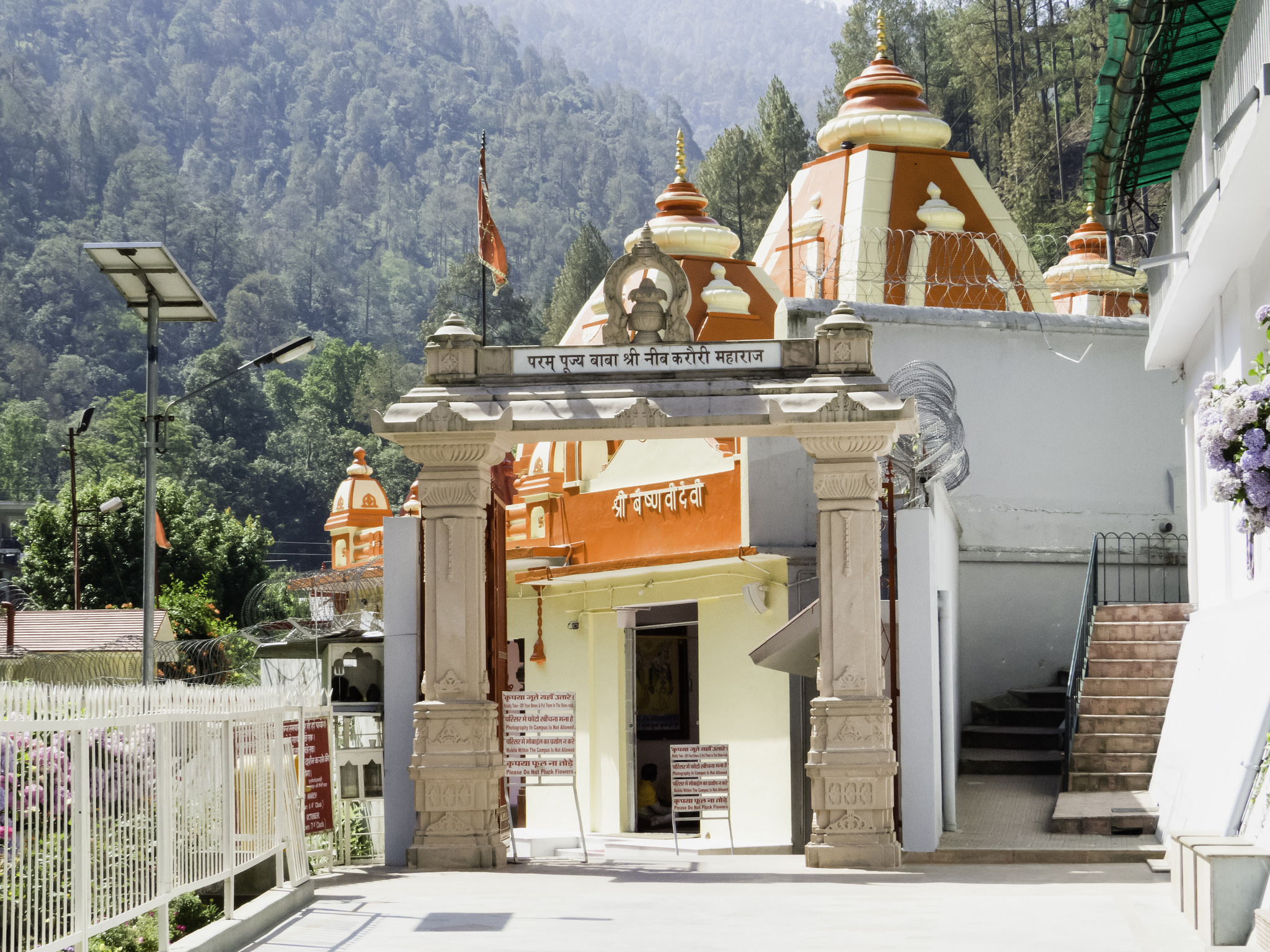 When Facebook was going through difficult times, Steve Jobs advised Mark Zuckerberg to visit an Indian temple, saying he found spiritual solace and guidance there. It was the Kainchi Dham Ashram of Nainital, Uttarakhand. It is believed that Jobs got the idea of creating Apple at this very place. The ashram was built in honour of Baba Neem Karoli or Baba Neeb Karori who is considered to be a reincarnation of Lord Hanuman. Taking Jobs' suggestion, Zuckerberg did visit the ashram. But the humble place does not flaunt its celebrity status. Other than Jobs and Zuckerberg, Julia Roberts is also known to have visited the ashram.
Baba Harbhajan Singh Temple, Sikkim:

The Spirit God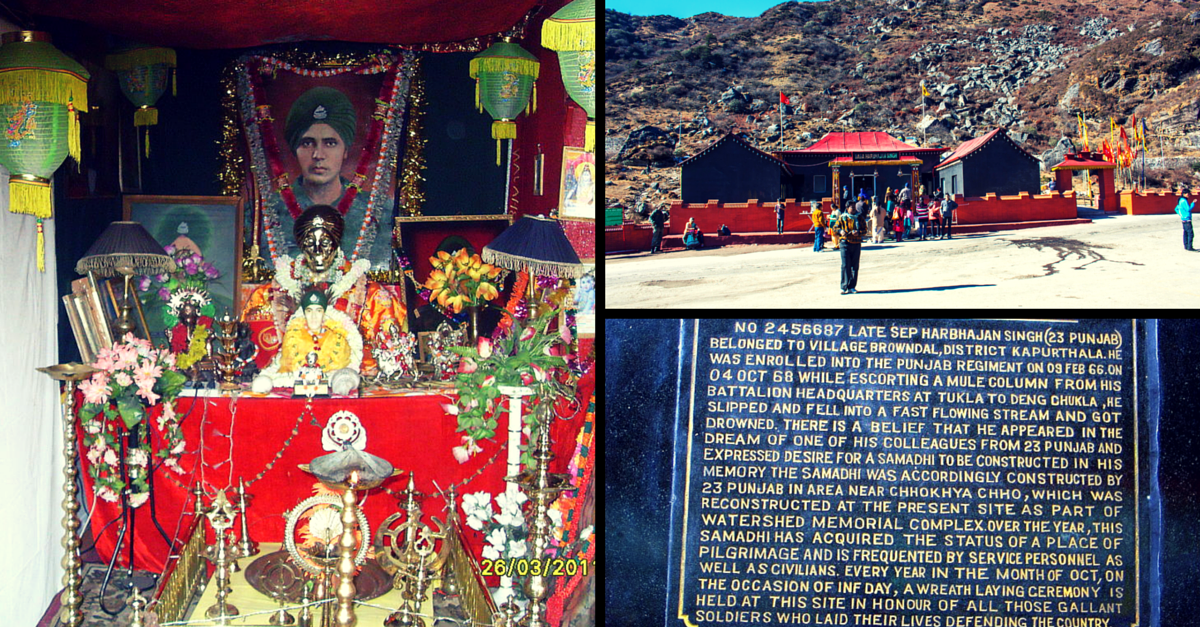 Harbhajan Singh, a.k.a Major "Baba" Harbhajan Singh, was an Indian army soldier who lost his life in 1967 near the Nathu La pass in Sikkim. In remembrance of the "Hero of Nathu La", army men have constructed a shrine close to the Indo-China border. Many soldiers in the area believe that his spirit protects them.
Legend has it that Harbhajan Singh himself helped the search party find his body after his death. Then he talked to one of his colleagues through a dream and told him to build a shrine in his memory. Some soldiers also believe that the Baba warns soldiers about any impending attacks. Many such tales of supernatural sightings and events revolve around this temple.
Nau Gaja Peer, Haryana:

The Time Keeper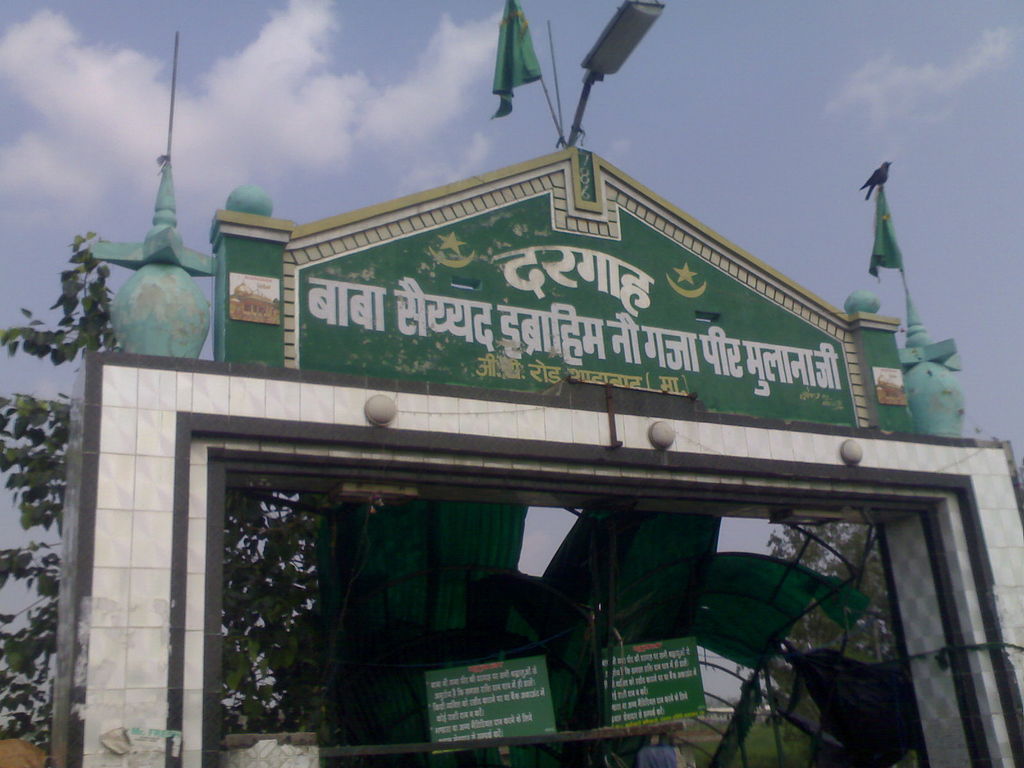 Found on Grand Trunk Road, near Kalyana Village between Ambala and Kurukshetra in Haryana, this dargah (shrine to a Muslim saint) is dedicated to the Nau Gaja Peer (nine yards tall pir or holy man), better known as the "highway god". Two things make this shrine unique – the large number of clocks inside and a very long grave.
Hundreds of devotees, especially truck drivers, offer clocks at the shrine to ensure a safe journey and a timely arrival. It is said that many years ago, a truck driver's vehicle used to break down every time he passed the dargah. One day, he offered a clock there, and could complete his journey on time. The practice started since then.
People claim that Syed Ibrahim Badshah, or Baba Naugaja Peer was a 9 yards tall saint. That is equal to about 8 meters. Hence the long tomb. About 50 clocks are offered in a day, and all the clocks are tuned to the same time. Some clocks are also given back as prasad to people who offer them.
Paradesi Synagogue, Kerala

– Of 11,000 Handmade Tiles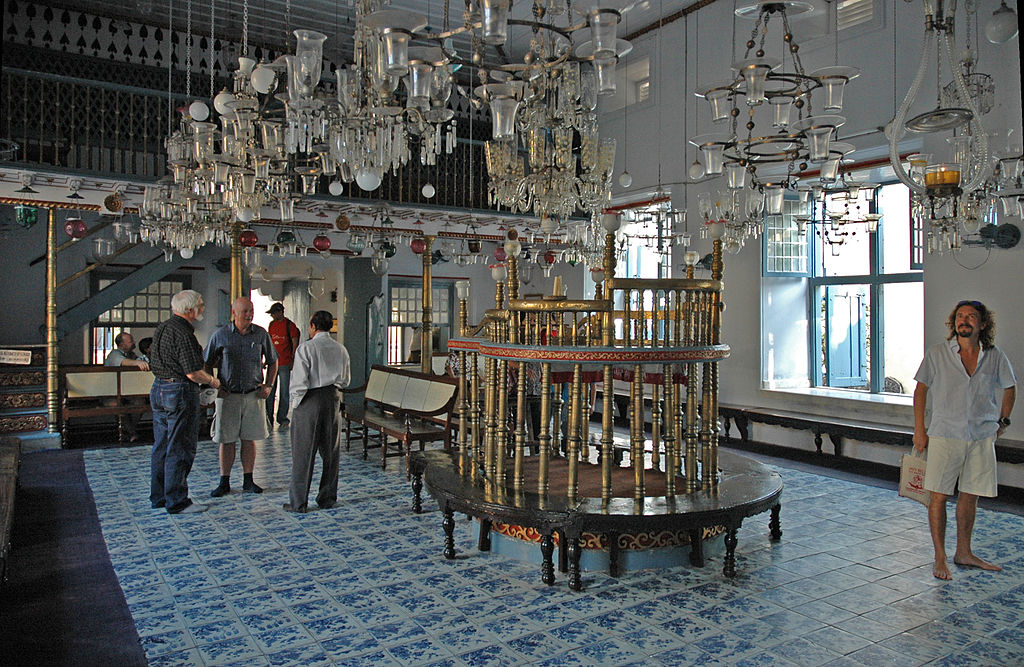 A synagogue is a Jewish house of prayer. The Paradesi Synagogue, located in Kochi, Kerala, was constructed in 1567 by the Jewish community of Cochin. It is only one of the seven synagogues in Old Cochin area that is still in use.
The place is known among travellers for its 250-year-old handmade Chinese porcelain tiles. The floor is paved with 1,100 of these tiles. Every horizontal row has tiles with the same design, and there are four different designs. So the first row is identical to the fifth, the second to the sixth, and so on. Every tile is said to be unique in some way.
Copper plates from the 4th century are among many other valuable antiques found in the synagogue. They have inscriptions in Malayalam that talk of the privileges granted to the residents of the area by the erstwhile Cochin king. The inscriptions are written in mirror image writing.
Rosary Church, Karnataka

– The Submerged Church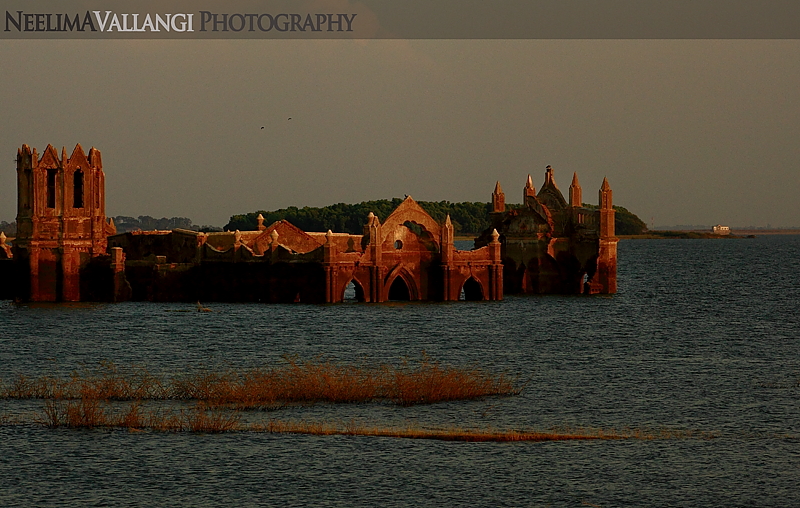 This partially submerged church looks more like stranded ship. It was built on the banks of Hemavathi River near Hassan in Karnataka, where there used to be a village long ago. When the village got relocated upstream after the construction of the Gorur dam, this church was left behind. The dam waters started flooding and the church was submerged. It has been 200 years since it was constructed, and 25 years since it has been submerged. But the ruins still stand tall. Every year during the monsoons, the church gets submerged, and is visible completely only during summers.
The Natural Mummy of Sangha Tenzin, Himachal Pradesh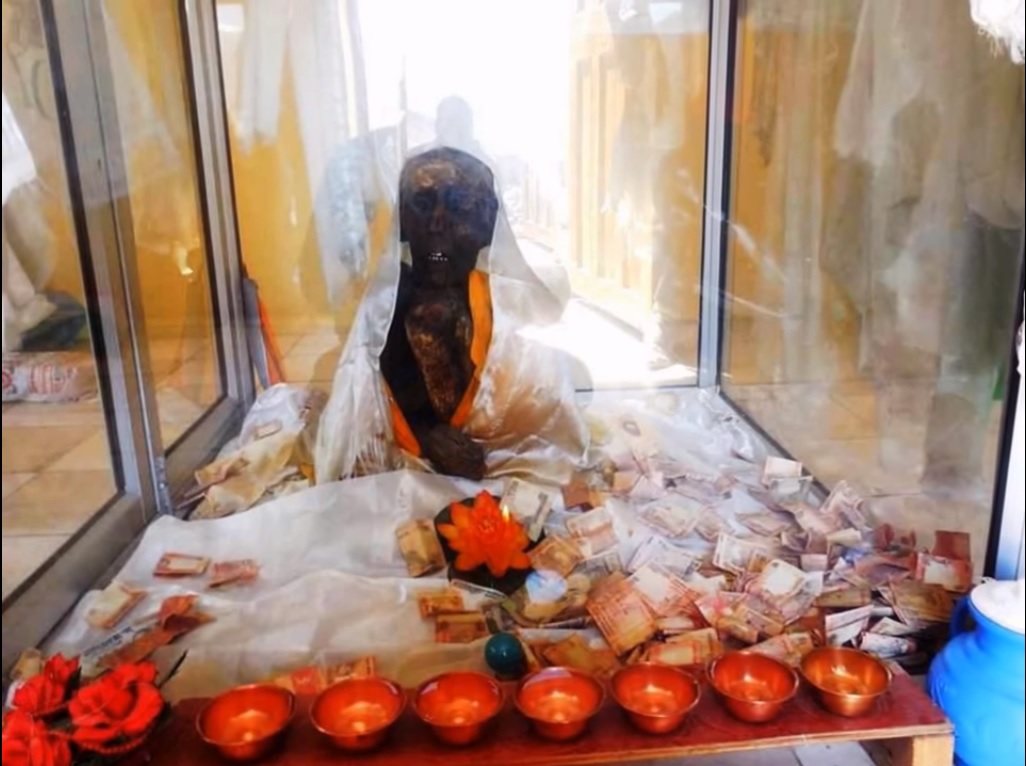 Gue, a small village in the Spiti valley of Himachal Pradesh, is home to a 500-year-old mummified body of monk Sangha Tenzin. It is in excellent condition with hair and teeth preserved, and probably the only mummy in India to have undergone natural mummification.
Natural mummification is a very difficult process. A person's body is made to react in such a way that body fats and fluids reduce at a constant rate and organs that are prone to decaying are reduced in size. One has to follow a special diet when preparing for death.
Legend says that monk Sangha Tenzin asked his followers to mummify him when the town was infested with scorpions. Once his spirit left his body, a rainbow appeared and the scorpions vanished. The mummy is kept inside a glass case.
Kaal Bhairav Temple, Madhya Pradesh

– Where the Deity Enjoys his Liquor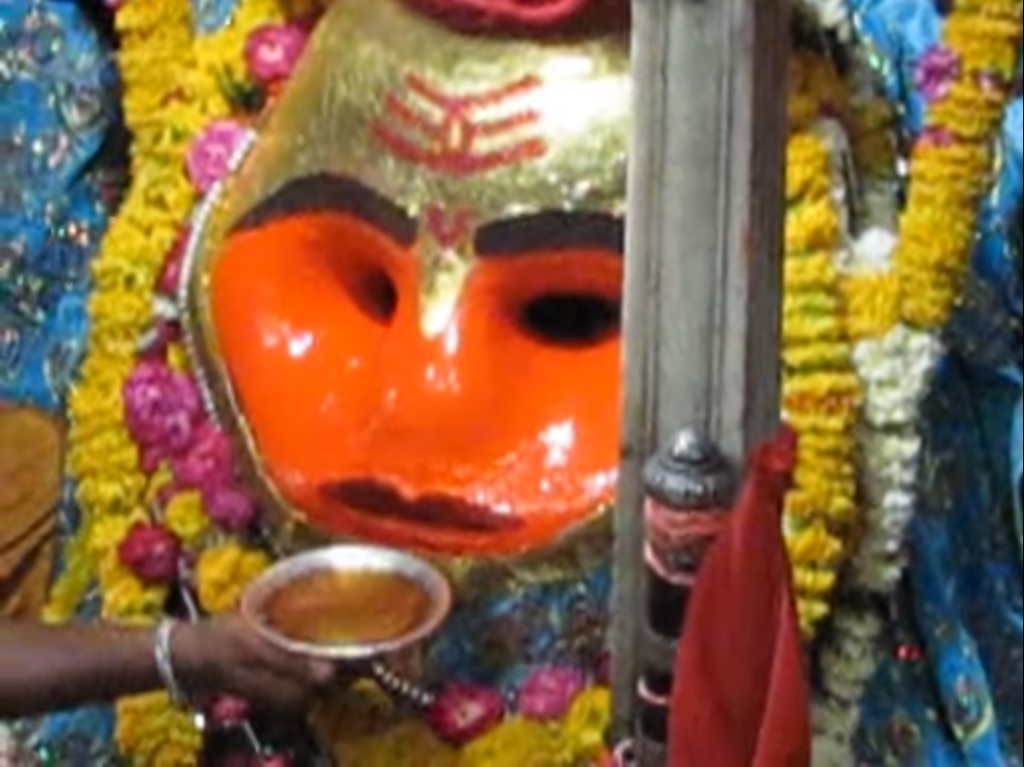 Located in Ujjain city of Madhya Pradesh, this temple is known for the many liquor stalls nearby. A typical offering basket here contains coconuts, flowers, and a 140 ml bottle of liquor. The devotees hand over the bottle to the priest who then pours half of it into a bowl and places it near the mouth of the idol. The bottles are then returned back to the devotees.
Some years ago, there was an interest in the fact the liquor disappears very fast into the deity's mouth. However, a state sponsored research into the mystery did not yield any results. With the view of ensuring that devotees purchase liquor at the appropriate cost and are not cheated by non-licensed vendors, the government of Madhya Pradesh had even set up two liquor counters outside the temple from April 1 this year.
Shaheed Baba Nihal Singh Gurudwara, Punjab:

 Give a Toy Plane, Get a Visa
Referred to as the "hawai jahaz gurdwara" or the "aeroplane gurdwara" by locals, this gurudwara (Sikh shrine) is located in Talhan village in Jalandhar district of Punjab. It is famous for special offerings of toy aeroplanes, as devotees believe that praying there increases their chance of going abroad. The toy aeroplanes are sold in nearby shops and most visitors purchase and offer them in the temple. It is unclear how this trend started.
Bharat Mata Temple, Uttar Pradesh

– Where the Country Is the Goddess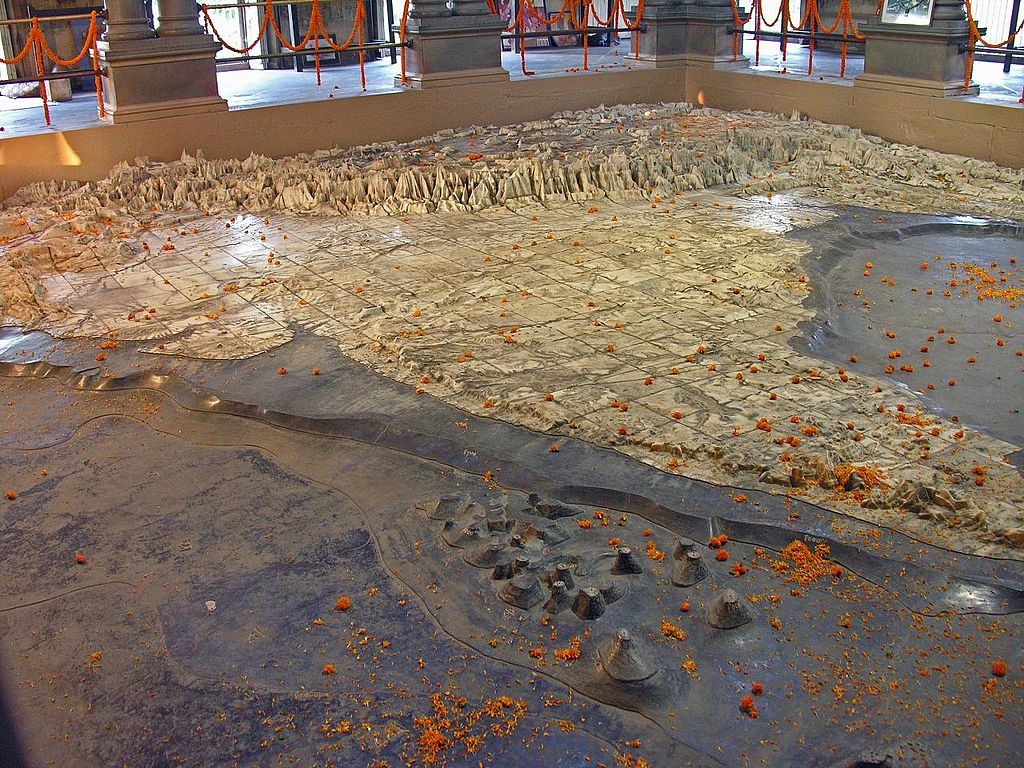 Located inside the Mahatma Gandhi Kashi Vidyapeeth campus in Varanasi, this is the only temple in the country that is dedicated to Mother India. The deity in here is a huge map of undivided India, carved out of marble. It symbolises the entire country with its mountains, plains and oceans. The temple was constructed by Babu Shiv Prasad Gupt before the partition of the country and was inaugurated by Mahatma Gandhi in 1936.
Bullet Baba Temple, Rajasthan

– the Almighty Royal Enfield!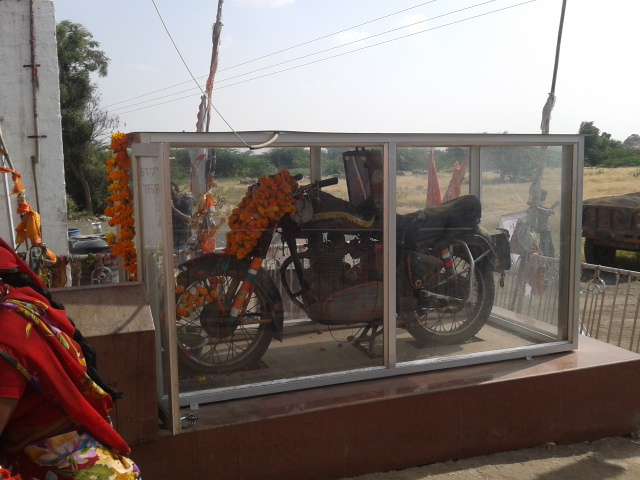 The Om Banna temple – better known as the Bullet Baba temple – is located along National Highway 65 in Pali district, about 50km from Jodhpur. No idols, no pictures; the deity in this temple is a 350cc Royal Enfield Bullet motorcycle.
Legend says that about two decades ago, on Dec. 2, 1988, a villager named Om Singh Rathore lost his life after an accident on the highway. The police took away his motorcycle that had fallen into a nearby ditch. But the next morning, it was reported that the bike could not be found at the police station. It was at the accident spot instead. Villagers claim that the bike was again taken back and tied with chains at the police station. But it was back at the accident spot again. This continued after every attempt and the story of the mysterious bike soon spread far and wide.
Today, an elevated concrete shrine with a bust of Rathore has been constructed at that spot. Behind it, the motorcycle stands enclosed in a glass case. Almost everyone who crosses the highway stops at the temple to pray for a safe journey – some out of curiosity, others out of devotion.
Chilkur Balaji Temple, Hyderabad

– "God, Please Help Me Go Abroad!"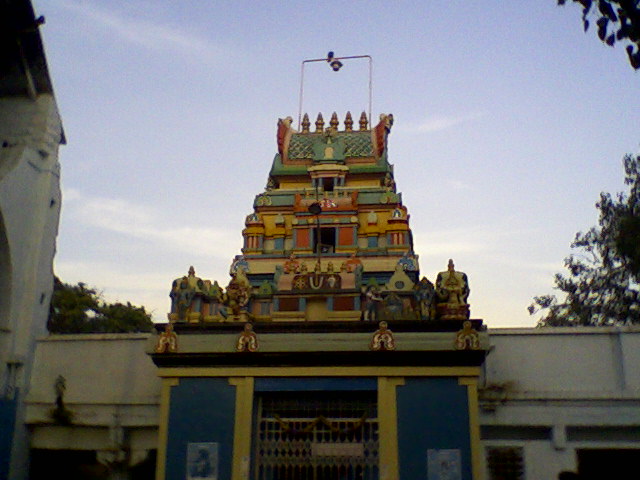 The Chilkur Balaji Temple is one of the oldest temples near Hyderabad. It is located near the banks of Osman Sagar Lake. A majority of devotees who visit this temple have just one wish – they want a visa to travel abroad. That's the reason why Chilkur Balaji is also referred to as 'Visa' Balaji.
The place became popular about two decades ago. Some software professionals whose visa request had been rejected earlier, got their visas to travel to the US after praying at the temple. According to reports, about 70,000 to 100,000 devotees can be seen in the temple when it opens on Fridays, Saturdays, and Sundays. Typically, a visa aspirant visits before the interview. Once the visa is successfully obtained, he/she goes back once again.
This temple is also known for the fact that it does not accept any money from the devotees. The only fee people have to pay is for parking their vehicles, and that is how the temple sustains itself.
Chinese Kali Temple, Kolkata

– Of Noodles and Fried Rice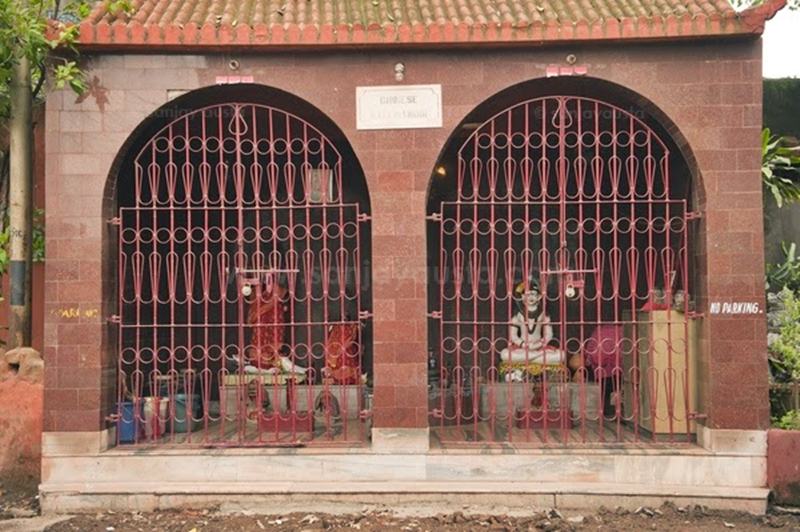 Located in Kolkata's Tangra area, the Chinese Kali Temple is a symbol of cross-cultural assimilation. It was built about 60 years ago by Chinese devotees who had been living in the city for a long time to run their businesses. Prasad for the goddess here includes delicacies like noodles, fried rice, chop suey, and more. Many Chinese people of Indian origin from around the world, visit this place almost every year. Most of the people in the area are Buddhists and some are Christians, but many of them have faith in the Hindu Kali goddess.
Dog Temple, Karnataka

– Giving Man's Best Friend the Respect it Deserves

A community in Ramanagar district of Karnataka decided to show their love for dogs by making a temple where man's best friend is worshipped. People here believe that the dog has the power to stop all wrongdoings and set things right. The temple houses two idols representing the animal, and it is situated next to the temple of the village deity. Villagers believe that the dogs and the deity together will protect them from all harm.
Karni Mata Temple, Rajasthan:

Home to Thousands of Rats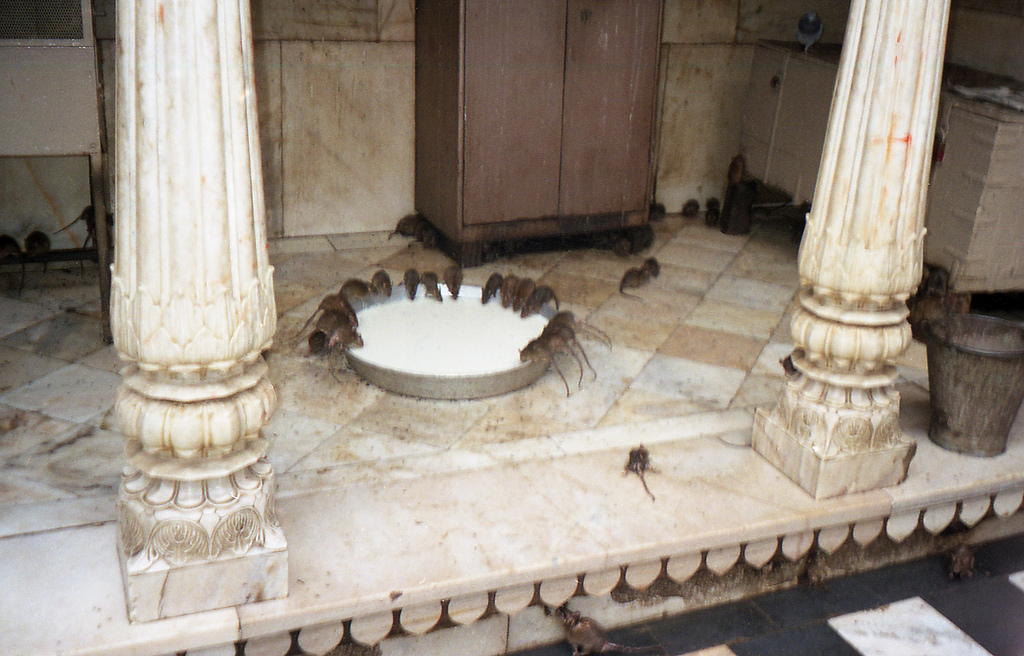 Located 30 km from Bikaner, in a small town of Deshnoke, the Karni Mata Temple is better known as the Temple of Rats. It is famous for being home to about 20,000 black rats that are worshipped in the temple. The holy rats are called Kabbas. According to folklore, after the death of Karni Mata's son, the God of death allowed the reincarnation of all her sons as rats. Devotees consider it highly honourable to eat prasad nibbled by one of the rats. There are some white rats too, which are considered special and are believed to be the manifestations of Karni Mata herself and her four sons.
Mannarasala Sree Nagaraja Temple, Kerala:

 The Serpent King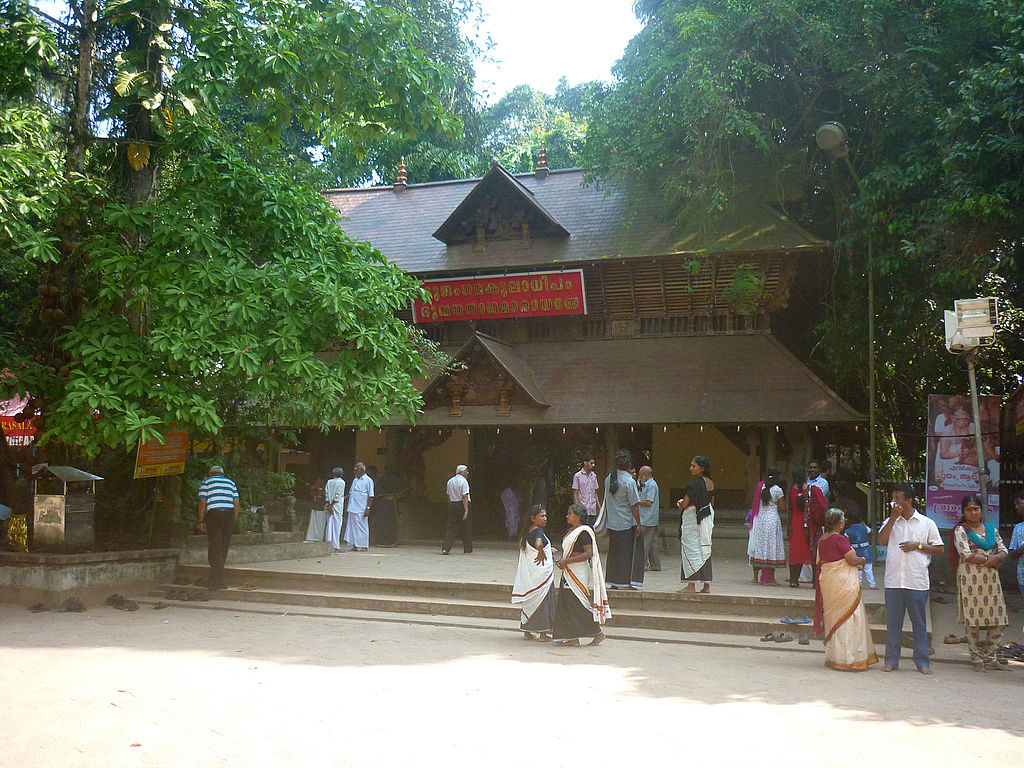 Like most snake temples, this famous Nagaraja temple is located in an open space within a forest in Alappuzha district of Kerala. The largest such temple in the state, it has more than 30,000 images of snakes along the paths and among the trees leading to the premises. Most devotees bring in new snake images as offerings for the temple, and women seeking fertility often come to worship as it is believed that the Lord here has unbelievable powers and blesses all the childless couples to beget a child. Locals believe that it is not rare for the same serpent to appear at the same spot for a number of days continuously and people pray in close proximity to them.
Know of more such unusual places of worship with extraordinary stories? Tell us!
Like this story? Or have something to share? Write to us: contact@thebetterindia.com, or connect with us on Facebook and Twitter (@thebetterindia).
We bring stories straight from the heart of India, to inspire millions and create a wave of impact. Our positive movement is growing bigger everyday, and we would love for you to join it.
Please contribute whatever you can, every little penny helps our team in bringing you more stories that support dreams and spread hope.
Tell Us More